Jan. 15, 2012 04:30PM EST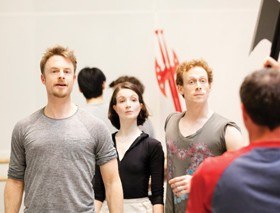 Wheeldon works with Royal Ballet dancers on Alice's Adventures in Wonderland.
Thanks to his innovative pas de deux, skillful use of space and lush musicality, Christopher Wheeldon has become one of the ballet world's most in-demand choreographers. Born in Somerset, England, Wheeldon trained at The Royal Ballet School before joining The Royal Ballet in 1991. He soon moved to NYC to dance with New York City Ballet, but eventually realized that choreography was his passion, and became NYCB's first resident choreographer in 2000. Seven years and 16 ballets later, Wheeldon founded his own company, Morphoses, for which he choreographed six more ballets. He left Morphoses in 2010, and his already busy freelance career picked up even more speed. Last spring, he choreographed the hugely popular Alice's Adventures in Wonderland for The Royal Ballet and The National Ballet of Canada. Today, you can see Wheeldon's dances performed by nearly every major ballet company in the U.S.  —Amy Smith
Dear Younger Self,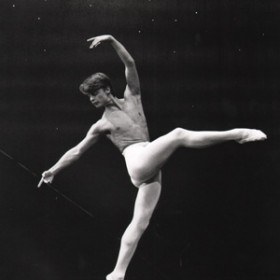 Just a few words of wisdom, now that I have grown up a bit and have some ballets under my belt. First of all, if a great choreographer like Sir Kenneth MacMillan gives you advice, listen. Remember when Sir Kenneth said to practice your craft and take every opportunity you can get? Do it! Oh, and he said not to worry if the ballets aren't all good. He was right—they won't be—but that's OK, because every new ballet, good or bad, holds the key to the next idea, the next good one. It may take three, four or five trips down
the road, but don't give up. You'll find it!
Watch other choreographers—how they work, how they translate music into dance—and, as you're a dancer yourself, see the ballets you dance from the inside out. Feel the music. This will be the key to your choreography as
you develop.
Finally, be good to your dancers. Allow them the freedom to create with you. Sometimes they're wrong, but when they're right it can be magical. Choreography is about collaboration, and dancers are much more than bodies there to be created on. Draw out their personalities in the movement.
Older But Only Marginally Wiser,
Christopher Wheeldon
Kalani Hilliker made "Dance Moms" fans sit up a little straighter when she first appeared on "Abby's Ultimate Dance Competition" back in 2013. The then–12-year-old ballerina had charisma, she had sass—and, wow, did she have technique! Abby Lee Miller, the show's infamous host, saw Kalani's star potential from the start, saving her from elimination and ultimately inviting her to perform alongside Maddie Ziegler on Season 4 of "Dance Moms." "I was never supposed to be on 'Dance Moms' beyond that one performance," says Kalani, now 16, but she ended up staying on the show for the whole season—and the following three. "It was my first time, but not my last time, causing drama. And it was also the first time I got to meet the other dancers, who have become like sisters."
Keep reading...
Show less
courtesy Jane Antonia Cornish
Translation: New York City Ballet principal dancer Ask La Cour's choreography for himself and the luxuriantly leggy Sara Michelle Murawski totally. nails. it.
Keep reading...
Show less
Kirsten Evans @settingthebarre
You may already know Apolla Shocks are able to replace your current footwear and dance shoes because of the durability, aesthetics, and traction, BUT there are many other reasons to ALWAYS keep a pair in your dance bag. BESIDES wearing them in class or onstage:
Keep reading...
Show less
Isaac Hernández in "Despertares" (via Vimeo)
Move over, Sergei Polunin*: There's a new ballet heartthrob in town.
Well, not "new," exactly: The fabulously talented Isaac Hernández has been a lead principal with the English National Ballet since 2015, and previously danced with Dutch National Ballet and San Francisco Ballet. (He's also part of a distinguished dance family: You met his brother, SFB corps member Esteban, in our March issue roundup of up-and-coming danseurs.)
But a dreamy new video by filmmaker Ezra Hurwitz—"Despertares" [Wake Up], featuring Hernández dancing in studios and on rooftops all over NYC—makes a strong case for this beautiful dancer becoming your next ballet crush:
Keep reading...
Show less


Get Dance Spirit in your inbox