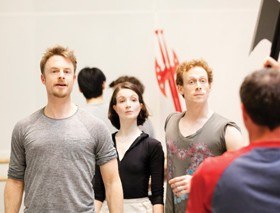 Wheeldon works with Royal Ballet dancers on Alice's Adventures in Wonderland.
Thanks to his innovative pas de deux, skillful use of space and lush musicality, Christopher Wheeldon has become one of the ballet world's most in-demand choreographers. Born in Somerset, England, Wheeldon trained at The Royal Ballet School before joining The Royal Ballet in 1991. He soon moved to NYC to dance with New York City Ballet, but eventually realized that choreography was his passion, and became NYCB's first resident choreographer in 2000. Seven years and 16 ballets later, Wheeldon founded his own company, Morphoses, for which he choreographed six more ballets. He left Morphoses in 2010, and his already busy freelance career picked up even more speed. Last spring, he choreographed the hugely popular Alice's Adventures in Wonderland for The Royal Ballet and The National Ballet of Canada. Today, you can see Wheeldon's dances performed by nearly every major ballet company in the U.S.  —Amy Smith
Dear Younger Self,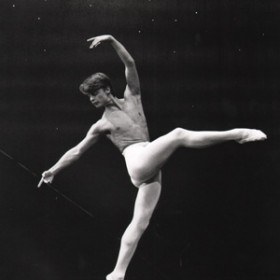 Just a few words of wisdom, now that I have grown up a bit and have some ballets under my belt. First of all, if a great choreographer like Sir Kenneth MacMillan gives you advice, listen. Remember when Sir Kenneth said to practice your craft and take every opportunity you can get? Do it! Oh, and he said not to worry if the ballets aren't all good. He was right—they won't be—but that's OK, because every new ballet, good or bad, holds the key to the next idea, the next good one. It may take three, four or five trips down
the road, but don't give up. You'll find it!
Watch other choreographers—how they work, how they translate music into dance—and, as you're a dancer yourself, see the ballets you dance from the inside out. Feel the music. This will be the key to your choreography as
you develop.
Finally, be good to your dancers. Allow them the freedom to create with you. Sometimes they're wrong, but when they're right it can be magical. Choreography is about collaboration, and dancers are much more than bodies there to be created on. Draw out their personalities in the movement.
Older But Only Marginally Wiser,
Christopher Wheeldon
Jun. 15, 2017 02:00PM EST
From left: Haley Hartsfield, Kaylin Maggard, and Michelle Quiner (photos by Erin Baiano)
Congratulations to Dance Spirit's 2017 Cover Model Search finalists: Haley Hartsfield, Kaylin Maggard and Michelle Quiner! One of them will win a spot on Dance Spirit's October 2016 cover. Learn more about the dancers on their profile pages, and then vote for your favorite below.
We also want you to get social! We'll be factoring social media likes and shares into our final tallies. Be sure to show your favorite finalist some love on Facebook, Instagram, and Twitter, sharing their profile pages and using the hashtag #DanceSpiritCMS.
Keep reading...
Show less
An outfit that makes you feel confident on the convention floor is always a "do" (via Break the Floor Productions)
Attention, ladies and gentlemen: We've officially hit Nationals season! And that means it's time to dig through those closets to find the perfect clothes to get you noticed during convention classes. The task can feel totally overwhelming—but we're here to help. Follow our guidelines, and you'll be rocking the dance floor with Travis Wall and making Stacey Tookey yell "GORGEOUS!" in no time.
Keep reading...
Show less
Royal Flux performing on "World of Dance" (NBC)
Oh man. This is getting ROUGH.
Last night marked the second round of head-to-head duels on "World of Dance." Once again, we were feeling real pity for the judges—and it takes a lot for us to pity J. Lo—because we've reached a point in the competition where there aren't any clear winners. Everyone's insanely good. And yesterday's showdowns paired acts that were so unalike, comparing them felt a little unfair.
So, who emerged from these cruel duels victorious?
Keep reading...
Show less


Get Dance Spirit in your inbox