Cole Horibe + Chehon Wespi-Tschopp = Cx2 Magic
Cole Horibe and Chehon Wespi-Tschopp (aka "Cx2") have a lot in common: They were both on "So You Think You Can Dance" Season 9, they both dance with incredible technique and masculinity and they're both complete goofballs.
So it's no wonder these two developed an adorable friendship. If you want a cuteness overload, check out their video, Cx2 NinjaBallet, where they document their "NinjaBallet" training. (Chehon is supposed to be helping Cole with his technique while Cole teaches Chehon some ninja moves, but it basically dissolves into a debate about whether jedis or ninjas are cooler—love these guys.)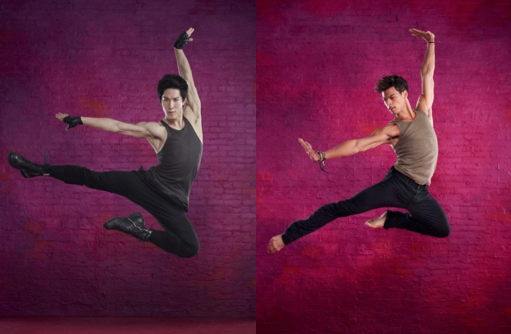 Cole (left) and Chehon (photos by Mathieu Young/FOX)
But we're not here today to talk about Cx2's goofy side. Instead, we want to talk about a Chehon's new video—which he directed and filmed himself—introducing us to Cole's Bruce Lee persona. This video is epic, guys. It shows off everything we love about Cole: His flashy martial arts tricks, his simultaneously graceful and powerful movement, his intensity, his technique...
Just watch—you won't regret it:
Huge kudos to Chehon for his cinematography skills—as if being a freakishly gorgeous ballet dancer wasn't enough talent for one guy!
(The off-Broadway production, Kung Fu, featuring Cole Horibe as Bruce Lee, runs until April 6, 2014, at The Irene Diamond Stage at The Pershing Square Signature Center in NYC. Get your tickets here!)
Dance is a powerful form of expression, and Ahmad Joudeh is using its influence to promote peace.
The 27-year-old is a Palestinian refugee, whose decision to pursue his passion for ballet has made him the target of death threats from terrorist organizations. Despite the danger, Joudeh has decided to continue on his path as a dancer, using his performances as an opportunity to spread a message of peace and cultural awareness.
Keep reading...
Show less
A dance photo of Averi Hodgson (courtesy of Cortney Hodgson)
For 14-year-old Averi Hodgson, focusing on her ballet training while growing up was never easy: She's suffered from epilepsy since she was in first grade, and later, she was also diagnosed with scoliosis. Here, she tells her story of perseverance—and how her determination earned her a spot at the School of American Ballet's 2017 summer intensive.
Keep reading...
Show less
CBS
"Late Late Show" host James Corden was one of the many, many people shocked by President Trump's sudden decision to ban transgender people from the military yesterday. And he decided to voice his outrage in the way most likely to rile a President who's uncomfortable with anything "un-manly": through a big, beautiful, extra-sparkly song-and-dance routine.
Keep reading...
Show less
Jul. 25, 2017 05:04PM EST


Get Dance Spirit in your inbox