Commercial
Oct. 14, 2015 09:10AM EST
"I vividly remember my first convention," says choreographic superstar Brian Friedman. "I was 10 years old and so eager to take every single class—I didn't want to miss a thing. I couldn't sleep at all the night before. I had butterflies in my stomach. The fact that I can still remember that exact feeling 30 years later—clearly, going to convention had an impact on me."
Conventions help breed top dancers in nearly every corner of the dance world, from ballet to ballroom to "So You Think You Can Dance." From getting the opportunity to train in a plethora of styles to taking advantage of post-class networking, conventions will give you a leg up as you prepare to enter the professional (and crazy-competitive) dance world. But if you've never attended a convention, the whole concept can seem daunting. Fear not, convention newbies: We've gathered the best tips and advice from our panel of convention pros.
Logan Epstein, student at PACE University, former dancer at Westchester Dance Academy in Mount Kisco, NY
Brian Friedman, creative director of The PULSE on Tour, self-described "100 percent convention kid" growing up
Alyssa Ness, student at Marymount Manhattan College, former National Senior Outstanding Dancer at New York City Dance Alliance
Anne Smith, director of Hollywood Vibe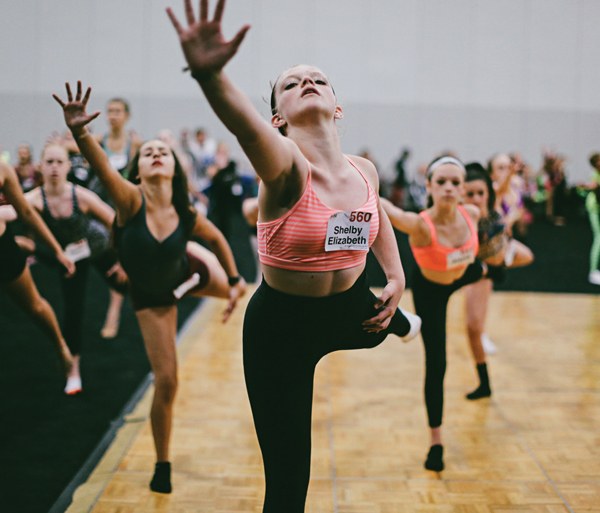 Students in a DanceMakers Inc. Nationals class (photo courtesy DanceMakers Inc.)
Be prepared for a long day.
"At most conventions, you'll take 5 to 7 classes per day, and each class is 45 minutes to an hour long. They move pretty fast, and it may be crowded." —Ness
Dress to impress…
"Your look is important. Your eye goes to the girl with the cool haircut or the guy with the swagged-out outfit. If you can get someone to see you, they'll stick around to watch you dance." —Friedman
…and to be remembered.
"I stay in one outfit the whole day, including during scholarship auditions. If you're competing for a scholarship, one of the judges might have taught a class you were in earlier that day, and may remember you based on what you're wearing." —Epstein
Load up your dance bag.
"My bag weighs a ton during conventions! I pack at least two bottles of water, Emergen-
C for extra energy, snacks, Advil for when the soreness kicks in, and all my dance shoes." —Epstein
Be extra early.
"Get to the ballroom 30 minutes before class starts. Give yourself time to stretch and warm up without feeling rushed. Not all classes will include a full warm-up, so take responsibility for your own body." —Epstein
Work the entire room.
"Don't stay in one spot, and avoid surrounding yourself with dancers from your studio—then you'll dance just like you do at home." —Friedman
Shhhhhhh!
"Don't talk during class. Teachers hate it, and it shows you don't want to be there. If you want to talk to your friends, do it outside the ballroom or at lunch." —Epstein
Go to every class—especially the ones you're nervous to try.
"The biggest mistake a dancer can make at convention is skipping class. Don't
focus on your strengths—focus on your weaknesses."—Friedman
It's OK to drop down a level.
"If you can't keep up with the pace of class, you can always ask your teacher if you can switch levels. You want to get the most out of your experience." —Smith
Don't worry so much about being seen.
"Many dancers—including my former self—are so worried about making sure the instructor sees them. If that's your entire focus, you're not getting the most out of class. If you're clearly having fun, you're a bright light in the room, no matter where you're standing." —Friedman
Know you're not alone.
"Even dancers who have been to a thousand conventions still get nervous. You're not the only one feeling that way, and you're definitely not the only first-timer in the room!"—Smith
Be persistent, not perfect.
"No one expects you to be perfect—they just want to see who you are as a dancer and an individual. If you're completely lost, it's OK to raise your hand and ask a question. Teachers never mind questions!" —Epstein
Say 'thank you'!
"There's usually time after class to thank the teacher and take a photo together, but if he's running late, don't bombard him. There will be more opportunities to say 'hello' and 'thank you.' " —Epstein
Don't give up if you can't keep up.
"I was totally the kid who just couldn't keep up with the choreography we were learning. But the brain is a muscle. Train yourself at home, take extra classes, watch YouTube tutorials or DVDs and constantly be learning new choreography." —Friedman
Dance Team
Jul. 01, 2014 03:00PM EST
Grace Gerring, a former member of the 14-time National Championship–winning University of Minnesota Dance Team, shows off one of the team's signature moves. All photos by Steve Lucas.
1) Prep by stepping on your right leg, arms down and back slightly…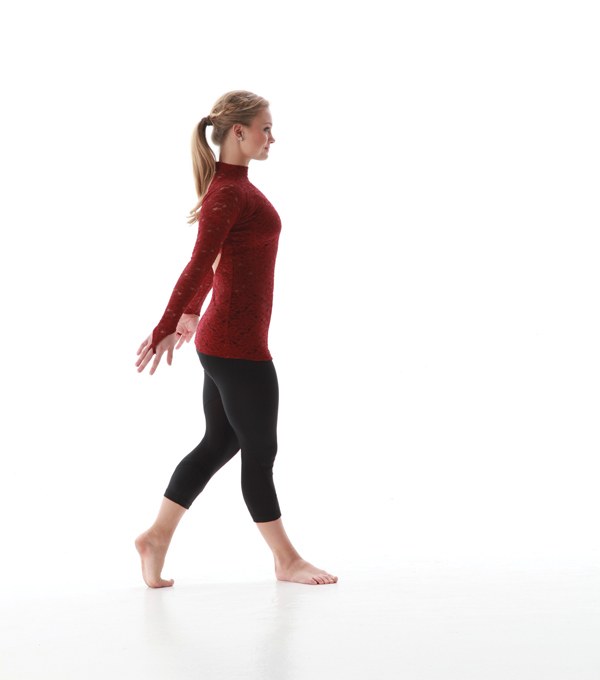 2)…and then Step Forward on your left leg, coming into fourth position plié, arms in first position.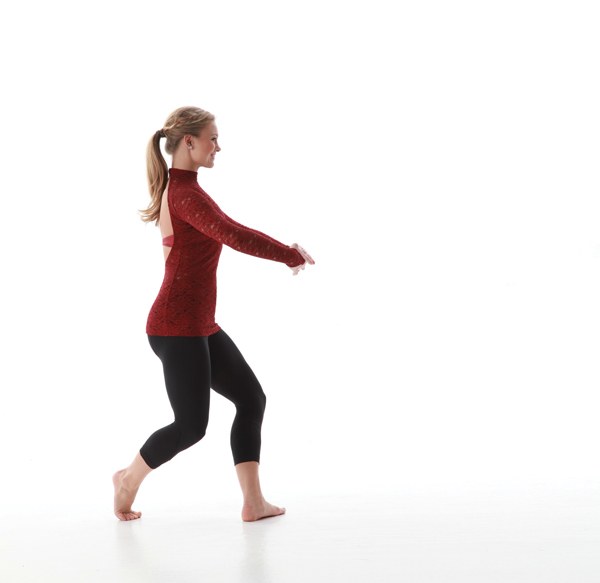 3) Jump off the ground, keeping your left leg straight and bringing your right leg into parallel passé. As you take off, begin turning your body to the left.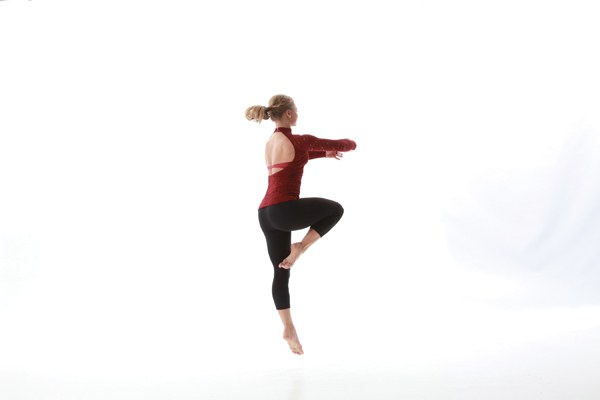 4) Continue Flipping your shoulders and hips to the left as you extend your right leg forward and bring your left leg behind you, bent at 90 degrees. Launch your arms diagonally behind you and arch your back.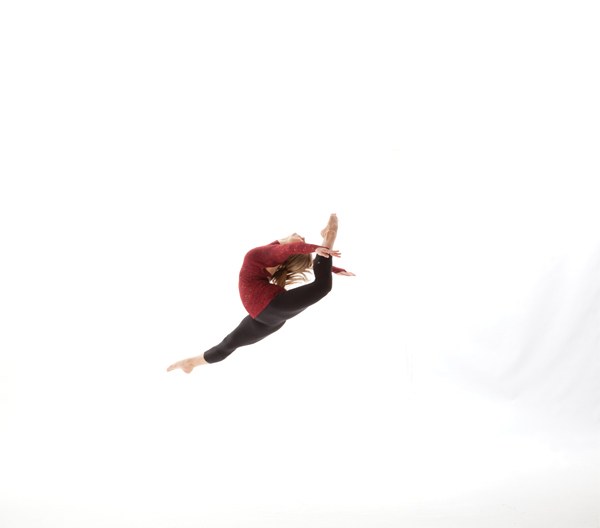 Grace says: "When you get in the air, think about switching your hips and shoulders and really kicking that front leg hard."
Commercial
May. 01, 2014 11:14PM EST
You know the story: a performer from Nowhere, USA, works hard her whole life and becomes a talented unknown. She hears "no" a million times, until one day she's spotted by the right director or choreographer, who polishes her raw ability and kickstarts her career. Suddenly, she's a star. (And the crowd goes wild!) In real life, stories of "being discovered" tend to be less sudden and dramatic than in movies (expect the "hard work" portion to last longer than a pop-music montage). But they do happen. The movers and shakers of the dance world are always on the lookout for the next star—and the bragging rights of making the discovery themselves. "It's easier than ever to be discovered," says choreographer Brian Friedman, who's discovered many dancers working in Hollywood today. "You can be seen no matter where you're from." If you feel stuck in a small town, there are still ways to be proactive about launching your career.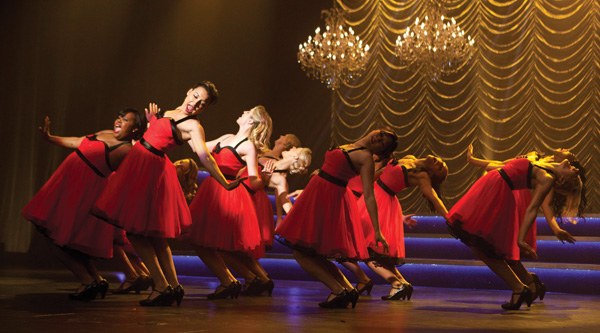 Want to dance on "Glee?" You don't have to live in a big city to make it happen.
(Photo by Adam Rose/Fox)
1. Savor the studio experience…
Study as many styles as you can, with as many teachers as you can, and make sure you're getting the best training in your area. "In L.A., there's not much one-on-one attention," says Mikaela Arneson, an L.A.-based dancer who grew up in a small town four hours outside the city. "Before you get here, capitalize on that attention at your studio."
2. …but seek additional training elsewhere, too.
Conventions are a great way to take classes with new teachers and do some serious networking. Most conventions hit up tons of cities throughout the year, so it's likely you can find some near your hometown.
Friedman recommends trying to visit L.A. or NYC during the summers. You'll find smaller classes than at a convention (try studios like Broadway Dance Center and Steps on Broadway in NYC, or EDGE Performing Arts Center, Millennium Dance Complex and Debbie Reynolds Studio in L.A.), so teachers are more likely to notice you. Conventions and big trips aren't cheap, of course, so don't be afraid to look online for free supplemental training. Many big-name and up-and-coming choreographers post combinations or tutorials online. Subscribe to your favorite choreographers' YouTube channels and follow along.
3. Define your brand
With so many great dancers out there, killer technique isn't always enough to get you noticed. According to Friedman, it's crucial to figure out who you are as a dancer and a person, and then create your brand accordingly. Identify your strengths and establish a dance persona that highlights them. Your brand includes the way you consistently dress in class, wear your hair and makeup or rock a signature accessory. It's the way people you meet will remember and refer back to you.
4. Create your marketing materials
Every dancer should have a professional headshot and full-body shot, and a one-page resumé. Shayna Brouillard, a dance agent with Clear Talent Group, says dancers don't have to spend a ton of money on photo shoots before signing with an agent, since agents are going to ask you to get new photos after they've worked with you to refine your brand.
If you do choose to have photos taken by a pro, check out your favorite dancers' Instagram feeds to see who regularly takes their pictures. "There are a ton of photographers familiar with dancers and casting," Brouillard says. They can help ensure that your photos will show your best dancer self. For 12-year-old competition dancer Lucy Vallely, posting photos from a shoot with David Hofmann (check him out on Instagram @sharkcookie) last year was the key to making her social media pages bloom. She now has more than 40,000 Instagram followers.
Perhaps the most important marketing materials are dance videos. Agents and choreographers need to see you move. You don't have to pay for a professional reel—videos can be shot and edited from an iPhone or iPad. Just be sure they're good quality and show your best work. Shannon Mather, owner and director of L.A.-based Mather Dance, recommends adding a touch of personality to your videos by introducing yourself at the beginning.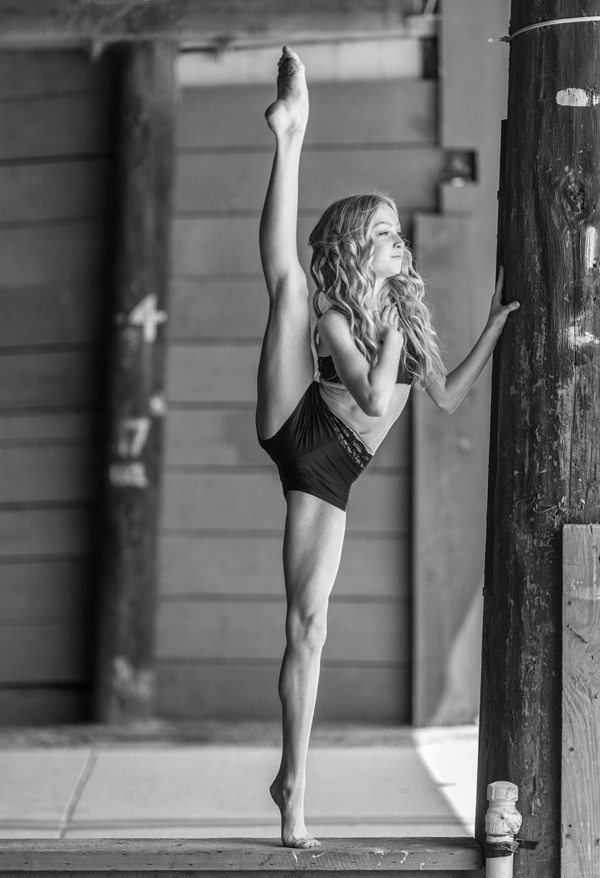 Lucy Vallely's photo shoot with David Hofmann helped boost her career.
(Photo by David Hofmann)
5. Establish an online presence
The internet is the easiest—and cheapest—way to reach the people who can make things happen for you. Mather recommends creating a YouTube channel where you can post performance videos and studio combos. She says the key to establishing a following is crafting a professional-looking homepage, uploading new videos consistently (she has found success uploading once a week) and tagging your videos so people can find them in searches. (You can also upload videos to Dance Spirit's video site, dancemedia.com!)
Both Vallely and Chris Michael Klebba, a commercial dancer, first got their agents thanks to social media. When Klebba was 17 and still living amid cornfields in Michigan, he posted a video on Answers4Dancers.com that got a lot of positive feedback. Soon after, an agent contacted him and offered to sign him, even before he was ready to make the move to L.A.
When posting, remember that likability is a huge part of being discovered. Be sure everything you post is the best representation of yourself. If your following doesn't blow up immediately, don't be discouraged. According to Brouillard, most dancers who become online stars are actually discovered by agents while they're still in the early stages. With an agent's guidance, they build their brands and, soon, an online fanbase. Need some help getting started? Check out companies such as DanceOn and World of Dance, which work with dancers on online self-branding.
6. Reinforce your online persona with face-to-face contact
"The most successful dancers are the ones that start to build relationships before they move to L.A.—through master classes or conventions, introducing themselves to choreographers and making sure they're noticed," says Brouillard. "A lot of what happens in L.A. is based on networking beforehand, so they already have a solid ground when they move here."
Many dancers' discovery moments come when they're focused on improving rather than getting people to see how awesome they are. Choreographers love to see dancers taking every opportunity they can to learn more. Going to huge auditions is great, and often necessary, but at a competition or in class, you can be seen as an individual, rather than one more body quickly learning and executing a routine. You're also more likely to be noticed at a big audition if the choreographer is already familiar with you, either from class, competition or your online videos. After you meet choreographers, connect with them on social media to thank them and remind them who you are. Vallely often posts photos of herself with the people she meets, making sure to tag them. "Then they'll be like, 'Oh, that's the girl I met!' " she says.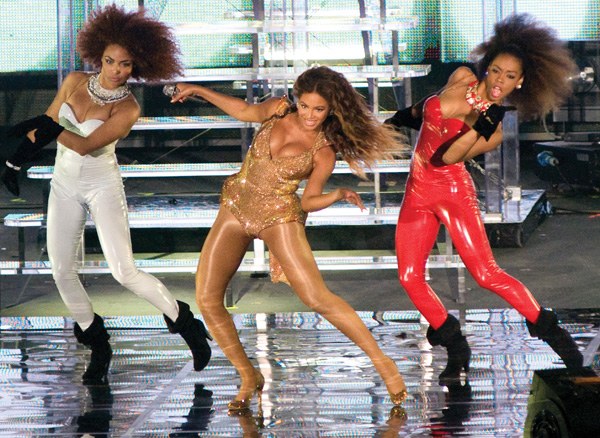 (L to R) Ashley Everett, Beyoncé, and Kimmie Gipson
(Photo by Alphonso Chan/Getty Images)
7. Land an agent
According to Friedman, this should be a major priority for a dancer looking to work professionally, since agents can give you insider info on auditions that aren't public knowledge. You can attend an open call for an agency, but being recommended by a working choreographer or teacher is a surer route.
Agents also scout conventions and the internet for new talent. While both Vallely and Klebba were discovered online by agents, Arneson signed with an agent at a dance convention when she was 17, three years before she made the move to L.A. "We have signed a handful of dancers in their teens who haven't moved to L.A. yet," says Brouillard. "For those who have the means to fly out for an audition, we'll keep them in the loop. For others, it's about building a relationship with the agency, so when they turn 18 and are ready to move to L.A., they feel like there's someone who knows their strengths and is taking care of them."
8. Be persistent—and patient
Even if you're not discovered right away, it doesn't mean people aren't keeping an eye out for you. You might've already been "discovered" by teachers—that is, they've made a mental note that you're a dancer to watch—who are just waiting to see if you're ready. "It's not luck of the draw," Friedman says. "You have to have talent, but you also have to work hard and show your ambition. If I can see a dancer's hunger and drive, I think, OK, that's one to watch. This kid's gonna go somewhere."
Commercial
Jun. 11, 2013 11:15AM EST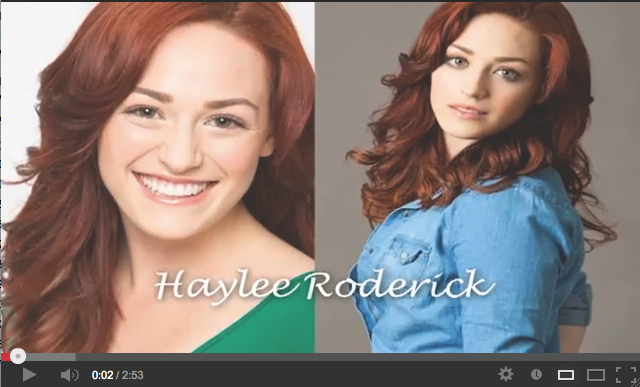 L.A.-based Haylee Roderick has been strutting her stuff on the commercial scene, dancing everywhere from "Glee" to the Academy Awards, for a while. But despite having an agent and killer talent, she was missing one more essential item: "Producers, directors and my agent were constantly asking to see my dance reel," Haylee says. "I kept putting it off, thinking I should build up my resumé. But with so many creatives asking for it, I knew it was time this year. I just finished it, and I've already submitted it for a union project—something I couldn't have even auditioned for without a reel! It's essential for any professional dancer in L.A."
In today's media-heavy dancescape, a reel is an absolute must. It will give prospective agents, casting directors and choreographers a sense of how you move, your style and strengths as you choose to present them. Plus, with creative teams facing budget cuts, production logistics and scheduling issues galore, reels make it easy for them to see you—and possibly hire you!—even if they can't hold a traditional audition. Sending a reel can also be the best way to be cast in a company or show that's far away. Here's how you can get your own reel together.
Choosing Your Footage
• Showcase your strength, whether it's your chameleon-like versatility or a single specialty. "If you're a versatile dancer, include all the genres you shine in," says JC Gutierrez, director of the dance and on-camera department at L.A. agency McDonald/Selznick Associates. "But make sure your reel is separated by style, so if you're applying for a jazz job you can say, 'Fast-forward to 1:33.' " MSA agent Shelli Margheritis adds, "If you have a niche, show off. You're a b-boy? Let's see your best tricks!" If you aren't trained in a certain area, don't sweat it—and don't include it.
• Be the star. "Solo footage is preferable to a shot with 10 other dancers, even if
it means renting a studio and choreographing a few pieces," says professional dancer and freelance dance-reel editor Shane Rutkowski. If you do choose to use performance footage (a great option if the piece is well-rehearsed and you're highly visible), make sure it's a high-quality recording and you're the focus of the shot. "If another dancer stands out more, it becomes that dancer's reel," Gutierrez says.
• If you have an agent, use him or her as a sounding board to help you choose the best clips and the order in which you should place them.
• Include your name and headshot at the beginning of the reel. If you're represented, end with your agency's info. If not, offer your professional email address or website, but never your phone number or mailing address—remember, you'll be posting this online.
Music Matters
• Choose your audio wisely. The music behind your clips sets the tone and can say a lot about who you are as a performer.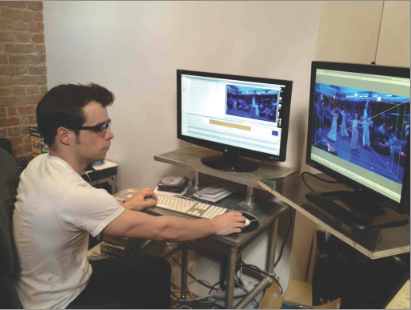 Dance-reel editor Shane Rutkowski in action
• Use only one song for all of your clips to avoid distracting the viewer. It's OK if the dancing in the clips doesn't always match the beat of the song perfectly—just make sure there are accents throughout the reel where the two do match up. If you're working with an editor, there are many tricks he or she can use to make the accents work.
• "Music can be tricky, especially with copyright issues," Rutkowski says. "If you have a friend who can create music for you, that's a great option. Choose a song that's not overpowering or distracting. Instrumental is a good choice because it often has different sections that can correspond to different types of movement."
• Avoid any possibly offensive material.
• Choose up-tempo music to catch the viewer's attention.
Order and Length
• Make your reel punchy and to-the-point by putting your best clip first. A busy casting director may only have 15 seconds to watch, so show your strengths immediately. Ending with a high-energy clip is a great way to wrap things up.
• Include different energy levels so the reel doesn't become monotonous. You could start with a jazz section, follow with a ballet piece and end with some fierce hip hop.
• Shorter is better. Your entire reel should be between one and a half and three minutes.
Editing 
• If you're tech-savvy, you may be able to create your own reel with clean editing and streamlined effects. But remember, less is more. Don't overdo it with flashy transitions and special effects.
• Hiring an editor, like Rutkowski, can be a smart move. Even though it might cost you a bit, it's an investment, just like your headshots. You'll most likely be paying an hourly rate, so do research to find out what friends in your area have paid.
• If you use an editor, go prepared! Have all your clips ready (and in the same format, if possible) and write down timecodes of the spots you want to use. It will save you time and money.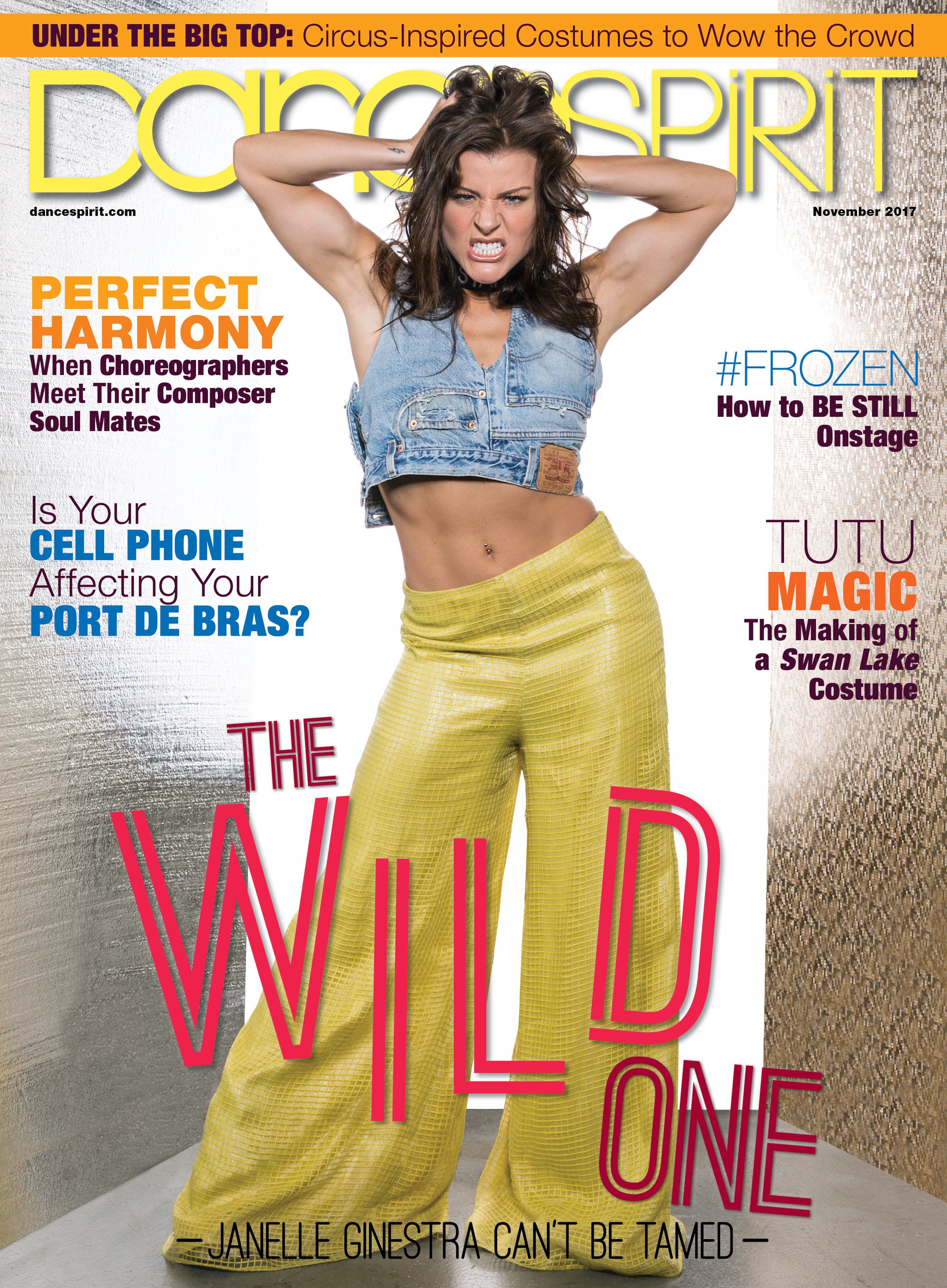 Get Dance Spirit in your inbox