Julie Diana Hench
A former principal with Pennsylvania Ballet, Julie Diana is the executive director of Juneau Dance Theatre in Alaska.
Matthew Bourne's "Nutcracker" (photo by Simon Annand, courtesy Raw PR)
When most of us think of The Nutcracker, we imagine a growing Christmas tree, dancing mice, and a little girl named Clara (or Marie) traveling to the Land of Sweets. But companies around the world have been reinventing the holiday classic, changing the storyline or adding their own spectacular sets and characters. To get in the Nutcracker spirit this season, check out these out-of-the-box productions.
Keep reading...
Show less
Alvin Ailey AmericanDance Theater in Ailey's (photo by Paul Kolink, courtesy Alvin Ailey American Dance Theater)
There's an iconic moment in Kenneth MacMillan's Romeo and Juliet when Juliet sits on the edge of her bed, staring into the audience. She's completely still—thinking long and hard about her tragic situation—while the emotion of Sergei Prokofiev's score washes over her. If the dancer does it well, this dance-less scene can speak volumes.
As dancers, we tend to focus on mastering steps and speaking through movement. Yet the way we hold ourselves when we're not moving can also be a powerful way to communicate with an audience.
How can you make the most of those quiet moments onstage—and what happens if your muscles cramp, you have a crazy itch, or your mind starts to wander? We gathered tips from industry professionals to help guide you through.
Keep reading...
Show less
Oct. 06, 2017 02:38PM EST
Jessica Lee Goldyn as Cassie in A Chorus Line (courtesy Goldyn)
Is there a part you desperately want to do, something that makes your heart sing? What would it be like to get the chance to perform it? For some lucky people, dancing a coveted role is a dream that comes true. We asked four top dancers how it felt when they got the opportunity to do a cherished part.
Keep reading...
Show less
Many dancers are deciding to go meat-free (vegetarian) or animal-product–free (vegan) because they want to fuel their bodies with plant-based foods. These diets can be beneficial, but they can also cause problems if you don't make thoughtful and healthy choices. Here are a few basic tips for dancers curious about a vegan or vegetarian lifestyle.
Keep reading...
Show less
How To
May. 11, 2017 08:04PM EST
Kansas City Ballet's Kelsey Hellebuyck cringes when she thinks back to her first few months in pointe shoes. "I started out wearing no padding," she remembers. "I had all these open blisters, so then I tried paper towels." But the towels would shred, and her blisters just got worse. After a lot of trial and error, Hellebuyck found that a thin gel padding took some pressure off her foot and still let her toes feel the edge of the shoe. "It was definitely a learning curve," she says.

It can take years—and many blisters!—to find the right pointe shoe padding for your unique feet. But that's not for lack of choices, from old-school lambswool to high-tech gel pads. Here's a breakdown of popular padding options that might give you some new ideas—and, hopefully, happier toes.

Keep reading...
Show less
Michelle Fleet (center) and Company in Paul Taylor's Also Playing (Paul B. Goode, courtesy PTAMD)
When dancers audition for Paul Taylor Dance Company, they're often thrown by one particular request: to walk across the studio by themselves. "Paul can see a lot about a person by the way they walk," says Michelle Fleet, a veteran Taylor dancer. "But many people get cut at that point, because they're terrified—a walk can be so revealing."
Keep reading...
Show less
Students of the Jacqueline Kennedy Onassis School at ABT working at the barre (Rosalie O'Connor, courtesy ABT)
She just retired as a principal with Pacific Northwest Ballet, but as a teenager, Maria Chapman struggled to gain control of her flexibility. "I looked pretty good at the barre," she says, "but I was relying on it way too much, and focusing exclusively on what my legs and feet were doing." Without the barre's support, she became a wobbly mess. "It wasn't until I figured out how to use my back and core that I was able to be successful in center, too," she says.
Keep reading...
Show less
Dec. 13, 2016 11:03PM EST
Juneau Dance Theatre student Anna McDowell filming an audition video with Bridget Lujan (courtesy Juneau Dance Theatre)
Auditioning for summer intensives in person may be the ideal—but for Anna McDowell, a 16-year-old student at Juneau Dance Theatre in Juneau, AK, it's rarely possible. "Living in Alaska, it's difficult to travel to auditions," she says. "It gets way too expensive!" Instead, each year, with help from her teachers and a videographer, she puts together a well-crafted video and submits it to schools around the country. Last year, her high-quality video helped her earn acceptance to nearly every program she applied for. Most summer intensive programs, eager to attract students from far and wide, will accept video auditions from those who can't travel to take class. But major schools look at hundreds of submissions each year, which means video auditioners have just a few minutes—or even seconds—to make a great impression. If you're about to create an audition video, follow these tips from the professionals to put your best digital foot forward.
Keep reading...
Show less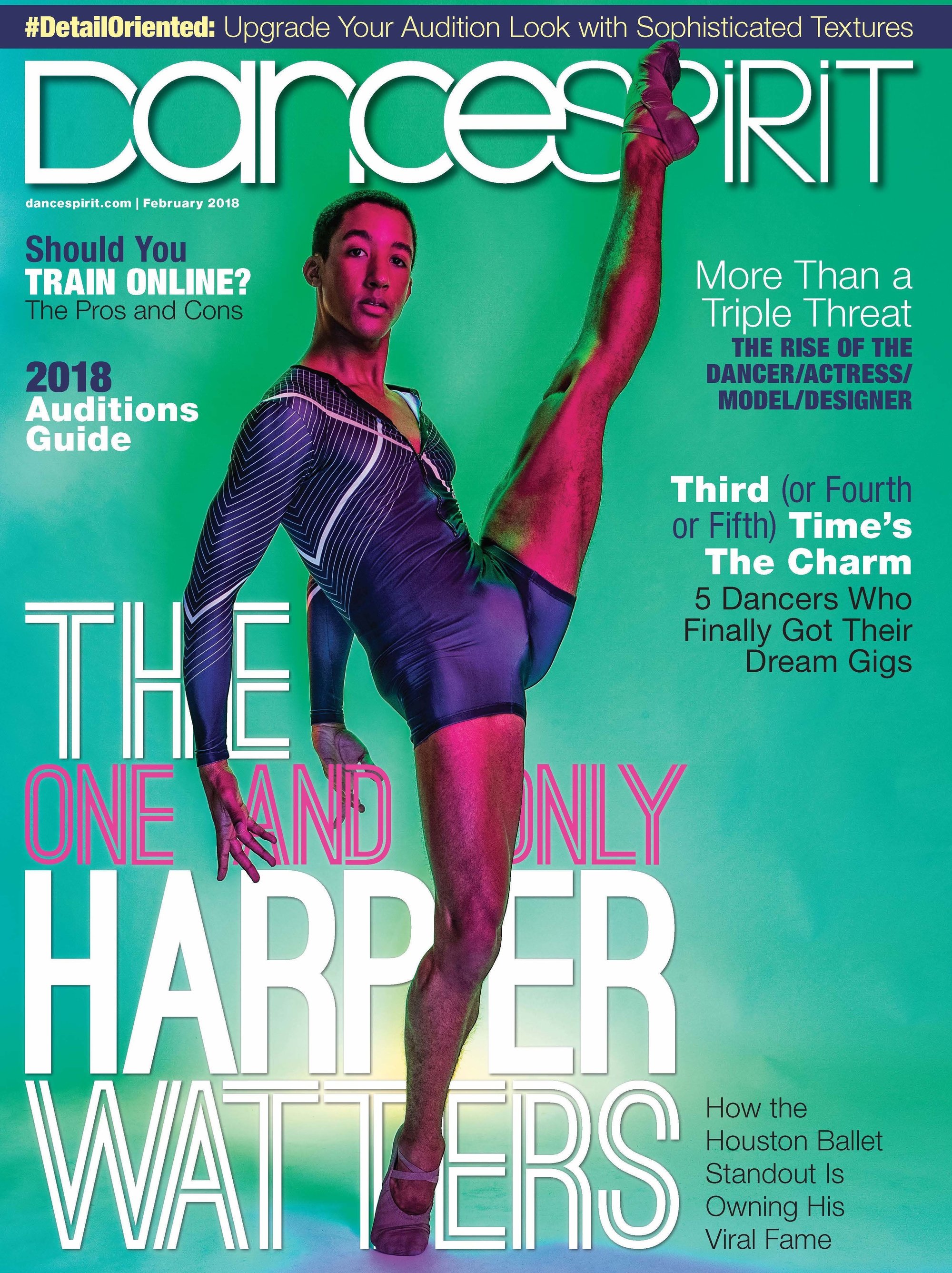 Get Dance Spirit in your inbox