Jun. 23, 2017 03:21PM EST
(From left) Houston Ballet's Hayden Stark, Derek Dunn, and Daniel Durrett
A lot of ballet men play around a little in pointe shoes—to get a feel for what their partners are experiencing, or just because they're curious.
But Houston Ballet's Hayden Stark, Derek Dunn, and Daniel Durrett aren't playing.
They're SLAYING. SO. HARD.
Keep reading...
Show less
Jun. 22, 2017 02:50PM EST
Jayme Thornton
We already know that Misty Copeland—who needs no introduction, but OK: American Ballet Theatre principal, trailblazing role model, all-around superstar—is an excellent dance show judge. Her turn on the "So You Think You Can Dance" judging panel back in Season 11 impressed dance fans everywhere. Obviously any professional dancer is going to have a leg up (sorry) when it comes to critiquing technique, but Copeland's feedback on "SYT" was particularly smart, incisive, and illuminating. (Remember when she told Rudy to think of his legs as tree trunks rooted in the ground, so he could better hold up the "flowers"—aka his partner?)
That's why we're very excited to report that Copeland is putting her judges' hat on again, this time for NBC's "World of Dance."
Keep reading...
Show less
Jun. 14, 2017 02:11PM EST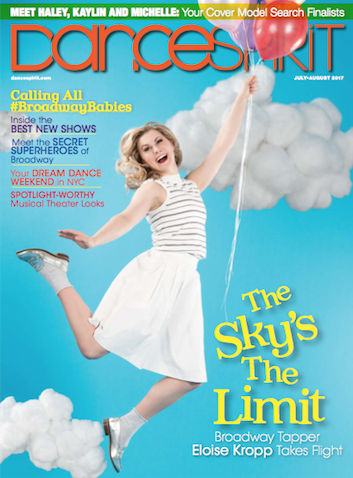 Tapping Toward Stardom
Eloise Kropp's effervescent energy is electrifying Broadway.
That Swing Life
They go on so the show can go on! Welcome to the world of swings, the unsung heroes of Broadway.
Your Personalized NYC Itinerary
Take our personality quiz to get a trip tailor-made for your dancer needs.
Presenting Dance Spirit's Annual Jazz Hand Awards
We honor the hottest new shows gracing Broadway, ranked according to danciness.
Sister, Sister
These six sets of dancing sibs keep it all in the family.
Meet the 2017 Cover Model Search Finalists
Introducing Haley Hartsfield, Kaylin Maggard and Michelle Quiner.
Up Front: Buzz
The scoop on Bill T. Jones/Arnie Zane Company's world premiere.
Up Front: The Dirt
New York City Ballet soloist Unity Phelan.
Letter to My Teenage Self
Broadway baby Paloma Garcia Lee.
Dear Katie
Kathryn Morgan answers your pressing dance questions.
Off the Record
Ballet student Averi Hodgson's struggles with epilepsy and scoliosis.
Body Buzz
Keeping your skin safe in the summer sun.
Fitness
High-intensity interval training 101.
Fashion
Musical theater outfits guaranteed to wow.
Spotlight: Musical Theater
How Broadway veterans survive eight shows a week.
Spotlight: Modern
Everything you need to know about inversions.
College Corner
A guide to scholarships.
Branch Out
Why Erin Carpenter created the tights company Nude Barre.
You Should Know
Contemporary star Kaylee Quinn.
Jun. 14, 2017 02:06PM EST
Via @julietdoherty on Instagram
We've been endlessly curious about budding ballerina Juliet Doherty's movie project, On Pointe, since we first got wind of it back in March. At that point, the film's producers were hoping to raise the funds they needed to complete the project via Kickstarter.
Well, they ended up not just meeting but exceeding their fundraising goal (bravo, ballet/Juliet fans!). And now On Pointe has released an official trailer.
Keep reading...
Show less


Get Dance Spirit in your inbox