Competition
Jun. 15, 2012 09:26AM EST
Competition dancers work hard to polish their routines. But when they're finally backstage on the big day, even the veterans can start to doubt themselves. Below, nine professional dancers (all former comp kids!) share the tricks they use to keep cool in these crucial moments.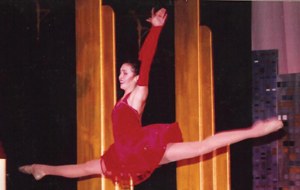 Joey Dowling at NYCDA in 1995
Joey Dowling, master teacher/choreographer
"Focus on the things you can control—it will make you feel more powerful. When I was competing, I tried not to watch anyone else. I'd go in the corner and only worry about what I came there to do. I would listen to music that put me in a good mood, like Cyndi Lauper or Madonna. Then I would lie on the floor and envision my solo and how I wanted it to go."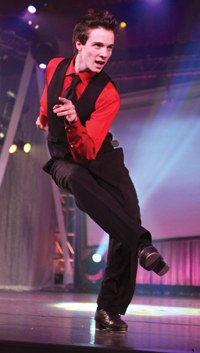 Corey Snide performing at New York City Dance Alliance Nationals in NYC
Corey Snide, Juilliard student
"Whenever my friends from my studio and I got butterflies at competition, we would make butterflies with our hands on each other's stomachs, then slap them away and say, 'Bad butterflies! Bad butterflies!' Silly as it is, I've done it since I was 6, and it works."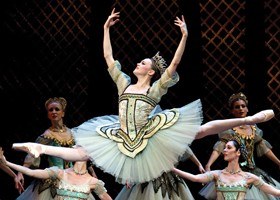 Dusty Button as Queen of the Dryads in Boston Ballet's production of Don Quixote
Dusty Button, Boston Ballet
"I remind myself that everyone in the audience and on the stage is in the same position. In life, everyone is a person first, before they're a dancer, a judge or an audience member. The audience is forgiving most of the time, because they're people, too. They are there to enjoy your performance, and it's so much more fun watching someone who is enjoying herself than someone who is worked up."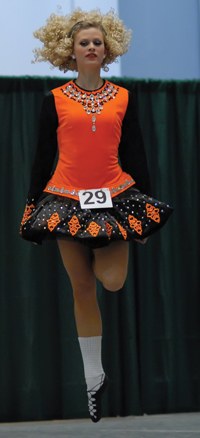 Maggie Darlington at the Western Region Oireachtas world qualifiers in 2009
Maggie Darlington, Riverdance
"Having good company backstage eases my nerves, whether it's a friend or a teacher. When I competed with teams, we would feed off of each other's energy—jumping up and down, talking to each other and giggling—instead of thinking about the competition."

Jason Luks, tap dancer
"I do push-ups and big jumps right before I perform to get my blood pumping. The moment you step onstage is a huge rush—it's great to get a head start on that energy."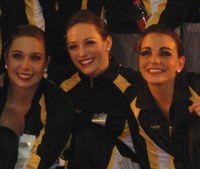 Haylee Roderick (center) with Center Stage Performing Arts Studio
Haylee Roderick, commercial dancer
"Right before we went onstage, my team and I would get together and say a prayer to remember why we were there. We were so close, like a family, so we would dedicate our dances to each other. Dancing for one another instead of a gold medal made the performance feel much more worthwhile."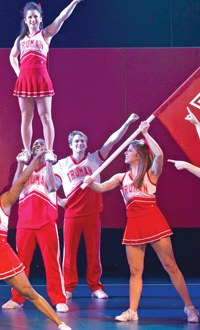 Neil Haskell in Bring It On: The Musical
Neil Haskell, Bring It On: The Musical
"I don't run through routines or sing lyrics beforehand, because I know if I forget them backstage, it will freak me out and then I won't be able to remember them onstage. I just try to relax and trust myself. And I know if I do mess up, there are other people onstage who have my back and will be able to cover for me. Knowing that makes me much more comfortable."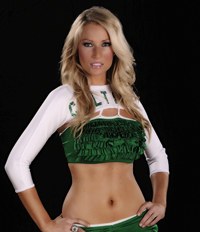 Alison Preston, Boston Celtics dancer
"My mom is my biggest supporter, and she told me to tap my foot three times if I got nervous. When I was standing in the wings waiting to go on and heard them call my name, I would get really anxious. But then I would tap my foot three times, and it would calm me down."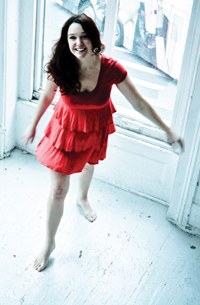 Cameron Adams, Nice Work If You Can Get It on Broadway
"As a kid, I was superstitious. I would do a really good warm-up by myself, and then I'd take a moment with my dance teacher to go over anything that was giving me trouble. My teacher and I had our own special handshake, too—a little routine we would do right before I went onstage."
Win It
Sep. 05, 2017 12:10PM EST
Photos by Erin Baiano
It's time to get your pirouette on! From September 5th to September 30th, we're hosting a contest to find out who's the best turner of them all.

Put together your most impressive turning combo. Post a video online. Share your turns with us and thousands of other dancers around the world. And if our editors think you're the top turner, you'll win a fabulous prize.
Keep reading...
Show less
All of 18-year-old Kaylin Maggard's dreams—from scoring the title of National Senior Outstanding Dancer at New York City Dance Alliance Nationals to winning the 2017 Dance Spirit Cover Model Search—are coming true. And to anyone who knows the gorgeous contemporary dancer, that's no surprise.
From the moment the Dance Spirit staff met Kaylin, it was obvious her humility and talent would take her far. Not only did she go full-out during the photo shoot and class at Broadway Dance Center, but she was always cheering on, laughing with, and supporting her fellow CMS contestants Haley Hartsfield and Michelle Quiner. During the voting period, the social media world was abuzz with praise for her work ethic, positive attitude, and generosity.
Since her CMS trip to NYC, Kaylin's moved from her hometown of Columbia, MO, to the Big Apple for her freshman year at Juilliard, and is busy getting acquainted with the city. As for the future? She's taking it one opportunity at a time, but something tells us we'll be seeing this contemporary queen reach new heights every year.
Keep reading...
Show less
Instagram star Kylie Shea has built a following of nearly 170,000 with her playful workout videos, which combine traditional fitness activities, like jumping rope or running on the treadmill, with pointe shoes and sassy choreography. Shea's effortless cool-girl-next-door vibe and solid ballet technique make her vids totally irresistible.
Now Shea's using her platform to address the body image issues that tend to plague dancers. In a poignant video, she sheds her clothes and tugs at her skin. The caption explains her relationship with her body and the pressure she feels to maintain a certain aesthetic as a dancer.
Keep reading...
Show less
Physical discomfort is inevitable when you're spending tons of hours in the studio every day, but some pain shouldn't be suffered through. "Dancing through pain can make an injury worse and lead to more time away from dance," says Dr. Joel Brenner, medical director of dance medicine at Children's Hospital of The King's Daughters in Norfolk, VA. "Failing to rest and recover when you're in serious pain could even lead to the point where you're unable to dance in the future."
That may sound scary, but there's good news: If you take precautions and listen to your body, many injuries can be stopped in their tracks. The first step? Knowing what's normal—and what's not.
Keep reading...
Show less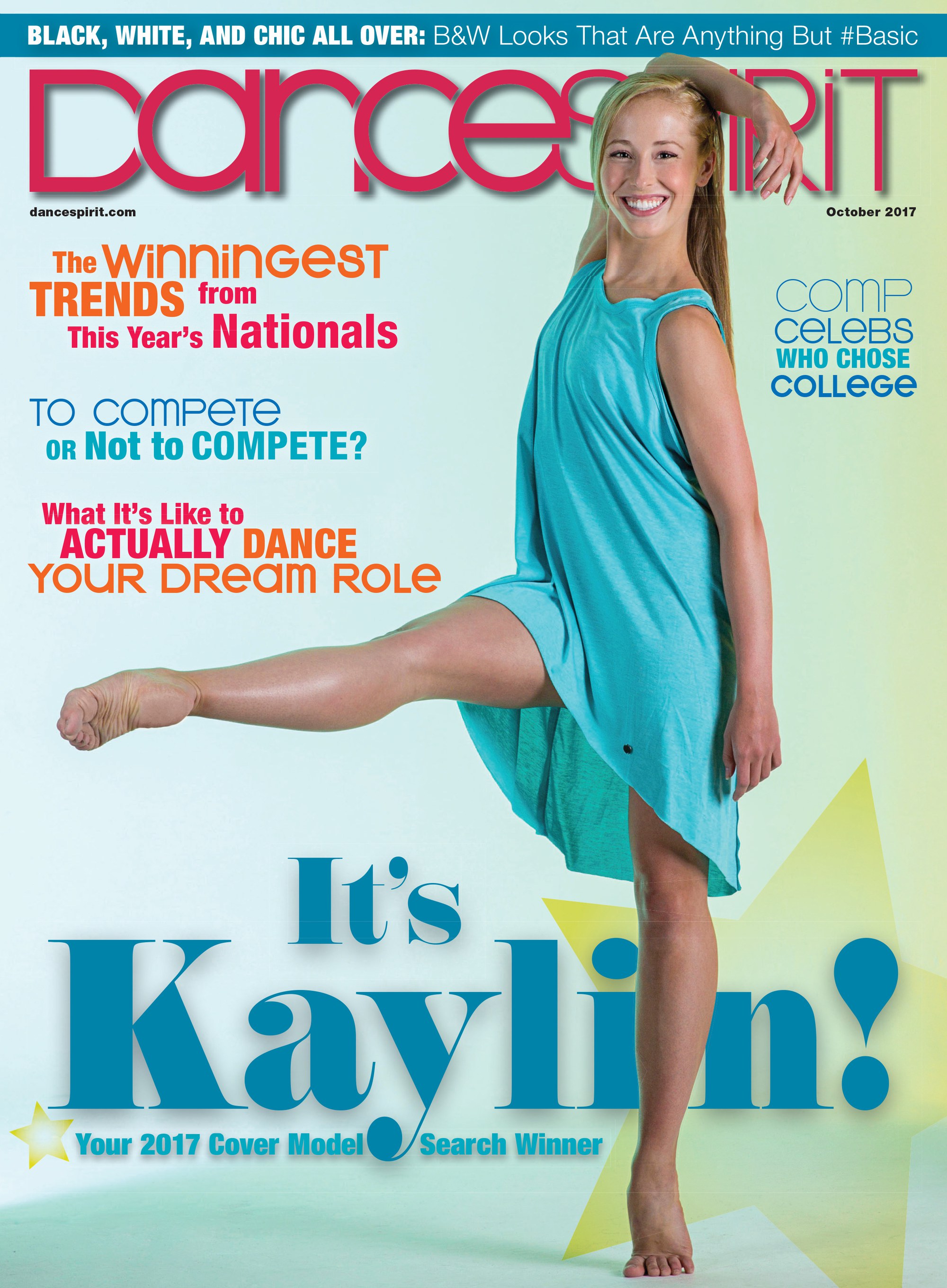 Get Dance Spirit in your inbox