Competition dancers work hard to polish their routines. But when they're finally backstage on the big day, even the veterans can start to doubt themselves. Below, nine professional dancers (all former comp kids!) share the tricks they use to keep cool in these crucial moments.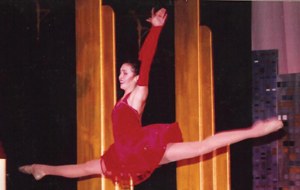 Joey Dowling at NYCDA in 1995
Joey Dowling, master teacher/choreographer
"Focus on the things you can control—it will make you feel more powerful. When I was competing, I tried not to watch anyone else. I'd go in the corner and only worry about what I came there to do. I would listen to music that put me in a good mood, like Cyndi Lauper or Madonna. Then I would lie on the floor and envision my solo and how I wanted it to go."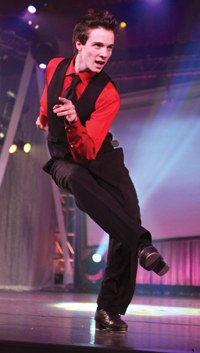 Corey Snide performing at New York City Dance Alliance Nationals in NYC
Corey Snide, Juilliard student
"Whenever my friends from my studio and I got butterflies at competition, we would make butterflies with our hands on each other's stomachs, then slap them away and say, 'Bad butterflies! Bad butterflies!' Silly as it is, I've done it since I was 6, and it works."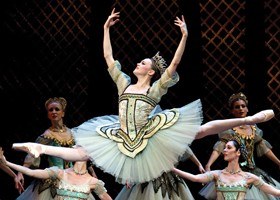 Dusty Button as Queen of the Dryads in Boston Ballet's production of Don Quixote
Dusty Button, Boston Ballet
"I remind myself that everyone in the audience and on the stage is in the same position. In life, everyone is a person first, before they're a dancer, a judge or an audience member. The audience is forgiving most of the time, because they're people, too. They are there to enjoy your performance, and it's so much more fun watching someone who is enjoying herself than someone who is worked up."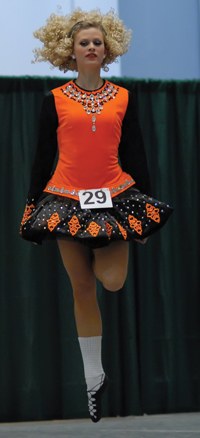 Maggie Darlington at the Western Region Oireachtas world qualifiers in 2009
Maggie Darlington, Riverdance
"Having good company backstage eases my nerves, whether it's a friend or a teacher. When I competed with teams, we would feed off of each other's energy—jumping up and down, talking to each other and giggling—instead of thinking about the competition."

Jason Luks, tap dancer
"I do push-ups and big jumps right before I perform to get my blood pumping. The moment you step onstage is a huge rush—it's great to get a head start on that energy."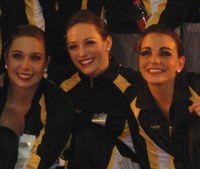 Haylee Roderick (center) with Center Stage Performing Arts Studio
Haylee Roderick, commercial dancer
"Right before we went onstage, my team and I would get together and say a prayer to remember why we were there. We were so close, like a family, so we would dedicate our dances to each other. Dancing for one another instead of a gold medal made the performance feel much more worthwhile."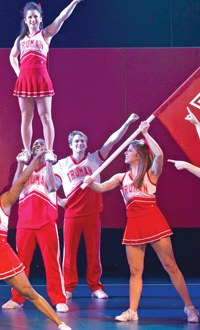 Neil Haskell in Bring It On: The Musical
Neil Haskell, Bring It On: The Musical
"I don't run through routines or sing lyrics beforehand, because I know if I forget them backstage, it will freak me out and then I won't be able to remember them onstage. I just try to relax and trust myself. And I know if I do mess up, there are other people onstage who have my back and will be able to cover for me. Knowing that makes me much more comfortable."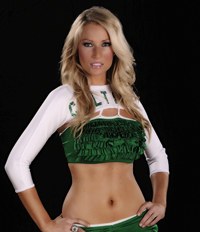 Alison Preston, Boston Celtics dancer
"My mom is my biggest supporter, and she told me to tap my foot three times if I got nervous. When I was standing in the wings waiting to go on and heard them call my name, I would get really anxious. But then I would tap my foot three times, and it would calm me down."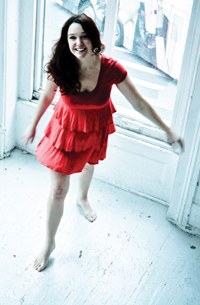 Cameron Adams, Nice Work If You Can Get It on Broadway
"As a kid, I was superstitious. I would do a really good warm-up by myself, and then I'd take a moment with my dance teacher to go over anything that was giving me trouble. My teacher and I had our own special handshake, too—a little routine we would do right before I went onstage."
Photo by ABC/Eric McCandless
And that's a wrap on "Dancing with the Stars" Season 24, ladies and gents! It's certainly been one for the books. From injuries to shocking eliminations, let's just say Season 24 has had its emotional ups and downs. But despite all that, the season made for some seriously phenom dancing and some killer performances. And as usual, we've loved watching every second of those cha chas, foxtrots, and waltzes.
Let's get right to the exciting stuff, though: Last night's winning couple of "Dancing with the Stars" is...
Keep reading...
Show less
May. 23, 2017 01:11PM EST
Via @quinn_starner on Instagram
Nearly 80,000 dance-loving Instagram followers can't be wrong: Quinn Starner is one to watch. And what's just as impressive as the 15-year-old's rabid online following is her ever-growing list of competition accolades. Quinn, who trains at Indiana Ballet Conservatory and Stars Dance Company, been named first runner-up at The Dance Awards for two years in a row (as a junior and a teen); was the 2016 West Coast Dance Explosion Teen National Champion; earned first place in contemporary and third place in the classical division at Youth America Grand Prix Regionals in Pittsburgh last year; has won the Grand Prix Award at ADC|IBC; and was a gold medalist at World Ballet Art Competition Grand Prix. Plus, she made it to the Academy round on last year's "So You Think You Can Dance: The Next Generation," and has performed as Clara in the Radio City Christmas Spectacular. Here's what Quinn has to say about her favorite songs, teachers, and career highlights.
Keep reading...
Show less
May. 23, 2017 02:34PM EST
NBC
Want a chance to get personally involved in the HOTLY anticipated TV show "World of Dance"? Of course you do. That's why J. Lo. and the rest of the "WOD" team have launched an interactive version of the upcoming NBC series that lets Snapchatters get in on the action.
Keep reading...
Show less
May. 22, 2017 02:07PM EST
On Saturday morning, Russell Horning—aka 15-year-old Instagram king @i_got_barzz—was already kind of famous. His admittedly bad but weirdly mesmerizing dance videos had earned him shoutouts from the likes of Rihanna (and dance tributes from the likes of Josh Killacky).
But by Sunday morning? By Sunday morning, Russell Got Barzz had reached an entirely different level of memedom. Because Katy Perry tapped the teen—signature backpack and all—to perform "Swish Swish" with her on "Saturday Night Live." And the internet lost its darn mind.
Keep reading...
Show less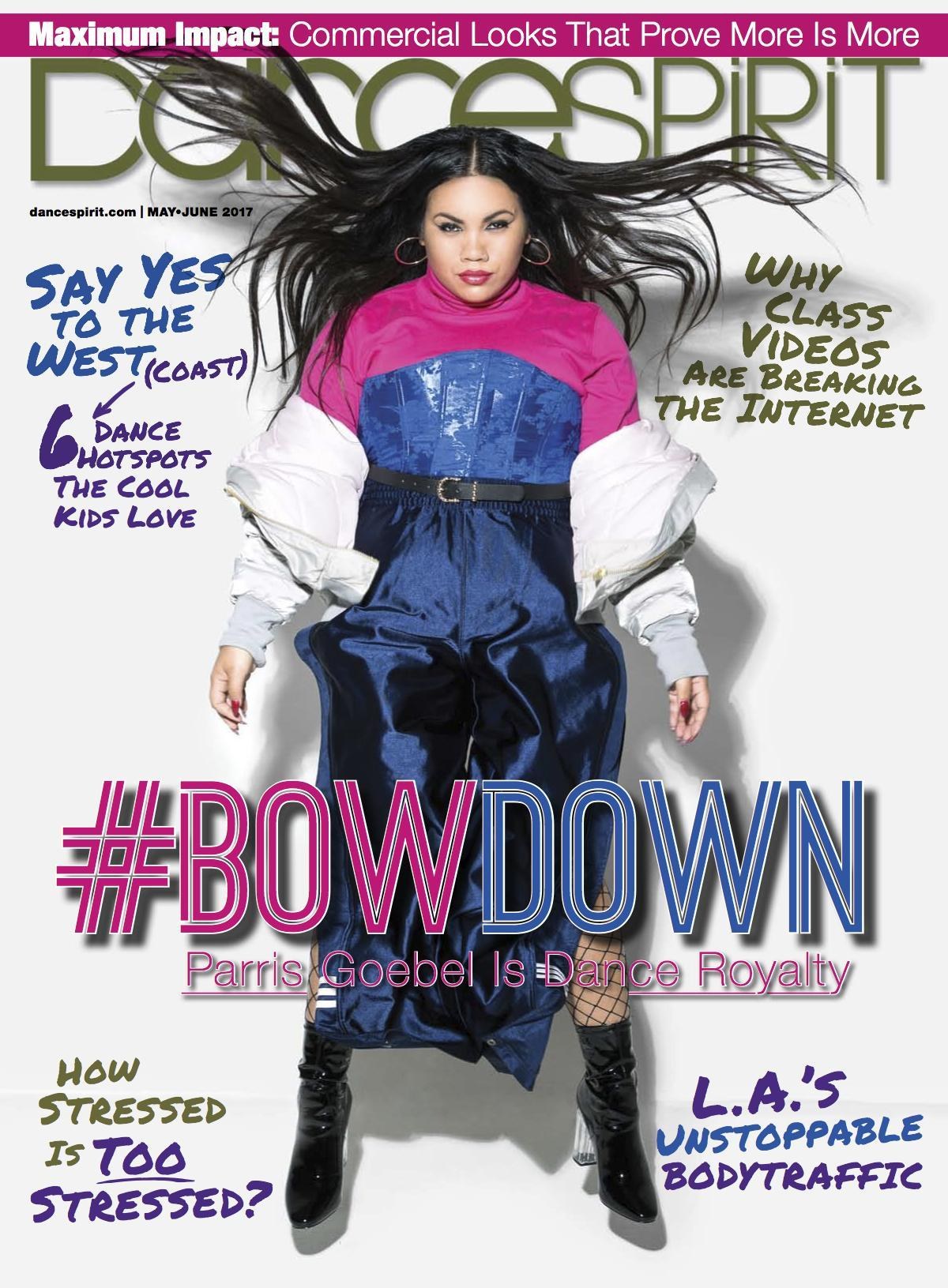 Get Dance Spirit in your inbox