Last summer, sisters Vivian and Savannah Reach attended NUVO Nationals in L.A. Vivian, then 15, competed for National Teen BreakOut Artist, and Savannah, then 17, competed for the senior title. During the year leading up to Nationals, Savannah and Vivian trained hard at their home studio, The Dance Centre, in Tuscaloosa, AL. For Vivian, all the prepping paid off—but nothing could prepare Savannah for the unexpected challenge that lay ahead. Here, the girls give you an inside look at the NUVO Nationals experience. —Katie Rolnick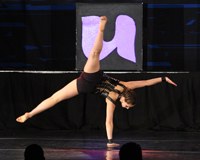 Vivian Reach performing her solo, "Bulletproof." Photo by Nick Perry.
Vivian: July 11, 2010

I woke up at 10, excited about our first day of dancing in L.A.! After a quick breakfast, Savannah and I warmed up for the National BreakOut Artist auditions. The ballet audition, taught by Chebar Williams, was first. She's a tough teacher, and her combination was technical and challenging. Then we had a jazz audition led by Mark Meismer. He taught an upbeat, fast piece that was loads of fun. After both auditions, I felt like all my work throughout the year was worth it. But I still have to perform my solo tomorrow, which counts for more than half of my score.
We spent the rest of the day learning our number for the gala performance on the final day. We're dancing to Michael Jackson's "Dangerous," and we didn't finish rehearsing until 11:30 pm—I'm exhausted!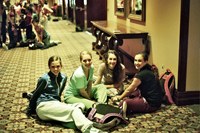 Stretching before class at NUVO Nationals: (L to R) Alden Phillips, Anna Beth Lancaster, Savannah and Vivian Reach. Photo by Robin Reach.
Savannah: July 12, 2010
I woke up at 6:15 am grateful that I was able to move after the long night of rehearsals. Today, we spent most of the day in classes. We took contemporary with Justin Giles, who's not only a wonderful dancer but also a wonderful person. He makes every student feel valued. After lunch we had hip hop with Ivan Koumaev. I usually feel nervous in hip-hop class. It's never been my style—Vivian tells me that's because I'm so focused on ballet. But Ivan taught in a way that helped me pick up the steps.
Later, we performed our BreakOut Artist solos for the faculty judges. I was extra nervous because Travis Wall was judging. He couldn't give me a score because he choreographed my solo, but this was the first time he'd seen me perform the piece since he had taught it to me in October—talk about pressure! I don't think my performance was my best because my balance was off, but I felt like I did a good job. After everyone danced, we all headed to the stage to hear our scores. As they announced the top 10, I kept waiting to hear my name. Finally, they called it—in the top three! I won't find out how I placed until the final day, when the three of us perform our solos again at the gala.
Vivian: July 13, 2010
Last night, my solo went well. I was slightly disappointed that I placed fourth and therefore won't be dancing at the gala (only the top three perform again). But I truly enjoyed competing and watching my friends and my sister dance. This experience has helped me realize that whether you're in the top three or the top 30, what really matters is doing what you love. Also, Justin Giles was teaching first today and nothing was going to stop me from getting to class!
Vivian: July 14, 2010
This afternoon, Savannah started feeling sick. Two of our friends have also come down with something and I'm worried she has the same thing.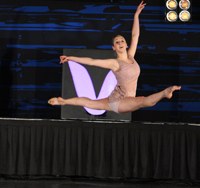 Savannah performs her solo, "Love Me Still." Photo by Nick Perry.
Savannah: July 15, 2010
I was up all night with a fever, chills and a headache. I really wanted to go to classes today, but I woke up still feeling awful so I had to stay in bed.
Despite being sick, tonight I have to perform at the gala. This afternoon, we had our only rehearsal on the stage, so I drank a bottle of Gatorade, took an Epsom salt bath, threw on some sweats and headed downstairs. I felt weak, so I just marked the group routine for spacing. After the rehearsal, Vivian helped me back up to the room. With only four hours before the performance, I wondered how I was going to be able to perform full out. But I was determined to dance, so I pushed through the pain and, with Vivian's help, got ready.
Once I got backstage tonight I felt my adrenaline rushing. The excitement helped me make it through the opening number without thinking about how sick I felt. Then came the hard part: my solo. Usually I spend a long time stretching, but with the chills, I could barely stay warm. I ran my freezing hands under hot water, borrowed a friend's jacket and found a warm room in which to stretch.
Vivian
Savannah is still really sick. Before she performed her solo, she said to me, "Vivian, I can't do it." I said, "Yes you can. Just go up there and dance your heart out." We've always been best friends and she supports me completely in everything I do. When I competed for National Junior BreakOut Artist in 2008, Savannah was right beside me. She eased my nerves, and I ended up winning. So tonight, I waited with her backstage and did everything I could to encourage her.
Savannah
I was the last senior BreakOut soloist to dance. As I walked onstage, I just hoped I'd make it through the next two minutes and forty-five seconds without passing out. I counted on my training to get me through. Vivian, who's extremely honest, said it was the best I'd ever danced and that maybe I focus too much on perfection when I perform. She may be right, since I don't remember thinking about the steps at all. 
Before I knew it, it was time for awards. I was expecting to get second runner up because the other two girls were such beautiful dancers. Zoey Anderson was called first and then Lauren Blakeney. Wait, I was the winner? Really? I started crying both from relief and pure joy. What an incredible ending to this week!
Editor's note: As the Senior BreakOut Artist winner, Savannah spent this year assisting at regional NUVO conventions. She also completed her freshman year at the University of Alabama, where she studies dance and chemistry on full scholarship. This summer, she and Vivian will both assist at Adrenaline Nationals in Chicago.
Win It
Sep. 05, 2017 12:10PM EST
Photos by Erin Baiano
It's time to get your pirouette on! From September 5th to September 30th, we're hosting a contest to find out who's the best turner of them all.

Put together your most impressive turning combo. Post a video online. Share your turns with us and thousands of other dancers around the world. And if our editors think you're the top turner, you'll win a fabulous prize.
Keep reading...
Show less
All of 18-year-old Kaylin Maggard's dreams—from scoring the title of National Senior Outstanding Dancer at New York City Dance Alliance Nationals to winning the 2017 Dance Spirit Cover Model Search—are coming true. And to anyone who knows the gorgeous contemporary dancer, that's no surprise.
From the moment the Dance Spirit staff met Kaylin, it was obvious her humility and talent would take her far. Not only did she go full-out during the photo shoot and class at Broadway Dance Center, but she was always cheering on, laughing with, and supporting her fellow CMS contestants Haley Hartsfield and Michelle Quiner. During the voting period, the social media world was abuzz with praise for her work ethic, positive attitude, and generosity.
Since her CMS trip to NYC, Kaylin's moved from her hometown of Columbia, MO, to the Big Apple for her freshman year at Juilliard, and is busy getting acquainted with the city. As for the future? She's taking it one opportunity at a time, but something tells us we'll be seeing this contemporary queen reach new heights every year.
Keep reading...
Show less
Instagram star Kylie Shea has built a following of nearly 170,000 with her playful workout videos, which combine traditional fitness activities, like jumping rope or running on the treadmill, with pointe shoes and sassy choreography. Shea's effortless cool-girl-next-door vibe and solid ballet technique make her vids totally irresistible.
Now Shea's using her platform to address the body image issues that tend to plague dancers. In a poignant video, she sheds her clothes and tugs at her skin. The caption explains her relationship with her body and the pressure she feels to maintain a certain aesthetic as a dancer.
Keep reading...
Show less
Physical discomfort is inevitable when you're spending tons of hours in the studio every day, but some pain shouldn't be suffered through. "Dancing through pain can make an injury worse and lead to more time away from dance," says Dr. Joel Brenner, medical director of dance medicine at Children's Hospital of The King's Daughters in Norfolk, VA. "Failing to rest and recover when you're in serious pain could even lead to the point where you're unable to dance in the future."
That may sound scary, but there's good news: If you take precautions and listen to your body, many injuries can be stopped in their tracks. The first step? Knowing what's normal—and what's not.
Keep reading...
Show less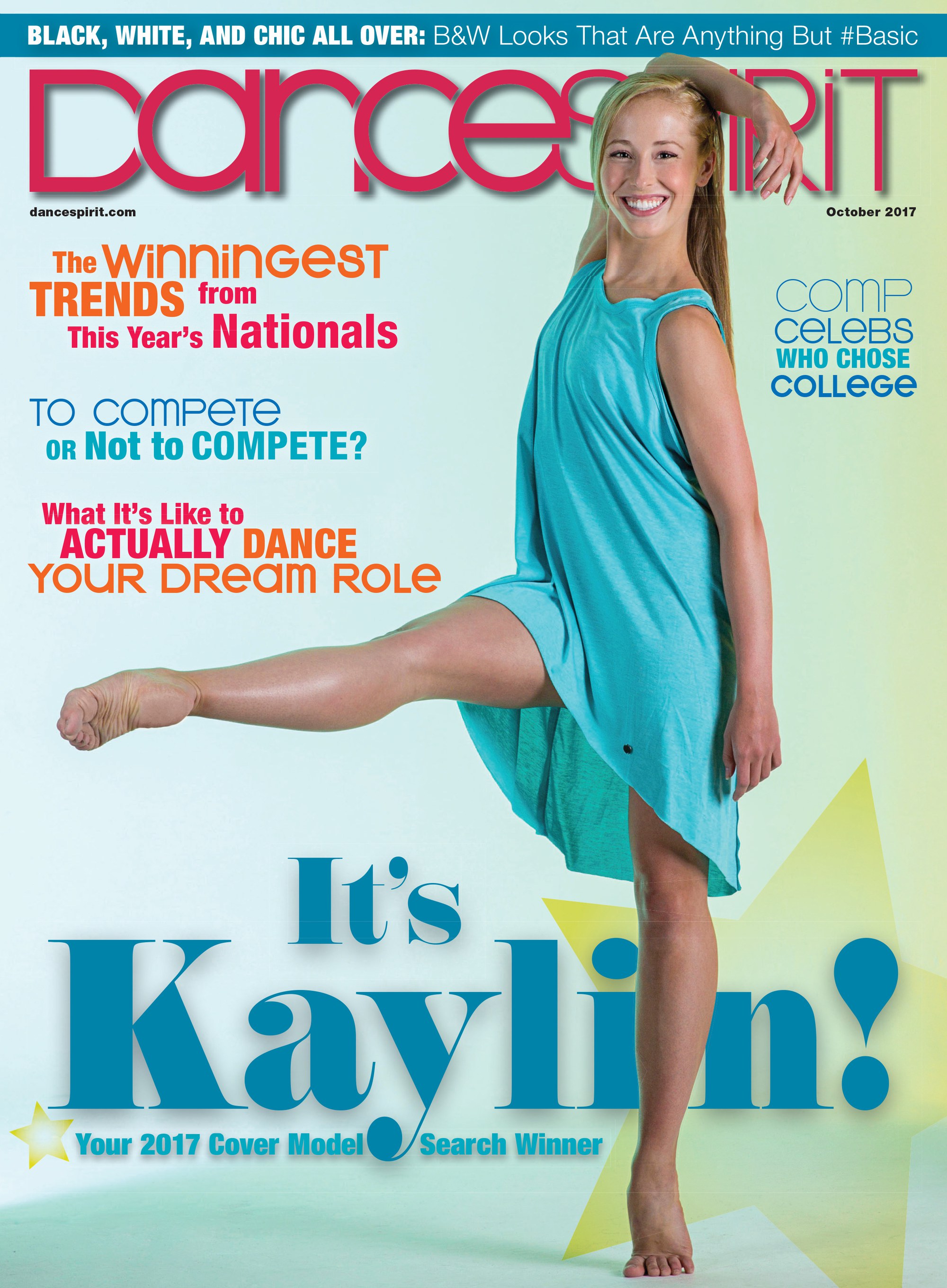 Get Dance Spirit in your inbox