Last summer, sisters Vivian and Savannah Reach attended NUVO Nationals in L.A. Vivian, then 15, competed for National Teen BreakOut Artist, and Savannah, then 17, competed for the senior title. During the year leading up to Nationals, Savannah and Vivian trained hard at their home studio, The Dance Centre, in Tuscaloosa, AL. For Vivian, all the prepping paid off—but nothing could prepare Savannah for the unexpected challenge that lay ahead. Here, the girls give you an inside look at the NUVO Nationals experience. —Katie Rolnick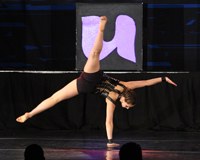 Vivian Reach performing her solo, "Bulletproof." Photo by Nick Perry.
Vivian: July 11, 2010

I woke up at 10, excited about our first day of dancing in L.A.! After a quick breakfast, Savannah and I warmed up for the National BreakOut Artist auditions. The ballet audition, taught by Chebar Williams, was first. She's a tough teacher, and her combination was technical and challenging. Then we had a jazz audition led by Mark Meismer. He taught an upbeat, fast piece that was loads of fun. After both auditions, I felt like all my work throughout the year was worth it. But I still have to perform my solo tomorrow, which counts for more than half of my score.
We spent the rest of the day learning our number for the gala performance on the final day. We're dancing to Michael Jackson's "Dangerous," and we didn't finish rehearsing until 11:30 pm—I'm exhausted!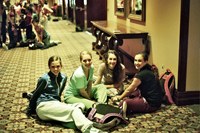 Stretching before class at NUVO Nationals: (L to R) Alden Phillips, Anna Beth Lancaster, Savannah and Vivian Reach. Photo by Robin Reach.
Savannah: July 12, 2010
I woke up at 6:15 am grateful that I was able to move after the long night of rehearsals. Today, we spent most of the day in classes. We took contemporary with Justin Giles, who's not only a wonderful dancer but also a wonderful person. He makes every student feel valued. After lunch we had hip hop with Ivan Koumaev. I usually feel nervous in hip-hop class. It's never been my style—Vivian tells me that's because I'm so focused on ballet. But Ivan taught in a way that helped me pick up the steps.
Later, we performed our BreakOut Artist solos for the faculty judges. I was extra nervous because Travis Wall was judging. He couldn't give me a score because he choreographed my solo, but this was the first time he'd seen me perform the piece since he had taught it to me in October—talk about pressure! I don't think my performance was my best because my balance was off, but I felt like I did a good job. After everyone danced, we all headed to the stage to hear our scores. As they announced the top 10, I kept waiting to hear my name. Finally, they called it—in the top three! I won't find out how I placed until the final day, when the three of us perform our solos again at the gala.
Vivian: July 13, 2010
Last night, my solo went well. I was slightly disappointed that I placed fourth and therefore won't be dancing at the gala (only the top three perform again). But I truly enjoyed competing and watching my friends and my sister dance. This experience has helped me realize that whether you're in the top three or the top 30, what really matters is doing what you love. Also, Justin Giles was teaching first today and nothing was going to stop me from getting to class!
Vivian: July 14, 2010
This afternoon, Savannah started feeling sick. Two of our friends have also come down with something and I'm worried she has the same thing.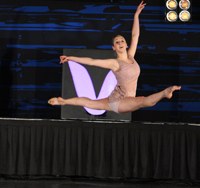 Savannah performs her solo, "Love Me Still." Photo by Nick Perry.
Savannah: July 15, 2010
I was up all night with a fever, chills and a headache. I really wanted to go to classes today, but I woke up still feeling awful so I had to stay in bed.
Despite being sick, tonight I have to perform at the gala. This afternoon, we had our only rehearsal on the stage, so I drank a bottle of Gatorade, took an Epsom salt bath, threw on some sweats and headed downstairs. I felt weak, so I just marked the group routine for spacing. After the rehearsal, Vivian helped me back up to the room. With only four hours before the performance, I wondered how I was going to be able to perform full out. But I was determined to dance, so I pushed through the pain and, with Vivian's help, got ready.
Once I got backstage tonight I felt my adrenaline rushing. The excitement helped me make it through the opening number without thinking about how sick I felt. Then came the hard part: my solo. Usually I spend a long time stretching, but with the chills, I could barely stay warm. I ran my freezing hands under hot water, borrowed a friend's jacket and found a warm room in which to stretch.
Vivian
Savannah is still really sick. Before she performed her solo, she said to me, "Vivian, I can't do it." I said, "Yes you can. Just go up there and dance your heart out." We've always been best friends and she supports me completely in everything I do. When I competed for National Junior BreakOut Artist in 2008, Savannah was right beside me. She eased my nerves, and I ended up winning. So tonight, I waited with her backstage and did everything I could to encourage her.
Savannah
I was the last senior BreakOut soloist to dance. As I walked onstage, I just hoped I'd make it through the next two minutes and forty-five seconds without passing out. I counted on my training to get me through. Vivian, who's extremely honest, said it was the best I'd ever danced and that maybe I focus too much on perfection when I perform. She may be right, since I don't remember thinking about the steps at all. 
Before I knew it, it was time for awards. I was expecting to get second runner up because the other two girls were such beautiful dancers. Zoey Anderson was called first and then Lauren Blakeney. Wait, I was the winner? Really? I started crying both from relief and pure joy. What an incredible ending to this week!
Editor's note: As the Senior BreakOut Artist winner, Savannah spent this year assisting at regional NUVO conventions. She also completed her freshman year at the University of Alabama, where she studies dance and chemistry on full scholarship. This summer, she and Vivian will both assist at Adrenaline Nationals in Chicago.
Photo by ABC/Eric McCandless
And that's a wrap on "Dancing with the Stars" Season 24, ladies and gents! It's certainly been one for the books. From injuries to shocking eliminations, let's just say Season 24 has had its emotional ups and downs. But despite all that, the season made for some seriously phenom dancing and some killer performances. And as usual, we've loved watching every second of those cha chas, foxtrots, and waltzes.
Let's get right to the exciting stuff, though: Last night's winning couple of "Dancing with the Stars" is...
Keep reading...
Show less
May. 23, 2017 01:11PM EST
Via @quinn_starner on Instagram
Nearly 80,000 dance-loving Instagram followers can't be wrong: Quinn Starner is one to watch. And what's just as impressive as the 15-year-old's rabid online following is her ever-growing list of competition accolades. Quinn, who trains at Indiana Ballet Conservatory and Stars Dance Company, been named first runner-up at The Dance Awards for two years in a row (as a junior and a teen); was the 2016 West Coast Dance Explosion Teen National Champion; earned first place in contemporary and third place in the classical division at Youth America Grand Prix Regionals in Pittsburgh last year; has won the Grand Prix Award at ADC|IBC; and was a gold medalist at World Ballet Art Competition Grand Prix. Plus, she made it to the Academy round on last year's "So You Think You Can Dance: The Next Generation," and has performed as Clara in the Radio City Christmas Spectacular. Here's what Quinn has to say about her favorite songs, teachers, and career highlights.
Keep reading...
Show less
May. 23, 2017 02:34PM EST
NBC
Want a chance to get personally involved in the HOTLY anticipated TV show "World of Dance"? Of course you do. That's why J. Lo. and the rest of the "WOD" team have launched an interactive version of the upcoming NBC series that lets Snapchatters get in on the action.
Keep reading...
Show less
May. 22, 2017 02:07PM EST
On Saturday morning, Russell Horning—aka 15-year-old Instagram king @i_got_barzz—was already kind of famous. His admittedly bad but weirdly mesmerizing dance videos had earned him shoutouts from the likes of Rihanna (and dance tributes from the likes of Josh Killacky).
But by Sunday morning? By Sunday morning, Russell Got Barzz had reached an entirely different level of memedom. Because Katy Perry tapped the teen—signature backpack and all—to perform "Swish Swish" with her on "Saturday Night Live." And the internet lost its darn mind.
Keep reading...
Show less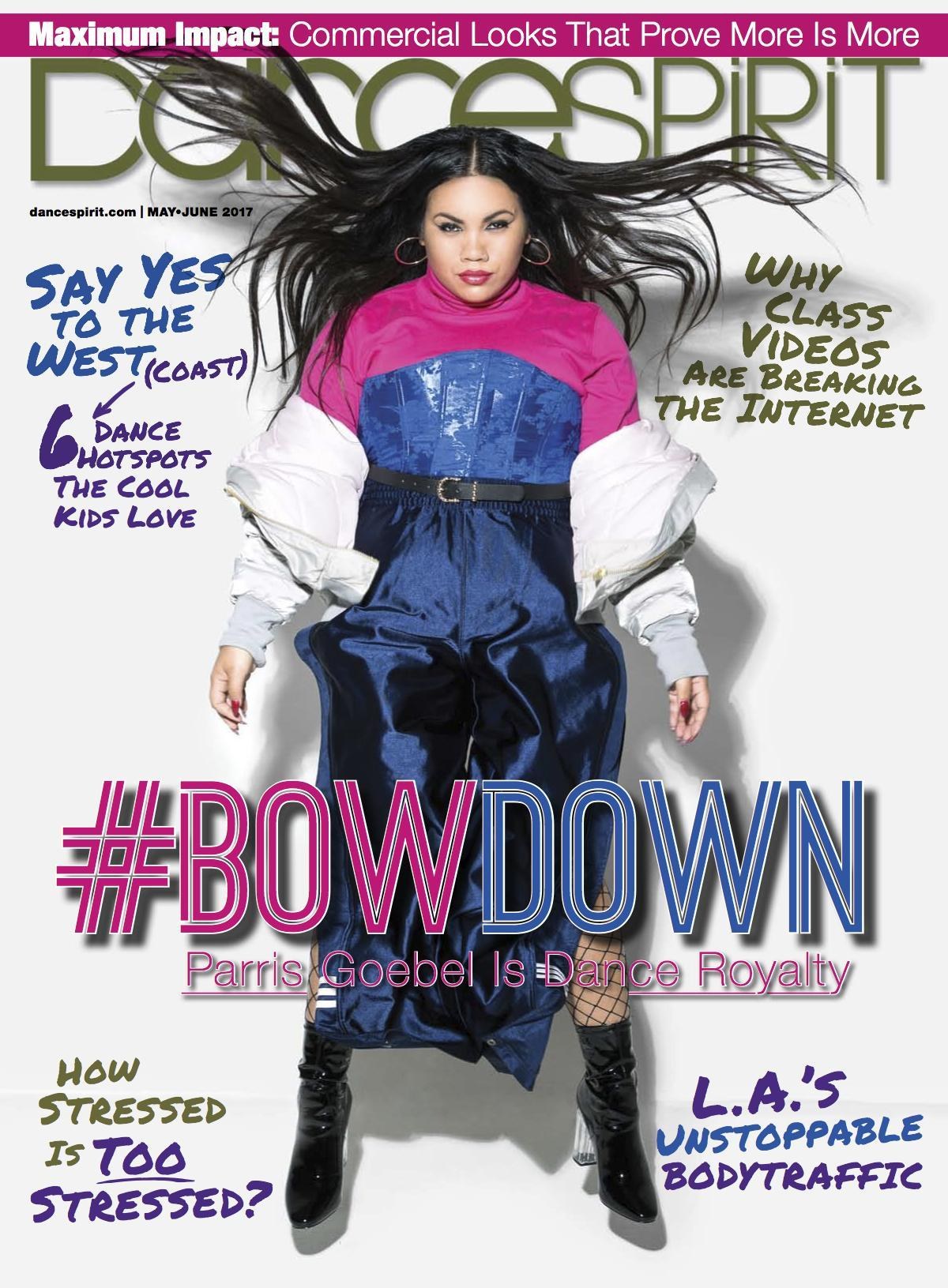 Get Dance Spirit in your inbox