Contemporary
Nov. 01, 2014 03:30PM EST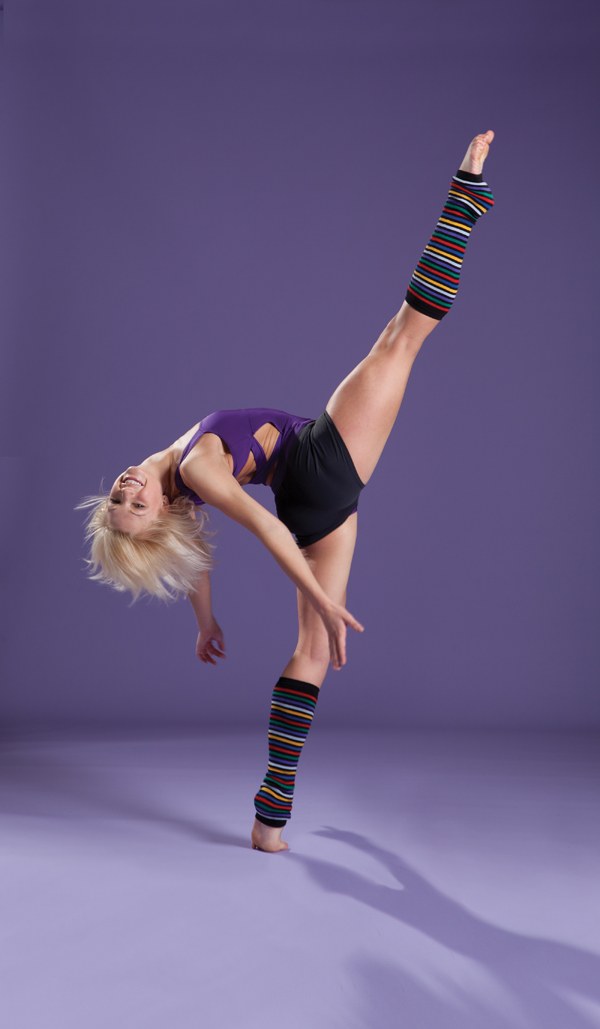 Kaitlynn Edgar's luscious layout (photo by Erin Baiano)
Everyone understands the appeal of the tilt: It's flashy, it's dramatic and it shows off the extension you've worked so hard for. But when it's time to freestyle, many contemporary dancers start tilting all over the place. "To me, tilts have become less impressive over time, because now everyone does them," says Mandy Moore, "So You Think You Can Dance" choreographer and JUMP Dance Convention contemporary teacher. "They've become a circus trick—the 'wow' factor is gone."
Feeling the tilt guilt? DS to the rescue: Here are three other moves that are just as exciting, and just as flattering to your extension. You don't have to erase tilts from your vocabulary, but try mixing these in once in a while!
1. The Layout
This is a jazz oldie that can translate into contemporary gold. "Nobody does them anymore, but as the climax of a phrase, they're really effective," Moore says. The slight bend in the bottom leg lets you crank your working leg impressively high, and the deep backbend adds extra drama.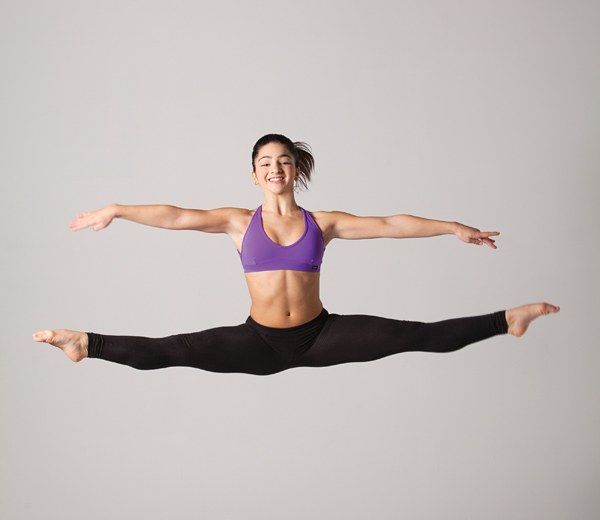 Daniella La Rosa's spectacular side leap (photo by Erin Baiano)
2. The Side Leap
"When a side leap is done well, it looks like you're just floating," Moore says. She adds that side leaps are great for less-bendy dancers, since jumping requires the short, fast-twitch muscles that Gumbys tend to lack. And since it's only viewed from the front, a side leap can create the illusion of a super-flat side-split—even if you don't quite have one yet.
3. The Hands-on-Floor Penchée
When your hands are on the floor, you can push into them as you battement back. That gives you a lot of leverage—which means you'll be able to get your leg higher than usual. (For that I'm-so-flexible-I'm-practically-a-contortionist look, try bending the working knee after your leg reaches the top of the battement.)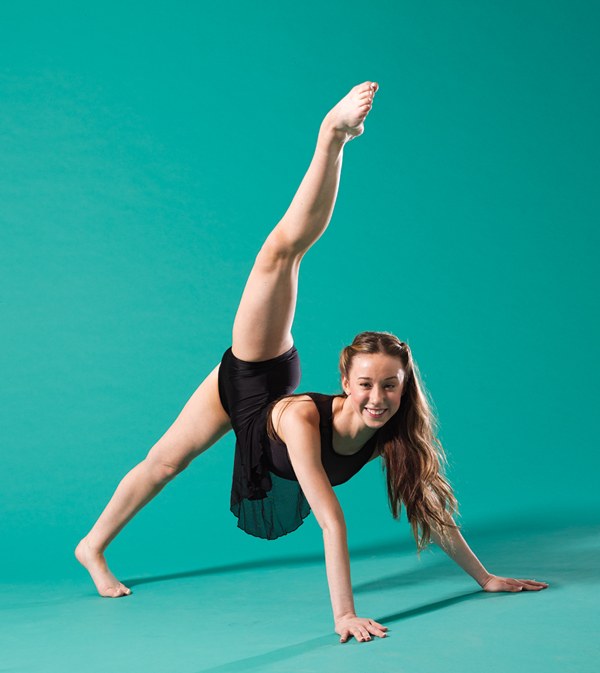 Hayden Hopkins' perfect penchée (photo by Nathan Sayers)
The Right Way to Tilt
Mandy Moore doesn't object to tilts when they're used in a way that makes sense musically and choreographically. "Rarely does a piece of music seem to be saying, 'Stop here and tilt!' " she says. "But when a tilt is incorporated smoothly into a phrase, it can be beautiful. If you do a jump that lands in a coupé and progresses into a développé tilt, for example, that looks gorgeous, because the tilt follows logically from the preceding movements. And if the tilt hits a high point in the music, that's even better. You don't want a tilt to be a cheap thrill that takes you out of the world you're creating onstage."
Contemporary
Sep. 01, 2013 01:00PM EST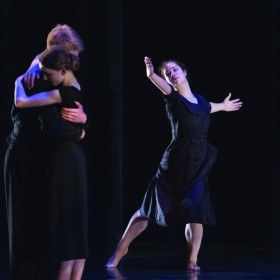 Josie Moseley's "When I Close My Eyes" (by Blaine Covert)
As the curtain rises on Josie Moseley's "When I Close My Eyes," a dancer in black moves with desperation, her gestures and face conveying that she has just experienced horrible loss. Choreographed on students at The Portland Ballet, the contemporary piece depicts the stories of Holocaust survivors.
Teenagers dancing about genocide? It sounds like a stretch, but it's become common to see contemporary dances that address social concerns like discrimination, abuse, disease or addiction. Frequently made for competitions, they offer dancers a chance to stretch artistically and stand out to judges. But mistakes like over-emoting can trivialize a serious issue and make a performance fall flat. Here's how you can approach a "heavy" piece in a way that's resonant, illuminating and gratifying.
PREPARATION: What Am I Dancing About?
Bree Hafen's "Terminal Soul" (second runner-up at the 2012 Capezio A.C.E. Awards) tells the true story of a young girl suffering from a terminal illness and her family's daily struggle with that reality. From the start, Hafen made sure her dancers understood the "why?" of the dance by having them meet the girl they would be dancing about. "It's very important that they're aware of how deep and sensitive the story is," she says. "Although I'd told them why we were doing this piece, taking it a step further to let them meet her and hear from her mom about her struggles helped them understand that this isn't 'just a dance'—this is something that happens to people every day."
Your teacher may not give you a back story, so try to create one for yourself—something you connect to personally. And if the piece is about a specific event, your dancing will be better if you know what you're dancing about. Even a little online research can go a long way. "The more dancers explore and know about what they're performing, the better," says choreographer Stacey Tookey. "Some of my best work was taken to another level simply because dancers researched what the piece was about and felt more connected to it."
REHEARSALS: Digging Deeper
To get comfortable with heavy subject matter during rehearsals, it helps to let go of your technique (it's not going anywhere) and focus on the reason for the movement. "It's important for dancers to take a healthy amount of time to explore, and find the layers, message or question within the piece," says Moseley, who sometimes asks her dancers to contribute gestures or words so they feel empathy for the subject. Hafen helps dancers move beyond merely executing choreography by specifically explaining every gesture:  "Make sure each movement is really defined in your mind, so you're always thinking, 'What am I trying to say right here? Why are we pulling her this way, or touching her this way?' " If you're not sure about the intention behind a specific movement, ask. Chances are there's a reason the choreographer chose it. Then, think of that description every time you dance it.
PERFORMANCE: True Emotion
When judging competitions, Hafen can sense when a piece is trying too hard to tug at her heartstrings to win points. "In my opinion, the most important thing is to depict a serious issue for the right reasons—to share a story to promote awareness or healing, not to win a trophy." Onstage, the best dancers go from finding basic facial expressions, to feeling an emotion, to performing so sincerely that the audience feels that emotion themselves. If you're having trouble feeling something authentic, Tookey advises surrendering to the moment: "Stop thinking about performing it. Forget there's an audience at all. Simply be the character." Nathan Makolandra, whose piece "It Gets Better" addresses discrimination, agrees: "Remain conscious of the message, but remember that the most important thing is the absolute presence of the artist."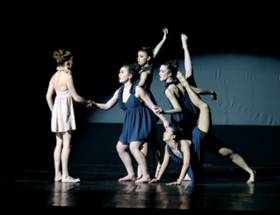 Bree Hafen's "Terminal Soul" (by Propix)
The opportunity to share an important message through dance is powerful, and valuable. Jillyn Bryant, who danced the role of the terminally ill child in "Terminal Soul," says the experience gave her new appreciation for the beauty and fragility of life. Makolandra describes dancing a piece about death as therapeutic, since his own father passed away from cancer. "That's what art does: It allows you to be changed by something because you feel it," Moseley says. "It attaches to you in a physical way."
Contemporary
Mar. 01, 2010 01:00PM EST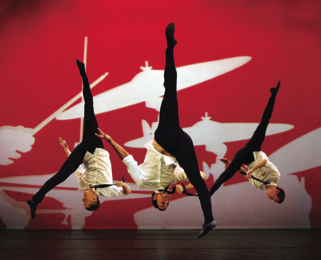 AC Ciulla was 19 and had just moved to NYC when he scored his first commercial gig, a J.C. Penney spot, after back-flipping off the casting director's table at the audition. "Doing the flip was a huge risk, but I knew I had their attention," the gymnast-turned- dancer says. "I had been a competitive gymnast all my life, so I thought my acro skills would make me special—and they did!"
Today, many dancemakers are finding new ways to infuse acrobatics into their choreography. It's popping up in almost every genre—even ballet! Rasta Thomas' ROCK the Ballet, starring the Bad Boys of Dance, mixes classical ballet with jaw-dropping tumbling to create an unforgettable performance.
Acro know-how won't make up for poor dance technique, but with the right training, it can make you stand out. "Not having a tumbling skill won't necessarily hold you back, but when you're at the final callback of an audition and you're up against dancers who are equal to you, a little acro can be the wow factor that gets you the gig," Ciulla says. Read on to discover how tumbling can improve your dancing and what steps you should take to learn these tricks safely.
Why Add Acro?
Now an Emmy Award–winning choreographer, teacher and judge for New York City Dance Alliance, Ciulla has a theory as to why tumbling is so popular today. He credits television shows like "So You Think You Can Dance" and "America's Best Dance Crew" with getting audiences accustomed to watching high-energy, athletic performances. "The dancers on these shows have incredible tumbling and acrobatic skills, so people expect it now," he says. Ade Obayomi, Mollee Gray and Legacy Perez from Seasons 5 and 6 of "SYTYCD" set the standard for acro, using their tumbling skills to secure spots in the Top 10.
"Acro definitely gave me a leg up on 'SYTYCD,' because even though America may not always appreciate good technique, they love seeing twists, flips and spins," says Neil Haskell, Season 3's third-place winner. Yet acro served Neil well even before he auditioned for "SYTYCD"—it landed him a spot in Twyla Tharp's musical The Times They Are A-Changin' in 2006. He says that without his acro skills, he never would have gotten the job. "My acro background was essential to picking up the style and choreography. I was constantly doing dive roles and back flips with full twists amidst all of the dancing." Haskell says that he uses tumbling at about 50 percent of his auditions and feels that everyone could benefit from adding acro to their repertoire. "I've seen people win and lose jobs because of acro, so it's a great tool to have. Use your acro skills to get their attention, and then use your technique to keep it."
Speaking of technique, some say acro can actually improve your dancing. Fourteen-year-old Makenzie Mofford, a senior company member at The Dance Club in Orem, UT, says her leaps, jumps and other dance skills improved after she added acro to her schedule seven years ago. "I went to a local gymnastics facility because I had always wanted to take tumbling, and I found that I was really good at it," says Makenzie, who has now been dancing for 11 years. "Acro helped me strengthen my legs and control my center, so my leaps and jumps are much better and higher than before." Her work is paying off: Makenzie recently won first place overall for her contemporary solo at a NUVO Dance Competition in Dallas, TX. "My solo stands out because of the aerials and big acrobatic floor section that has moves most people haven't seen before," Makenzie says. "It requires a lot of flexibility and strength that I wouldn't have without my acro background."
Acro training forces you to use your body in a broader range of motion than your regular dance training does, so your flexibility will increase. Your balance and agility will also improve as you engage your core and strengthen your muscles through the acro exercises.
Amp Up Your Acro Know-How
If you've never even attempted a roundoff, becoming an acro expert may seem out of reach. But with the right training, you can add a few simple tricks to your repertoire while also improving your basic dance skills. Check with your studio to see if they plan to offer any acro classes. Amy Giordano, director of the Giordano Dance School in Evanston, IL, offers a dance tumbling class that helps students perfect gymnastics staples like cartwheels, roundoffs, somersaults and back bends. She says these classes are useful for dancers because they help "enhance flexibility, balance and agility."
Not sure what to look for when searching for an acro class? Don't be afraid to ask a potential instructor about her qualifications. (Where did she train? How long has she been teaching? Is the facility adequate?) Stacy Finnerty, vice president of gymnastics-equipment maker Tumbl Trak, suggests checking to see if the studio or gym has enough space to ensure that you will feel comfortable running before a trick (at least 30 feet). Finnerty says the mats should be at least two inches thick when placed over a wood floor, and at least 1 3/8 inches thick if placed over a carpet.
The Essential Trick
So what's the move every dancer should know? All of our experts agree that if you're going to learn just one trick, an aerial (a cartwheel with no hands) is the best because it's so versatile. "Aerials can be flashy in a jazz routine, or beautiful in a lyrical number," says Brenda Searle, head dance team coach at Hillcrest High School in Midvale, UT.
With the supervision and instruction of your coach, you can learn an aerial by first perfecting a basic standing cartwheel. Then move on to a running cartwheel (a cartwheel preceded by a running start), followed by a dive cartwheel where you push off your front foot, adding a little hang time before your hands come down. With each dive cartwheel you should focus on pushing harder off your back foot until you can stay airborne long enough that you don't have to put your hands down at all—that's an aerial!
Use, Don't Abuse
Tumbling skills can be a great asset for certain dancers, but they should only be considered a complement to your dance training. Make safety your top priority: If you can't do a trick on the hard floor in your studio every time and with perfect technique, you should not attempt it at an audition or at a competition. "If you are at an event with well-trained judges, they will not care about how many tricks you do, but rather how everything flows with the music and the theme of the piece," Searle says. "Your routine should always make the audience feel something, and 10 back handsprings and six aerials are not going to make that happen."
Think tumbling might be right for you? Enroll in a basic acro class. If you can master the moves with ease, you may have found what you'll need to catapult you into the next stage of your career.
Contemporary
Dec. 01, 2009 08:23AM EST
The 1970s disco craze happened at a time when men donned heeled shoes and printed polyester shirts with oversized collars, and women wore flashy spandex, lamé and glitter. Disco, mainly a social type of dance, was all about grooving, letting go and having a good time. Popular moves included the hustle and the finger point. Just watch old episodes of "Soul Train" to get a feel for the funky vibe.
Over the past 30 years, disco dancing has made its way from the clubs to the studio and stage, and we still can't get enough! Everyone's getting funky, from your favorite contestants on "So You Think You Can Dance" and "Dancing With the Stars" to your peers at Nationals with their Dreamgirls disco numbers. It's even rumored that heartthrob Zac Efron will revive John Travolta's iconic role in the upcoming remake of Saturday Night Fever!
While disco started as a club dance, it has become a ballroom staple—and it's more technical than ever. "Disco is a more difficult and showy style today," says Doriana Sanchez, who has choreographed disco routines for five seasons of "SYTYCD" as well as "Cher at The Colosseum at Caesars Palace" in Las Vegas. "Today's disco includes quick footwork, intricate hand work, complicated hand switches and difficult lifts."
The Dawn of Disco
After the hippies and rockers did the counter-cultural thing in the '60s (think Hair), glamour was trendy once again during the 1970s. Disco dancing emerged in NYC, L.A. and Paris clubs, which relied on their libraries of records rather than live bands, so it was easier and more affordable for clubs to open. As a result, a wide range of people were exposed to the dance style very quickly. Studio 54, with its lit-up dance floors, powerful sound system and lavish furniture, was a prime example of where the disco culture thrived.
Disco music also influenced the dance style. The upbeat songs took cues from many genres, including jazz, rhythm and blues, soul, gospel and Latino. Think about how oldies like the Village People's "YMCA" and Gloria Gaynor's "I Will Survive" make you want to get up and boogie. Disc jockeys mixed songs together so they flowed seamlessly, encouraging people to stay on the dance floor. "The music of that decade, from the Bee Gees to Donna Summer, helped people express themselves," Sanchez says. "Disco encouraged people to feel free, and it gave them the freedom to move." But when Studio 54 closed in 1986, disco began to fade as well.
Retro Reemerges
Today, disco pushes dancers physically, taking moves from the '70s and making them relevant again. Shows like "SYTYCD" and "DWTS" have become outlets for trained dancers, as opposed to club dancers, to perform disco. "We can do things with dancers today that they have never done before," Sanchez says. Music has gotten faster and lifts have gotten more challenging (Ade Obayomi and Melissa Sandvig did a whopping four lifts during their "Move On Up" routine on "SYTYCD" Season 5). The lifts require a great deal of upper body strength, which is why it's a fitting outlet for trained dancers who are more inclined to train intensely than the clubgoers of the '70s.
Disco Does a Dancer Good
You don't have to be a dance reality show contestant to learn and appreciate the moves from your parents' generation. Joshua Estrin, who teaches dance at American Heritage School in Plantation, FL, likes to include the hustle and the disco fox, a partnered dance with a simple step-step-touch motion, in his classes. "It forces unity because you have to do it together or it won't look right," he says. "There may be strong individual dancers, but partnering forces them to work with another person. They have to learn to dance and turn at the same speed as one another."
Rommel O'Choa, a dance instructor for Broadway Bodies in NYC, decided to teach "Disco Inferno" from the musical Saturday Night Fever during his musical theater class—and his students had a blast. "Disco is all about high-energy dancing, sweating, losing yourself to the beat and celebrating the rhythm of the music. It immediately adds a guaranteed fun element," he says. So next time your parents bust out "the bump" or "the bus stop," grab your spandex and jump in!
Disco Beats
Music is one of the most important parts of disco dancing. Here are 10 songs to get your hips bumping and your finger pointing:
"Turn the Beat Around," Vicki Sue Robinson
"You Should be Dancing," Bee Gees
"I Will Survive," Gloria Gaynor
"I Love the Nightlife," Alicia Bridges
"I Feel Love," Donna Summer
"Dancer," Gino Soccio
"Disco Inferno," Trammps
"Dance, Dance, Dance," Chic
"More, More, More," Andrea True Connection
"We Are Family," Sister Sledge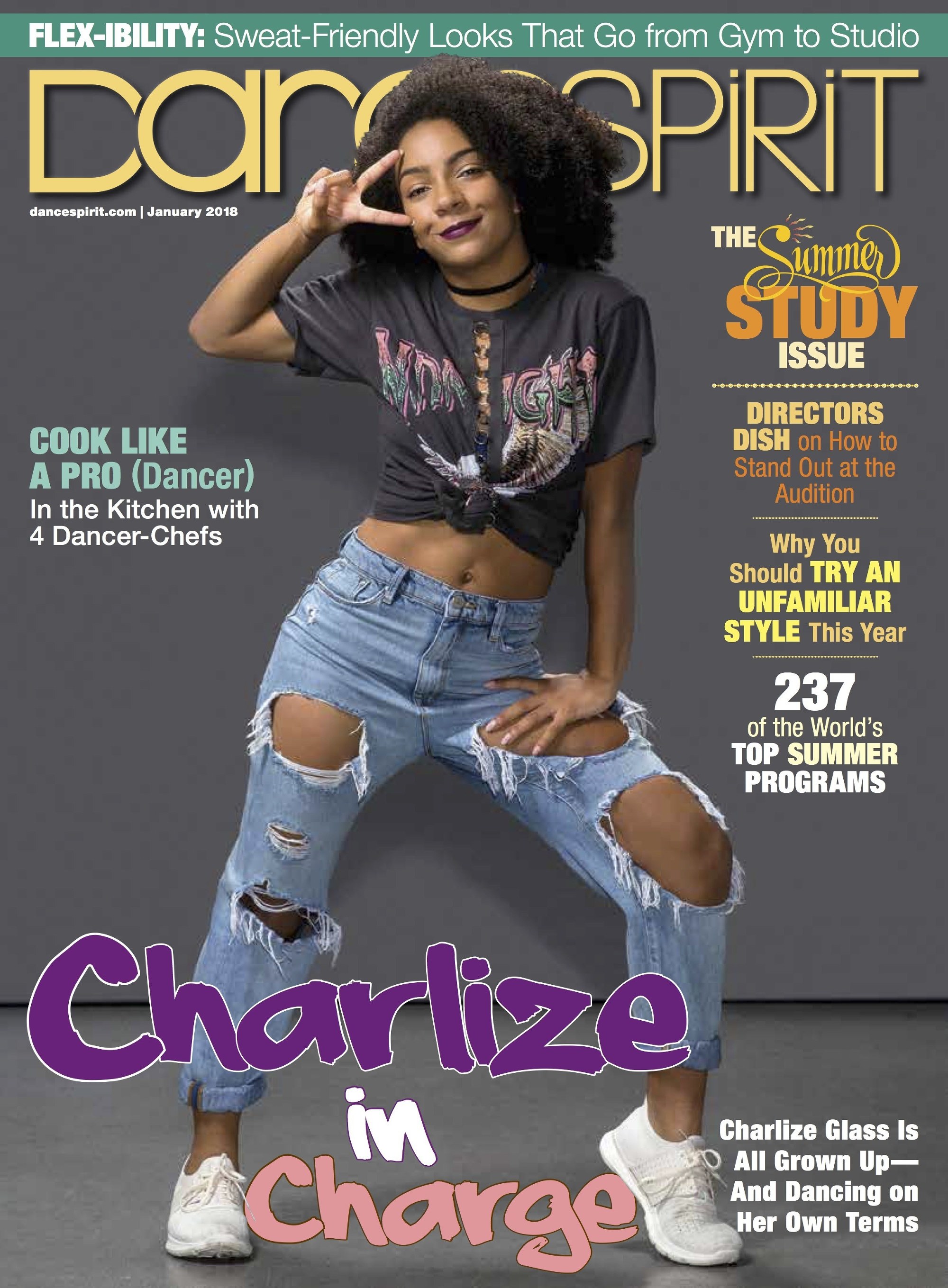 Get Dance Spirit in your inbox