Countdown: 10 Days until the 87th Annual Macy's Thanksgiving Day Parade!
To me, Thanksgiving means three things: delicious food, quality family time and the Macy's Thanksgiving Day Parade. Nothing says "It's the holidays!" quite like wrestling a turkey into the oven, while looking over my shoulder to make sure I haven't missed the Radio City Rockettes. (This has yet to end in disaster, knock on wood.)
So each November, I begin scouring the web for hints about the year's dancetastic performers. And I'm super psyched for what 2013 has to offer.
First, there's the pre-parade show, which features an assortment of fun dance numbers to celebrate the year's new Broadway shows. Get excited for excerpts from Motown, Pippin, and Matilda: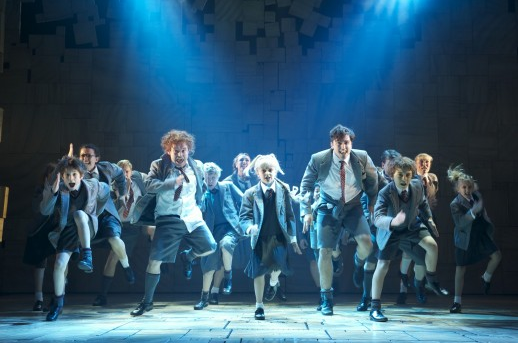 The Revolting Children from Matilda the Musical
In case that's not enough, we get a sneak-peek at The Sound of Music, Live!--an NBC telecast, airing December 5 at 8/7c, starring Carrie Underwood: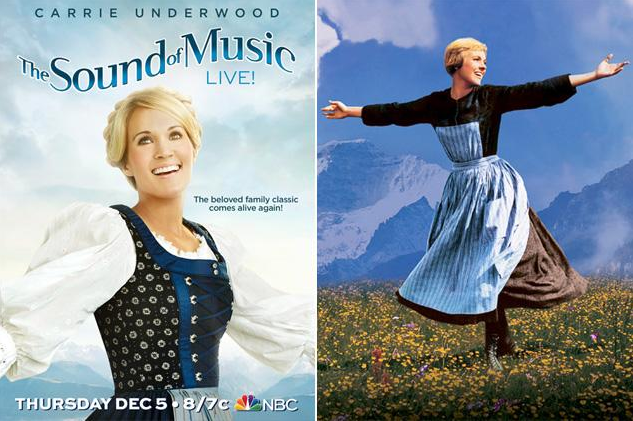 (courtesy NBC/Everett Collection)
The pre-parade show also features the world-famous Radio City Rockettes, who never fail to kick it up a notch: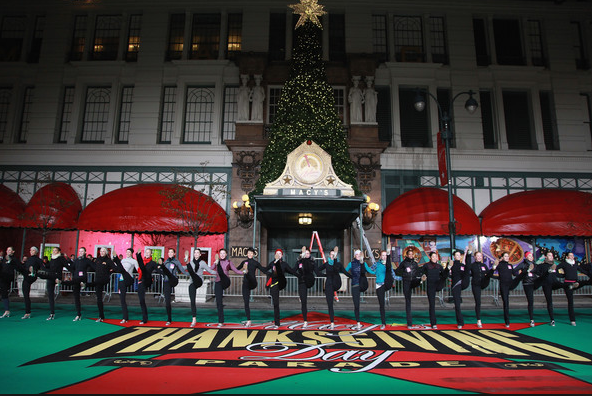 The Radio City Rockettes perform at the 86th annual Macy's Thanksgiving Day Parade (by Taylor Hill/Getty Images North America)
After that, the parade procession begins (led by those ginormous character balloons..Snoopy's coming back this year guys!).
My favorite part of the procession? The various dance teams, who travel from all over the country to show off their spirit and skill in the Big Apple. This year, we'll be entertained by the South Shore Drill Team, Varsity Spirit Cheer, Spirit of America Dance, All That! (a clogging group that appeared on "America's Got Talent") and J.U.M.P. (Jumpers United for Macy's Parade).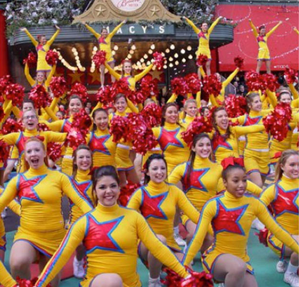 Varsity Spirit Cheer brings infectious energy to the Macy's Thanksgiving Day Parade.
Added bonus: Cirque du Soleil is teaming up with Macy's this year to debut Dreamseeker, one of the parade's largest floats (which is sure to feature some of our favorite bendy acrobats).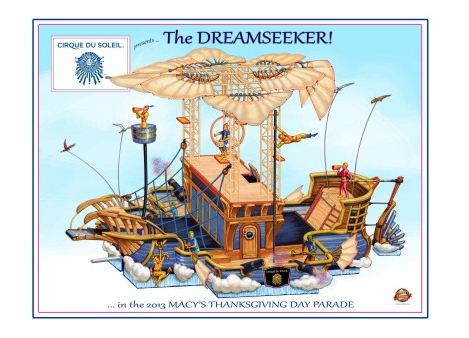 The 87th annual Macy's Thanksgiving Day Parade airs Thursday, November 28 from 9am to noon on NBC.
Get excited! (And don't forget about that turkey in the oven...)
(via YouTube)
Remember that fabulous old-school clip of dancers tapping in pointe shoes that Tabitha and Napoleon D'umo brought to our attention back in March? As we mentioned then, toe-tap dancing was actually super popular back in the 1920s and 30s—which means there are more videos where that one came from. And because #ToeTapTuesday has a nice ring to it, we thought we'd take this opportunity to introduce you to Dick and Edith Barstow, a toe-tapping brother and sister duo from that era who are nothing short of incredible:
Keep reading...
Show less
Adam Rose/FOX
Guess who's back? Back again? The Academy's back! Tell a friend.
After one day at The Academy, the All Stars have successfully taken the Top 100 down to 62. But their work is just getting started: Now they need to keep narrowing the field to a Top 10, ultimately deciding who each will partner with during the live shows.
Keep reading...
Show less
Sara Mearns and Chase Finlay in Pontus Lidberg's "The Shimmering Asphalt" (via @saramearns on Instagram)
We've said it before and we'll say it again: New York City Ballet principal Sara Mearns is some SERIOUS #goals. Her strength and power onstage borders on superhuman. But what's extra magical about Mearns is that she really puts in the fitness and cross-training work outside of the rehearsal studio. And she's overcome her fair share of injuries. Which is why she was the perfect source for Vogue's latest ballet fitness story.
Keep reading...
Show less


Get Dance Spirit in your inbox