Countdown: 10 Days until the 87th Annual Macy's Thanksgiving Day Parade!
To me, Thanksgiving means three things: delicious food, quality family time and the Macy's Thanksgiving Day Parade. Nothing says "It's the holidays!" quite like wrestling a turkey into the oven, while looking over my shoulder to make sure I haven't missed the Radio City Rockettes. (This has yet to end in disaster, knock on wood.)
So each November, I begin scouring the web for hints about the year's dancetastic performers. And I'm super psyched for what 2013 has to offer.
First, there's the pre-parade show, which features an assortment of fun dance numbers to celebrate the year's new Broadway shows. Get excited for excerpts from Motown, Pippin, and Matilda: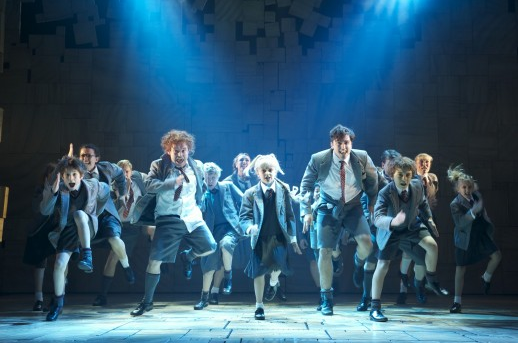 The Revolting Children from Matilda the Musical
In case that's not enough, we get a sneak-peek at The Sound of Music, Live!--an NBC telecast, airing December 5 at 8/7c, starring Carrie Underwood: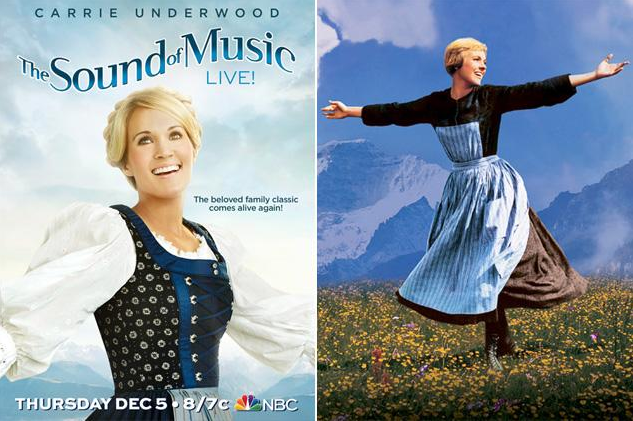 (courtesy NBC/Everett Collection)
The pre-parade show also features the world-famous Radio City Rockettes, who never fail to kick it up a notch: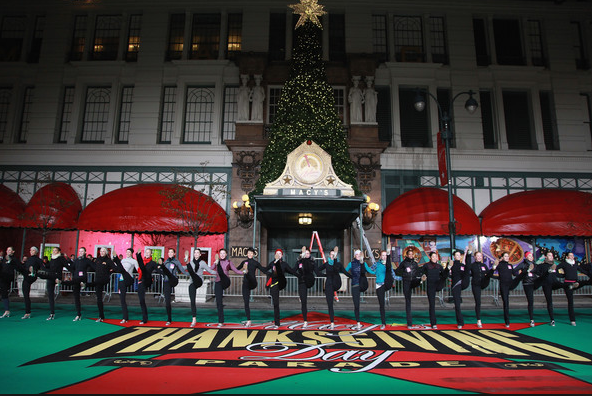 The Radio City Rockettes perform at the 86th annual Macy's Thanksgiving Day Parade (by Taylor Hill/Getty Images North America)
After that, the parade procession begins (led by those ginormous character balloons..Snoopy's coming back this year guys!).
My favorite part of the procession? The various dance teams, who travel from all over the country to show off their spirit and skill in the Big Apple. This year, we'll be entertained by the South Shore Drill Team, Varsity Spirit Cheer, Spirit of America Dance, All That! (a clogging group that appeared on "America's Got Talent") and J.U.M.P. (Jumpers United for Macy's Parade).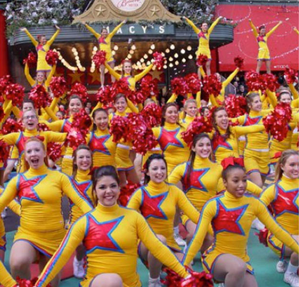 Varsity Spirit Cheer brings infectious energy to the Macy's Thanksgiving Day Parade.
Added bonus: Cirque du Soleil is teaming up with Macy's this year to debut Dreamseeker, one of the parade's largest floats (which is sure to feature some of our favorite bendy acrobats).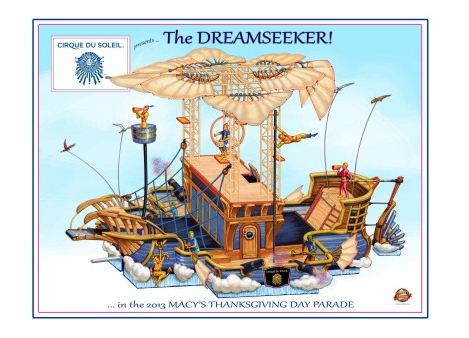 The 87th annual Macy's Thanksgiving Day Parade airs Thursday, November 28 from 9am to noon on NBC.
Get excited! (And don't forget about that turkey in the oven...)
(From left) ABT's Erica Lall; NYCB's India Bradley; Washington Ballet's Nardia Boodoo; NYCB's Rachel Hutsell (all photos by Rachel Neville)
Misty Copeland. Her name is synonymous with exquisite artistry and outspoken advocacy. And her visibility has made a huge impact on the ballet world. Ballet's relationship with race has always been strained at best, hostile at worst. But Copeland's persistent message and star quality have finally forced the ballet industry to start talking about racial diversity, inclusivity, and representation. "The rarity of seeing ourselves represented is sad," Copeland says. "The more we see every hue and body shape represented on the stage, the more possibilities young dancers feel they have for themselves."
Keep reading...
Show less
Thinkstock
"Whole, low-fat, or skim?" The question of which milk to drink has gotten a little more complicated lately, with a wide variety of nondairy milks popping up in grocery stores. To find out which ones are worth your milk money, we had registered dietitian Monika Saigal answer some FAQs.
Keep reading...
Show less
Popular
Feb. 16, 2018 11:58AM EST
Via Jaime Guttenberg's memorialized Facebook page
Yesterday, the dance community was heartbroken to learn that Jaime Guttenberg and Cara Loughran, both 14-year-old dancers, were among the 17 people killed on Valentine's Day in the shooting at Marjory Stoneman Douglas High School in Parkland, FL.
Keep reading...
Show less
Sarah Lane as Clara in The Nutcracker (photo by Gene Schiavone, courtesy American Ballet Theatre)
American Ballet Theatre principal Sarah Lane charms audiences with her bright energy and crisp technique. The San Francisco, CA, native first started dancing at age 4 at a local community center, and at age 7 started training in Memphis, TN, at the Classical Ballet Memphis. Her family later moved to Rochester, NY, where she continued studying at the Draper Center for Dance Education. In 2002, she was a YoungArts Foundation winner in dance, allowing her to become a U.S. Presidential Scholar in the Arts. She joined American Ballet Theatre as an apprentice in 2003, was made a soloist in 2007, and was promoted to principal last fall. Recently, she originated the role of Princess Praline in Alexei Ratmansky's Whipped Cream. Catch her later this spring during ABT's Metropolitan Opera season. —Courtney Bowers
Keep reading...
Show less
You and I both know that dancing is the best thing since chocolate chip cookies! But its always nice when dance gets the recognition it deserves from non–dance-world peeps. That's why we did our own happy dance when we saw Shape magazine's article on how dancing can actually make you a better athlete.
Keep reading...
Show less


Get Dance Spirit in your inbox