Aug. 01, 2010 02:21PM EST
Cover Model Search Finalist: Emily James
Emily James has a lean, long-limbed frame, and when she dances, her arms and legs stretch out farther than seems possible. Emily's forte is lyrical contemporary, but her strong technique and fearless personality allow her to adapt to nearly any style. Whether in hip hop or jazz, Emily moves with a sense of abandon. You feel as if you never know what's coming next, which makes her an exciting performer. As if that's not enough, Emily has every dancer's dream feet: supple and super archy!
Watching her move with graceful ease, you would never guess that this 17-year-old has struggled with numerous injuries, both in and out of the studio. Though her training has been derailed more than once, Emily has kept her cool—a trait that suits this recreational surfer. And with patience and determination, she continues to thrive.
Emily began dancing when she was 2 years old and a few years later started studying at Dance Artistry, then located in Warwick, RI. At 12, she moved on to Atwood Performing Arts Center in Cranston, RI. She was progressing steadily, studying ballet, modern, tap, jazz, hip hop and contemporary, when, at 13, she tore her hamstring while performing in a school talent show. The injury sidelined her for three months and it was nearly a year before she was able to dance full out.
Two years later, at 16, Emily developed a hairline fracture in her mid-lower back. She took a two-month break and was just beginning to feel better when she was in a serious car accident, which re-aggravated her back. "I was so afraid that I wouldn't be able to dance again," she says. But, true to form, she didn't let the injury keep her down.
Just a few months after her crash, Emily was scheduled to perform at American Dance Awards Nationals to pass on the Teen Dancer of the Year title she'd won the previous summer. She used the ADA performance as motivation and, even though she hadn't fully recovered, she danced an impassioned, self-choreographed solo. The video of that performance became her winning submission to the Cover Model Search!
Along with her solo performance, Emily gave a speech at ADA. "I've seen many girls get discouraged if they don't get the 'platinum' or 'gold' title," she says. "I talked about dancing for the love of it." These values led Emily to make a big decision leading up to her senior year: She switched studios again, this time enrolling at the Warwick Dance & Gymnastics Academy, where she was able to focus more on training than competitions.
Emily also knows the value of taking time away from dance. Whenever she has a free moment (and it's warm enough!), she heads to the beach. Emily took her first surfing lesson when she was 12, got her own board soon after and has been catching waves ever since.
Even with all these activities, Emily still managed to earn straight A's in high school, which helped her get accepted to numerous prestigious college dance programs, including New York University's Tisch School of the Arts and Ailey/Fordham. She was also accepted to Wake Forest University in North Carolina (which has an active campus dance company), where she's headed this fall.
After college, Emily has big dreams for her future. She wants to continue developing her choreography skills. And taking West Coast Dance Explosion classes with former Joffrey-turned-Broadway dancer Elizabeth Parkinson inspired Emily to think about dancing on the Great White Way.
Fast Facts
Dance idol: Stacey Tookey. "I've always loved taking her classes because she tells a story with even the shortest combination."
Dance crush: West Coast Dance Explosion faculty member Eddie Strachan
Dance mentor: Suzi Taylor. "I like her classic style. And her choreography gives you steps but allows you to interpret the movement yourself."
3 words that describe your dance style: Graceful, heartfelt, dynamic
3 words that describe you: Humble, easy-going, loud
Favorite dance step: "Front attitude turn, because even though it's simple, there are a lot of different things you can do. It's open-ended."
Favorite food: French fries and ice cream—but not together!
When no one's looking I: "...dance alone in my room."
Favorite dance movie: Center Stage
Dream dance job: To be a lead in a Broadway show, "something dance-y like Chicago or Movin' Out."
What People Are Saying about Emily's Dancing
Calen Kurka: "She's very attentive in class and works really hard. She could probably work just as hard but more specifically. She's got an amazing body and has strength in her extremities, but it's not always held in her core."
Sheila Barker: "I loved seeing how hungry she was to learn the movement and give it her all. She was very strong in her interpretation and delivery of the movement. With her drive, I would like to see her play more with her movement."
Jamie Jackson: "She understands the music and the feel of the song. She could still be a little cleaner. While you have freedom, it should be a controlled freedom. But she interpreted the feeling really well."
Alison Feller, DS deputy editor in chief: "Emily moves with ease and sophistication. She has gorgeous lines, confidence and the loveliest feet you'll ever see! She's the girl everyone watches in class to see if they're doing the movement right."
Photo of Emily James by Nathan Sayers.
Win It
Sep. 05, 2017 12:10PM EST
Photos by Erin Baiano
It's time to get your pirouette on! From September 5th to September 30th, we're hosting a contest to find out who's the best turner of them all.

Put together your most impressive turning combo. Post a video online. Share your turns with us and thousands of other dancers around the world. And if our editors think you're the top turner, you'll win a fabulous prize.
Keep reading...
Show less
All of 18-year-old Kaylin Maggard's dreams—from scoring the title of National Senior Outstanding Dancer at New York City Dance Alliance Nationals to winning the 2017 Dance Spirit Cover Model Search—are coming true. And to anyone who knows the gorgeous contemporary dancer, that's no surprise.
From the moment the Dance Spirit staff met Kaylin, it was obvious her humility and talent would take her far. Not only did she go full-out during the photo shoot and class at Broadway Dance Center, but she was always cheering on, laughing with, and supporting her fellow CMS contestants Haley Hartsfield and Michelle Quiner. During the voting period, the social media world was abuzz with praise for her work ethic, positive attitude, and generosity.
Since her CMS trip to NYC, Kaylin's moved from her hometown of Columbia, MO, to the Big Apple for her freshman year at Juilliard, and is busy getting acquainted with the city. As for the future? She's taking it one opportunity at a time, but something tells us we'll be seeing this contemporary queen reach new heights every year.
Keep reading...
Show less
New York City principal Lauren Lovette has become an icon thanks to her emotional maturity and exceptional musicality. The 26-year-old quickly rose through the ranks after joining the company as an apprentice in 2009, reaching principal status in 2015. A Thousand Oaks, CA, native, Lovette started studying ballet seriously at age 11, at the Cary Ballet Conservatory in Cary, NC. After attending two summer courses at the School of American Ballet, she enrolled as a full-time student in 2006. Last year, she made her choreographic debut with For Clara, her first piece for NYCB. Catch her latest work this month during the company's fall season. —Courtney Bowers
Keep reading...
Show less
In our "Dear Katie" series, former NYCB soloist Kathryn Morgan answers your pressing dance questions. Have something you want to ask Katie? Email dearkatie@dancespirit.com for a chance to be featured!
Dear Katie,
I know I'm not getting good enough dance training from any of my local studios. But I'm not sure I'm ready to move away to study at a big-name school, either. How do you know when you're ready to leave home to pursue your passion?
Marisa
Keep reading...
Show less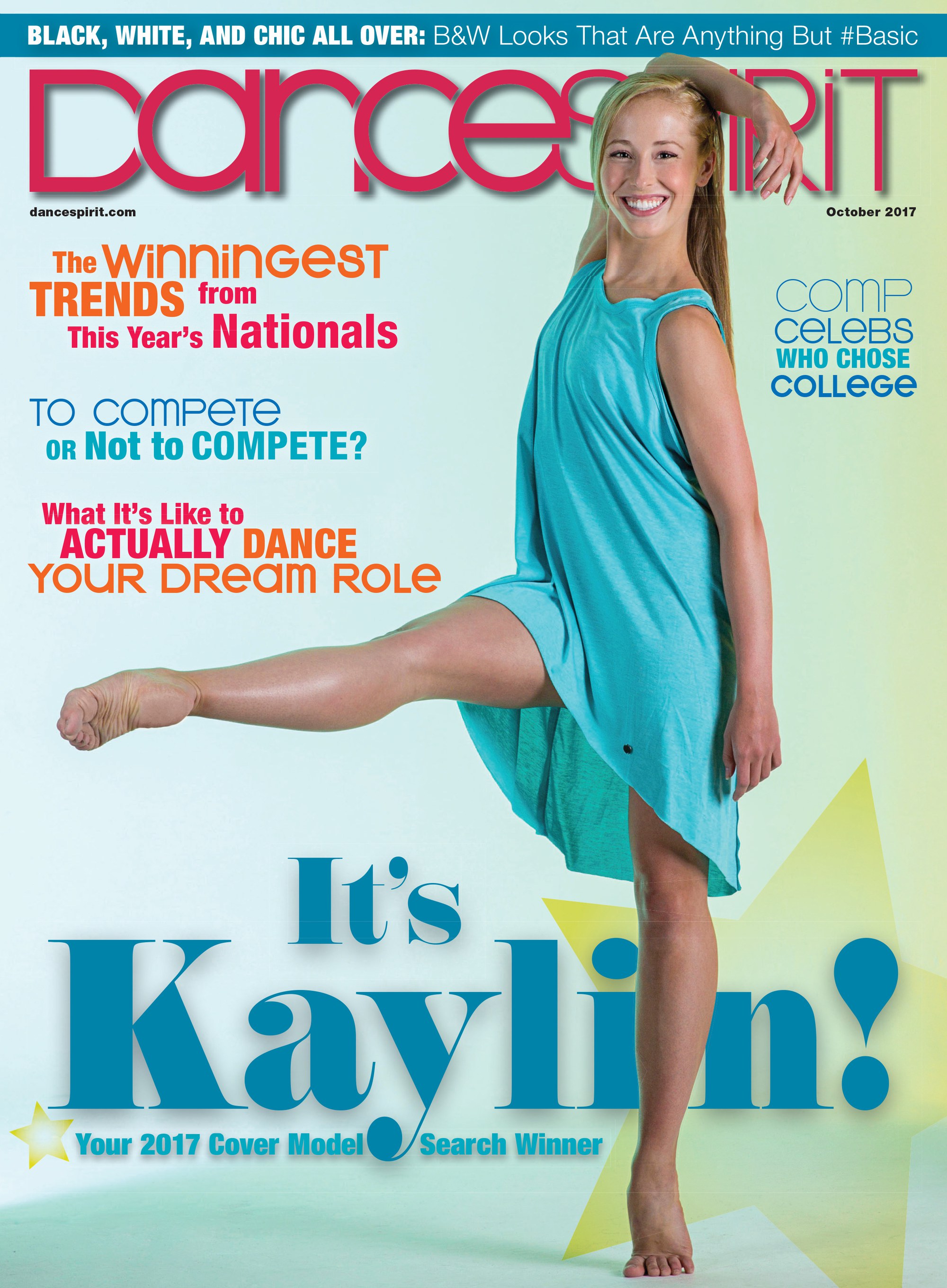 Get Dance Spirit in your inbox