Sep. 15, 2011 02:00PM EST
The 2011 Cover Model Search Winner: Queen Kaitlynn
It's no secret that Kaitlynn Edgar is talented. Her hometown teachers saw Kaitlynn's potential from the start, and competition directors and judges across the country have awarded her top honors at the regional and national levels. Clearly you saw her talent, too, because you came out in droves to cast your vote for Kaitlynn in this year's Cover Model Search.
This summer, Kaitlynn danced a solo at New York City Dance Alliance Nationals—a performance signaling the end of her reign as National Outstanding Dancer. But Kaitlynn's dance journey isn't ending. It's just beginning.
Since coming to NYC last April for the Cover Model Search competition, Kaitlynn has been on quite a journey. She auditioned for "So You Think You Can Dance" Season 8, making it all the way to the Green Mile round of competition. She attended prom, graduated high school and was accepted to The Juilliard School. She spent two weeks assisting teachers at NYCDA Nationals and she attended a Complexions Contemporary Ballet workshop led by co-artistic director Desmond Richardson. Now, Kaitlynn can add Dance Spirit cover girl to her impressive list of accomplishments.
We caught up with Kaitlynn as she wrapped up her busy, dance-filled summer and got ready to head to college.
Dance Spirit: You've grown up with NYCDA. What was it like going to Nationals for the last time?
Kaitlynn Edgar: It was the best two weeks ever. I became so close with the other Outstanding Dancers from the year before, and I got to spend some time with [fellow CMS finalist] Zoey! I performed my solo for the last time and gave up my title. It was sad, but I'm happy that someone else gets to have that experience now. I know I can always go back to NYCDA—I'm not going to lose my spot in that family.
DS: What was the Complexions workshop like?
KE: The workshop was in Detroit, where I'm from, and I was enrolled in the professional level. We worked a lot with Desmond Richardson, which was exciting. He ran most of our classes. It was just crazy being right next to him. At the end of the workshop, we performed actual Complexions pieces. It was my favorite performance I've ever done—my adrenaline was really going the whole time.
DS: What made you decide to attend Juilliard?
KE: It would be stupid for me to give up this opportunity. I'll get top-notch training while I figure out what I want to do with my dance career. I'm so excited to be living in NYC.
DS: What can you tell us about auditioning for "So You Think You Can Dance"?
KE: Being there is more fun than watching the show on TV! There's a lot of waiting and a lot of anticipation, though. I didn't get much feedback whenever I performed and I didn't know if that was good or bad. When I did get to talk to the judges they told me I was one of the best dancers who auditioned that season—but I got cut the day of the Green Mile. The experience taught me not to give up. Maybe I just wasn't a good fit for that season. I'm going to go back and audition again next year for sure.
DS: You got a lot of votes in the CMS competition. How'd you get the word out?
KE: My sisters and my studio were really supportive. My teacher promoted the competition by putting a piece of paper in our recital programs telling people to go online and vote, and my sisters created a Facebook event to get people to the website.
DS: Did you get any especially nice words of support?
KE: I can't thank people enough. One person commented on my page and said, "It's great to see someone so talented who can also give back and say thank you." That made me so happy.
DS: How has your dancing changed since coming to NYC in April?
KE: Now that I know my path is leading me through Juilliard, my mindset has changed. I'm more focused on the Juilliard style of dancing, which is so complex. Juilliard dancers have fewer boundaries and work on a deeper level.
DS: What was your favorite part of the CMS experience?
KE: I loved getting closer with Maddie and Zoey. We'll all be in college in NYC at the same time!
DS: What's your advice to future CMS hopefuls?
KE: Work hard. Don't be shy. Be very giving and accept help from others. Let yourself be inspired by the people around you. Stay open and dance with other people. And just go for it!
Why You Voted For Kaitlynn:
"There is a definite spark in Kaitlynn. The second she begins moving you can't tear your eyes away from her." —DS reader
"Kaitlynn embodies everything a dancer should be. Watching her dance is like watching a story unfold onstage. You don't just see it with your eyes—you feel it with your heart." —DS reader
"She has it all: beauty, artistry, passion, focus, work ethic, talent, technique and a desire to help others." —DS reader
A Letter From Kaitlynn
I can't even put into words how honored and excited I am to be chosen as the Dance Spirit Cover Model Search winner! Thanks so much to everyone who took the time to vote—it means the world to me. Also, I would like to thank Maddie and Zoey for making the event such a beautiful experience and for being such an inspiration. This opportunity has allowed me to spread the passion I put into my dancing and share my love for the art with an audience that I never would have been able to reach otherwise. I hope this achievement inspires other dancers to follow their dreams even if they may seem impossible. Again, thank you so much and good luck to all of the future CMS finalists!
Love always,
Kaitlynn
Win It
Sep. 05, 2017 12:10PM EST
Photos by Erin Baiano
It's time to get your pirouette on! From September 5th to September 30th, we're hosting a contest to find out who's the best turner of them all.

Put together your most impressive turning combo. Post a video online. Share your turns with us and thousands of other dancers around the world. And if our editors think you're the top turner, you'll win a fabulous prize.
Keep reading...
Show less
All of 18-year-old Kaylin Maggard's dreams—from scoring the title of National Senior Outstanding Dancer at New York City Dance Alliance Nationals to winning the 2017 Dance Spirit Cover Model Search—are coming true. And to anyone who knows the gorgeous contemporary dancer, that's no surprise.
From the moment the Dance Spirit staff met Kaylin, it was obvious her humility and talent would take her far. Not only did she go full-out during the photo shoot and class at Broadway Dance Center, but she was always cheering on, laughing with, and supporting her fellow CMS contestants Haley Hartsfield and Michelle Quiner. During the voting period, the social media world was abuzz with praise for her work ethic, positive attitude, and generosity.
Since her CMS trip to NYC, Kaylin's moved from her hometown of Columbia, MO, to the Big Apple for her freshman year at Juilliard, and is busy getting acquainted with the city. As for the future? She's taking it one opportunity at a time, but something tells us we'll be seeing this contemporary queen reach new heights every year.
Keep reading...
Show less
New York City principal Lauren Lovette has become an icon thanks to her emotional maturity and exceptional musicality. The 26-year-old quickly rose through the ranks after joining the company as an apprentice in 2009, reaching principal status in 2015. A Thousand Oaks, CA, native, Lovette started studying ballet seriously at age 11, at the Cary Ballet Conservatory in Cary, NC. After attending two summer courses at the School of American Ballet, she enrolled as a full-time student in 2006. Last year, she made her choreographic debut with For Clara, her first piece for NYCB. Catch her latest work this month during the company's fall season. —Courtney Bowers
Keep reading...
Show less
In our "Dear Katie" series, former NYCB soloist Kathryn Morgan answers your pressing dance questions. Have something you want to ask Katie? Email dearkatie@dancespirit.com for a chance to be featured!
Dear Katie,
I know I'm not getting good enough dance training from any of my local studios. But I'm not sure I'm ready to move away to study at a big-name school, either. How do you know when you're ready to leave home to pursue your passion?
Marisa
Keep reading...
Show less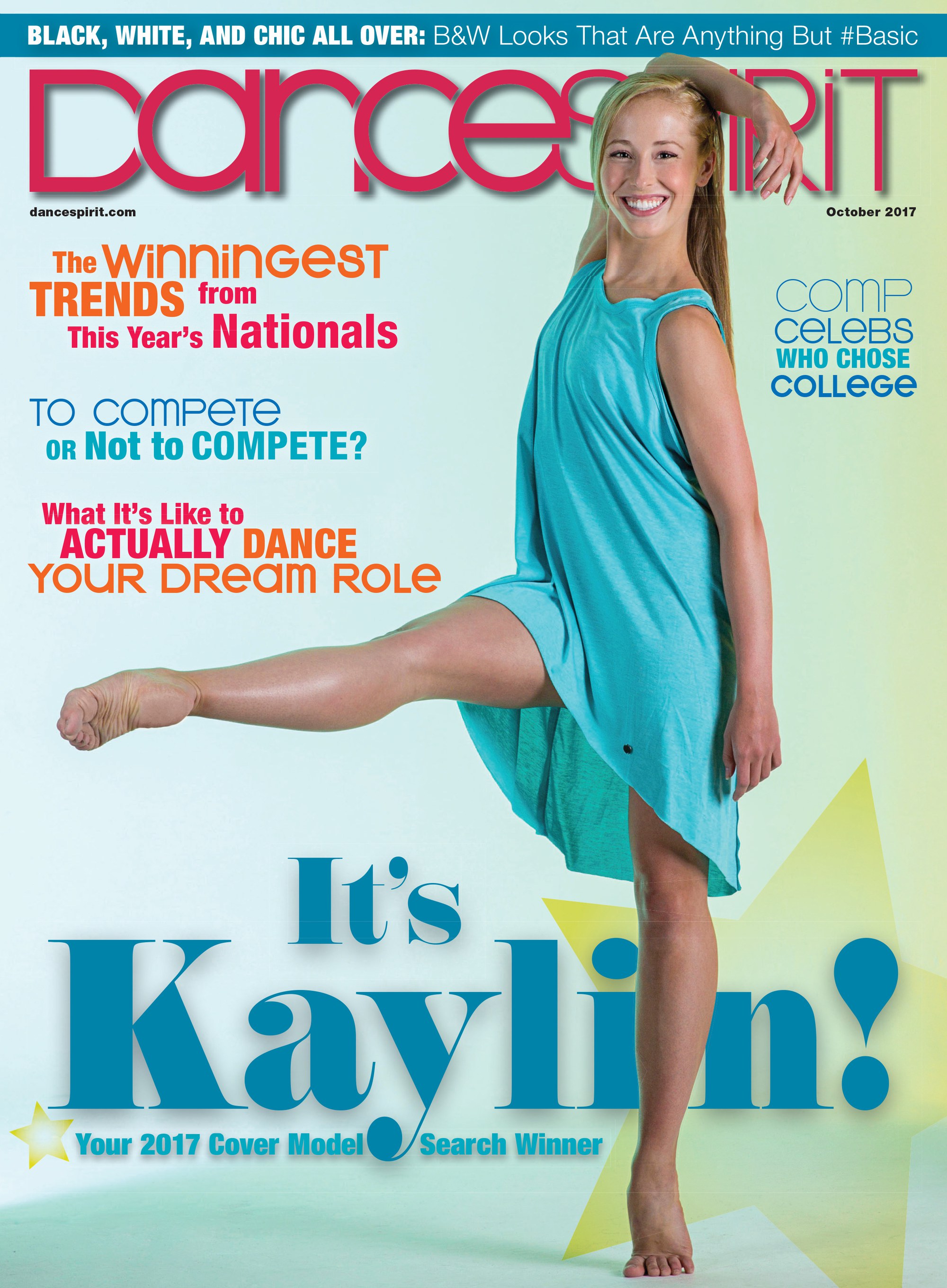 Get Dance Spirit in your inbox