As a dancer, cross-training is a non-negotiable aspect of staying healthy. But sometimes the prospect of another dreary gym session is…less than inspiring. Banish boredom and take a cue from these three pros—a ballet dancer, a modern dancer and a Broadway performer—who shake up their cross-training with unusual activities. We asked Kendall Alway, DPT, a physical therapist who runs SF Performing Arts Physical Therapy and is the associate director of the ODC Healthy Dancers' Clinic in San Francisco, CA, to weigh in on the effectiveness of each method. Look no further for exciting cross-training regimens that can keep your dancer body challenged, balanced and injury-free.
---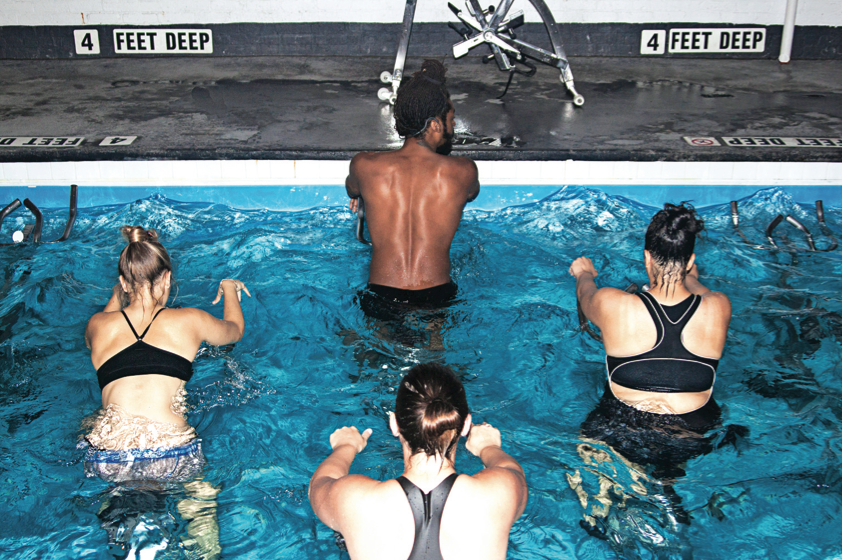 Megan LeCrone, New York City Ballet soloist
Method: Aqua Cycling
When LeCrone sustained a neck injury, she turned to aqua cycling's low-impact training to help her get back on her feet. The unique class is like spinning—with restorative and high-intensity options—transported to a swimming pool. "The bikes are submerged," says LeCrone, "and the water temperature is very inviting. Your upper torso, head, neck and arms are out of the water. I could only use my body in a way that didn't cause strain, and when you're in the water you feel weightless."
That weightlessness, or buoyancy, reduces impact on your joints. "When high-intensity interval training is done in water, it's associated with fewer injuries. Aqua cycling should be very helpful for cross-training," Alway says.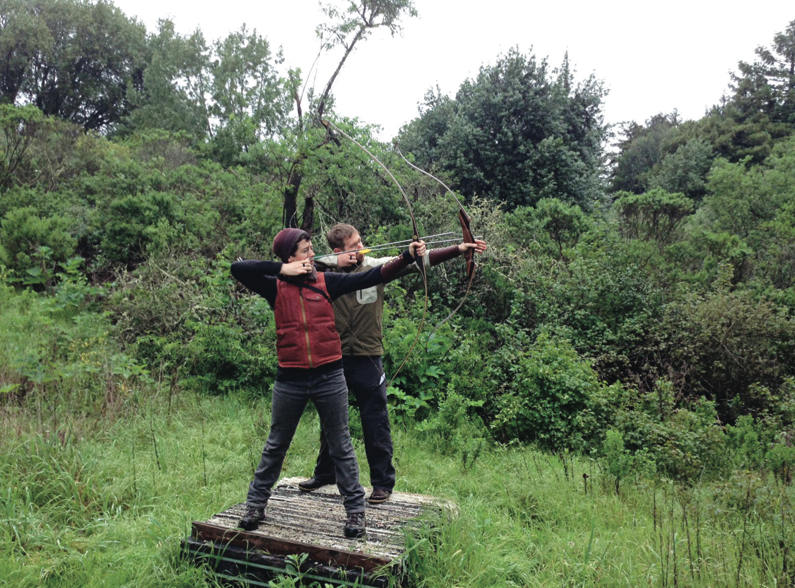 Rebecca Dean, member of BANDALOOP
Method: Archery
BANDALOOP dancers regularly rappel down buildings, bridges and cliffs as part of the company's vertical choreography, so Dean has learned to be ready for anything. She cross-trains her focus by practicing archery. "I go to an outdoor range in the redwoods above Oakland, CA," she says. "I didn't expect to stick with it, but it's grounding, requiring deep breaths and clarity." She recommends archery as a method to connect your mind and body. Alway agrees: "Practicing archery has been shown to increase mental focus," she says. "As archers become more skilled, they require less and less of their brain to shoot accurately. You could say this is better concentration and centering." That connection may be an especially important skill for remaining injury-free.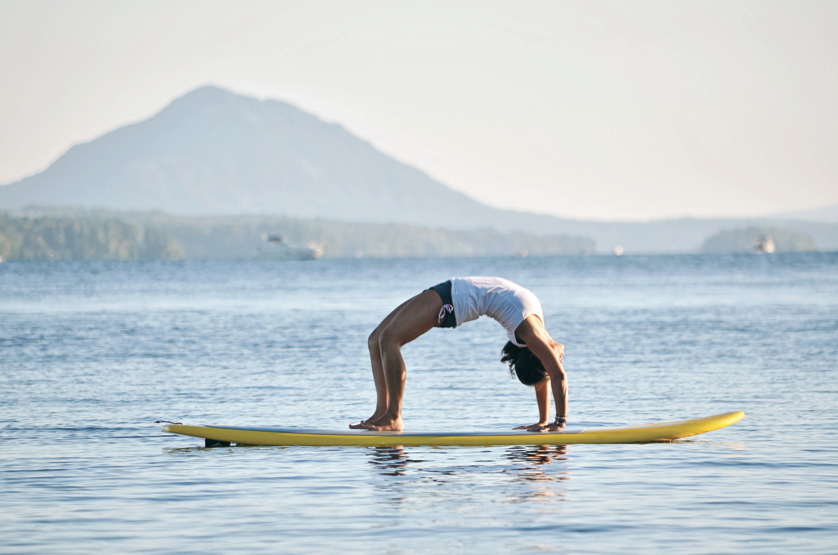 Sarrah Strimel, former An American in Paris ensemble member
Method: Paddleboard yoga
When Strimel performs on a repetitive eight-show-a-week schedule, she needs to even herself out through stretching and strengthening. If it's warm enough, she combines her passions for yoga and surfing into the perfect outlet: paddleboard yoga.
"It's exactly what it sounds like," Strimel says. "You take a paddleboard out on calm water, and in low-wind conditions, and then you do a series of postures on the board." The board adds an element of instability, turning even the simplest pose into a core-scorcher.
"Studies have found that yoga is especially helpful at improving core stability when it's combined with other stabilization exercises," Alway says.
That added effort means your paddleboard might feel more like a wobble board. "Don't be afraid of the water," Strimel says, "because you'll definitely fall in! You really need to use your center, even to do a downward-facing-dog pose."
Jun. 15, 2017 02:00PM EST
From left: Haley Hartsfield, Kaylin Maggard, and Michelle Quiner (photos by Erin Baiano)
Congratulations to Dance Spirit's 2017 Cover Model Search finalists: Haley Hartsfield, Kaylin Maggard and Michelle Quiner! One of them will win a spot on Dance Spirit's October 2016 cover. Learn more about the dancers on their profile pages, and then vote for your favorite below.
We also want you to get social! We'll be factoring social media likes and shares into our final tallies. Be sure to show your favorite finalist some love on Facebook, Instagram, and Twitter, sharing their profile pages and using the hashtag #DanceSpiritCMS.
Keep reading...
Show less
via YouTube
...This clip, "'Hamilton' Choreographer Breaks Down His Moves," popped up on my YouTube recommended list. I mean, I could watch Hamilton's dance wizard Andy Blankenbuehler talk about anything. Have you read our interview with him back when he was making the moves for Bandstand? The guy is freaking fascinating.
Keep reading...
Show less
Jun. 23, 2017 03:57PM EST
via YouTube
Great contemporary choreographers and soulful singer-songwriters have always made for a perfect match. That's why we were thrilled when we found out "SYTYCD" and "Dance Moms" choreographer Kristin McQuaid created the music video for "Light the Sky," a hit single from "America's Got Talent" winner Grace VanderWaal.
Keep reading...
Show less


Get Dance Spirit in your inbox