Dance Battle: Spider-Man v. Baby Spider-Man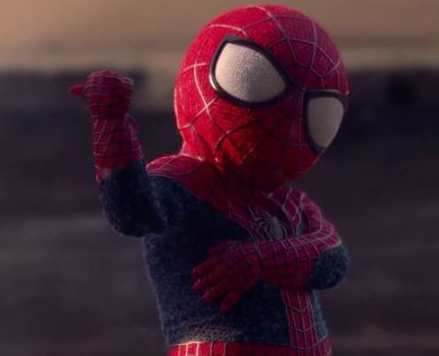 Remember Evian's gloriously adorable dancing babies commercial? Well imagine what would happen if that commercial were bitten by a radioactive spider...'cause that's pretty much what happened this week.
In celebration of The Amazing Spider-Man 2, which hits theaters on May 2, Evian released a new version of their viral Baby & Me campaign—one featuring none other than Spider-Man and his baby counterpart. (So strangely cute!)
The commercial is based on that same original premise—adult sees baby in reflection and begins dancing with it—but it's so much more intense. First of all, there's lots of swinging from buildings, which means Spider-Man catches his baby reflection in all kinds of surprising ways. Second of all, there are spidey webs, so that's pretty cool. But the biggest difference is that this is no dance party. This is a battle. And we think that Baby Spider-Man just may be the winner. (Watch out for his grand rond de jambe into a lunge at the end. This kid is not messing around.)
Who do you think won?
Jul. 23, 2017 07:00AM EST
Jul. 22, 2017 04:55PM EST
via YouTube
It's no secret that ballet in pop culture has sparked its fair share of controversy. Which is why this video from Refinery29, featuring ABT's Isabella Boylston, is not only a super-fun watch, but a breath of fresh air.
Keep reading...
Show less
Jul. 21, 2017 12:26PM EST
via @phil_wright_ on Instagram
Well, this brings class videos to a whole new level! Choreographer Phil Wright and dancer Ashley Liai have been together eight-plus years, but she was still in total shock when he proposed to her mid-dance at Millennium Dance Complex earlier this week. Why? Well, the whole thing was unbelievably perfect.
Keep reading...
Show less
Jul. 21, 2017 11:03AM EST
(Courtesy ABC)
In the dance industry, dancers don't always have a say in what they wear on their bodies. This can get tricky if you're asked to wear something that compromises your own personal values. So what should you do if you find yourself in this sticky situation? We sat down for a Q&A with "Dancing with the Stars" alumn Ashly Costa to answer that very question. Here's what she had to say about the options dancers have surrounding questionable costumes.
Keep reading...
Show less


Get Dance Spirit in your inbox