"Dance Moms: Boy Crazy, Mom Crazy" Recap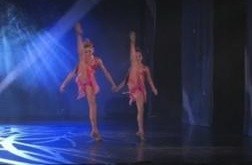 Bam!
"Dance Moms," I've missed you this last month. In fact, I've missed you so much that the fact that this episode was full of Cathy and her fame-hungry dance dads, way too much crying and almost no Mackenzie moments only mildly upset me. (But don't do it again!) At least it was also chock full of dancerly romance! Here are my top three AWESOME and AWKWARD moments.
AWKWARD: Maddie and Gino sitting in a tree… While this little crush is the cutest thing in the whole wide world, the way the adults handle it is pretty disgusting. Apparently, Gino gave Maddie a kiss on the cheek at the last competition. While this was no make out (Mom Melissa makes that very clear), it was definitely the most scandalous kiss in "Dance Moms" history. At least Abby and Cathy can finally agree on one thing: no kissing the enemy!
AWESOME: The "group" dance—although you can hardly call this the group without Paige, Brooke or Mackenzie. Still, Maddie, Chloe, Nia and Kendall make an excellent foursome of "bad girls." They couldn't have been more in sync if they were clones of each other, and the choreography was so cute! Even if Candy Apples' bicycle/unicycle dance hadn't been kind of all over the place, I still think the girls would have nailed the top score.
AWKWARD: Gino and Zack do an emotional dance about Anthony's late father. While I generally love when choreographers use their own emotional experiences to inspire movement, this was probably not the best venue to honor your dad who died only one week earlier, Anthony. Plus, this routine, while sweet, was pretty darn boring. Only Candy Apples would bring in fabulous dancers from all across the country and then give them choreography that's mostly just hugging and caressing each other. Where's the dancing?! Abby, as usual, was honest about not liking the dance, and the Apples freaked out. It all ended in a ridiculous fight where Cathy cried because no one had her back. The dads get all awkward and uncomfortable, except for Jalen's dad, who has clearly decided that his life goal is to live up Cathy's butt. Then Gino's dad asks to join the ALDC. Sigh… In case you haven't noticed, I'm not the biggest fan of the adults associated with Candy Apples.
AWESOME: Chloe and Maddie dancing together. Thank goodness we get to take a break from this little battle (although it looks like it's coming back in full force on the next episode…). Again, their synchronization was insane. That first place win was no surprise. Now the question is: How is Abby going to decide who goes on the top of the pyramid next week?
AWKWARD: Mom Kelly, for this entire episode. I don't even know where to start. First, Abby told her that both Brooke and Paige would be featured at competition, which upset her for a reason I must have missed. Then Mom Jill stirred up trouble and Mom Christi yelled in Paige's face. So now Kelly has an actual reason to be upset, but says she's not upset. Then both her daughters do really well, so she cries and says she's leaving the ALDC. I'm confused…
AWESOME Brooke gets to dance with the seniors! Oh, was Brooke too old for this group of munchkins? Of course she was! She's not quite at the seniors' level yet, but at least she's finally being challenged. And holy beautiful dancers, Abby. It's eye opening to see how well-trained and professional Abby's kids grow up to be (yup, she knows what she's doing!). To make this little twist even better, cute 17-year-old Kevin is a part of this dance, and he takes Brooke on a date (because Abby makes him). Turns out, Kevin can eat a lot of dessert. I think these two are just precious together. Can I be invited to their wedding, please?
Time for the QUOTE OF THE WEEK:
"Miss Abby always says, no boys, no boys. But this is the second date she's set me up on!" – Brooke
And, just for kicks, here's a fun fact that will blow your mind: ALDC dancer Kevin (Brooke's date) and Candy Apples dancer Gino (Maddie's crush) are BROTHERS! Both beautiful dancers, they study at Dance Attack in Miami, FL. (Apparently, Kevin's been competing this piece with ALDC as a guest all season.) Oh Lifetime, as if this show wasn't scripted enough…
That's all for this week. Tune in next week for more "Dance Moms" fun and, of course, another recap.
A still from Polina (Courtesy of Oscilloscope Laboratories)
The French dance film that made waves at last year's Venice Film Festival is heading stateside: Polina opens in theaters on July 21. The story follows a young Russian ballerina-in-the-making, played by dancer Anastasia Shevtsova, who's performed with the Mariinsky Ballet.
Keep reading...
Show less
Erin Carpenter as a Knicks City Dancer (David Safran, courtesy of Erin Carpenter)
The groundwork for Erin Carpenter's company, Nude Barre, began when she was a teenager. At 16, she earned a spot in the residency program at The Kennedy Center in partnership with Dance Theatre of Harlem. "We were required to wear nude—as in, our actual skin tone—tights and shoes," she remembers. Carpenter brought her "sun tan" tights and a pair of pink ballet shoes with her, because that was all she could find. But she wasn't allowed in class because her dancewear didn't match her skin. "I was so embarrassed," she says. "I looked unprepared. I just didn't have the right nudes." Her teacher explained that the dancers dyed their tights and pancaked their shoes.
Keep reading...
Show less
Via @whitneybugs on Instagram
There are dancers and then there are DANCERS! Whitney Jensen, soloist at Norwegian National Ballet, is the latter. The former Boston Ballet principal can do it all. From contemporary to the classics this prima has the technical talent most bunheads dream about. Need proof? Look no further.
Keep reading...
Show less
Jul. 19, 2017 12:53PM EST
Via YouTube
Luis Fonsi and Daddy Yankee's dance inducing hit, "Despacito," is so catchy it should probably come with a disclaimer that warns people of an uncontrollable itch to tap your feet or bob your head. Some might even feel inclined to go all out and break it down. Niana Guerrero is a prime example of "Despacito's" uncanny ability to unleash the red dressed emoji dancer within. 💃🏽 💃🏽
Keep reading...
Show less


Get Dance Spirit in your inbox