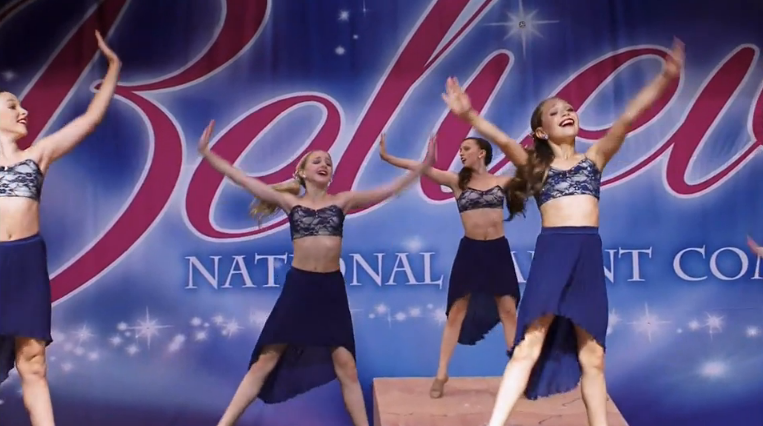 The girls showed genuine emotion in their contemporary routine this week—and we loved it!
After a grueling week of Abby Lee Dance Company showcase prep and performances, Abby's dream team was back and ready to compete—minus a few key members. The Hyland family is still M.I.A. this week, much to the team's dismay and Abby's delight. With plans to attend a new and highly-acclaimed competition and go head-to-head with Cathy and her fresh crew of MVPs, the stakes were higher than ever. Here are my top AWKWARD and AWESOME moments from this week.
AWKWARD: We're back at the Candy Apple's Dance Center this week, but things aren't exactly how we left them. While choreographer Anthony has stuck around, many of Cathy's recruits have not. With Jaden and Zack inexplicably absent (not to mention old favorites Gino and Nick), we're introduced to a new cast of talented dancers from around the country. Amongst them is none other than Lucas Triana, a super-flexible, strong and driven dancer who we first saw on "Dance Moms: Miami." I was thrilled to have a chance to see more of Lucas, but just really confused as to how Cathy can play this off. With Lucas came Mom Bridgette, whom Cathy claims to be "very good friends with on Facebook." While the team is undeniably comprised of impressive talent, it's pretty awkward that Cathy and crew keep shuffling their players around in hopes of defeating the invincible ALDC.
AWESOME: It's a miracle—the moms are getting along! It seems that in times of need and turmoil, the moms make an unconquerable army. They really come together to face the Candy Apples and lobby for Kelly's return. In Brooke's absence, Abby calls in senior company dancer Payton, and with her comes Mom Leslie. In the past, the other moms have been far from thrilled to share the observation mezzanine with her, but this week they're appreciative of her strong demeanor. Grateful to have another ally by their side on the upcoming trip, the moms have nothing but compliments for Payton, and they go pretty easy on Leslie as well. How refreshing!
AWKWARD: We may have gotten a break from the Pittsburgh mama drama this week, but that doesn't mean there was any shortage of conflict. Although breaker Jalen and Dad Rick weren't with the CADC this week, Cathy made sure to keep her team stocked with powerful and outspoken parents—and I don't just mean the parents of the dancers. Cathy's mother (reluctantly) agreed to tag along to Lancaster with the team, and choreographer Anthony's mother came to support, too. The two remained silent until the inevitable post-awards showdown, when Anthony's mother was far from hesitant to tell the ALDC how she felt. One set of moms is enough—let's not bring in another! Christi said it best: "This is about dance! Are you people insane?!"
AWESOME: At this week's pyramid revealing, Abby told Nia once again that she wants more from her, a point to which Mom Holly argued could only be improved if Nia had more time in the studio with her teacher. Well, she instantly got her wish. Abby was disappointed in Maddie's reluctance to perform a new solo last week, so she put Nia in her spot for a trio with Kendall and Chloe. She cut Nia no slack in rehearsals—and it certainly paid off. The girls looked beautiful onstage in a technical and stunning routine. Even Melissa remarked that Nia's facials were "priceless." The best part? Abby agreed! Go Nia!
AWKWARD: It seems that Yvette and Kristie Ray have a bit of unresolved tension from their time together on AUDC last season. As the two reunited, they instantly burst into an argument rehashing all kinds of things that had been said in the past. These two have each met their match—neither was willing to back down, especially in the defense of their daughters. Once the members of their respective teams pulled them apart, Kristie managed to get the last word by calling Yvette out on her Spanx being too tight (ouch!).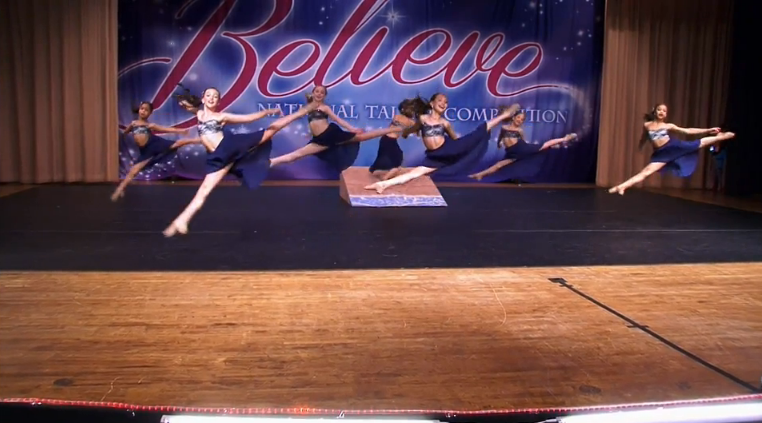 "Open Waters" was both technical and moving.
AWESOME: I loved the group number this week. Entitled "Open Waters," the piece showcased technical excellence, strength and emotion—all the elements that make up a winning contemporary number. The girls looked so strong and mature, and the costumes, in combination with a sleek low-ponytail, made for a clean and professional look. Even with the challenge of working with a prop (and a new team member), they still managed to pull off a first place win (and reign supreme over the Candy Apple's crew!). Victory for the ALDC yet again!
Although the numbers looked great and the drama was scarce, the show really isn't the same without the Hylands. The moment Abby pointed out what an asset Brooke's unmatchable contortion work would have been to the group number, it became clearer than ever that the family actually isn't replaceable. So, with Leslie and Payton determined to stay put, tension will most certainly be high at the ALDC next week.
QUOTE OF THE WEEK:
"Leslie's like the boil on the butt of humanity." –Mom Christi
Apr. 11, 2017 04:18PM EST
Welcome to the new dancespirit.com—a completely addictive way to enjoy our top-notch dance content.
It's got all the stuff you've always loved: gorgeous images of your favorite dancers, internet-breaking viral videos, thoughtful technical advice for dancers of all styles, effective health and wellness tips, crazy-good giveaways. And now there's a lot more of it—right at your fingertips.

We've invested in the latest technology to produce a brilliant digital experience, using the powerful tools for social discovery and engagement developed by our partner, RebelMouse. They know what they're doing, guys.
Produced by the editors and writers you trust. Powered by RebelMouse. BOOM.
In our "Dear Katie" series, former NYCB soloist Kathryn Morgan answers your pressing dance questions. Have something you want to ask Katie? Email dearkatie@dancespirit.com for a chance to be featured!
Dear Katie,
I have super-archy feet, which is great—sometimes. But they're hard to control because they're so flexible. How can I make them stronger and easier to work with? I have a hard time even standing properly in pointe shoes.
Natalia

Dear Natalia,
While I'm sure many of your fellow dancers envy you, having beautiful feet can be tough! The first thing to do is to make sure you have the right pointe shoe. You need a good, strong shank to support that arch, but not a rock-hard shoe that'll keep your feet from getting stronger. Go to your local dance store and try everything. Having the right shoe can do wonders!

Establish a daily Thera-Band routine. Your super-flexible feet will need a really high-resistance band—I'd suggest either a black, gray or blue band. Do lots of simple push-through-the-feet exercises to build stability in your ankles and metatarsals.

Once you're in your pointe shoes, add extra relevés, élevés and balances to your pre-class warm-up to improve your strength. Even doing simple tendu and dégagé exercises in your pointe shoes, focusing on pushing through your metatarsals, will help your feet and ankles learn to stabilize the rest of your body. It's all about repetition and time!
Using a Thera-Band every day is super important.Photo by Nathan Sayers
Dear Katie,
I've loved dance for as long as I can remember, and I want to pursue it professionally. But lately, I haven't felt
the same joy when I dance. I'm always sad at the studio, and I'm not even sure why. I miss the old me. What should I do?
Saleen

Dear Saleen,
Many dancers go through a "burnout" period, either in their training or once they become professionals. Think back to why you started dancing in the first place. Was it the music? The freedom of the movement? Reconnecting with those initial feelings can help you find your joy again.

We dancers also tend to get caught up in the pursuit of perfection, and that can mess with your head. Scary as it sounds, try taking a few days, or even a week, away from dance. (Pick a time when not a lot is going on at the studio, so you won't be missing any performances or other important opportunities.) Odds are, just putting a little space—mentally and physically—between you and the dance world for a while will allow you to come back to class newly energized and excited.
However, if that time away leads you to realize that you no longer want to dance, that's OK too! It doesn't make you a failure. It just means your passions and goals have changed. And if that's the case, it's better to realize it now than 10 years down the road.

Dear Katie,
I just got a big part in my school's musical. There's a lot of dancing, which I'm not worried about at all—but I also have to sing and speak. I'm not used to using my voice onstage! What can I do to get comfortable?
Karen

Dear Karen,
The first time I had to speak and sing onstage, I was terrified. Thankfully, I had some great coaching. I'll pass along the wisdom I received!

Dancers are taught to lift up through their bodies. But if you lift up while singing, you'll run out of air. Instead, during singing and speaking passages, focus on staying grounded. Let your body relax and your weight drop into the floor—foreign as that might feel.

Be sure to actively enunciate every lyric or line of dialogue, too. In normal speech, eliding your words, so they slur together a bit, is OK. But onstage, it's not—the audience has to hear everything clearly to be able to understand you. You might feel silly hitting every "t" and "d" hard, but it's important!

Finally, focus on projecting your voice, just as you project your dancing up and out. The people in the back row have to hear you as well as see you! Well-supported breathing, using your diaphragm, will help your voice carry to the far reaches of the theater
Keep reading...
Show less
Remember when getting a selfie/making a dance video in the Rain Room was the coolest of cool-kid things to do? Now there's a fabulous new place to create Instagram magic: The Attention Room, an immersive exhibit in L.A. promoting Charlie Puth's newest single, "Attention." It's basically a big black box filled with crazy LED projections that make you look like you're suspended in a disco queen's re-imagining of deep space.
Naturally, genius filmmaker/ultimate cool kid Tim Milgram just made a dance video there. And he casually brought Jade Chynoweth, Sean Lew, Jake Kodish and Jason Glover (to name just a few) along for the ride.
Keep reading...
Show less
Apr. 26, 2017 09:55PM EST
When über-talented duo Chelsie Hill and Josh Killacky dropped their collab video a few weeks back, we were blown away—and so was Ellen DeGeneres. Naturally, DeGeneres (who's not-so-secretly the biggest dance fan ever) invited them to perform "Ellen" and the result was absolutely incredible.
Hill and Killacky have top-notch chemistry, their musicality is #onpoint and the choreo is so beyond perfect. We can't stop watching—see for yourselves:
Keep reading...
Show less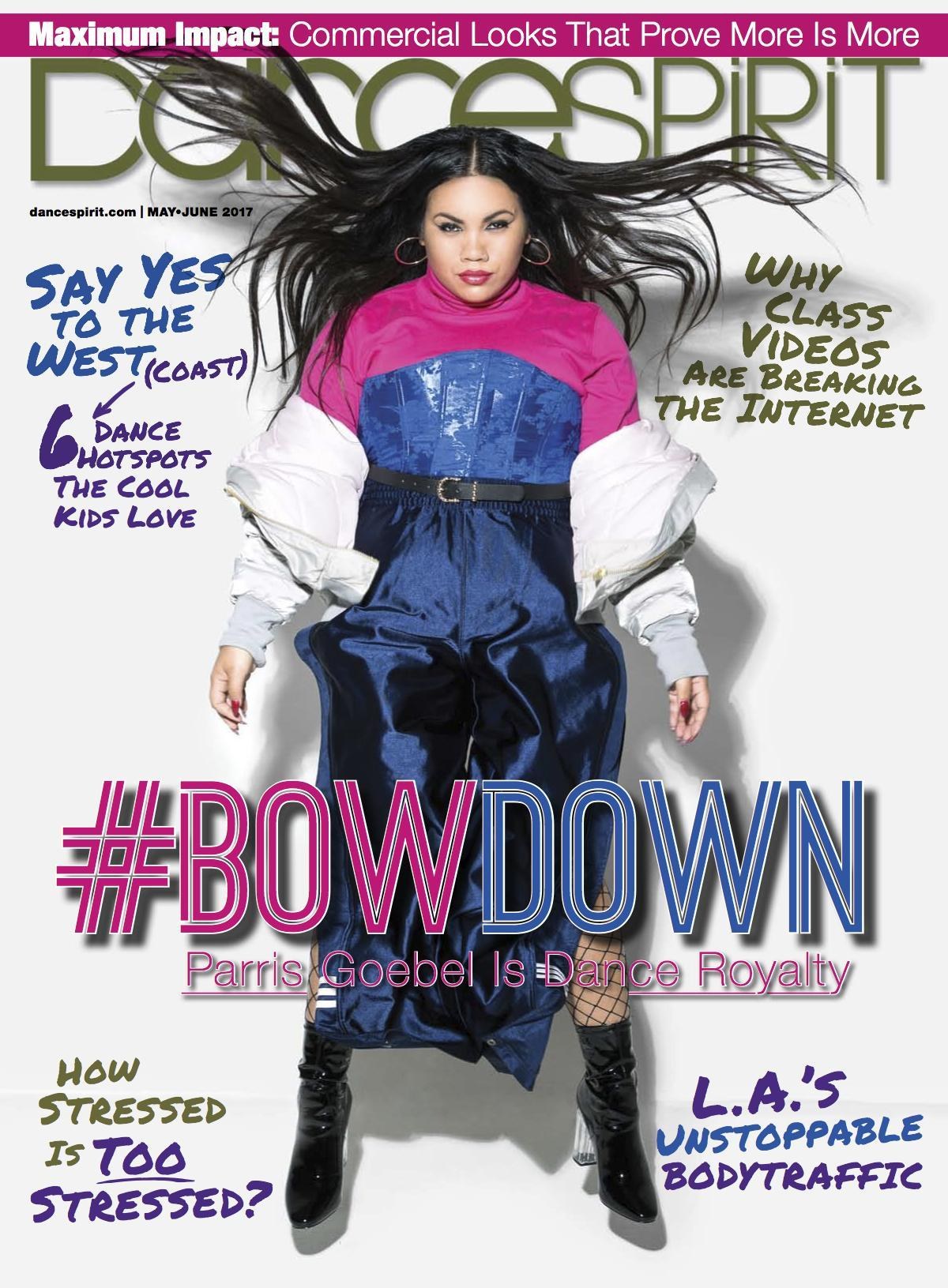 Featured College Dance Program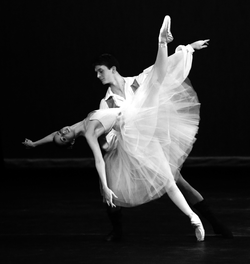 Get Dance Spirit in your inbox