"Dance Moms: Clash of the Dance Moms" Recap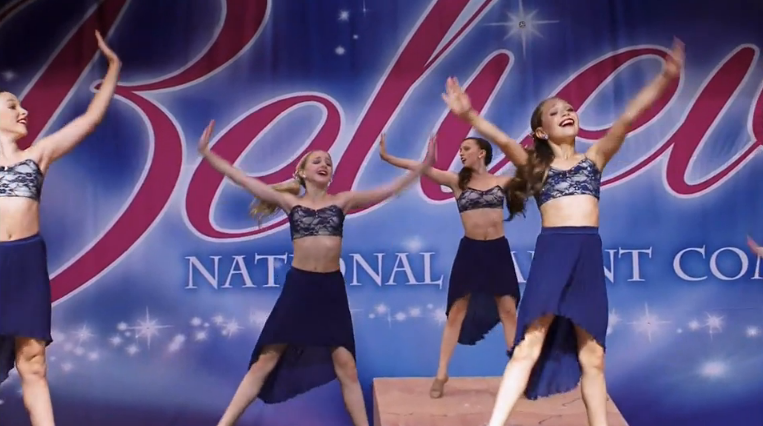 The girls showed genuine emotion in their contemporary routine this week—and we loved it!
After a grueling week of Abby Lee Dance Company showcase prep and performances, Abby's dream team was back and ready to compete—minus a few key members. The Hyland family is still M.I.A. this week, much to the team's dismay and Abby's delight. With plans to attend a new and highly-acclaimed competition and go head-to-head with Cathy and her fresh crew of MVPs, the stakes were higher than ever. Here are my top AWKWARD and AWESOME moments from this week.
AWKWARD: We're back at the Candy Apple's Dance Center this week, but things aren't exactly how we left them. While choreographer Anthony has stuck around, many of Cathy's recruits have not. With Jaden and Zack inexplicably absent (not to mention old favorites Gino and Nick), we're introduced to a new cast of talented dancers from around the country. Amongst them is none other than Lucas Triana, a super-flexible, strong and driven dancer who we first saw on "Dance Moms: Miami." I was thrilled to have a chance to see more of Lucas, but just really confused as to how Cathy can play this off. With Lucas came Mom Bridgette, whom Cathy claims to be "very good friends with on Facebook." While the team is undeniably comprised of impressive talent, it's pretty awkward that Cathy and crew keep shuffling their players around in hopes of defeating the invincible ALDC.
AWESOME: It's a miracle—the moms are getting along! It seems that in times of need and turmoil, the moms make an unconquerable army. They really come together to face the Candy Apples and lobby for Kelly's return. In Brooke's absence, Abby calls in senior company dancer Payton, and with her comes Mom Leslie. In the past, the other moms have been far from thrilled to share the observation mezzanine with her, but this week they're appreciative of her strong demeanor. Grateful to have another ally by their side on the upcoming trip, the moms have nothing but compliments for Payton, and they go pretty easy on Leslie as well. How refreshing!
AWKWARD: We may have gotten a break from the Pittsburgh mama drama this week, but that doesn't mean there was any shortage of conflict. Although breaker Jalen and Dad Rick weren't with the CADC this week, Cathy made sure to keep her team stocked with powerful and outspoken parents—and I don't just mean the parents of the dancers. Cathy's mother (reluctantly) agreed to tag along to Lancaster with the team, and choreographer Anthony's mother came to support, too. The two remained silent until the inevitable post-awards showdown, when Anthony's mother was far from hesitant to tell the ALDC how she felt. One set of moms is enough—let's not bring in another! Christi said it best: "This is about dance! Are you people insane?!"
AWESOME: At this week's pyramid revealing, Abby told Nia once again that she wants more from her, a point to which Mom Holly argued could only be improved if Nia had more time in the studio with her teacher. Well, she instantly got her wish. Abby was disappointed in Maddie's reluctance to perform a new solo last week, so she put Nia in her spot for a trio with Kendall and Chloe. She cut Nia no slack in rehearsals—and it certainly paid off. The girls looked beautiful onstage in a technical and stunning routine. Even Melissa remarked that Nia's facials were "priceless." The best part? Abby agreed! Go Nia!
AWKWARD: It seems that Yvette and Kristie Ray have a bit of unresolved tension from their time together on AUDC last season. As the two reunited, they instantly burst into an argument rehashing all kinds of things that had been said in the past. These two have each met their match—neither was willing to back down, especially in the defense of their daughters. Once the members of their respective teams pulled them apart, Kristie managed to get the last word by calling Yvette out on her Spanx being too tight (ouch!).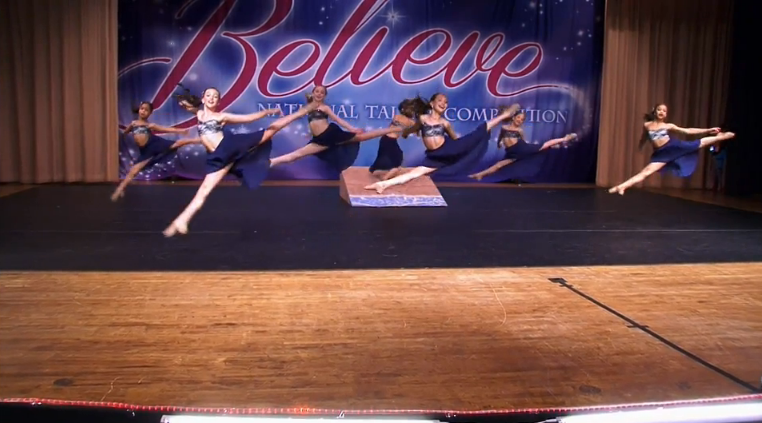 "Open Waters" was both technical and moving.
AWESOME: I loved the group number this week. Entitled "Open Waters," the piece showcased technical excellence, strength and emotion—all the elements that make up a winning contemporary number. The girls looked so strong and mature, and the costumes, in combination with a sleek low-ponytail, made for a clean and professional look. Even with the challenge of working with a prop (and a new team member), they still managed to pull off a first place win (and reign supreme over the Candy Apple's crew!). Victory for the ALDC yet again!
Although the numbers looked great and the drama was scarce, the show really isn't the same without the Hylands. The moment Abby pointed out what an asset Brooke's unmatchable contortion work would have been to the group number, it became clearer than ever that the family actually isn't replaceable. So, with Leslie and Payton determined to stay put, tension will most certainly be high at the ALDC next week.
QUOTE OF THE WEEK:
"Leslie's like the boil on the butt of humanity." –Mom Christi
(via YouTube)
Remember that fabulous old-school clip of dancers tapping in pointe shoes that Tabitha and Napoleon D'umo brought to our attention back in March? As we mentioned then, toe-tap dancing was actually super popular back in the 1920s and 30s—which means there are more videos where that one came from. And because #ToeTapTuesday has a nice ring to it, we thought we'd take this opportunity to introduce you to Dick and Edith Barstow, a toe-tapping brother and sister duo from that era who are nothing short of incredible:
Keep reading...
Show less
Adam Rose/FOX
Guess who's back? Back again? The Academy's back! Tell a friend.
After one day at The Academy, the All Stars have successfully taken the Top 100 down to 62. But their work is just getting started: Now they need to keep narrowing the field to a Top 10, ultimately deciding who each will partner with during the live shows.
Keep reading...
Show less
Sara Mearns and Chase Finlay in Pontus Lidberg's "The Shimmering Asphalt" (via @saramearns on Instagram)
We've said it before and we'll say it again: New York City Ballet principal Sara Mearns is some SERIOUS #goals. Her strength and power onstage borders on superhuman. But what's extra magical about Mearns is that she really puts in the fitness and cross-training work outside of the rehearsal studio. And she's overcome her fair share of injuries. Which is why she was the perfect source for Vogue's latest ballet fitness story.
Keep reading...
Show less


Get Dance Spirit in your inbox