"Dance Moms: How Do You Like Them Apples?" Recap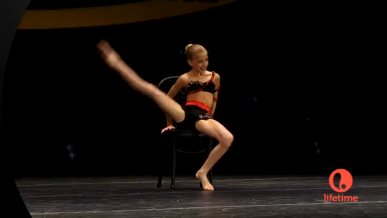 Let me be the first to say that going two weeks without any new Abby Lee Dance Company footage was rough! I missed these little girls; Their moms, not so much. And this episode brought us back to all the things we love—the moms enjoyed some cocktails, the Candy Apples returned and Maddie got to the top of the pyramid (twice!). Here are my top 5 moments from last night's show:
5. Kendall is so precious, and such a hard worker. And I loved seeing her smiling face after a less-than-excellent award ceremony. But that girl was just taking abuse from all sides last night: Abby Lee's one goal was to beat her, her teacher Cathy had pretty much given up on her, her music was skipping all over the place, and then even her mom seemed angry with her performance!  Keep your head up, Kendall—I'm rooting for you!
4. Paige's solo smack down. Ok, while I really can't stand her mom, I love Paige and was so happy to see that she finally got the chance to shine with a solo (as long as she perfected it on her own time with no help from any teachers). Let the mayhem ensue. Her mom went ahead and re-choreographed the whole thing to make it more challenging, and, surprisingly, it worked! Paige placed 7th (only one spot below Chloe), blowing competition Kendall out of the water, and she proved to Abby Lee that she's outgrown her safe, boring choreography. Time to step it up, Abby Lee.
3. Vivi as human prop. Even professional choreographers don't know what to do with this child; the dancers awkwardly carrying her (the "Asian Princess") around the stage was hard to watch. We get that you're using her to bring the age of your piece down, Cathy. Problem is, when she's 15, and still hasn't learned to pick up choreography, poor girl is going to run into some serious problems.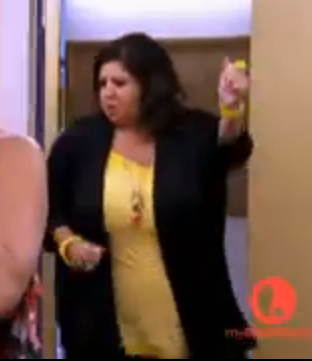 2. Abby Lee brings in some ringers. There's nothing that usually distracts me more than when 18-year-olds dance with 6-year-olds (see number 3), but Abby Lee really pulled it off with class. The choreography was beautiful, and all of the girls really held their own in this week's group number. And, since she hasn't been mentioned yet, let me take a moment to praise little Mackenzie for killing that tricky choreography alongside senior dancers! Take that, Vivi.
1. I was definitely expecting some serious yelling (and perhaps some chair-throwing) when Abby Lee came back to the dressing room after awards. Instead, she gave us the most awesome victory dance ever!  Though it was only about 4 seconds long, I may have re-watched it a couple of times.
via YouTube
It's no secret that ballet in pop culture has sparked its fair share of controversy. Which is why this video from Refinery29, featuring ABT's Isabella Boylston, is not only a super-fun watch, but a breath of fresh air.
Keep reading...
Show less
Jul. 21, 2017 12:26PM EST
via @phil_wright_ on Instagram
Well, this brings class videos to a whole new level! Choreographer Phil Wright and dancer Ashley Liai have been together eight-plus years, but she was still in total shock when he proposed to her mid-dance at Millennium Dance Complex earlier this week. Why? Well, the whole thing was unbelievably perfect.
Keep reading...
Show less
Jul. 21, 2017 11:03AM EST
(Courtesy ABC)
In the dance industry, dancers don't always have a say in what they wear on their bodies. This can get tricky if you're asked to wear something that compromises your own personal values. So what should you do if you find yourself in this sticky situation? We sat down for a Q&A with "Dancing with the Stars" alumn Ashly Costa to answer that very question. Here's what she had to say about the options dancers have surrounding questionable costumes.
Keep reading...
Show less


Get Dance Spirit in your inbox