Photo by Joe Toreno
After 13 seasons, "So You Think You Can Dance" viewers probably thought they'd seen it all. From "Ramalama (Bang Bang)" to Bollywood, Travis Wall to tWitch, it seemed like there couldn't possibly be any room left on Mary Murphy's Hot Tamale Train.

Then came 19-year-old Lex Ishimoto. When Lex showed up at the show's Season 14 NYC auditions with an improv solo in lieu of a choreographed routine, the judges were shocked—and then brought to their feet by his show-stopping creativity. From there, the jaw-dropping moments kept coming. In week one of the live shows, Lex busted out a super-crisp tap (!) routine. In his Episode 12 solo, he pulled off a triple (!) tour en l'air. And in Episode 14, he and fellow finalist Taylor Sieve revealed that they'd been dating on the down-low (!!!).
To dance insiders, Lex's name isn't new: It first popped up in playbills when he joined the national tour of the musical Billy Elliot at age 11. Last year, he was featured in Sia's "The Greatest" music video, and he's toured with Travis Wall's critically acclaimed contemporary company Shaping Sound. But now, Lex is officially a household name as America's Favorite Dancer—and has a first-class ticket on that Hot Tamale Train.
Keep reading...
Show less
Oh hey there, Hallmark Channel! The producer of all those sweet, homey movies best watched in your PJs with your mom has a super dance-y film on its holiday lineup this season: A Nutcracker Christmas. And the casting is—to use a very Hallmark-y pun—perfectly on pointe.
A Nutcracker Christmas tells the story of a talented professional dancer, Lilly, whose supportive sister dies just as Lilly is about to perform the role of Clara in The Nutcracker with New York City Ballet. (Nit-picky fact-checking: In New York City Ballet's Nutcracker, she's known as Marie and danced by a child, but OK.) Lilly's boyfriend and dance partner, Mark, keeps her from performing in the show, which makes Lilly declare she'll never dance again. Fast-forward a couple of decades, and Lilly's niece, Sadie, is about to dance Clara in a different company's Nutcracker—a company run by, of all people, Mark. And tons of drama ensues.
Yes, it's a whole lot of plot to wrap your head around. But the real story here is that Sadie is played by none other than the phenomenal Sophia Lucia, and the ever-dashing Sascha Radetsky is also involved in the project. (Radetsky's exact role is unclear from the press material, but he seems like a pretty natural fit for Mark, no?) The odds seem good that we'll get the gift of some very high-quality dancing. Merry Christmas to us!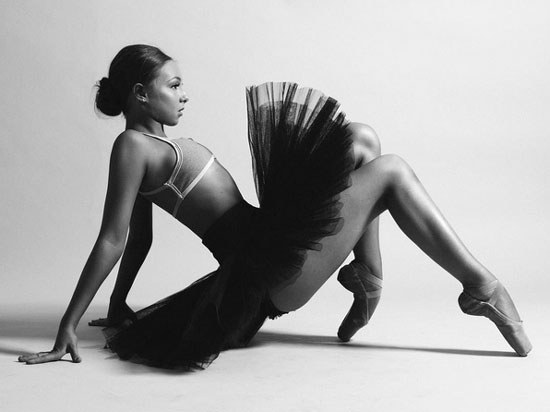 Sophia Lucia showing off those banana feet (via @sophialucia5678)
You can catch A Nutcracker Christmas on December 10 at 8 pm. Get your slippers and hot cocoa ready.
Double leg amputee, Eric Graise dancing (via Youtube)
When you think of a dancer, a double leg amputee may not be the first thing that comes to mind. But Eric Graise, who's one of the stars of the upcoming "Step Up: High Water" YouTube Red series, hopes to change that. Graise, whose legs were amputated as a child due to missing fibula bones, will play a character named King in the new dance series, set to debut early next year.
Keep reading...
Show less
New York City Ballet in George Balanchine's The Nutcracker (via @nycballet on Twitter)
We all suffer from Nutcracker fatigue sometimes. After a zillion performances, it's hard not to. But there's nothing to restore your little-kid sense of Nutcracker wonder like a look at the sheer scale of a world-class Nut.
New York City Ballet's iconic production of George Balanchine's The Nutcracker opens on Friday, and for the past week, the company has been Tweeting out some seriously eye-popping #NutcrackerNumbers. The stats cover everything from the number of jingle bells used on each Candy Cane costume (that'd be 144) to the watts of light used in the show's grand finale (ONE. MILLION. WATTS.).
Keep reading...
Show less
One of the most beautiful things social media has brought us is the ability to feel like we're up close and personal behind-the-scenes with all our favorite dancers. And one of our favorite stars to Insta-stalk are actually two casts of 36 scintillatingly synchronized precision dancers. I'm talking, of course, about my mild obsession with the legendary Radio City Rockettes.
Keep reading...
Show less
(via @tran247fitness on Instagram)
Have we mentioned lately how much we love dance dads? Especially ones who show up to their daughter's ballet class sporting a tutu, like Thanh Tran.
Keep reading...
Show less