"Dance Moms: Night of the Living Dancers" Recap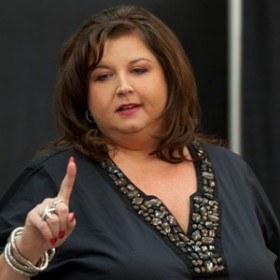 Oh "Dance Moms," the show we all love to hate—or love to love, in my case. So starting now, I'll be recapping the best of Abby Lee Dance Company every week! Last night's episode brought the dancers and their moms to Chicago for Energy Dance Competition. Tension was high, the dancing was awesome and, as usual, the moms were way over dramatic. Here's my countdown of the top 5 moments from this week:
Chloe's done the impossible and stayed on top of the pyramid for two consecutive weeks. But will she stumble under pressure? Heck no! Chloe's a champ, and her fierce solo (and awesome triple ponytails) were rock solid. I think she said it best: "This time I just decided to stop second guessing myself, and go out there with confidence. And I did really good, so I'm going to try to do that every time." An excellent lesson for us all.
Abby Lee gave Nia's mom Holly the job of making costumes for the group zombie number—not an easy task. But Holly rocked it! With some help from the moms—and despite the fact that they were equal parts fabric and dirt—those costumes were deathly awesome. And so was the routine. First place, baby!
Kelly (Paige and Brooke's mom) gave us a lesson in flip-flopping. First she decided to leave the studio after a fight with Abby Lee… but came back the next day. Next, she was missing from the morning bus to the competition… but showed up late ready to perform. Finally, she randomly pulled her kids from dancing their solos… but they still performed the group number. Will she stay or will she go? The suspense is killing me.
Maddie faced her fears! Forgetting her dance at the end of last season really messed with her head. And even though her sudden urge to perform was 90% prompted by her mother, she got up there and showed us why she's a star—she didn't even flinch when her CD skipped. Must admit, I teared up a little when she finished her dance.
Mackenzie and Nia's duet = BEST THING EVER! Honestly, whenever Mackenzie is dressed up as an animal, all she has to do is stand there and I crumble. This week, Mac was the most precious lion ever (with the most precious tail ever) and Nia was her acrobatic lion tamer. Obviously a first place winner! And when Mackenzie roared for the camera, the cuteness was almost unbearable.
Tune in next week for more amazing "Dance Moms" moments. And don't forget to tell us what you think!
Jun. 15, 2017 02:00PM EST
From left: Haley Hartsfield, Kaylin Maggard, and Michelle Quiner (photos by Erin Baiano)
Congratulations to Dance Spirit's 2017 Cover Model Search finalists: Haley Hartsfield, Kaylin Maggard and Michelle Quiner! One of them will win a spot on Dance Spirit's October 2016 cover. Learn more about the dancers on their profile pages, and then vote for your favorite below.
We also want you to get social! We'll be factoring social media likes and shares into our final tallies. Be sure to show your favorite finalist some love on Facebook, Instagram, and Twitter, sharing their profile pages and using the hashtag #DanceSpiritCMS.
Keep reading...
Show less
Performing on a Broadway stage might seem glamorous, but it comes with one of the most grueling schedules a dancer can face. Maintaining your stamina and energy, warding off injury and keeping the material fresh for eight shows a week is no joke. So how do dancers do it? Dance Spirit talked to ensemble members from some of Broadway's danciest shows to get their survival tips.
Keep reading...
Show less
You should know Leiomy Maldonado's name, because she's shaped the way you dance. Called the "Wonder Woman of vogue," the trailblazing artist was the first transgender woman to appear on "America's Best Dance Crew," as part of the Vogue Evolution crew. And her signature "Leiomy Lolly" hair flip has inspired everyone from Beyoncé to FKA Twigs to Willow Smith to, odds are good, your own teachers and choreographers. (Smith even asked Maldonado to appear in the video for "Whip My Hair," to show the world how to do the flip properly.)
Now, Maldonado is the star of a new Nike ad celebrating the queer and transgender dancers who form the heart of the voguing community. Directed by Daisy Zhou, the spot is narrated by transgender artist Precious Angel Ramirez, and showcases Maldonado's extraordinary skills, as well as those of several other dancers from the vogue scene.

Keep reading...
Show less
Jun. 25, 2017 11:00AM EST
via YouTube
...This clip, "'Hamilton' Choreographer Breaks Down His Moves," popped up on my YouTube recommended list. I mean, I could watch Hamilton's dance wizard Andy Blankenbuehler talk about anything. Have you read our interview with him back when he was making the moves for Bandstand? The guy is freaking fascinating.
Keep reading...
Show less


Get Dance Spirit in your inbox