"Dance Moms: Worst Birthday Party Ever!" Recap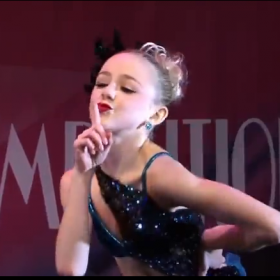 Some fun times on "Dance Moms" this week— and some not so fun times. Payton's back (ugh, so much unnecessary fighting); Kelly had a birthday party, but I don't want to talk about it; And the girls travel to Starbound in Atlanta, GA (the competition that brought on Abby Lee's breakdown last season). Bring on the drama! Here are my top five moments:
5. Chloe was on top of the pyramid! I know this shouldn't come as a shock since she's a phenomenal dancer and Maddie didn't even do a solo last week, but I just like her a lot. This girl doesn't get enough credit; I'm continuously pleasantly surprised at how little her mother has rubbed off on her.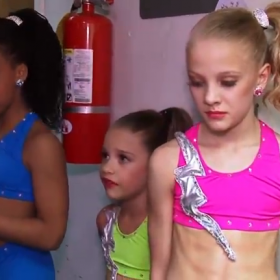 4. The girls got to audition for "Drop Dead Diva"! A fantastic show that just happens to be on the same channel, Lifetime, as "Dance Moms." Not-so-subtle advertising? I think so. Clearly, Abby's girls will beat out those Candy Apples for the part. After all, Vivi couldn't even pronounce the word "choreographer." Good thing she's a great dancer. Oh wait… poor girl.
3. The underdogs unite! Paige, Nia and Mackenzie came together for a trio. And, honestly, it was kind of a mess. Mackenzie missed her entrance, Nia fell on her butt, and no one was dancing in synch. But their moping conversation afterwards about how much trouble they were going to be in was oh-so-cute. It may not have scored high with Abby, but it kept me smiling.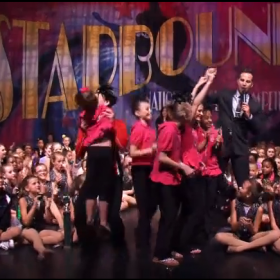 2. Can Chloe be on this list twice? Good, because she is. Chloe's solo "Trouble" was so amazing! While surprising Abby by skipping rehearsal for a school field trip was a little too sneaky for my tastes, she clearly put in the work on her own, and her routine was flawless. Got to be honest: I liked it better than Maddie's, and I thought Chloe deserved a higher title.
1. This group number was the best one yet! I even got over my sadness that Mackenzie wasn't in it. "All Kids Go" had awesome costumes, choreography that was different than Abby's usual and every dancer looked flawless. I just wish we could have seen the whole thing. First place!
Will Chloe stay on top of the pyramid? Will Payton stay on the team? Who will get the part on TV? So much excitement coming up next week! Don't miss our recap right here.
Jun. 15, 2017 02:00PM EST
From left: Haley Hartsfield, Kaylin Maggard, and Michelle Quiner (photos by Erin Baiano)
Congratulations to Dance Spirit's 2017 Cover Model Search finalists: Haley Hartsfield, Kaylin Maggard and Michelle Quiner! One of them will win a spot on Dance Spirit's October 2016 cover. Learn more about the dancers on their profile pages, and then vote for your favorite below.
We also want you to get social! We'll be factoring social media likes and shares into our final tallies. Be sure to show your favorite finalist some love on Facebook, Instagram, and Twitter, sharing their profile pages and using the hashtag #DanceSpiritCMS.
Keep reading...
Show less
An outfit that makes you feel confident on the convention floor is always a "do" (via Break the Floor Productions)
Attention, ladies and gentlemen: We've officially hit Nationals season! And that means it's time to dig through those closets to find the perfect clothes to get you noticed during convention classes. The task can feel totally overwhelming—but we're here to help. Follow our guidelines, and you'll be rocking the dance floor with Travis Wall and making Stacey Tookey yell "GORGEOUS!" in no time.
Keep reading...
Show less
Royal Flux performing on "World of Dance" (NBC)
Oh man. This is getting ROUGH.
Last night marked the second round of head-to-head duels on "World of Dance." Once again, we were feeling real pity for the judges—and it takes a lot for us to pity J. Lo—because we've reached a point in the competition where there aren't any clear winners. Everyone's insanely good. And yesterday's showdowns paired acts that were so unalike, comparing them felt a little unfair.
So, who emerged from these cruel duels victorious?
Keep reading...
Show less


Get Dance Spirit in your inbox