Mar. 26, 2009 12:32PM EST
Dance-team diva. Kickline queen. Commercial champ. Keltie Colleen can do it all!
What's Keltie Colleen's secret? That's what we were desperate to learn when the 27-year-old walked into our Dance Spirit cover shoot this past January.
Her charisma and classic beauty were evident from the start, but as the day went on, it was her other qualities that inspired us. She's quirky, edgy and, above all, professional.
While moving seamlessly between outrageously dorky and super-sexy poses, she let it slip that she'd done her homework by practicing the night before and watching behind-the-scenes videos of past shoots at dancespirit.com/! Keltie knows that success is based on more than talent alone: It's also about being determined and a risk taker.
 

"She always wants more."
Most dancers would be satisfied booking just one of the types of gigs on Keltie's resumé. She's performed with Fergie at the Fashion Rocks concert and appeared in kanYe's first music video, "Two Words." She was a principal dancer in Disney's Enchanted and recently choreographed John Legend's "Green Light" video. She's also toured as a Radio City Rockette—four times!—and danced with the Knicks City Dancers and the New Jersey Nets Dancers. Currently, Keltie is in Las Vegas to perform in Tony Award–winning director Jerry Mitchell's new production, Peepshow, a sultry show that follows Bo Peep on her quest for love.
"I'm a chameleon, which is a dancer's greatest asset," Keltie says. "When I work for Fergie, I'm a hip-hop video girl; then when I'm onstage as a Rockette, I rock a bun and am tapping like it's the 1950s."
Keltie is also business-savvy. "She knows that if you want to work every day of your dance career, you have to be able to do it all," says Anastasia Miller, Keltie's agent with Clear Talent Group in NYC. "She's always in class, and she's always picking up new skills. She has never assumed that she's made it. She always wants more."
As one of the few dancers to make a name for herself on the internet, Keltie has acquired quite a fan base. She keeps in contact with young dancers through her MySpace page. (More than 40,000 hits last year!) She's even gone on dancespirit.com/ to give advice on our message boards and produced a DVD that helps prepare dancers for auditions.

"Dance was my thing."
But Keltie wasn't always at the top of her game. In fact, she was a self-proclaimed back-row dancer when she started classes at Sherwood Park School of Dance in her hometown of Sherwood Park in Alberta, Canada. "It was like limbs everywhere!" she says. "If you had seen me at age 14, you might have said I looked pretty onstage, but was probably not a good dancer."
But Keltie liked the attention that came with being a performer. "Dance was my thing that made me different from everyone else," she says. Every morning, she took a 6:47 a.m. bus an hour and a half to Victoria School of Performing and Visual Arts in Edmonton. Then she took another bus to class at Shelley's Dance Company in the evenings. "I developed a work ethic that people don't have when they are given things easily," she says.
Keltie continued to push herself to improve by creating her own opportunities in the dance world. At the end of her senior year of high school, she auditioned in Toronto to dance on a cruise ship and was hired.

"New York was my goal."
After dancing a year on the ship—"Everyone was in math class, and I was in St. Thomas!"—she had saved enough money to move to NYC in 2002. "New York was my goal growing up; something in my soul told me I had to dance there," she says.
But when Keltie arrived, not everything went as planned. "When I auditioned for the Rockettes the first time, I didn't get it," she says. However, six months later, another audition landed her a spot in the famous troupe. "I'm glad I got over my fear of failure and had the chutzpah to stand in that line again."
Keltie considers her big break getting to perform with professional dance teams—both the 2003–2004 New Jersey Nets and the 2006–2007 Knicks City Dancers. "Keltie immediately stood out from the 500 other dancers at the Knicks City Dancer auditions because of her energetic and fun personality," says Michelle Harris, manager of entertainment marketing for the New York Knicks. While she was on the team, Keltie worked relentlessly to improve her dancing. "Her strong suit was her jazz technique, but she worked extra hard at her hip-hop skills to blend in with the rest of the team by mid-season," Michelle recalls. Keltie agrees. "The kippup [hoisting the body from the floor to a standing position] was my nemesis!"

"Maybe It Was Her Smile."
Keltie is so grateful to have a family that loves her and wants her to succeed. "They support me and celebrate with me and sent me money when I was broke," Keltie says.
Another pillar of support in Keltie's life is her boyfriend, Ryan Ross. (Yes, the same Ryan Ross of the band Panic at the Disco!) The couple met when Keltie was a backup dancer for the group at the 2006 MTV Video Music Awards. "We were at rehearsal, and the band came  to see the routine. This one guy was staring at me. It was awkward!" she says. ("For some reason she was the only one I even saw," Ryan says. "Maybe it was her smile. Something caught my eye—and still does.")
"Later I got a call from my agent," Keltie says. "The band wanted to make sure I was going to the after party. Ryan and I ended up talking about Pop-Tarts and books, and we have been together ever since."
Although the two don't get to see each other often since they both tour, they enjoy similar activities in their time off. "You wouldn't guess it by looking at her, but she's sort of a nerd, which is what I love about her and why I think we get along so well," Ryan says. "We both like to sit around and read or watch the Discovery Channel."
Having a famous boyfriend has its share of challenges, though. Since she started dating Ryan, numerous blogs, message board posts and videos have bad-mouthed Keltie. Old photos of her in revealing clothes, which she wore for previous dance and modeling jobs, were posted and scrutinized. "Sometimes I laugh it off, but some of it has affected me," Keltie says. "It hurts when people say I'm not a good dancer or I'm using Ryan. No one deserves to hear bad things about themselves."
"It's OK Not to Be Famous."
In order for her fans to see her in the best light, Keltie first had to see herself in that way. "I realized I could either be the half-naked 'hot girl' in the music video, or I could focus on making better decisions. It's OK not to be famous if you have to go about  it the wrong way."
Whether it's as a role model, dancer or girlfriend, she proves to be just as genuine the second, third and one-hundredth time you meet her as the first. "Keltie is the most giving and positive person that I have ever met," Ryan says. "She's made me want to be more like her in that way." 
Win It
Sep. 05, 2017 12:10PM EST
Photos by Erin Baiano
It's time to get your pirouette on! From September 5th to September 30th, we're hosting a contest to find out who's the best turner of them all.

Put together your most impressive turning combo. Post a video online. Share your turns with us and thousands of other dancers around the world. And if our editors think you're the top turner, you'll win a fabulous prize.
Keep reading...
Show less
All of 18-year-old Kaylin Maggard's dreams—from scoring the title of National Senior Outstanding Dancer at New York City Dance Alliance Nationals to winning the 2017 Dance Spirit Cover Model Search—are coming true. And to anyone who knows the gorgeous contemporary dancer, that's no surprise.
From the moment the Dance Spirit staff met Kaylin, it was obvious her humility and talent would take her far. Not only did she go full-out during the photo shoot and class at Broadway Dance Center, but she was always cheering on, laughing with, and supporting her fellow CMS contestants Haley Hartsfield and Michelle Quiner. During the voting period, the social media world was abuzz with praise for her work ethic, positive attitude, and generosity.
Since her CMS trip to NYC, Kaylin's moved from her hometown of Columbia, MO, to the Big Apple for her freshman year at Juilliard, and is busy getting acquainted with the city. As for the future? She's taking it one opportunity at a time, but something tells us we'll be seeing this contemporary queen reach new heights every year.
Keep reading...
Show less
New York City principal Lauren Lovette has become an icon thanks to her emotional maturity and exceptional musicality. The 26-year-old quickly rose through the ranks after joining the company as an apprentice in 2009, reaching principal status in 2015. A Thousand Oaks, CA, native, Lovette started studying ballet seriously at age 11, at the Cary Ballet Conservatory in Cary, NC. After attending two summer courses at the School of American Ballet, she enrolled as a full-time student in 2006. Last year, she made her choreographic debut with For Clara, her first piece for NYCB. Catch her latest work this month during the company's fall season. —Courtney Bowers
Keep reading...
Show less
In our "Dear Katie" series, former NYCB soloist Kathryn Morgan answers your pressing dance questions. Have something you want to ask Katie? Email dearkatie@dancespirit.com for a chance to be featured!
Dear Katie,
I know I'm not getting good enough dance training from any of my local studios. But I'm not sure I'm ready to move away to study at a big-name school, either. How do you know when you're ready to leave home to pursue your passion?
Marisa
Keep reading...
Show less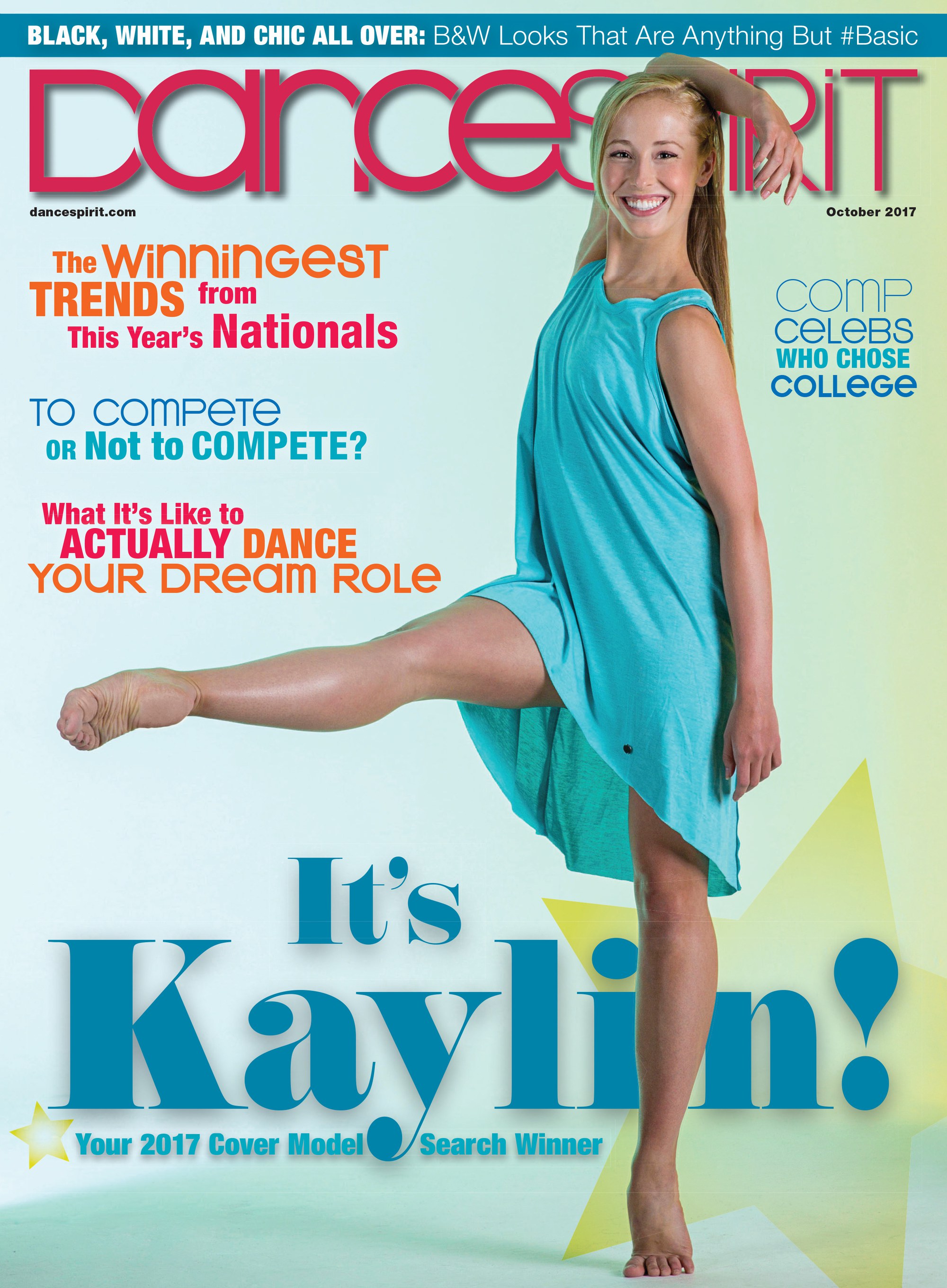 Get Dance Spirit in your inbox