Mar. 26, 2013 10:46AM EST
Dance Your Lunch Break Away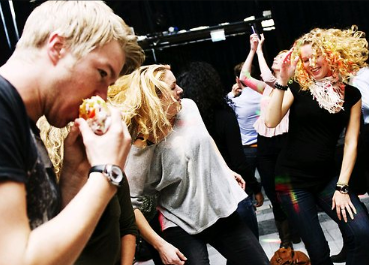 Coming soon to Manhattan! (a Swedish Lunch Beat party - photo AFP)
About a year ago, I wrote a very bitter post about Lunch Beat parties, the amazing dance fiestas held during lunch hour that originated in Sweden. I bemoaned the fact that something like that would never happen in buckle-down-and-eat-your-darn-sandwich-at-your-desk NYC.
Readers, I'm happy to say I was dead wrong.
On April 24, Lunch Beat will make its Manhattan debut at Slate club in the Flatiron district. For "about what people normally spend for lunch," you'll get a nice vegetarian buffet to nosh on and the opportunity to dance your pants off from 12:30 to 1:30 pm. Scratch that—it's not an "opportunity." The first rule of Lunch Beat is that everyone must dance at Lunch Beat. No corner lurkers allowed.
(A happy aside: My Lunch Beat-will-never-happen-in-NYC theory was actually disproved last year. There were Lunch Beat events held during the summer of 2012 in Queens—video evidence below. New Yorkers, I underestimated you. Rock on.)
Sara Mearns and Chase Finlay in Pontus Lidberg's "The Shimmering Asphalt" (via @saramearns on Instagram)
We've said it before and we'll say it again: New York City Ballet principal Sara Mearns is some SERIOUS #goals. Her strength and power onstage borders on superhuman. But what's extra magical about Mearns is that she really puts in the fitness and cross-training work outside of the rehearsal studio. And she's overcome her fair share of injuries. Which is why she was the perfect source for Vogue's latest ballet fitness story.
Keep reading...
Show less
Jul. 23, 2017 07:00AM EST


Get Dance Spirit in your inbox