How To
Jul. 07, 2017 12:30PM EST
Millennium Dance Complex dancehall students demonstrate To Di Werl (courtesy Jae Blaze)
Remember Rihanna's epic onstage dance party at the 2016 MTV VMAs? She effortlessly flowed through a mashup of "Rude Boy," "What's My Name" and "Work," wearing a feathery bra-top, baggy pants and an oversized T-shirt wrapped around her head. And the dozens of backup dancers? They weren't really backup—Rihanna was clearly part of the group, and the group was having an amazing time grooving together. The sound, choreography, costuming and camaraderie were pure dancehall.
"Dancehall is a genre created in Jamaica," says Jae Blaze, a dancehall instructor at L.A.'s Millennium Dance Complex (MDC) who has choreographed and danced for Rihanna and other international pop artists. Though the dance element was originally considered a freestyle form, classes are popping up at top studios from coast to coast. Here's what you need to know about this branch of the street-dance family tree.
---
What Is Dancehall?
Dancehall is one of the many forms of freestyle that grew out of the African diaspora. "It's heavily influenced by its African roots," Blaze says, "and Jamaican dancers have cultivated the art form to become a style of choreographed dance."
Yaminah Legohn, dancehall instructor at Exile Professional Gym in NYC, founder/artistic director of Art of Legohn and owner of Afro Karibé, an African-diaspora dance company, adds that the name "dancehall" originated from the dance halls of Jamaica, where people would come together to dance. Though the style increased in popularity during the 1970s and '80s, dance halls existed long before then. "It's a style that's full of culture," she says. "It includes the dance, but also the music, fashion and sense of community. It's a lifestyle."
Yaminah Legohn teaching at Exile Professional Gym (photo by Dominique Taylor, courtesy Legohn)
Dancehall music is derived from reggae and ska, which might be more familiar to mainstream North American listeners. But that doesn't mean dancehall is new. "Dancehall was around long before artists like Rihanna, Sean Paul and Beyoncé used elements from the style," Blaze says. "Artists like Patra, Lady Saw, Shaggy, Shabba and Super Cat, to name just a few, spearheaded the dancehall movement into North America." After the first wave of international popularity in the 1980s through the early 2000s, major American pop artists began to notice dancehall sounds and culture, and collaborate with or borrow from Jamaican performers.
What to Expect in a Dancehall Class
Just like other codified dance styles, dancehall has specific steps, and the social element comes in when dancers perform the steps together. Once you start coming up with your own choreographic combinations, you're freestyling. "There are many dances [i.e., specific steps] that have been created for dancehall," Legohn says, "and you have to know them and their meanings before you can execute the style properly. Students want to learn the steps. They want to learn what the deejays are saying when they speak Jamaican patois [an English-based language with African influences, spoken primarily in Jamaica]. And they want to know why dancehall dancers are so hyped!"
In her class at MDC, Blaze teaches "foundation grooves," where she describes how the energy of the movement should flow through the body. She says the style is isolated, fluid and staccato all at the same time. "Dancehall demands the use of your chest, back and core, which challenges many dancers because of their previous training. For example, in ballet you're taught to be upright, so dancehall's grounded and slightly bent movement is a total contradiction." She adds that every dancehall teacher will be different, just like every hip-hop teacher. "Dancehall is about absolute freedom, with a huge serving of personality. It teaches you to perform with confidence and look like you're having the time of your life."
The Dancehall Revolution
Blaze is thrilled that dancehall has finally received global recognition, but also believes it's important to remember where the style comes from—and to continue to support the original innovators. "I'm elated that dancehall has moved into studios," she says. "For years, the style struggled to earn respect in North America, but now it's being embraced across the world. We need to honor the craft, acknowledge the creators and support artists in Jamaica in order for dancehall to continue to thrive."
Olympic track star Usain Bolt has a signature pose after he wins a race: pointing toward the sky and leaning back to one side. It's called "To Di Werl [world]," and it's a dancehall move! (Courtesy Jae Blaze)
Much of Janelle Ginestra's career has been about helping others shine. She's dedicated herself to supporting and cheerleading her partner, WilldaBeast Adams; the emerging talents in their dance company, ImmaBEAST; and the countless dancers she inspires at master classes and conventions. Her YouTube channel has become a launching pad for young talents like "Fraternal Twins" Larsen Thompson and Taylor Hatala, thanks to viral videos featuring Ginestra's creative vision.
But Ginestra's a skyrocketing success in her own right—an in-demand choreographer, a social media influencer, and a dance entrepreneur, building a legacy one eight-count at a time. It's time for her turn in the spotlight. And she's more than ready. "I want to be a legend in whatever I do," she says. We'd argue that she already is.
Keep reading...
Show less
Win It
Oct. 13, 2017 04:31PM EST
Oct. 13, 2017 03:01PM EST
Okay, so it's also Friday the 13th. (Eek! Be sure not to let any black cats cross your path on the way to the studio!)
Keep reading...
Show less
If you've ever seen a Janelle Ginestra class video, you know how lit her combos are. What you don't see in those clips is how devoted Ginestra is to her students. We went behind the scenes at one of her sold-out IMMA SPACE classes to see Ginestra in her element, mentoring some of L.A.'s most talented dancers. It was an inspiration feedback loop.

All photos by Joe Toreno.
Keep reading...
Show less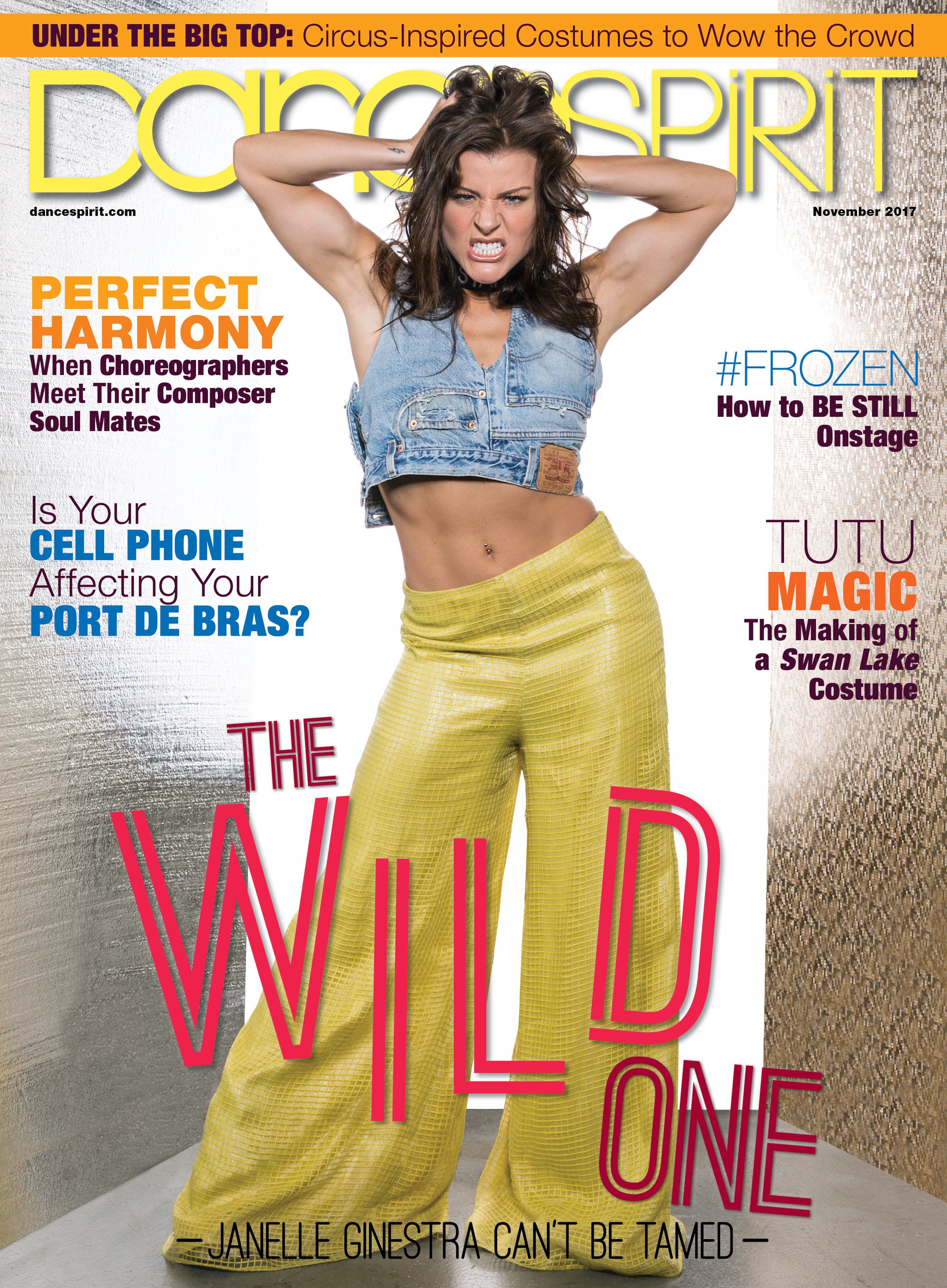 Get Dance Spirit in your inbox