From Comp Kid to "Pitch Perfect 3": How Skyler Semien's Dance Skills Took Her to the Silver Screen
Skyler Semien on set of the hit film Pitch Perfect 3 (courtesy Lance Semien)
Take a good look at Skyler Semien, because she's an up-and-coming commercial dancer who's primed to take Hollywood by storm. A freshman at Georgia State University, the former competition kid has already appeared in her first feature film, Pitch Perfect 3, and has two more movies in the works.
How did this dancer end up in one of the biggest films of the year? Semien says it started with her dance training. Studying everything from ballet to contemporary, Semien started competing when she was only 6 years old. But in high school, she realized hip hop was her ticket to the commercial world, and decided to shift her focus. Soon, she'd signed with Bloc talent agency, and as a senior in high school, she was cast as one of the "new Bellas" in Pitch Perfect 3.
Though Semien's found success in show biz, don't expect her to drop everything and move to Hollywood. The multi-talented dancer is keeping her options open as she concentrates on getting her education. "Dancers are no longer just dancers; they're entrepreneurs, creative directors, musicians and actors," she says. And she believes education will breed the skills she needs to pursue those kind of opportunities.
We chatted with Semien about why she thinks so many dancers are pursuing additional careers beyond the dance world.
---
Who are your dance idols?

Brian Friedman, of course! And recently, Delaney Glazer has become an idol for me. She trains out in L.A. and dances completely differently from everyone else. She stays true to her style and makes the choreography her own. Plus, I love her fashion sense!
What's your favorite dance movie?
Step Up! Can't go wrong with a classic.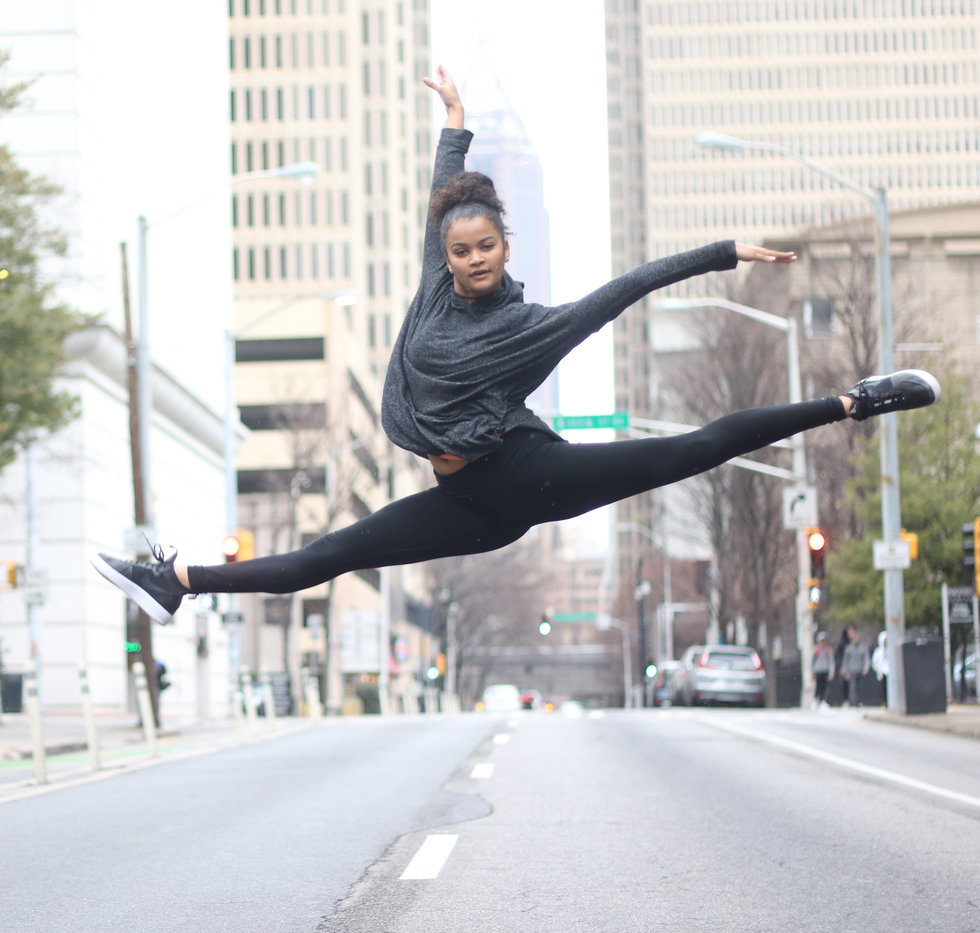 Photo by Justin Laryea, courtesy Lance Semien
What did you enjoy most about being part of Pitch Perfect 3?
Honestly, everything. Because Pitch Perfect 3 was my first professional job, it was a whirlwind. I was completely living in the moment and learning from seasoned dancers who were in my group, the "new Bellas."
How did your dance training help with your role on Pitch Perfect 3?
If it weren't for my decision to train seriously in hip hop, there's no way I would have booked it. Dancing in the professional world takes confidence, which is something I had to work on, and am continuing to build upon. There is no doubt that getting outside my comfort zone and diving into hip hop is what helped me land that job.
Were there any funny behind the scenes moments with the cast and crew?
YES! Because all of the main actors are comedians, a lot of the scenes were improvised, which made for so many funny, awkward, and downright hilarious moments. One in particular—which was actually used in the movie—was when "Fat Amy," Rebel Wilson's character, punched a balloon shark out of frustration after Emily and the "new Bellas" walk away. The first time she did that, no one saw it coming, and it was so hard not to laugh. Even the main cast behind her had a hard time keeping it together.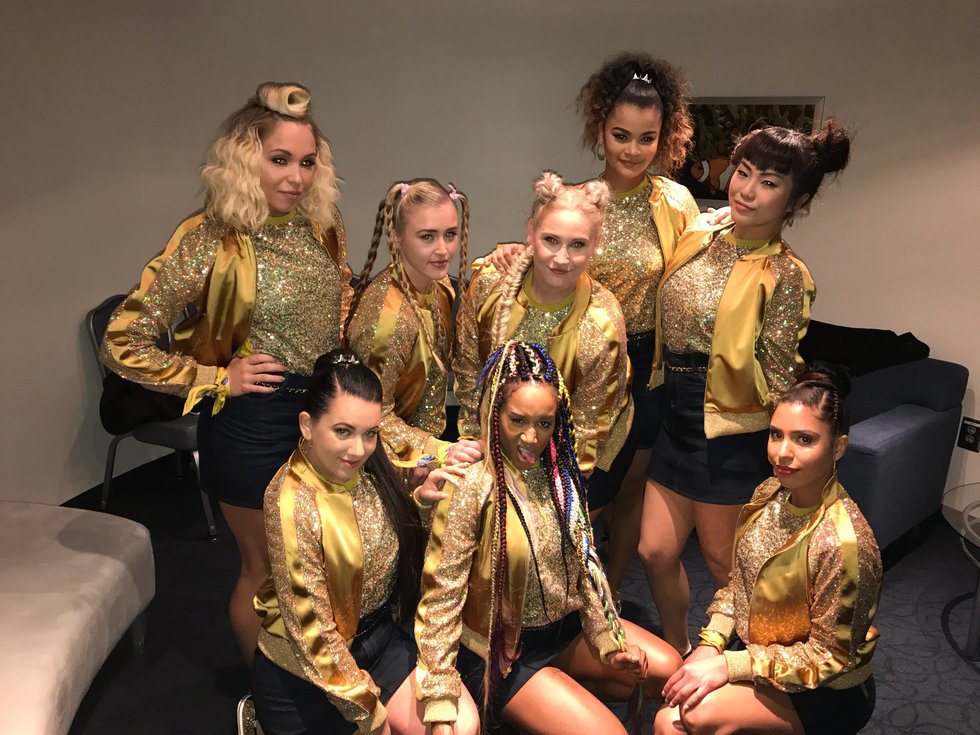 Semien (back row, second from right) with the other Bellas on the set of "Pitch Perfect 3" (courtesy Lance Semien)
Do you think dancers make good actors?
Yes and no. Yes, because when we dance, we're putting on a show; we're showcasing a different persona with our face and bodies, which is the beginning of acting. But, I think for some dancers acting comes naturally and for others it doesn't. With my background in lyrical, I love emoting to the audience. I think that's why I connect with acting so much.
How do you balance dance with your new career in acting?
As of right now, my hardest challenge is really balancing being a full time student with my dance/acting career. Not every professor understands it, which makes it difficult at times. But switching around my schedule and taking a couple online courses has been helpful.
Why do you think we're seeing this trend of young dancers who are pursuing additional careers in modeling, acting, singing, etc?
Back in the day you might have seen a breakout triple threat once in a while. But today, dancers literally do everything. I think it's because kids are getting exposed to the industry so early on, and are able to grasp what this community wants at an earlier age. I also believe social media has played a huge role in elevating dancers to where they are now, allowing them to jump into new roles than weren't previously available to them.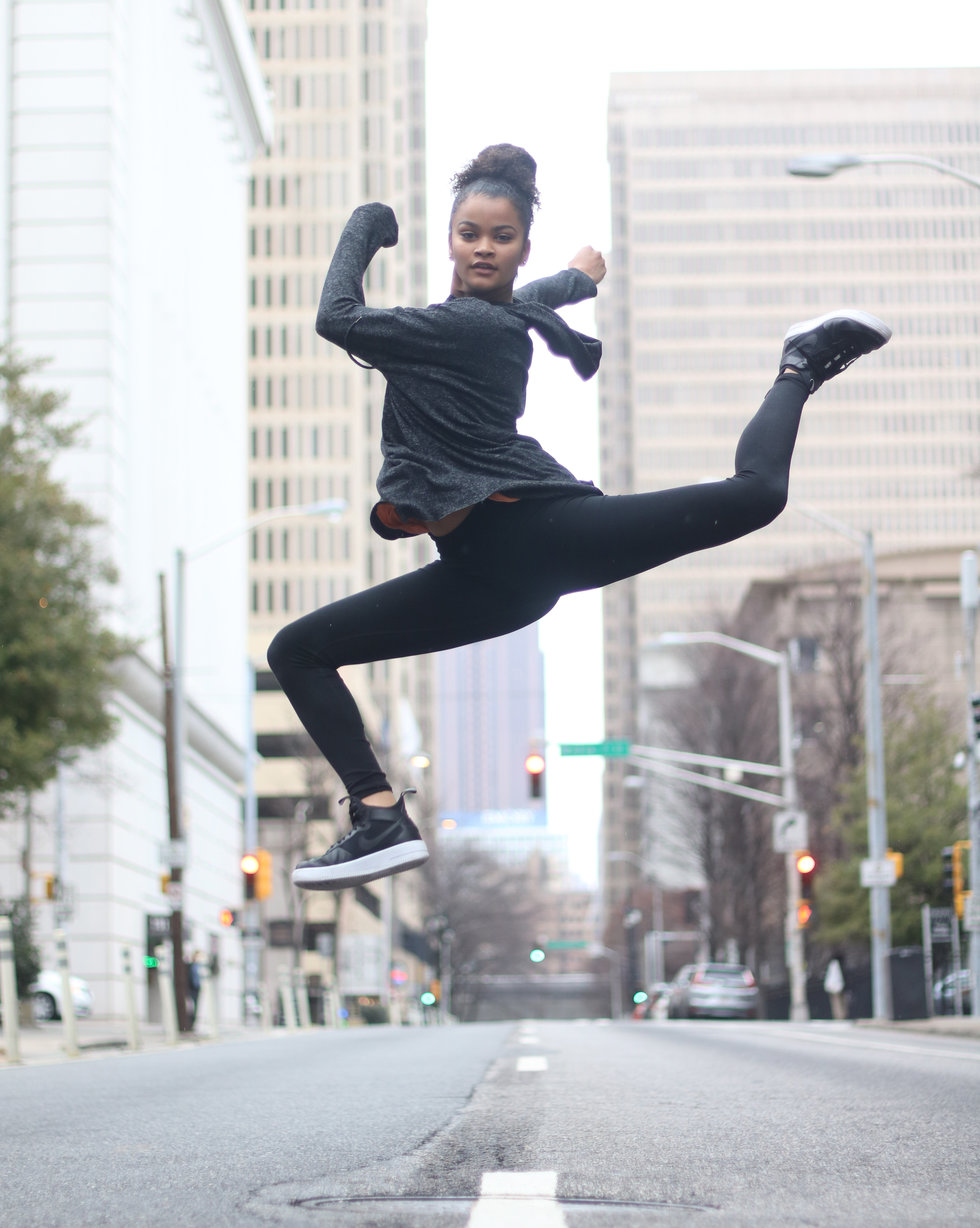 Photo by Justin Laryea, courtesy Lance Semien
What's next for you?
Earning a college degree is definitely a goal for me. I'll continue to pursue my dance/acting career, as long as I'm able to fit training and auditioning for jobs around my school schedule. Presently, I'm assisting faculty as an Elite Protégé on the Pulse Dance Experience tour. I'm so grateful to have worked as a dancer on the premiere episode of "Step Up: High Water," as well as in the upcoming feature films Dumplin' starring Jennifer Aniston, and Night School starring Kevin Hart and Tiffany Haddish.
Do you have tips for other dancers who want to pursue multiple career tracks?
I know it sounds clichéd, but stay true to yourself, hang around genuine and uplifting people who have your best interests at heart, network, and set goals for the upcoming year. Tomorrow is never promised, so don't wait on life to make the decision for you. If you want something, go after it.
(From left) ABT's Erica Lall; NYCB's India Bradley; Washington Ballet's Nardia Boodoo; NYCB's Rachel Hutsell (all photos by Rachel Neville)
Misty Copeland. Her name is synonymous with exquisite artistry and outspoken advocacy. And her visibility has made a huge impact on the ballet world. Ballet's relationship with race has always been strained at best, hostile at worst. But Copeland's persistent message and star quality have finally forced the ballet industry to start talking about racial diversity, inclusivity, and representation. "The rarity of seeing ourselves represented is sad," Copeland says. "The more we see every hue and body shape represented on the stage, the more possibilities young dancers feel they have for themselves."
Keep reading...
Show less
Our nominees (clockwise from top left): Roberto Campanella, Aurélie Dupont, Ashley Wallen, and Anthony Van Laast
Last month, we asked why there wasn't a Best Choreography category at the Oscars—and discovered that many of you agreed with us: Choreographers should definitely be acknowledged for their work on the super-dancy movies we can't get enough of.
Now, we're taking matters into our own (jazz) hands.
We've decided to create a Dance Spirit award for the best cinematic choreography of 2017. With your input, we've narrowed the field to four choreographers whose moves lit up some of the best movies of the year. Check out our nominations for best choreography below—and vote for the choreographer you think deserves the honor. We'll announce the winner on Friday, March 2.
ABT JKO School student Miuka Kadoi shoiwng off her beautiful line (photo by Kenneth Edwards)
Contemporary phenom Christina Ricucci has super-flexible hips, which means she can stretch her legs to unbelievable heights. But when she noticed herself making contorted positions in class, Ricucci realized she was approaching her extensions all wrong. "I went back to the basics in class, squaring my hips and using my turnout," Ricucci says. "I learned to create proper positions, rather than whacked-out versions of them."
Some dancers are so wonky they have a hard time supporting their high legs, while others struggle with limited flexibility. But no matter your facility, you can find a balance of stretch and strength to achieve your fullest range of extension. It's not about how high (or not) your legs can go: It's the quality of the movement, and how you get those legs up, that counts.
Keep reading...
Show less
Popular
Feb. 16, 2018 11:58AM EST
Via Jaime Guttenberg's memorialized Facebook page
Yesterday, the dance community was heartbroken to learn that Jaime Guttenberg and Cara Loughran, both 14-year-old dancers, were among the 17 people killed on Valentine's Day in the shooting at Marjory Stoneman Douglas High School in Parkland, FL.
Keep reading...
Show less
Bronze medalist Kaetlyn Osmond skating her "Black Swan" long program (screenshot via YouTube)
Once upon a time (until the 2014 Winter Olympics in Sochi concluded, to be exact), figure skaters had to compete to music without words. Before this rule change, a skater faced an automatic point deduction if the music even hinted at vocals. Understandably, there were *a lot* of Olympic programs skated to classical music, and you'd tend to hear the same music selections over and over and over.
Keep reading...
Show less


Get Dance Spirit in your inbox