Dancing Again, This Time on a New Leg
Yesterday we reported that Adrianne Haslet-Davis, the ballroom dancer who lost part of her leg in the Boston Marathon bombings, would take the stage at the TED2014 conference in Vancouver. And take the stage she did—well, more like burned a hole through it!
The special performance came Wednesday afternoon during a session given by Hugh Herr, a double amputee and director of biomechatronics at MIT. He spoke about his path to bionics and the new technologies his team is working on. (It's pretty fascinating stuff—read the TED2014 wrap-up for more.) Before the session ended, Herr invited Adrianne to the stage to exhibit a prosthetic limb he built after meeting her last year in the aftermath of the bombings: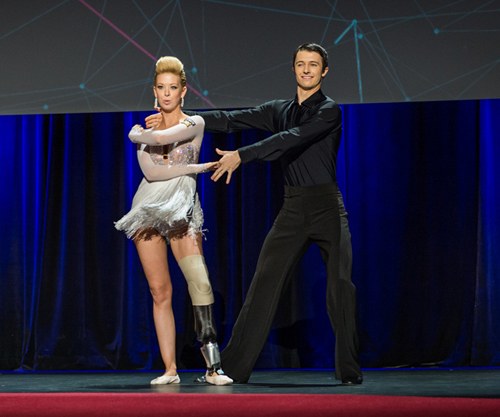 Adrianne performed a rumba with Christian Lightner.
Photo by James Duncan Davidson/TED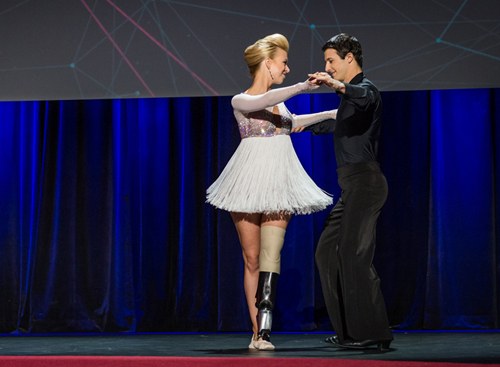 To design Adrianne's limb, Herr's team studied dance for a 200-day research period, looking at how dancers move and the forces applied to a body in motion.
Photo by James Duncan Davidson/TED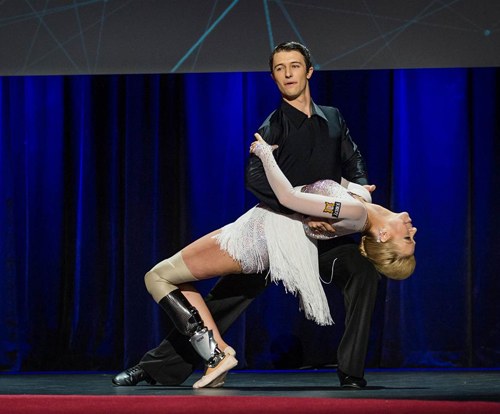 "Bionics are not only about making people stronger and faster," Herr said yesterday. "Our expression, our humanity can be embedded into our electromechanics."
Photo by James Duncan Davidson/TED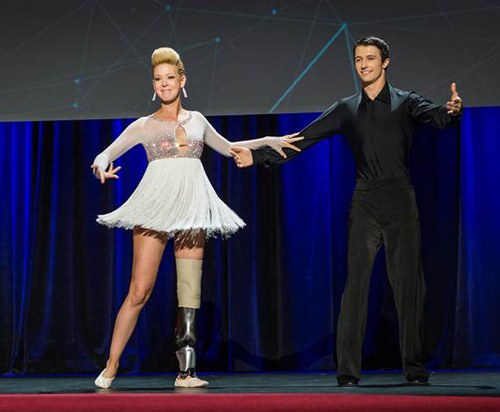 We love how happy she looks. You go, Adrianne!
Photo by James Duncan Davidson/TED
It's said that Adrianne is scheduled to perform on an upcoming episode of "Dancing with the Stars." We can't wait to cheer her on.
(via YouTube)
Remember that fabulous old-school clip of dancers tapping in pointe shoes that Tabitha and Napoleon D'umo brought to our attention back in March? As we mentioned then, toe-tap dancing was actually super popular back in the 1920s and 30s—which means there are more videos where that one came from. And because #ToeTapTuesday has a nice ring to it, we thought we'd take this opportunity to introduce you to Dick and Edith Barstow, a toe-tapping brother and sister duo from that era who are nothing short of incredible:
Keep reading...
Show less
Adam Rose/FOX
Guess who's back? Back again? The Academy's back! Tell a friend.
After one day at The Academy, the All Stars have successfully taken the Top 100 down to 62. But their work is just getting started: Now they need to keep narrowing the field to a Top 10, ultimately deciding who each will partner with during the live shows.
Keep reading...
Show less
Sara Mearns and Chase Finlay in Pontus Lidberg's "The Shimmering Asphalt" (via @saramearns on Instagram)
We've said it before and we'll say it again: New York City Ballet principal Sara Mearns is some SERIOUS #goals. Her strength and power onstage borders on superhuman. But what's extra magical about Mearns is that she really puts in the fitness and cross-training work outside of the rehearsal studio. And she's overcome her fair share of injuries. Which is why she was the perfect source for Vogue's latest ballet fitness story.
Keep reading...
Show less


Get Dance Spirit in your inbox