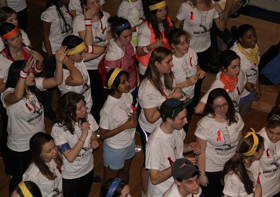 What do you get when you combine free food, live music, a night of dancing with friends, and a whole lot of passionate and generous college students?
Hundreds of thousands of dollars raised for charity, that's what!
February seems to be the month for dance marathons. My own school, Columbia University, had theirs two weeks ago and raised over $76,000 for the fight against AIDs. The money goes towards providing medications that prevent the transmission of HIV from mother to child. The medication only costs $19 per child, so the Dance Marathon helped almost 4,000 people.
Penn State's THON, starting today at 6pm and continuing for a whopping 46 hours (now that's endurance!), is the largest student-run philanthropy in the world, according to its website. Since its founding in 1973, the organization has raised more than $78 million—
yes, that's 8 digits—to benefit the Four Diamonds Fund at Penn State Hershey Children's Hospital.
Many other universities are in on the fun as well: University of North Carolina, Stanford, UConn, and Ohio State among others have recently held or are preparing for dance marathons.
So what does participating in one of these entail? It's a bigger commitment than just one night. Dancers fundraise for months before the big night, and volunteer organizers are in charge of finding and setting up a space, hiring performers, providing food, and handling
sound and stage equipment.
The hard work totally pays off. At Columbia, dancers were rewarded with Nutella paninis, grilled cheeses and free massages that enabled them to keep dancing for 18 straight hours. But nothing compares to feeling that you're making a difference. As Emily McConnell, a senior at Penn State and dancer in THON, wrote in a blog for the Huffington Post, "My fellow dancers and I will endure aching feet and exhaustion because we know our pain is nothing compared to the battles these kids face on a daily basis."
(via YouTube)
Remember that fabulous old-school clip of dancers tapping in pointe shoes that Tabitha and Napoleon D'umo brought to our attention back in March? As we mentioned then, toe-tap dancing was actually super popular back in the 1920s and 30s—which means there are more videos where that one came from. And because #ToeTapTuesday has a nice ring to it, we thought we'd take this opportunity to introduce you to Dick and Edith Barstow, a toe-tapping brother and sister duo from that era who are nothing short of incredible:
Keep reading...
Show less
Adam Rose/FOX
Guess who's back? Back again? The Academy's back! Tell a friend.
After one day at The Academy, the All Stars have successfully taken the Top 100 down to 62. But their work is just getting started: Now they need to keep narrowing the field to a Top 10, ultimately deciding who each will partner with during the live shows.
Keep reading...
Show less
Sara Mearns and Chase Finlay in Pontus Lidberg's "The Shimmering Asphalt" (via @saramearns on Instagram)
We've said it before and we'll say it again: New York City Ballet principal Sara Mearns is some SERIOUS #goals. Her strength and power onstage borders on superhuman. But what's extra magical about Mearns is that she really puts in the fitness and cross-training work outside of the rehearsal studio. And she's overcome her fair share of injuries. Which is why she was the perfect source for Vogue's latest ballet fitness story.
Keep reading...
Show less


Get Dance Spirit in your inbox