Apr. 11, 2013 12:10PM EST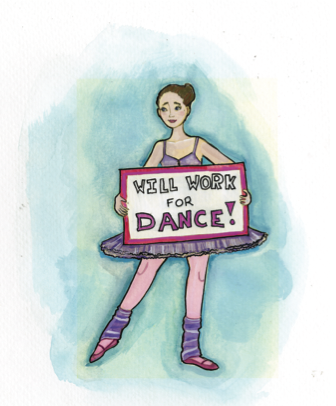 From her very first time in the studio, Anne Souder dreamed of being a professional dancer. But there was one big obstacle standing in her way: money. "I have five siblings," says Anne, who's now a rising senior in NYC's Ailey/Fordham BFA Program. "Our parents always supported our interests, but finances were tight."
So Anne took matters into her own hands, approaching Amy Morton Vaughn, director of Van Metre School of Dance in Maryville, TN, about doing work-study to cover the cost of training. From eighth grade through high school, Anne helped out at the studio, doing everything from cleaning to filing to assisting in children's classes. "I'm so grateful I had work-study opportunities, because I wouldn't be where I am now without that dance training," she says.
There are many reasons your family might have trouble affording dance classes. Maybe you also come from a big clan with a tight budget, or your mom just lost her job. Whatever the case, if you're serious about dance, there are ways to tackle the tuition problem and get the training you need.
Seek financial aid. If your studio has a scholarship program, apply. You don't always have to be the best dancer in class to receive tuition assistance. "Our financial aid committee tries to be generous," says Mary Roth, business manager of Delaware Dance Company in Newark, DE. In addition to awarding one merit scholarship, DDC offers need-based financial aid; applicants are asked to submit a financial statement along with a letter explaining why they love dance and what they hope to accomplish at DDC. You can also look outside your studio for financial aid. Harlequin Floors, for example, has a monthly scholarship video contest.
Try work-study. Work-study programs allow you to provide services to your studio—teaching, cleaning, etc.—in exchange for dance classes. Fourteen-year-old Julia Kepple started helping out at her studio, Encore Dance Center in Lancaster, PA, when she was 11. Julia had already received tuition coverage when her parents were both being treated for cancer, and when she was old enough to start work-study, she began assisting in children's classes. "I love working with little kids, and I love dancing, so it's great that I can do both at the same time and help pay for my classes," she says. Julia and the studio's other assistants also help out with studio cleaning needs.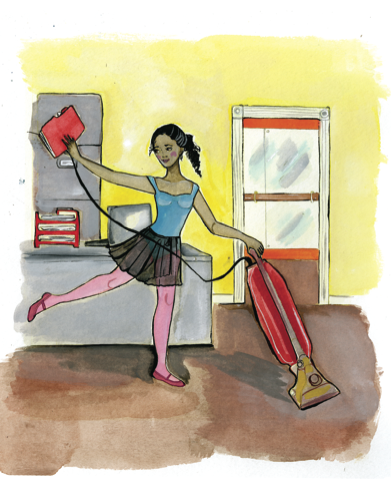 See if your studio has a work-study program, which will allow you to provide services—like cleaning—in exchange for classes.
When applying for work-study, be realistic about your skill set. "I'm a stickler for quality when choosing assistant teachers," says Melissa Hoffman, director of Melissa Hoffman Dance Center in Hudson, NH. "However, I might need help sorting costumes, and those hours could also go toward tuition." Even if your studio doesn't have a formal work-study program, Anne recommends looking for a need and offering to fill it, whether that means organizing the costume closet, answering the phone or cleaning dressing rooms.
Involve your parents. At DDC, parents are encouraged to volunteer at the studio in exchange for tuition credit. "We have parents at the reception desk, taking payments and filling out forms," Roth says. If your parents have time and are willing to help, get them involved—and that doesn't have to mean cleaning or doing office work. Does your mom sew? Maybe she can construct costumes. Does your dad do carpentry? Maybe he can build sets.
Make cutbacks. Unfortunately, studios can't always meet every financial need brought to them. You might have to cut costs on your end. If you compete, that could mean attending fewer competitions, or doing fewer numbers. At a non-competitive studio, you could cut costs by doing fewer numbers in the recital. Competing or performing less isn't fun, but it might be the way to keep your training on track.
Look elsewhere. It's possible to find free or inexpensive classes outside of the typical studio setting. For example, you could take hip hop at a local community center or YMCA, instead of paying tuition for a similar class at a dance studio. You could also watch videos online to learn new techniques and stay in shape. Just remember that recreational classes will only take you so far, and videos can't improve your placement or musicality, so these options should only act as supplements to your more intensive training.
Chances are, your studio doesn't want you to leave because of money issues. "We want to keep our students, and we want them to improve, so we do everything we can to help if classes are outside a family's budget," Roth says. Hoffman agrees. "When a kid's family is going through a rough time, such as a job loss or a sick loved one, I say, 'This is your family, too. You need to be here.' "
Above all, don't be afraid to ask for help. Anne says: "Asking for assistance when you really need it shows your teacher or studio owner that you're willing to work hard for something you love."
Illustrations by Lealand Eve
Jul. 22, 2017 04:55PM EST
via YouTube
It's no secret that ballet in pop culture has sparked its fair share of controversy. Which is why this video from Refinery29, featuring ABT's Isabella Boylston, is not only a super-fun watch, but a breath of fresh air.
Keep reading...
Show less
Jul. 21, 2017 12:26PM EST
via @phil_wright_ on Instagram
Well, this brings class videos to a whole new level! Choreographer Phil Wright and dancer Ashley Liai have been together eight-plus years, but she was still in total shock when he proposed to her mid-dance at Millennium Dance Complex earlier this week. Why? Well, the whole thing was unbelievably perfect.
Keep reading...
Show less
Jul. 21, 2017 11:03AM EST
(Courtesy ABC)
In the dance industry, dancers don't always have a say in what they wear on their bodies. This can get tricky if you're asked to wear something that compromises your own personal values. So what should you do if you find yourself in this sticky situation? We sat down for a Q&A with "Dancing with the Stars" alumn Ashly Costa to answer that very question. Here's what she had to say about the options dancers have surrounding questionable costumes.
Keep reading...
Show less


Get Dance Spirit in your inbox