Nov. 14, 2012 10:41AM EST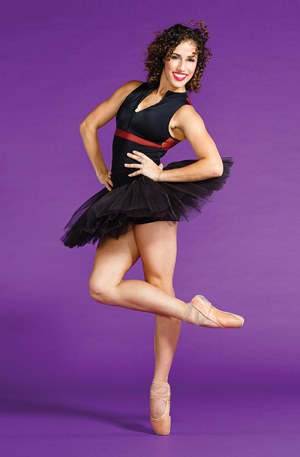 Photography by Joe Toreno
"I went blank!" That was 21-year-old Eliana Girard's reaction when Cat Deeley announced her as the "So You Think You Can Dance" Season 9 female winner. "People were clapping, I was crying and I honestly didn't know what was going on," Eliana says. "I'd dreamed of winning, but I never thought it would actually happen."
That's right: The girl who got nothing but praise from the judges all season never thought of herself as a shoo-in for the title. For Eliana, the journey to the finale was a reward in itself. "Every week, I got excited all over again," she says. "I told myself, 'This only happens once. Stay in the moment. Remember everything.' "
As a viewer, it was easy to see that enthusiasm and gratitude—both in Eliana's complete commitment in the studio and onstage, and in her radiant smile after each performance. "Eliana is a ray of sunshine," says choreographer Stacey Tookey, who created the stunning "Bang Bang" contemporary duet with All-Star Alex Wong that Eliana picked as her favorite routine of the season. "In addition to having this gorgeous ability and a great personality, she spent the show going, 'Okay, what else can I learn?' "
Superb classical technique, natural artistry, the ability to adapt to any style, a genuine desire to grow and a positive attitude? Sounds like a recipe for a long and fulfilling career.
A Solid Foundation
A native of West Palm Beach, FL, Eliana started dancing when she was 3. She began at Jon Mullen Performing Arts Center, and then followed her best friend to Susan Lyle Studios, where she studied jazz, modern and acrobatics in addition to ballet. As a teen, Eliana attended summer programs at American Ballet Theatre and the Joffrey Ballet School in NYC. In 2007, the Joffrey Ballet School offered her a spot in its year-round program on full scholarship.
"Going from living at home to being on my own in NYC was a huge challenge," Eliana says, "but I was ready to get out there." After a year at the Joffrey Ballet School, Eliana realized classical ballet wasn't her final destination. "I wanted to dance professionally, but in ballet, my body type was scrutinized," she says. She wanted to branch out and learn other styles, which is how she ended up on scholarship at The Ailey School in 2008.
The Ailey faculty saw the seeds of what would captivate America on "SYTYCD." "Eliana came to us with a wonderful facility," says Tracy Inman, co-director of The Ailey School. "I was impressed with her ability not only to pick up choreography and perform it well, but also to understand that artistry is as important as technique."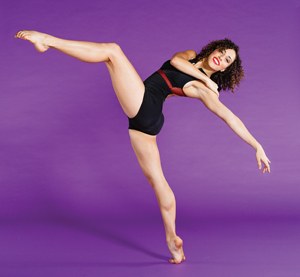 Going Pro 
One day in 2009, Eliana showed up for class at Ailey and saw Cirque du Soleil was holding an audition in the building. "I went in and said, 'I don't have a headshot or a resumé, but I'd love to audition,' " she says. The gamble paid off: Eliana was chosen for the original cast of Viva ELVIS in Las Vegas. When the school year was done, she went to Montreal to start rehearsals.
Performing with Cirque was a life-changing experience. In addition to mastering the aerial skills she showcased on "SYTYCD," Eliana "learned to make the same choreography fresh every time, because we did the same show 10 times a week," she says. "You have to make your work interesting for the audience, but also for yourself."
Eliana danced in Viva ELVIS until February 2012. At that point, she was ready to see what other opportunities the dance world had to offer. "I heard 'SYTYCD' was having auditions in L.A. I've been a fan of the show since day one and I'd always wanted to audition," she says. "So I thought, Why not?"
A Winning Performance 
It was obvious from Eliana's first audition that she was special. Executive producer Nigel Lythgoe's comments while she was dancing—including "Love her" and "Wow, those legs"—led to a ticket right back to Vegas. Eliana sailed through to the Top 20. "The first live show was the most nerve-racking experience I've ever had," Eliana says. "You're onstage and you can see the whole audience, and then you see the cameras and realize this is going to be on TV. But I went into the show with no expectations other than to have the time of my life."
In the Top 20, Eliana was partnered with animator Cyrus Spencer—a unique challenge, given his lack of formal dance training. But Eliana made the partnership into a learning experience for herself. "Cyrus helped me see how dancers from different backgrounds learn choreography," she says. "I developed a new way of explaining dance so he could understand it."
Not even an early dip into the bottom three—which judge Mary Murphy says made her jaw drop—could slow Eliana's momentum toward the finale. She won over viewers with her passion and humility. The way she effortlessly combined classical pointe work with contemporary movement and acrobatics didn't hurt, either.  "Eliana never took a wrong step," Murphy says. "She was a great partner, and she had her perfect moment in 'Bang Bang.' She entered a new league. She's exquisite."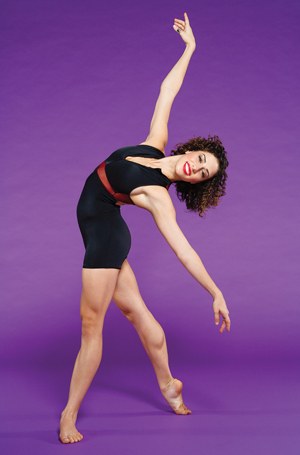 What's next for Eliana, now that the confetti from her win has settled? "I want to do concert dance," she says. Among her dream companies: Cedar Lake Contemporary Ballet, Hubbard Street Dance Chicago and Nederlands Dans Theater. "I also want to sing, act and do Broadway and film," she says. With her combination of talent, drive and optimism, the sky truly is her limit.
FAST FACTS
Favorite color: Mint green
Favorite foods: Sushi and ice cream
Favorite book: The Shack by William P. Young
Favorite TV show: "Community"
Non-dance hobby: Raising birds
If she weren't a dancer, Eliana would be: A pilot or a child psychologist
Dance idols: Alessandra Ferri, Sylvie Guillem
Advice for Dance Spirit readers: "Never take no for an answer! The amount of work you put into your craft is the amount of growth and success that will happen. And remember to be patient. Everything happens at the right time!"
via @phil_wright_ on Instagram
Well, this brings class videos to a whole new level! Choreographer Phil Wright and dancer Ashley Liai have been together eight-plus years, but she was still in total shock when he proposed to her mid-dance at Millennium Dance Complex earlier this week. Why? Well, the whole thing was unbelievably perfect.
Keep reading...
Show less
(Courtesy ABC)
In the dance industry, dancers don't always have a say in what they wear on their bodies. This can get tricky if you're asked to wear something that compromises your own personal values. So what should you do if you find yourself in this sticky situation? We sat down for a Q&A with "Dancing with the Stars" alumn Ashly Costa to answer that very question. Here's what she had to say about the options dancers have surrounding questionable costumes.
Keep reading...
Show less
Jul. 20, 2017 04:39PM EST
Erin Carpenter as a Knicks City Dancer (David Safran, courtesy of Erin Carpenter)
The groundwork for Erin Carpenter's company, Nude Barre, began when she was a teenager. At 16, she earned a spot in the residency program at The Kennedy Center in partnership with Dance Theatre of Harlem. "We were required to wear nude—as in, our actual skin tone—tights and shoes," she remembers. Carpenter brought her "sun tan" tights and a pair of pink ballet shoes with her, because that was all she could find. But she wasn't allowed in class because her dancewear didn't match her skin. "I was so embarrassed," she says. "I looked unprepared. I just didn't have the right nudes." Her teacher explained that the dancers dyed their tights and pancaked their shoes.
Keep reading...
Show less


Get Dance Spirit in your inbox