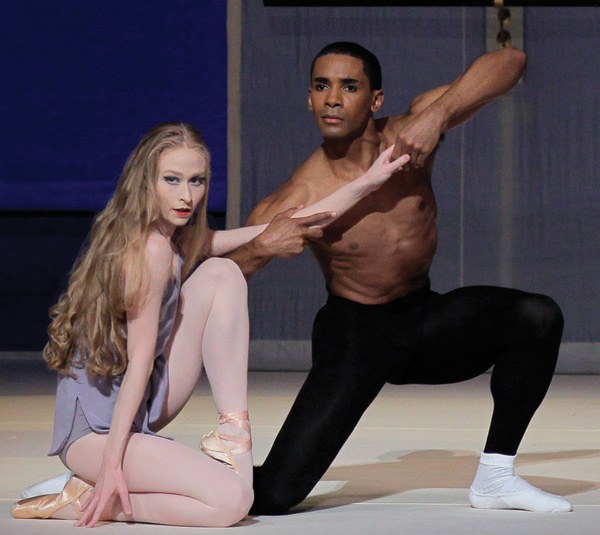 New York City Ballet's Janie Taylor and Craig Hall in Robbins' Afternoon of a Faun (photo by Paul Kolnik)
I've just made my entrance in Jerome Robbins' Afternoon of a Faun, stepping onstage into a set designed to look like a ballet studio—with the audience where the mirror would be. I don't acknowledge my hundreds of viewers. Instead, my partner and I gaze into the darkness and pretend we're studying our own reflections. In true Robbins fashion, we dance as if no one's watching.
Performing Robbins' ballets can be tricky, especially if you're used to engaging actively with an audience. They aren't about how big you can grin—or how high you can get your leg, for that matter. To stay true to his style, you need an honest, thoughtful approach. "If what you're doing doesn't feel like a genuine human reaction," says Pacific Northwest Ballet artistic director and former New York City Ballet principal Peter Boal, "it's wrong." Humor, emotion and atmosphere are already built into the choreography. The challenge for performers is to trust the steps to speak for themselves.
The Man Behind the Moves
Robbins created more than 60 ballets, mostly for NYCB and Ballets USA (his own company, formed in 1958 but disbanded a few years later). He also directed and choreographed for theater, music and television, earning six Tony Awards for Jerome Robbins' Broadway and two Academy Awards for West Side Story. "West Side was one of the first things I saw that made me want to dance," says Georgina Pazcoguin, a NYCB soloist known for her interpretation of Anita in Robbins' West Side Story Suite (a shortened concert version of the dances from West Side Story). "I watched the film when I was in eighth grade and was stuck to the screen."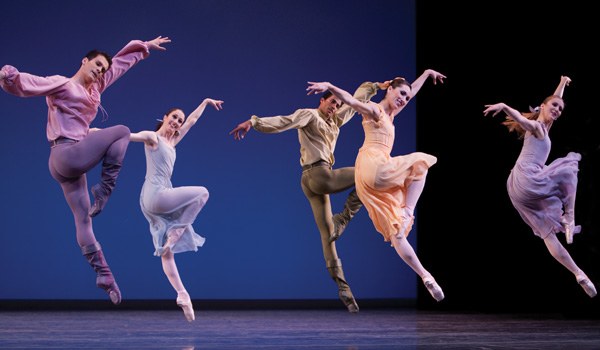 Pacific Northwest Ballet in Robbins' Dances at a Gathering (photo by Angela Sterling)
Throughout his career, Robbins surrounded himself with inspiring artists. He collaborated with famed composer Leonard Bernstein (Fancy Free, West Side Story), and worked side by side with George Balanchine, first as associate artistic director of NYCB and then as ballet master (a title he and Balanchine shared). But Robbins didn't only rub elbows with the elite. He found inspiration in young students at the School of American Ballet (2 & 3 Part Inventions) and was known to pluck dancers from the corps and put them in starring roles. Robbins was most interested in individuality and talent, regardless of age or prestige.
Robbins' Style
From Broadway to ballet, Robbins' style is diverse—and timeless. "There's something about it that seems of its time, current and ahead of its time all at once," says Damian Smith, principal at San Francisco Ballet. The content of his work often reflects real life. In the Night and Dances at a Gathering are about regular people's relationships and interactions; Fancy Free and The Concert have a mix of everyday and eccentric characters. His dancers relate to each other onstage in unmannered, natural ways.
Robbins was very particular and notoriously tough to work for. (He expected his dancers to remember many versions of the same phrase, and to be able to repeat, reverse or rearrange them whenever he asked.) "He pushed us to our maximum and made us better than we thought we were," Boal says. "It wasn't so much about pointing your foot or turning out, but about the character you were playing."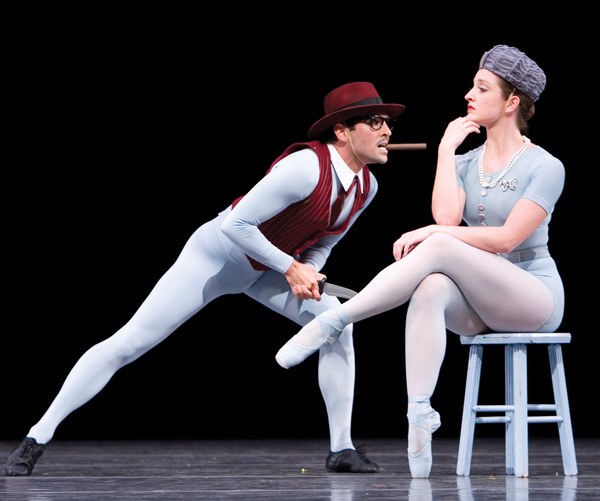 (L to R) PNB's Carrie Imler and Jonathan Porretta in Robbins' The Concert (photo by Angela Sterling)
How to Do It
Robbins' ballets don't need a hard sell. He wanted his dancers to be people onstage, not performers playing for laughs or sighs. "It's as if the people watching are looking through a window at what's going on," says Christine Redpath, a Robbins repetiteur and ballet master at NYCB. "He'd always scream, 'Easy baby!' It's not about playing to the public."
To get the right feel, Pazcoguin has to rein herself in. "I tend to be 125 percent onstage," she says. "Robbins' work is extremely athletic, but you're not supposed to make that apparent to the audience. It's about finding the subtleties." Every time she revisits a role like Anita, she likes to bring something different to it. The choreography, though specific in terms of counts, steps and spacing, allows for that kind of individuality.
When Redpath stages Robbins' ballets, she finds that most dancers worry too much about technique and being in a perfect fifth position. They don't relax and move without inhibition. "When you're a kid, and you hear music that brings a smile to your face, you dance and you're not aware of what other people think," Redpath explains. "I encourage people to take that approach within the framework of the choreography."
Erin Carpenter as a Knicks City Dancer (David Safran, courtesy of Erin Carpenter)
The groundwork for Erin Carpenter's company, Nude Barre, began when she was a teenager. At 16, she earned a spot in the residency program at The Kennedy Center in partnership with Dance Theatre of Harlem. "We were required to wear nude—as in, our actual skin tone—tights and shoes," she remembers. Carpenter brought her "sun tan" tights and a pair of pink ballet shoes with her, because that was all she could find. But she wasn't allowed in class because her dancewear didn't match her skin. "I was so embarrassed," she says. "I looked unprepared. I just didn't have the right nudes." Her teacher explained that the dancers dyed their tights and pancaked their shoes.
Keep reading...
Show less
Via @whitneybugs on Instagram
There are dancers and then there are DANCERS! Whitney Jensen, soloist at Norwegian National Ballet, is the latter. The former Boston Ballet principal can do it all. From contemporary to the classics this prima has the technical talent most bunheads dream about. Need proof? Look no further.
Keep reading...
Show less
Jul. 19, 2017 04:53PM EST
Via YouTube
Luis Fonsi and Daddy Yankee's dance inducing hit, "Despacito," is so catchy it should probably come with a disclaimer that warns people of an uncontrollable itch to tap your feet or bob your head. Some might even feel inclined to go all out and break it down. Niana Guerrero is a prime example of "Despacito's" uncanny ability to unleash the red dressed emoji dancer within. 💃🏽 💃🏽
Keep reading...
Show less
Jul. 19, 2017 04:25PM EST
(courtesy NBC)
Guys, we all knew this was coming—"World of Dance" was eventually going to eliminate someone. But man, is it brutal to watch these talented dancers give their all, only to be sent home. It's the name of the game, though, and after last night's episode, only two dancers per division remain. (At least Misty Copeland guest-judging was a silver lining!) Here's what went down last night:
Keep reading...
Show less


Get Dance Spirit in your inbox