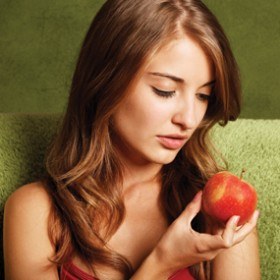 Orthorexia can make you question every bite you take.
At 13 years old, Mackenzie* was like lots of other dancers her age. Having trained in jazz, tap and ballet since age 3, she'd begun using her hard-earned technique to dazzle the judges at competitions. Yet despite all the trophies, Mackenzie had a tough time enjoying her success. She couldn't help but compare her body to her petite best friend, and she feared she might be "too curvy" to achieve her dreams of professional dancing.
Mackenzie began to fixate on healthy eating, doing tons of research on which foods were low-cal, low-fat and nutrient-rich. She obsessively kept a food journal to monitor her eating habits. But her mission to "purify" her diet didn't stop there: Mackenzie started buying only organic groceries and ate nothing but salad with balsamic vinegar at restaurants. She was always trying the newest cleanse fad, and chugging water often took the place of eating meals.
"At first, my fixation led to a very slim, toned physique, and I had more confidence in the audition room," Mackenzie says. But it was getting harder to ignore the dizzy spells she got when she stood up and how starved she felt most of the time.
Mackenzie's breaking point came at age 16, when she worked on a project that required daily 10-hour rehearsals for several weeks. "My weight dropped until I couldn't fit into any of my costumes, even with belts and safety pins," she says. "During a few concerts, I grew nauseous and couldn't muster up any energy to perform. After shows, I sometimes felt so starved that I'd end up binging."
It was then that Mackenzie realized she had an eating disorder and needed to seek treatment. Through her own research and meetings with dietitians and therapists, she eventually determined that she had orthorexia, an extreme obsession with healthy eating.
Since orthorexia is a relatively new diagnosis in the world of disordered eating, some people aren't sure what sets it apart from anorexia, or how it differs from simply being health-conscious. Here's what you need to know.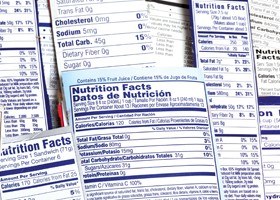 People with orthorexia tend to develop rigid rules about what elements can and cannot be present in their food.
A Losing Proposition
What is orthorexia, anyway? "People with orthorexia can become obsessive about eating the 'right' foods and trying to be perfect about what they eat," says Emily Harrison, a former Atlanta Ballet dancer and registered dietitian at the Centre for Dance Nutrition. The prefix ortho- means "straight," which is why orthorexia is the chosen term for rigid eating.
Travis Stewart, a St. Louis, MO-based licensed professional counselor, says the difference between orthorexia and anorexia has to do with your motivation for making food-related decisions. "Someone with anorexia may avoid pizza because of the calorie content, while someone with orthorexia may avoid it because the dough isn't made of whole grains," he says.
Harrison says the two biggest signs of orthorexia are when a dancer restricts her food so much that she doesn't get enough fuel or nutrients, and when someone closes herself off socially and stops going out to eat because she's unsure about the menu.
You may be thinking: Aren't dancers supposed to be nutrition-savvy? Ask any dance teacher and the answer would be a resounding "yes." The problem begins when the effects of your food choices become decidedly un-healthy. "There is nothing wrong with wanting to be in shape or healthy, but orthorexia starts when behavior becomes unusually rigid and restrictive," says Judy Scheel, who runs the Cedar Associates mental health clinic in New York. Mackenzie reached that point when she began spending more time making food plans and jotting down calories and ingredients than actually eating.
Stewart says that many orthorexics experience a snowball effect, making progressively stricter rules until they eventually eat almost nothing. "For instance, someone might start by only shopping at Whole Foods, but then they begin questioning, 'How do I know this is really organic? How do I know it's the best?' When you become orthorexic as opposed to just a health food nut, you become irrational," he says, remembering one client who ate mostly celery since it was one of the few foods that she considered "safe."
The Danger for Dancers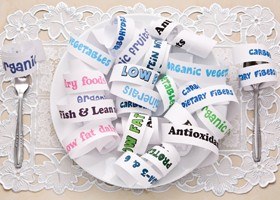 ©iStock
The risks of orthorexia are especially high for dancers. Fatigue, achy bones and muscles, lack of stamina, dizziness, fainting and a higher risk of injuries like stress fractures are just a few of many common side effects. Long-term issues can include osteoporosis, lowered metabolism, decreased muscle mass and, ironically, higher body fat percentage—all of which can drastically affect performance. "It almost becomes a sabotage of what was intended in the first place," Scheel says. "The disorder is a detriment for dancers, who are so dependent on their bodies for stamina."
Moving Toward Recovery
If you suspect you might have orthorexia, it's important that you reach out for help. The first step is talking to someone you trust, whether that's a parent, teacher or counselor. That person can then help you determine what the right course of action might be. For Mackenzie, getting help meant working with a counselor and spending six weeks in a residential treatment facility. Today, at age 19, she's in recovery and getting better every day. "I have far less fear in social settings," she says. "I'm finding the freedom to choose foods that I enjoy."
RED FLAGS
Here are the two main signs that you, or someone you care about, may be orthorexic:
➺    Your eating habits are so restrictive that they regularly prevent
you from getting the fuel and nutrients your body needs to function properly.
➺    You are so concerned about what you're eating that it keeps you from being able to eat in social situations.
For More Information
The Centre for Dance Nutrition
dancernutrition.com
National Eating Disorders Association
nationaleatingdisorders.org
*name has been changed
Win It
Sep. 05, 2017 12:10PM EST
Photos by Erin Baiano
It's time to get your pirouette on! From September 5th to September 30th, we're hosting a contest to find out who's the best turner of them all.

Put together your most impressive turning combo. Post a video online. Share your turns with us and thousands of other dancers around the world. And if our editors think you're the top turner, you'll win a fabulous prize.
Keep reading...
Show less
All of 18-year-old Kaylin Maggard's dreams—from scoring the title of National Senior Outstanding Dancer at New York City Dance Alliance Nationals to winning the 2017 Dance Spirit Cover Model Search—are coming true. And to anyone who knows the gorgeous contemporary dancer, that's no surprise.
From the moment the Dance Spirit staff met Kaylin, it was obvious her humility and talent would take her far. Not only did she go full-out during the photo shoot and class at Broadway Dance Center, but she was always cheering on, laughing with, and supporting her fellow CMS contestants Haley Hartsfield and Michelle Quiner. During the voting period, the social media world was abuzz with praise for her work ethic, positive attitude, and generosity.
Since her CMS trip to NYC, Kaylin's moved from her hometown of Columbia, MO, to the Big Apple for her freshman year at Juilliard, and is busy getting acquainted with the city. As for the future? She's taking it one opportunity at a time, but something tells us we'll be seeing this contemporary queen reach new heights every year.
Keep reading...
Show less
New York City principal Lauren Lovette has become an icon thanks to her emotional maturity and exceptional musicality. The 26-year-old quickly rose through the ranks after joining the company as an apprentice in 2009, reaching principal status in 2015. A Thousand Oaks, CA, native, Lovette started studying ballet seriously at age 11, at the Cary Ballet Conservatory in Cary, NC. After attending two summer courses at the School of American Ballet, she enrolled as a full-time student in 2006. Last year, she made her choreographic debut with For Clara, her first piece for NYCB. Catch her latest work this month during the company's fall season. —Courtney Bowers
Keep reading...
Show less
In our "Dear Katie" series, former NYCB soloist Kathryn Morgan answers your pressing dance questions. Have something you want to ask Katie? Email dearkatie@dancespirit.com for a chance to be featured!
Dear Katie,
I know I'm not getting good enough dance training from any of my local studios. But I'm not sure I'm ready to move away to study at a big-name school, either. How do you know when you're ready to leave home to pursue your passion?
Marisa
Keep reading...
Show less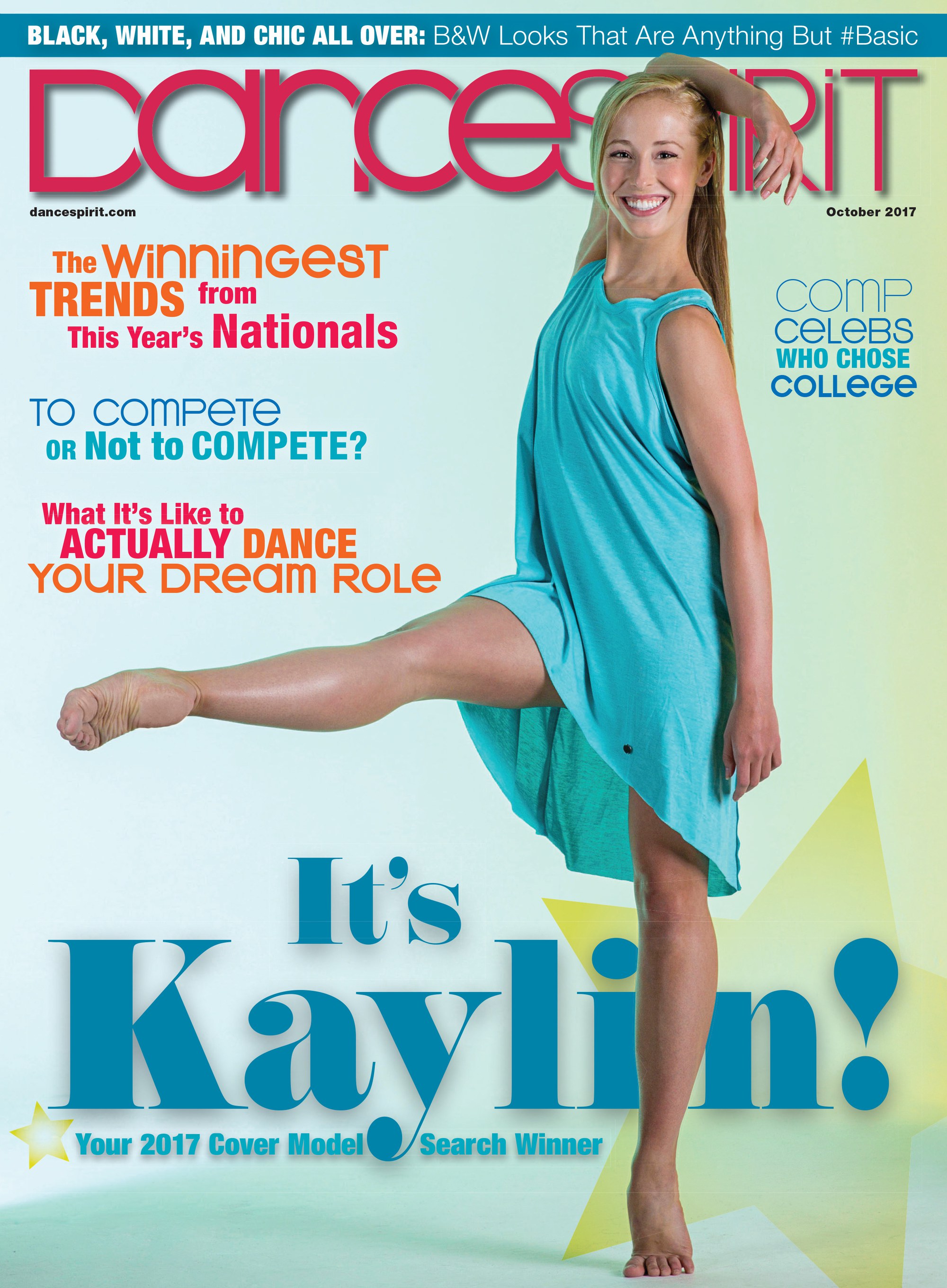 Get Dance Spirit in your inbox