David Hallberg Is Returning to the Stage, The World Makes Sense Again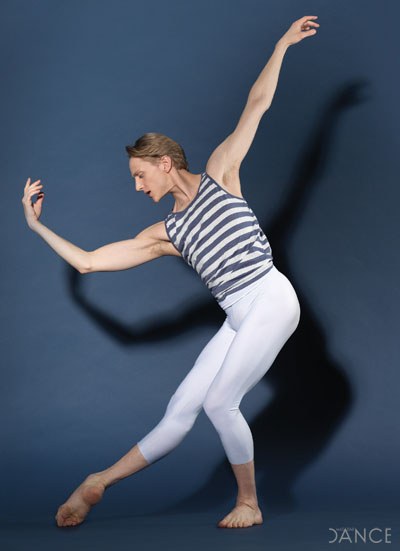 Hallberg back in 2012 (Matthew Karas for Dance Magazine)
How much have we missed American Ballet Theatre and Bolshoi Ballet star David Hallberg? SOOOOOOOO MUCH.
The gorgeous dancer suffered a serious ankle injury back in 2014, which was the beginning of a dark period in many devoted Hallbergians' lives. But we really started to worry about a year ago, when he shaved his famously luscious locks and then essentially disappeared—not just from the stage, but also from NYC, and even from Instagram. Let's just say that many prayers were sent to the dance gods on his behalf.
Then, a few months ago, there was a glimmer of hope: It looked like Hallberg was back in the ballet studio. And a couple of weeks ago, we got the news we'd been waiting for: An Australian dance critic revealed Hallberg would be returning to the stage December 13, dancing Franz in the Australian Ballet's production of Coppélia.
Naturally, there was much rejoicing.
This week, the Sydney Morning Herald published an interview with Hallberg in which he talks about how he's spent the past year. Basically, he moved to Australia and devoted himself completely to his recovery—a long, grueling, mentally devastating process. "Emotionally, some days I was just going by the words of my team and not my own self-belief," he told the Herald. "I was lost mentally but something inside me kept fighting. It took an army of people to get me back on stage. It wasn't just me. It really took the positive reinforcement of the entire team to say, 'you are doing this, this is happening'."
Hallberg's Coppélia performance will actually be his debut as Franz, which makes sense in a way—a fresh start for his fresh start. We are, to put it mildly, profoundly jealous of Sydney's balletomanes. (Here's hoping Hallberg finds his way to NYC soon.)
Welcome back to the stage, David. May you never have to leave it again!
(From left) ABT's Erica Lall; NYCB's India Bradley; Washington Ballet's Nardia Boodoo; NYCB's Rachel Hutsell (all photos by Rachel Neville)
Misty Copeland. Her name is synonymous with exquisite artistry and outspoken advocacy. And her visibility has made a huge impact on the ballet world. Ballet's relationship with race has always been strained at best, hostile at worst. But Copeland's persistent message and star quality have finally forced the ballet industry to start talking about racial diversity, inclusivity, and representation. "The rarity of seeing ourselves represented is sad," Copeland says. "The more we see every hue and body shape represented on the stage, the more possibilities young dancers feel they have for themselves."
Keep reading...
Show less
Thinkstock
"Whole, low-fat, or skim?" The question of which milk to drink has gotten a little more complicated lately, with a wide variety of nondairy milks popping up in grocery stores. To find out which ones are worth your milk money, we had registered dietitian Monika Saigal answer some FAQs.
Keep reading...
Show less
Popular
Feb. 16, 2018 11:58AM EST
Via Jaime Guttenberg's memorialized Facebook page
Yesterday, the dance community was heartbroken to learn that Jaime Guttenberg and Cara Loughran, both 14-year-old dancers, were among the 17 people killed on Valentine's Day in the shooting at Marjory Stoneman Douglas High School in Parkland, FL.
Keep reading...
Show less
Sarah Lane as Clara in The Nutcracker (photo by Gene Schiavone, courtesy American Ballet Theatre)
American Ballet Theatre principal Sarah Lane charms audiences with her bright energy and crisp technique. The San Francisco, CA, native first started dancing at age 4 at a local community center, and at age 7 started training in Memphis, TN, at the Classical Ballet Memphis. Her family later moved to Rochester, NY, where she continued studying at the Draper Center for Dance Education. In 2002, she was a YoungArts Foundation winner in dance, allowing her to become a U.S. Presidential Scholar in the Arts. She joined American Ballet Theatre as an apprentice in 2003, was made a soloist in 2007, and was promoted to principal last fall. Recently, she originated the role of Princess Praline in Alexei Ratmansky's Whipped Cream. Catch her later this spring during ABT's Metropolitan Opera season. —Courtney Bowers
Keep reading...
Show less
You and I both know that dancing is the best thing since chocolate chip cookies! But its always nice when dance gets the recognition it deserves from non–dance-world peeps. That's why we did our own happy dance when we saw Shape magazine's article on how dancing can actually make you a better athlete.
Keep reading...
Show less


Get Dance Spirit in your inbox