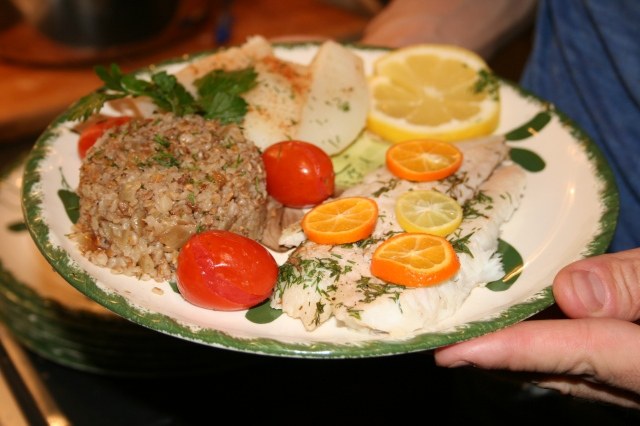 I've always been intrigued by dancers' fascination with cooking. For all the talk about the dance world's eating-disorder plague (a lot of it, unfortunately, merited), many dancers seem to find cooking (and eating) to be a great way to unwind after a stressful day at the studio. Gotta refuel after all that rehearsal, right?
Along those lines, here's a delightful way to start your week: "Dinner with Mr. B." The cute video (below) and accompanying blog post are the first in what will be a series. A group of bloggers and artists, led by Ryan Wenzel of bodiesneverlie.com and New York City Ballet soloist Antonio Carmena (who has legit skills—he's a graduate of the French Culinary Institute), are cooking their way through The Ballet Cook Book, published in 1966. The book is a treasure trove of recipes submitted by ballet icons, compiled  by George Balanchine's then-wife Tanaquil Le Clercq. Basically, the Ballet Cook Book dinner series is the dance-nerd version of Julie and Julia. Love it.
Balanchine was known for his cooking, and in the project's first installment, the group makes some of Mr. B.'s own recipes: blinis, beet borschok (a sort of consommé), "fish dinner for two" and "banana sweet." Most of it looks pretty delicious (maybe not the borschok, but hey, who knows). And the time-lapsed video documenting the process is adorable. Take a look!
Jun. 15, 2017 02:00PM EST
From left: Haley Hartsfield, Kaylin Maggard, and Michelle Quiner (photos by Erin Baiano)
Congratulations to Dance Spirit's 2017 Cover Model Search finalists: Haley Hartsfield, Kaylin Maggard and Michelle Quiner! One of them will win a spot on Dance Spirit's October 2016 cover. Learn more about the dancers on their profile pages, and then vote for your favorite below.
We also want you to get social! We'll be factoring social media likes and shares into our final tallies. Be sure to show your favorite finalist some love on Facebook, Instagram, and Twitter, sharing their profile pages and using the hashtag #DanceSpiritCMS.
Keep reading...
Show less
An outfit that makes you feel confident on the convention floor is always a "do" (via Break the Floor Productions)
Attention, ladies and gentlemen: We've officially hit Nationals season! And that means it's time to dig through those closets to find the perfect clothes to get you noticed during convention classes. The task can feel totally overwhelming—but we're here to help. Follow our guidelines, and you'll be rocking the dance floor with Travis Wall and making Stacey Tookey yell "GORGEOUS!" in no time.
Keep reading...
Show less
Royal Flux performing on "World of Dance" (NBC)
Oh man. This is getting ROUGH.
Last night marked the second round of head-to-head duels on "World of Dance." Once again, we were feeling real pity for the judges—and it takes a lot for us to pity J. Lo—because we've reached a point in the competition where there aren't any clear winners. Everyone's insanely good. And yesterday's showdowns paired acts that were so unalike, comparing them felt a little unfair.
So, who emerged from these cruel duels victorious?
Keep reading...
Show less


Get Dance Spirit in your inbox