Dec. 08, 2011 02:30PM EST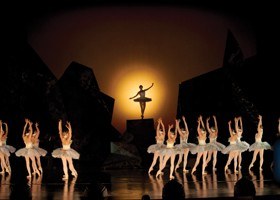 A scene with the corps de ballet in Black Swan. Courtesy Summit Entertainment.
With technology, pretty much anything is possible onscreen these days—but no visual effects can compare to the feeling of watching a dancer take the floor for real. That's where a dance double comes in. Dance doubles step in for actors when scenes call for highly technical dance moves. Thanks to clever camera work, audiences often don't notice the swap.
That was the problem for Black Swan dance double Sarah Lane, an American Ballet Theatre ballerina who subbed for Oscar darling Natalie Portman in the flick. Lane made headlines by speaking out about the fact that she'd done the majority of the dancing that Portman received credit for in the media. Yet other dancers rave about their experiences on similar jobs, like Las Vegas–based Jackie Dowsett, who has played double to both Cameron Diaz and Cher. "As a dancer, you're happy to land a job where you're on set, working with such incredible actresses," Dowsett says.
So what's it really like to be a dance double? We chatted with several dancers who've been there and done that to find out! Meet Jackie Dowsett, Jessica Cropper (one of Cate Blanchett's dance doubles in The Curious Case of Benjamin Button), Marcy McCusker (who doubles for "a top-secret A-list pop star") and choreographer Marguerite Derricks.
Looking the Part
Dance ability is key to landing a dance double job, but being a physical match for the talent is even more crucial. "When you hire a double, you're looking for the star's twin," says Derricks, who has choreographed dozens of movies and recently cast Emma Stone's double in Crazy Stupid Love. "You have to match them up, especially the body type, height and skin tone—you even need similar facial features for side shots."
McCusker agrees. "You're ultimately getting the job because you fit the exact specifications they need," she says. "So if your resumé says you're 5' 4" and 115 pounds, it had better be true—you can't lie about your height and weight if you want to be considered for these jobs."
Of course, some things can be altered, as Dowsett found out when she auditioned to be Cameron Diaz's double in What to Expect When You're Expecting. "Choreographer Tyce Diorio asked if I'd be willing to dye my hair blonde," says Dowsett, a brunette, who also wore blue contact lenses for the role. "The reason I got the job was mostly about my measurements, the fact that I was tall and that I could partner."
Those weren't the only physical changes Dowsett made to "become" Cameron Diaz. "I'd had knee surgery and gained 10 pounds in the six months I was out, so when I found out I'd have to wear a skimpy outfit, I was mortified," she says. "I didn't want Cameron to be disappointed in her body double, so I decided to lose the weight. There are definitely certain sacrifices you might have to make in order to take a role."
Being a double also means imitating the talent in other ways, as well. On the set of Benjamin Button, Cropper studied Cate Blanchett's personality and "regal, queenlike presence" in order to re-create it onscreen. Same with McCusker, who had a blast playing a pop star in a music video and performing her choreography full-out onscreen: "Dancing 'as her' felt like just as much of an acting job as it was a dance job," she says. "Every artist or actor has a certain way they move or carry themselves, and you have to be able to emulate it."
On the Job
So what does a dance double do, exactly? The requirements vary widely depending on the type of job. In Cher's Las Vegas show, Dowsett wore a Zoot suit and danced "as Cher" onstage to allow the star time for a wardrobe change. On the What to Expect  set, she stepped in to do lifts and partnering in a cha-cha scene featuring Diaz and "Glee" star Matthew Morrison.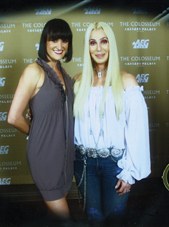 Dancer Jackie Dowsett was a double for Cher during her Las Vegas show and in the film Burlesque. Courtesy Jackie Dowsett.
"As a double, you're there in case they need an extra trick or style that requires a professional dancer," says Dowsett, whose work on Cher's stage show also led to a gig as a
double in the film Burlesque. "Sometimes the choreographer will also ask you to go over the counts with the actors or help them remember a step."
In some cases, dance doubling may lead to other responsibilities on set. On Crazy Stupid Love, the dance double Derricks cast for Emma Stone was such a dead-on physical match that she did other scenes as a stunt double, and Cropper ended up doing underwater and love scenes for Cate Blanchett on Benjamin Button. This can sometimes lead to a pay bump, as can being the double for one of the movie's leads.
Dance doubles might also be used to cut down on the amount of time an actor has
to spend on set. "Let's say Brad Pitt and Angelina Jolie are supposed to be dancing on the floor," says Derricks, who choreographed Mr. & Mrs. Smith. "You shoot the front of Brad and the back of the dancer doubling for Angelina—if you have a dancer dancing with the actor, they look better. It's a great way to use the dance double."
Another way Derricks utilizes doubles is in what she calls her "skeleton crew." She'll assemble a group of dancers and stage the choreography for the director's approval. "Ninety percent of the time I workshop it on dancers first, present it to the director and then teach it to the actors," she says. "That way any necessary creative changes can happen before the actors learn it."
All Guts, No Glory?
In the wake of the Sarah Lane controversy, dance doubling has been a topic of debate. Some think Lane was right to claim credit for Portman's dancing, whereas others think being a behind-the-scenes double is what Lane signed up for. So do dancers deserve more credit for these kinds of jobs?
"From my perspective, you're not doing it to be famous—you're doing it to create
a really cool end product for this actor or performer," McCusker says. "The ballet world
is different because they're not necessarily used to the smoke and mirrors of TV and film—it's not Lane's everyday job, so that's likely why she was resentful in the end."
Both Dowsett and Cropper say that their double jobs were among their favorite so far in the industry. For Cropper, it was her first professional job after graduating from the EDGE Performing Arts Center's scholarship program, and she says she would "do it all over again if I could. Hands down, it was one of the best job experiences I've had."
Twice the Fun
Take a look back at some of the most famous dance flicks that used doubles:
Flashdance: It took a whole village to pull off the fast-paced, flashy moves featured in Flashdance. Among the dancers subbing in for Jennifer Beals were French dancer Marine Jahan, break-dancer Crazy Legs and gymnast Sharon Shapiro.
Footloose: Remember Ren's romp through the Roller Mill? With the release of the recent remake, Kevin Bacon explained that he had a stunt double, a dance double and two gymnastic doubles for the scene.
Center Stage: Though many of the actors in this flick did their own dancing (like Amanda Schull and Ethan Stiefel), Béjart Ballet dancer Aesha Ash stepped in for Zoë Saldana, who played Eva.
Kalani Hilliker made "Dance Moms" fans sit up a little straighter when she first appeared on "Abby's Ultimate Dance Competition" back in 2013. The then–12-year-old ballerina had charisma, she had sass—and, wow, did she have technique! Abby Lee Miller, the show's infamous host, saw Kalani's star potential from the start, saving her from elimination and ultimately inviting her to perform alongside Maddie Ziegler on Season 4 of "Dance Moms." "I was never supposed to be on 'Dance Moms' beyond that one performance," says Kalani, now 16, but she ended up staying on the show for the whole season—and the following three. "It was my first time, but not my last time, causing drama. And it was also the first time I got to meet the other dancers, who have become like sisters."
Keep reading...
Show less
Boston Ballet's Misa Kuranaga and Patrick Yocum (courtesy Rachel Neville/Boston Ballet)
We're on somewhat of a dance photography kick here at DS, so we figured we'd keep it going in a very big way: an exclusive interview with Rachel Neville, the photographer responsible for all those absolutely drool-worthy dance photos on your Instagram feed. We caught up with Neville at PurePoint Financial in NYC, where her new show, "A Command Performance," is up on display (and we highly recommend you check it out).
Keep reading...
Show less
Thinkstock
Acupuncture has proven benefits for reducing pain and getting dancers back on their feet, but it's also a way to treat your overall well-being—in both mind and body. "Acupuncture works very holistically," says Cassandra Krug, licensed acupuncturist at the Acupuncture Clinic of Boulder, in Boulder, CO. "Even if you come in because of ankle pain, we're looking at your whole body. We're trying to return you to a place of homeostasis, or balance."
Peter Schmidt, a licensed acupuncturist who works with Pacific Northwest Ballet dancers, thinks that acupuncture—when combined with the work of dancer-friendly Western doctors, physical therapists, and orthopedists—results in a higher success rate for his patients. "Acupuncture can't address everything," he says. "But for things that are bothering you that don't show up on an X-ray or MRI, acupuncture could help." Is acupuncture right for you? We talked to the experts to find out what dancers should know before going under the needle.
Keep reading...
Show less
The Top 9 in a Chris Baldock routine (Adam Rose/FOX)
Before we get into this week's recap, let's all show some love for Travis Wall, who had a day yesterday. Just hours before "So You Think You Can Dance" was set to air, Wall was at Disneyland (with friend and "Modern Family" star and aspiring Shaping Sound member Jesse Tyler Ferguson, NBD), where he found himself at a bit of a standstill—literally. "Not gonna be able to make 'So You Think' tonight...because I'm stuck on Indiana Jones," Wall shared on Instagram yesterday afternoon.
But hooray! He eventually did get off the stalled ride, and was in the audience alongside Mandy Moore. We're glad you made it, Travis!
On to the show:
This week, the Top 9 performed solos and duets with their All Stars. You know the drill. As always, we'll skip the solos and get right to the good stuff. (Though the solos were, like last week, so good.) Here's how it all went down.
Keep reading...
Show less


Get Dance Spirit in your inbox