"DWTS" Finale, Part 1: The Top Moments
Wowza.
Last night's "Dancing with the Stars" episode—round one of the two-part finale—was a lot of things. Fully clothed was not one of them. We got a 90-minute show chock full of makeout sessions, bare chests, lingerie, and gold unitards. Oh, yeah, and a whole lotta dancing. This show meant business: Each of the four remaining couples took the stage twice. Here are the top moments you may have missed:
James Maslow and Petra Murgatroyd's onstage kiss: From the rehearsal clips it wasn't exactly clear who was directing whom, especially when James choreographed a passionate kiss mid tango. The performance itself was pretty steamy (the kiss was no exception), and featured a bare-chested James under a silver blazer. (I'm not complaining.)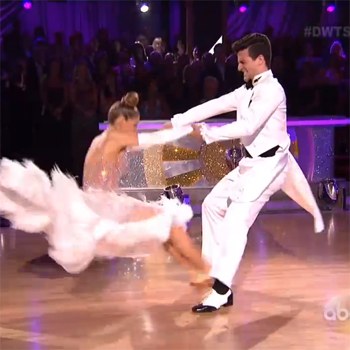 Are we sure Mark's OK?
Mark Ballas' injury: When we saw Mark at the top of the show, his arm was in a sling, and in the behind-the-scenes footage before his quickstep with Candace Cameron-Bure we found out why: Rehearsing with a strained rotator cuff Sunday morning, Mark went down after a bad lift and was rushed to the hospital. He took it like a champ though, and during one of last night's commercial breaks, he was cleared to dance.
The awkward video when figure skaters Tara Lipinski, Evan Lysacek, and Kristi Yamaguchi talked about Meryl Davis', um, blossoming, since dancing with Maksim Chmerkovskiy, plus the duo's sizzling freestyle. Forget Romeo and Juliet's bedroom scene—this routine took passion to a whole new level. Maks was shirtless, Meryl was in lingerie, and even co-host Erin Andrews asked why they didn't make out at the end—they so wanted to. (I, however, would like to know why the gorgeous Meryl didn't point her toes?)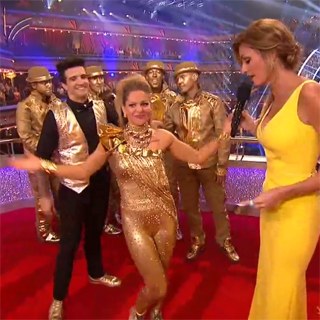 I want one.
When DJ Tanner (yes, Candace was introduced that way!) and Mark took on Center Stage:  I may prefer Cooper Nielson's choreography to Jamiroquai's "Canned Heat," but Candace looked stellar in that gold unitard, and Mark didn't collapse—everybody wins!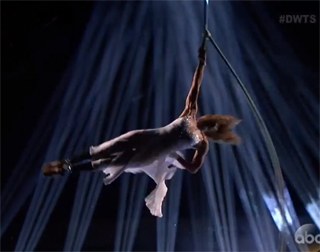 Amazeballs.
Amy Purdy's ridiculously amazing aerial feat. During Derek Hough and Amy's freestyle routine set amid what seemed like 18 fog machines, Amy took to the sky—literally. Seriously: She spun around in the air holding a rope with ONE HAND. I don't think I was the only one whose jaw dropped.
The results: Only three couples can perform tomorrow night during the two-hour finale event. Ultimately, James and Petra bid adieu. Something tells me America will miss James' torso.
Be sure to tune in tonight at 8pm/7pm central for the finale!
via @phil_wright_ on Instagram
Well, this brings class videos to a whole new level! Choreographer Phil Wright and dancer Ashley Liai have been together eight-plus years, but she was still in total shock when he proposed to her mid-dance at Millennium Dance Complex earlier this week. Why? Well, the whole thing was unbelievably perfect.
Keep reading...
Show less
(Courtesy ABC)
In the dance industry, dancers don't always have a say in what they wear on their bodies. This can get tricky if you're asked to wear something that compromises your own personal values. So what should you do if you find yourself in this sticky situation? We sat down for a Q&A with "Dancing with the Stars" alumn Ashly Costa to answer that very question. Here's what she had to say about the options dancers have surrounding questionable costumes.
Keep reading...
Show less
Jul. 20, 2017 04:39PM EST
Erin Carpenter as a Knicks City Dancer (David Safran, courtesy of Erin Carpenter)
The groundwork for Erin Carpenter's company, Nude Barre, began when she was a teenager. At 16, she earned a spot in the residency program at The Kennedy Center in partnership with Dance Theatre of Harlem. "We were required to wear nude—as in, our actual skin tone—tights and shoes," she remembers. Carpenter brought her "sun tan" tights and a pair of pink ballet shoes with her, because that was all she could find. But she wasn't allowed in class because her dancewear didn't match her skin. "I was so embarrassed," she says. "I looked unprepared. I just didn't have the right nudes." Her teacher explained that the dancers dyed their tights and pancaked their shoes.
Keep reading...
Show less


Get Dance Spirit in your inbox