Eloise Kropp Is Tapping Towards Stardom
Lucas Chilczuk
Broadway baby Eloise Kropp is living the dream. After making her Great White Way debut in the ensemble of On the Town in 2014 and landing a leading role in 2015's Dames at Sea, she's now in the revival of Andrew Lloyd Webber's beloved CATS. As Jennyanydots, the cat who lounges in sunbeams all day but comes alive at night, 25-year-old Kropp brings an irrepressibly bubbly spirit to the production's only tap number. Watching her in action, there's no question that she was born to wear tap shoes. "I never imagined being a tapper on Broadway," she says, "but the timing has been so serendipitous. Tap has really made a comeback in musical theater. It makes me so happy to see other people loving it as much as I do."

Kropp's journey from student to rising star wasn't always easy. After leaving college early for an opportunity that didn't pan out, she spent a year and a half auditioning, doing regional gigs and taking on odd jobs before booking On the Town. She's learned firsthand that in the Broadway world, perseverance pays off.

---
Her Hardworking History

Kropp grew up in Edmond, OK, and trained at local studio Dance Unlimited. She started studying tap at age 8, and picked up jazz at 10 and ballet at 11. In middle school, she added acting lessons, after dance teacher and studio owner Amy Reynolds Reed's husband opened an acting academy.

(Lucas Chilczuk)
Reed remembers young Kropp as having a great sense of humor, but also as being a perfectionist. "She was always prepared, and willing to try anything I asked," Reed says. "I'd say, 'Take this master class,' or 'Go to this convention,' and she was game." Since Kropp started ballet relatively late, Reed says, "she knew she had catching up to do. But she wasn't afraid of the work."
In high school, Kropp attended a life-changing intensive: Broadway Theater Dance Workshop, hosted by the National Dance Institute of New Mexico. "That summer was when I started thinking I could do this as a profession," she says. "I went from being a sophomore who wanted to be a doctor to a junior who was applying to musical theater programs."

(Lucas Chilczuk)
She enrolled at the University of Oklahoma as a musical theater major. "Out of all the programs I applied to, that one felt the most well-rounded," she says. "We took acting classes with acting majors, dance classes with dance majors, and also had our own musical theater repertory classes." It was a great fit—until Broadway came calling.

Her Big Break…Almost

In 2012, between her sophomore and junior years at OKCU, Kropp performed in a regional production of Carousel at Goodspeed Opera House in East Haddam, CT. Because of the theater's proximity to NYC, the show attracted industry insiders. Two weeks before Kropp was set to return to school, she got a call from a casting company, asking her to sing for the music director of the Broadway production of Tuck Everlasting. "I went, and then I didn't hear from them again until I was back in Oklahoma," she says. "They wanted me for the show—so I had to convince my parents to let me move to New York!"

(Lucas Chilczuk)
Unfortunately, Tuck Everlasting ended up "spiraling down a hole," Kropp says. "Its producers dropped out, it lost funding, and it couldn't find a theater." (The show did eventually reach the Great White Way in 2016.) Despite her disappointment at the setback, Kropp decided to stay in NYC and give auditioning a shot.

"I spent the first six months just taking it all in," she says. "I was 20 years old, in auditions with these veterans who knew themselves and knew the theater world." Her learning curve included becoming more aware of her niche. "I love tap and I love old movie musicals, and it shows," she says. When the revival of On the Town came along in 2014, "it felt so perfect. It was absolutely my style."

Her Bright Future

Period pieces like On the Town and Dames at Sea make complete sense for Kropp, with her ingénue looks and classic tap skills. So how did she end up sporting one of musical theater's most iconic unitards? "CATS is one of those shows I never thought I'd do," she admits. "But the creative team kept calling me back. The joke was, they wanted me, but didn't know where to put me!"
"Sometimes you meet someone at an audition, and there's no way they can't get the job," says CATS choreographer Andy Blankenbuehler. "That's how I felt about Eloise. Her technique is fabulous, but there's also a joy about her—a spark. There's an urgency in her dancing, like life is exploding out of her."
(Lucas Chilczuk)
Blankenbuehler had originally envisioned a different type for Jennyanydots, but ended up building the role around Kropp. "Her number is a wholesale change from the old production," he says. "Since we were starting from scratch, we were able to experiment with the choreography. She and I were on the same wavelength. I know this is only the first show we'll do together."
Although she has a featured role, Kropp's favorite thing about CATS is its ensemble feel. "We're all supporting each other," she says. "We elevate each other to a level we wouldn't be able to achieve on our own."

What's next for this Broadway beauty? "That's a question I ask myself every day," Kropp says. In addition to eventually completing her college degree, she could see herself helping to adapt more vintage movie musicals to the stage, branching out into film and television, and traveling the world. "The last thing I want to do is settle," she says. "I'm constantly trying to find new ways to stretch and grow."
Fast Facts

Birthday: June 23, 1992
Favorite color: Navy blue
Favorite foods: Peanut butter and chocolate
Favorite dance flicks: Easter Parade and Hello, Dolly!
Dream dance partner: Gene Kelly
Favorite tap step: "The time step. It's so versatile; you can do anything with it."
Most embarrassing onstage moment: "In On the Town, there was a number called 'Lucky to Be Me,' where we did a soft-shoe with Tony Yazbeck, who played Gabey. Once, I fell flat on my face, right behind him. The entire cast was sob-laughing!"
Eloise in three emojis: 😹🐶👵
Advice for DS readers: "Never stop learning—in all aspects of your life. Your training doesn't end in the classroom. You are more than a pirouette or a perfect battement. How can you make yourself the most you that you can possibly be?"
(From left) Mean Girls dancers Riza Takahashi, Ben Cook, Kamille Upshaw, Jonalyn Saxer, DeMarius R. Copes, and Stephanie Lynn Bissonnette (photos by Erin Baiano)
Get in, losers. We're going to Broadway.
OK, not losers, actually—more like the bajillion die-hard fans of Tina Fey's 2004 cult hit Mean Girls, who've been wearing pink every Wednesday since a musical adaptation of the film was first teased back in 2013.
Now their world is like a cake filled with rainbows and smiles, because Mean Girls the musical, which had a trial run in Washington, DC, last fall, is set to open at Broadway's August Wilson Theatre April 8. And in a very grool twist, it turns out the show—with direction and choreography by Casey Nicholaw and a book by Fey herself—is delightfully dancey.
Keep reading...
Show less
Alicia Vikander in Tomb Raider (Warner Brothers)
Keep reading...
Show less
Quiz
Dec. 11, 2017 04:24PM EST
Via @dreamcatchersda on Instagram
Everyone loves a good viral video, especially when there's dancing involved. And though many viral videos are contrived and created for the soul purpose of instafame, the story behind the latest video catching the eyes of millions—including Rihanna, super model Naomi Campbell, and Diddy—is even more unique because it features children who don't even know who those celebrities are.
A dance troupe in Nigeria has become the next internet sensation, thanks to their exuberant dancing and passion with which they perform. Their enthusiasm for dance is evident in every step and it's hard not to smile as you see these children (who range from ages 6 to 15) express pure joy in something as simple as dance. These nine kids are part of The Dream Catchers, an organization started by 26-year-old Seyi Oluyole, that gives impoverished children a place to live while teaching them how to dance.
Keep reading...
Show less
Illustration by Dniella Ferretti
For 16-year-old Amanda*, dance is everything: her passion, her escape from the daily grind, and her career goal. Her parents see things differently. "I have siblings who are active in sports," Amanda says, "and my parents would rather I play soccer or basketball. They don't see dance as something I can earn a stable living from in the future. They often tell me I should just quit."
Some parents aren't able to, don't know how to, or choose not to give you the kind of support you need to thrive in the studio. And when your parents are adding stress to your life, rather than alleviating it, there's a lot at stake. "Dancers who don't have the support of their parents might struggle with self-doubt," says Dr. Linda Hamilton, a former dancer with New York City Ballet and a clinical psychologist specializing in the performing arts, "while those whose parents are too involved can crack under the pressure." Whether your parents aren't there when you need them or they're always there, practically smothering you, try these tips to improve your situation.
Keep reading...
Show less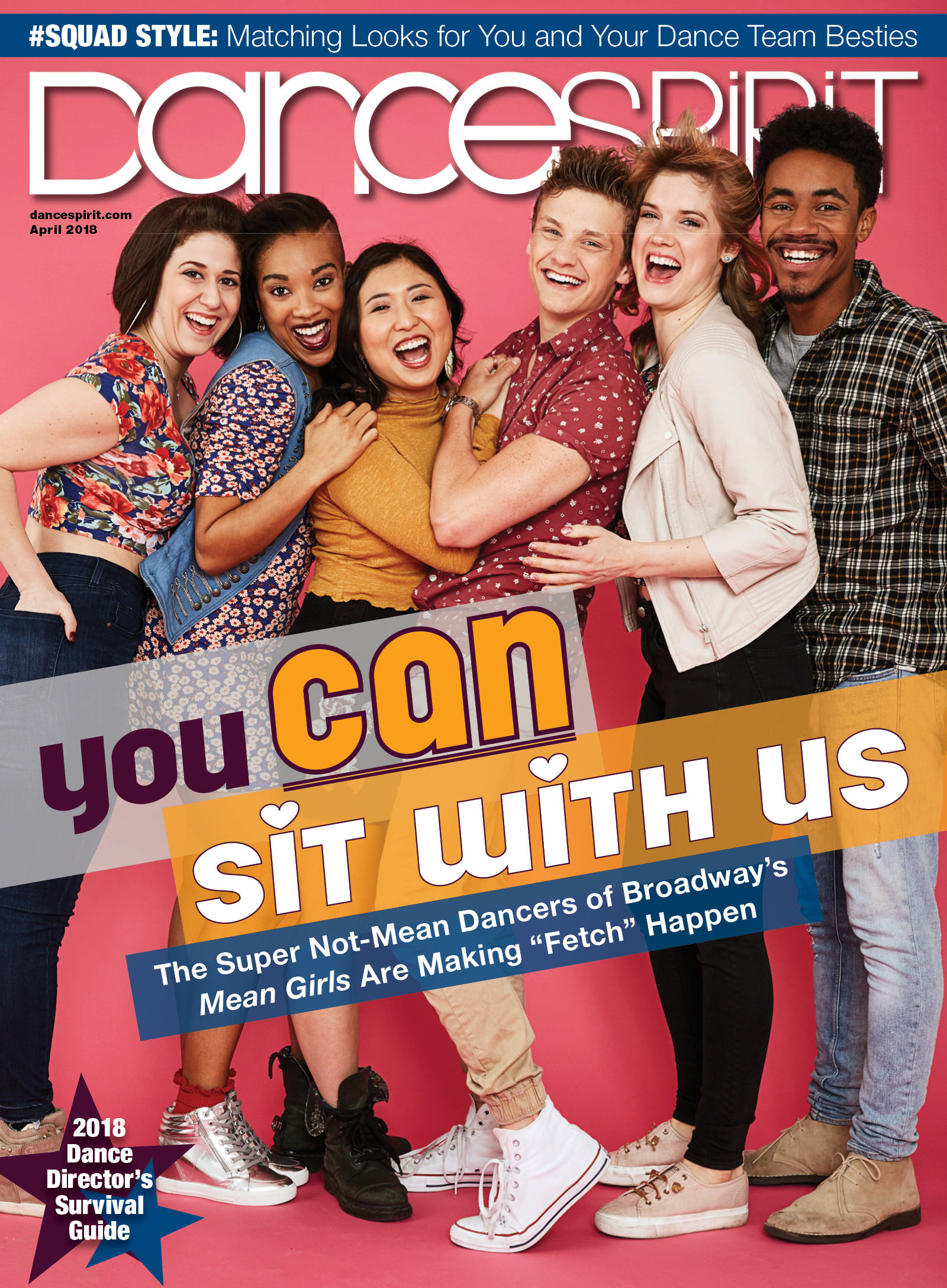 Get Dance Spirit in your inbox