Check out a cutting-edge NYC dance performance, and it's likely you'll find Reid Bartelme's name in the program. But you won't see him onstage. The costume designer has worked with countless choreographers, bringing work by artists such as
Kyle Abraham, Marcelo Gomes and, most notably, Justin Peck to life. (Bartelme is featured in the Peck documentary Ballet 422—he and partner Harriet Jung made the costumes for Peck's Paz de la Jolla.)
Why is Bartelme in such demand? He creates high-fashion designs—sleek, simple, modern—constructed with dance in mind. And he knows a few things about dancing: He's performed professionally for years. Though Bartelme's been steadily establishing himself as the dance world's go-to costume designer, his path to the top wasn't a straight one.
Sketching It Out
Originally from NYC, Bartelme had extensive music training growing up. But it wasn't until he was in high school at Interlochen Arts Academy, in Michigan, that he took his first dance class. He caught the bug, and after a year and a half at SUNY Purchase, he left for Seattle to train at the Pacific Northwest Ballet School. As he grew professionally, Bartelme hopped around the continent, dancing with BalletMet in Columbus, OH, with Canada's Alberta Ballet, and finally with Shen Wei Dance Arts back in NYC.
While he enjoyed working with choreographers around the Big Apple, he had some doubts, too. "I felt like Shen Wei wasn't the right place for me," he recalls. "But I also realized that I didn't think any dance company was going to be the right place. I felt like I'd already fulfilled my professional aspirations as a dancer."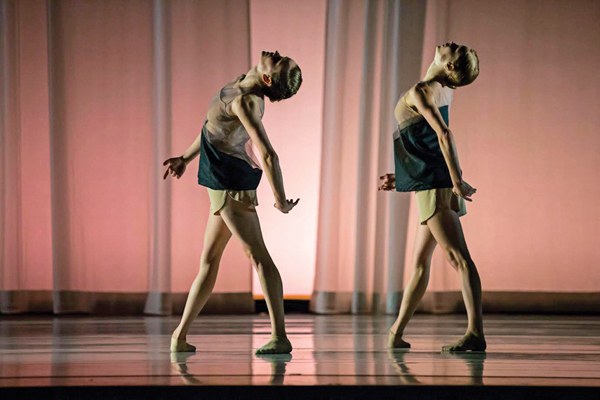 Hubbard Street Dance Chicago Dancers wear Bartelme's designs in Kyle Abraham's Counterpoint (photo by Todd Rosenberg, courtesy Bartelme)
Pinning It in Place
Bartelme was looking for his next step when he picked up a copy of Julia Cameron's The Artist's Way, a guide to creativity. The book inspired him to apply to design school. "I come from a family of designers and artists, and I've always been interested in making things," he says. "I just hadn't thought about pursuing a more formal education in design."
In 2009, Bartelme enrolled at the Fashion Institute of Technology in Manhattan to study fashion design. (He didn't stop dancing: He joined the Lar Lubovitch Dance Company that same year, and continued to perform throughout his schooling.) Bartelme wasn't even through his first year of college when his friends in the dance world, including choreographer Jack Ferver, started asking him to make costumes for their productions.
"I didn't know what I was doing," Bartelme says. "I'd just say yes, and figure it out as I went. The first costumes I made involved pants. But you don't learn how to make pants in the first semester at FIT, so I just kind of improvised. I'm sure the stitching was a disaster." Nevertheless, the requests—from artists such as Andrea Miller and Matthew Prescott—kept on coming.
Bartelme balanced school, dance and design the whole time he was at FIT, but he wasn't sure what to pursue as a career. His first big design project came a few months before graduation. Justin Peck, then an NYCB corps member, asked Bartelme to design costumes for Furiant, a duet Peck made for NYCB principals Teresa Reichlen and Robert Fairchild for the 2012 Youth America Grand Prix gala. Bartelme decided to work with another designer on the project, FIT classmate Harriet Jung. Though Jung isn't a professional dancer, the two clicked as collaborators, and the costumes' success helped them forge an ongoing relationship with Peck.
Sewing It Together
By the time Bartelme and Jung worked on another Peck ballet, Paz de la Jolla for NYCB in 2013, they had cemented their creative partnership and began pursuing their new business full-time: Reid & Harriet Design. Now, their minimalist, ethereal costumes grace stages around the country. They love experimenting with construction and materials, but always keep the shapes simple, allowing the dancers to shine. "Our process is totally collaborative," Bartelme says. "We look for inspiration, draw and source fabrics together. After the primary design decisions are made, Harriet tends to take on more of a business role while I manage production."
What's next for Bartelme? "I love the fantasy that exists within dance, so I'd like to design a full-length ballet," he says. Bartelme and Jung are also considering stepping outside the dance world with a swimwear and a streetwear collection.
Reid Bartelme's Tips for Aspiring Costume Designers
Do your homework. "It's important to know other
designers' voices," he says. "Research what's already been done, and get a feel for where trends are headed."
Watch live dance. "See as many shows in as many different styles as you can. This helps
you discover your own vision within a broader community."
Learn the basics. "I'm a believer in classical education. Just like in dance, you need to know technique to be successful. Even if you don't go to school for fashion, take a few classes or learn from someone in the field."
Experiment. "Don't worry about being good when you first start drawing or sewing. Play with your materials and explore whatever feels best. You'll never get better if you don't just start!"
(From left) ABT's Erica Lall; NYCB's India Bradley; Washington Ballet's Nardia Boodoo; NYCB's Rachel Hutsell (all photos by Rachel Neville)
Misty Copeland. Her name is synonymous with exquisite artistry and outspoken advocacy. And her visibility has made a huge impact on the ballet world. Ballet's relationship with race has always been strained at best, hostile at worst. But Copeland's persistent message and star quality have finally forced the ballet industry to start talking about racial diversity, inclusivity, and representation. "The rarity of seeing ourselves represented is sad," Copeland says. "The more we see every hue and body shape represented on the stage, the more possibilities young dancers feel they have for themselves."
Keep reading...
Show less
Our nominees (clockwise from top left): Roberto Campanella, Aurélie Dupont, Ashley Wallen, and Anthony Van Laast
Last month, we asked why there wasn't a Best Choreography category at the Oscars—and discovered that many of you agreed with us: Choreographers should definitely be acknowledged for their work on the super-dancy movies we can't get enough of.
Now, we're taking matters into our own (jazz) hands.
We've decided to create a Dance Spirit award for the best cinematic choreography of 2017. With your input, we've narrowed the field to four choreographers whose moves lit up some of the best movies of the year. Check out our nominations for best choreography below—and vote for the choreographer you think deserves the honor. We'll announce the winner on Friday, March 2.
ABT JKO School student Miuka Kadoi shoiwng off her beautiful line (photo by Kenneth Edwards)
Contemporary phenom Christina Ricucci has super-flexible hips, which means she can stretch her legs to unbelievable heights. But when she noticed herself making contorted positions in class, Ricucci realized she was approaching her extensions all wrong. "I went back to the basics in class, squaring my hips and using my turnout," Ricucci says. "I learned to create proper positions, rather than whacked-out versions of them."
Some dancers are so wonky they have a hard time supporting their high legs, while others struggle with limited flexibility. But no matter your facility, you can find a balance of stretch and strength to achieve your fullest range of extension. It's not about how high (or not) your legs can go: It's the quality of the movement, and how you get those legs up, that counts.
Keep reading...
Show less
Popular
Feb. 16, 2018 11:58AM EST
Via Jaime Guttenberg's memorialized Facebook page
Yesterday, the dance community was heartbroken to learn that Jaime Guttenberg and Cara Loughran, both 14-year-old dancers, were among the 17 people killed on Valentine's Day in the shooting at Marjory Stoneman Douglas High School in Parkland, FL.
Keep reading...
Show less
Bronze medalist Kaetlyn Osmond skating her "Black Swan" long program (screenshot via YouTube)
Once upon a time (until the 2014 Winter Olympics in Sochi concluded, to be exact), figure skaters had to compete to music without words. Before this rule change, a skater faced an automatic point deduction if the music even hinted at vocals. Understandably, there were *a lot* of Olympic programs skated to classical music, and you'd tend to hear the same music selections over and over and over.
Keep reading...
Show less


Get Dance Spirit in your inbox