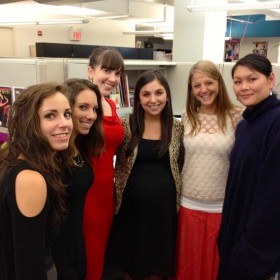 Me (on the left) with the DS Team!
On Tuesday morning, I cut my knuckles on a kitchen knife. My roommates and I just moved into our new apartment in the big city, and since we all like to cook, we thought it'd be fun to hang our fancy chef knives on the wall of our tiny kitchen. But as I held my two fingers, jumping up and down and trying to stifle a yelp, I realized how not fun that decorating idea was. After about thirty seconds of heavy sighing, I sucked it up, threw on a couple of Band-Aids, and walked out the door. There was no time for whining (or redecorating). It was time to go to my first day of work as assistant editor at Dance Spirit.
By the time I walked into the office, I had pretty much forgotten about the morning's incident. Instead, I kept thinking to myself—Smile. Don't trip. Don't say something dumb! Getting a job at Dance Spirit was a dream come true, and I was not about to let the swarm of butterflies in my stomach ruin it for me!
It's hard to believe that was less than a week ago. I may still have cuts on my fingers, but I'm glad to say those butterflies are gone, and I'm already starting to feel at home here at DS. More importantly, I've already learned A LOT.
So here it is—Five things I learned during my first week at Dance Spirit:
1. I have a lot to learn!
As a former subscriber to DS, I guess I never really considered how much work goes into producing this magazine. On the one hand, I'm terrified (I can do this right?). On the other, I'm excited. I get a behind the scenes look at how DS is made… every day!
2.  Work can be fun!
This is my first job out of college. I am so lucky to have my introduction to the "real world" occur in such a friendly, warm and fun environment!
3. The talent out there is ridiculous.
This week, I've had the pleasure of going through tons of YouTube videos of insanely talented young dancers. It makes me so happy to see the future looking so bright!
4. I love NYC.
Like I said, I just moved here. And as I sat in Lincoln Center watching New York City Ballet with associate editor Margaret Fuhrer on Thursday night, I knew that I was finally home.
5. Dance is so cool.
Okay, so I obviously already knew this. Otherwise, I wouldn't be working here! But getting to spend every day surrounded by all things dance just reaffirms my love for this art.
Needless to say, "excited" is an understatement for how I feel about this new job!
Photo by ABC/Eric McCandless
And that's a wrap on "Dancing with the Stars" Season 24, ladies and gents! It's certainly been one for the books. From injuries to shocking eliminations, let's just say Season 24 has had its emotional ups and downs. But despite all that, the season made for some seriously phenom dancing and some killer performances. And as usual, we've loved watching every second of those cha chas, foxtrots, and waltzes.
Let's get right to the exciting stuff, though: Last night's winning couple of "Dancing with the Stars" is...
Keep reading...
Show less
May. 23, 2017 01:11PM EST
Via @quinn_starner on Instagram
Nearly 80,000 dance-loving Instagram followers can't be wrong: Quinn Starner is one to watch. And what's just as impressive as the 15-year-old's rabid online following is her ever-growing list of competition accolades. Quinn, who trains at Indiana Ballet Conservatory and Stars Dance Company, been named first runner-up at The Dance Awards for two years in a row (as a junior and a teen); was the 2016 West Coast Dance Explosion Teen National Champion; earned first place in contemporary and third place in the classical division at Youth America Grand Prix Regionals in Pittsburgh last year; has won the Grand Prix Award at ADC|IBC; and was a gold medalist at World Ballet Art Competition Grand Prix. Plus, she made it to the Academy round on last year's "So You Think You Can Dance: The Next Generation," and has performed as Clara in the Radio City Christmas Spectacular. Here's what Quinn has to say about her favorite songs, teachers, and career highlights.
Keep reading...
Show less
May. 23, 2017 02:34PM EST
NBC
Want a chance to get personally involved in the HOTLY anticipated TV show "World of Dance"? Of course you do. That's why J. Lo. and the rest of the "WOD" team have launched an interactive version of the upcoming NBC series that lets Snapchatters get in on the action.
Keep reading...
Show less
May. 22, 2017 02:07PM EST
On Saturday morning, Russell Horning—aka 15-year-old Instagram king @i_got_barzz—was already kind of famous. His admittedly bad but weirdly mesmerizing dance videos had earned him shoutouts from the likes of Rihanna (and dance tributes from the likes of Josh Killacky).
But by Sunday morning? By Sunday morning, Russell Got Barzz had reached an entirely different level of memedom. Because Katy Perry tapped the teen—signature backpack and all—to perform "Swish Swish" with her on "Saturday Night Live." And the internet lost its darn mind.
Keep reading...
Show less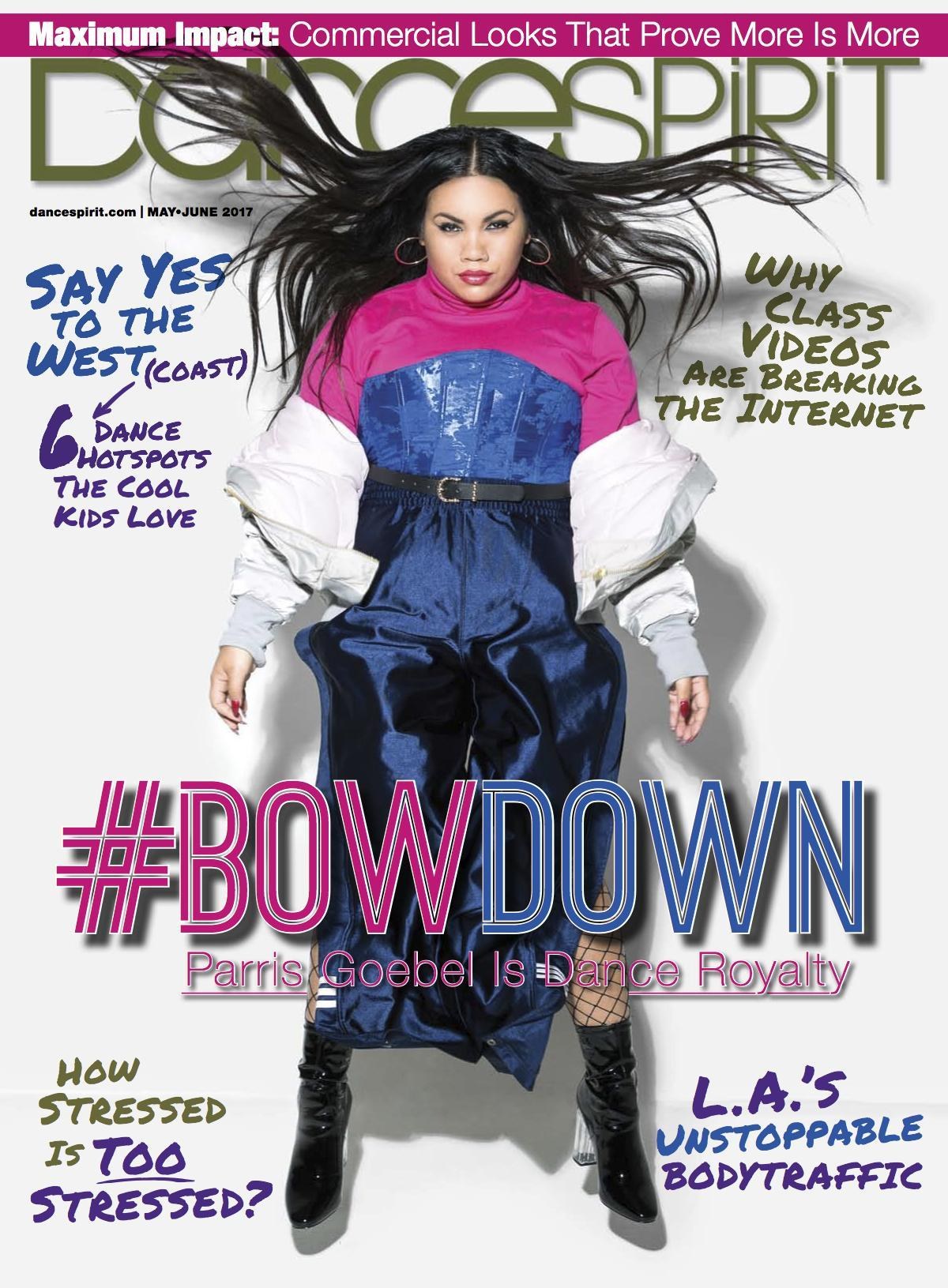 Get Dance Spirit in your inbox