Contemporary
Mar. 01, 2010 01:00PM EST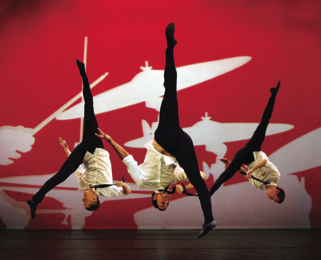 AC Ciulla was 19 and had just moved to NYC when he scored his first commercial gig, a J.C. Penney spot, after back-flipping off the casting director's table at the audition. "Doing the flip was a huge risk, but I knew I had their attention," the gymnast-turned- dancer says. "I had been a competitive gymnast all my life, so I thought my acro skills would make me special—and they did!"
Today, many dancemakers are finding new ways to infuse acrobatics into their choreography. It's popping up in almost every genre—even ballet! Rasta Thomas' ROCK the Ballet, starring the Bad Boys of Dance, mixes classical ballet with jaw-dropping tumbling to create an unforgettable performance.
Acro know-how won't make up for poor dance technique, but with the right training, it can make you stand out. "Not having a tumbling skill won't necessarily hold you back, but when you're at the final callback of an audition and you're up against dancers who are equal to you, a little acro can be the wow factor that gets you the gig," Ciulla says. Read on to discover how tumbling can improve your dancing and what steps you should take to learn these tricks safely.
Why Add Acro?
Now an Emmy Award–winning choreographer, teacher and judge for New York City Dance Alliance, Ciulla has a theory as to why tumbling is so popular today. He credits television shows like "So You Think You Can Dance" and "America's Best Dance Crew" with getting audiences accustomed to watching high-energy, athletic performances. "The dancers on these shows have incredible tumbling and acrobatic skills, so people expect it now," he says. Ade Obayomi, Mollee Gray and Legacy Perez from Seasons 5 and 6 of "SYTYCD" set the standard for acro, using their tumbling skills to secure spots in the Top 10.
"Acro definitely gave me a leg up on 'SYTYCD,' because even though America may not always appreciate good technique, they love seeing twists, flips and spins," says Neil Haskell, Season 3's third-place winner. Yet acro served Neil well even before he auditioned for "SYTYCD"—it landed him a spot in Twyla Tharp's musical The Times They Are A-Changin' in 2006. He says that without his acro skills, he never would have gotten the job. "My acro background was essential to picking up the style and choreography. I was constantly doing dive roles and back flips with full twists amidst all of the dancing." Haskell says that he uses tumbling at about 50 percent of his auditions and feels that everyone could benefit from adding acro to their repertoire. "I've seen people win and lose jobs because of acro, so it's a great tool to have. Use your acro skills to get their attention, and then use your technique to keep it."
Speaking of technique, some say acro can actually improve your dancing. Fourteen-year-old Makenzie Mofford, a senior company member at The Dance Club in Orem, UT, says her leaps, jumps and other dance skills improved after she added acro to her schedule seven years ago. "I went to a local gymnastics facility because I had always wanted to take tumbling, and I found that I was really good at it," says Makenzie, who has now been dancing for 11 years. "Acro helped me strengthen my legs and control my center, so my leaps and jumps are much better and higher than before." Her work is paying off: Makenzie recently won first place overall for her contemporary solo at a NUVO Dance Competition in Dallas, TX. "My solo stands out because of the aerials and big acrobatic floor section that has moves most people haven't seen before," Makenzie says. "It requires a lot of flexibility and strength that I wouldn't have without my acro background."
Acro training forces you to use your body in a broader range of motion than your regular dance training does, so your flexibility will increase. Your balance and agility will also improve as you engage your core and strengthen your muscles through the acro exercises.
Amp Up Your Acro Know-How
If you've never even attempted a roundoff, becoming an acro expert may seem out of reach. But with the right training, you can add a few simple tricks to your repertoire while also improving your basic dance skills. Check with your studio to see if they plan to offer any acro classes. Amy Giordano, director of the Giordano Dance School in Evanston, IL, offers a dance tumbling class that helps students perfect gymnastics staples like cartwheels, roundoffs, somersaults and back bends. She says these classes are useful for dancers because they help "enhance flexibility, balance and agility."
Not sure what to look for when searching for an acro class? Don't be afraid to ask a potential instructor about her qualifications. (Where did she train? How long has she been teaching? Is the facility adequate?) Stacy Finnerty, vice president of gymnastics-equipment maker Tumbl Trak, suggests checking to see if the studio or gym has enough space to ensure that you will feel comfortable running before a trick (at least 30 feet). Finnerty says the mats should be at least two inches thick when placed over a wood floor, and at least 1 3/8 inches thick if placed over a carpet.
The Essential Trick
So what's the move every dancer should know? All of our experts agree that if you're going to learn just one trick, an aerial (a cartwheel with no hands) is the best because it's so versatile. "Aerials can be flashy in a jazz routine, or beautiful in a lyrical number," says Brenda Searle, head dance team coach at Hillcrest High School in Midvale, UT.
With the supervision and instruction of your coach, you can learn an aerial by first perfecting a basic standing cartwheel. Then move on to a running cartwheel (a cartwheel preceded by a running start), followed by a dive cartwheel where you push off your front foot, adding a little hang time before your hands come down. With each dive cartwheel you should focus on pushing harder off your back foot until you can stay airborne long enough that you don't have to put your hands down at all—that's an aerial!
Use, Don't Abuse
Tumbling skills can be a great asset for certain dancers, but they should only be considered a complement to your dance training. Make safety your top priority: If you can't do a trick on the hard floor in your studio every time and with perfect technique, you should not attempt it at an audition or at a competition. "If you are at an event with well-trained judges, they will not care about how many tricks you do, but rather how everything flows with the music and the theme of the piece," Searle says. "Your routine should always make the audience feel something, and 10 back handsprings and six aerials are not going to make that happen."
Think tumbling might be right for you? Enroll in a basic acro class. If you can master the moves with ease, you may have found what you'll need to catapult you into the next stage of your career.
Much of Janelle Ginestra's career has been about helping others shine. She's dedicated herself to supporting and cheerleading her partner, WilldaBeast Adams; the emerging talents in their dance company, ImmaBEAST; and the countless dancers she inspires at master classes and conventions. Her YouTube channel has become a launching pad for young talents like "Fraternal Twins" Larsen Thompson and Taylor Hatala, thanks to viral videos featuring Ginestra's creative vision.
But Ginestra's a skyrocketing success in her own right—an in-demand choreographer, a social media influencer, and a dance entrepreneur, building a legacy one eight-count at a time. It's time for her turn in the spotlight. And she's more than ready. "I want to be a legend in whatever I do," she says. We'd argue that she already is.
Keep reading...
Show less
For more on choosing whether to compete or not, click here.
I started dance classes at a young age. By the time I was 3, I was training at The Dance Club, and I grew up there. I started with the basics—ballet and jazz—and eventually added tap, tumbling, contemporary, and hip hop.
Early on, I did compete. I remember my first time: I did a trio at a small local competition, and it got first place. The trophy was as tall as I was, and I loved it. I attended conventions as a mini, and had the opportunity to take classes from Travis Wall, Sonya Tayeh, Andy Pellick, and Joey Dowling-Fakhrieh. There was so much variety—I was in awe.
Keep reading...
Show less
For more on choosing whether to compete or not, click here.
My mom was a dancer growing up, and she went on to become a dance teacher, so I've really grown up in the studio. I started classes when I was 2, and by the time I was 9, I was training at The Dance Club and knew I wanted to dedicate all my time to dance.
Keep reading...
Show less
Win It
Oct. 13, 2017 04:31PM EST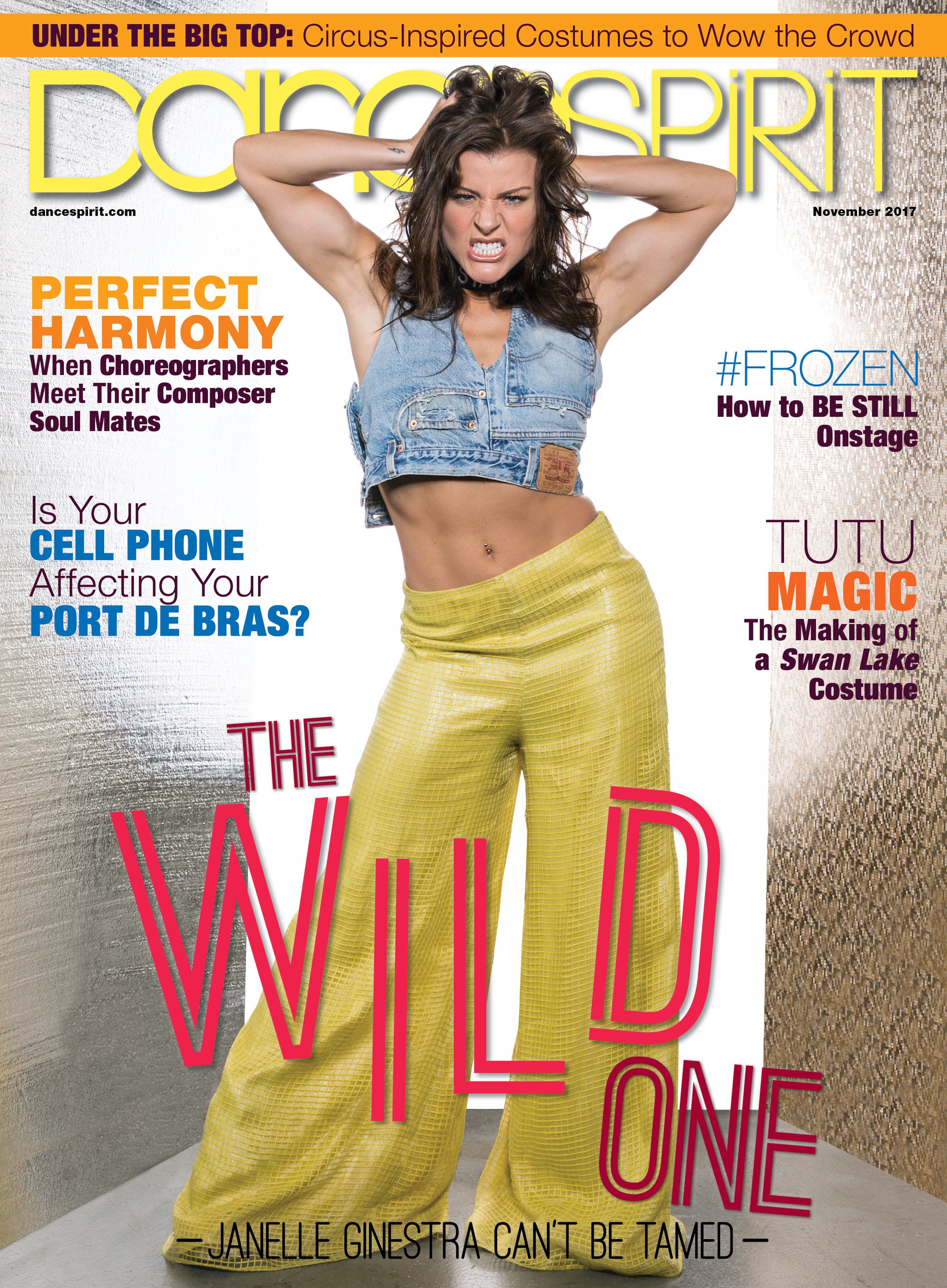 Get Dance Spirit in your inbox