French Artist JR shows New York City Ballet "the Power of Paper and Glue"
It's time to get super psyched about multidisciplinary collaborations, guys.
Last year, New York City Ballet held its first annual Art Series, an installation that commissions contemporary artists to work with the dancers in hopes of inspiring something spectacular. And when they brought in FAILE, the Brooklyn-based partnership of Patrick McNeil and Patrick Miller, to kick off the series, the artists did not disappoint.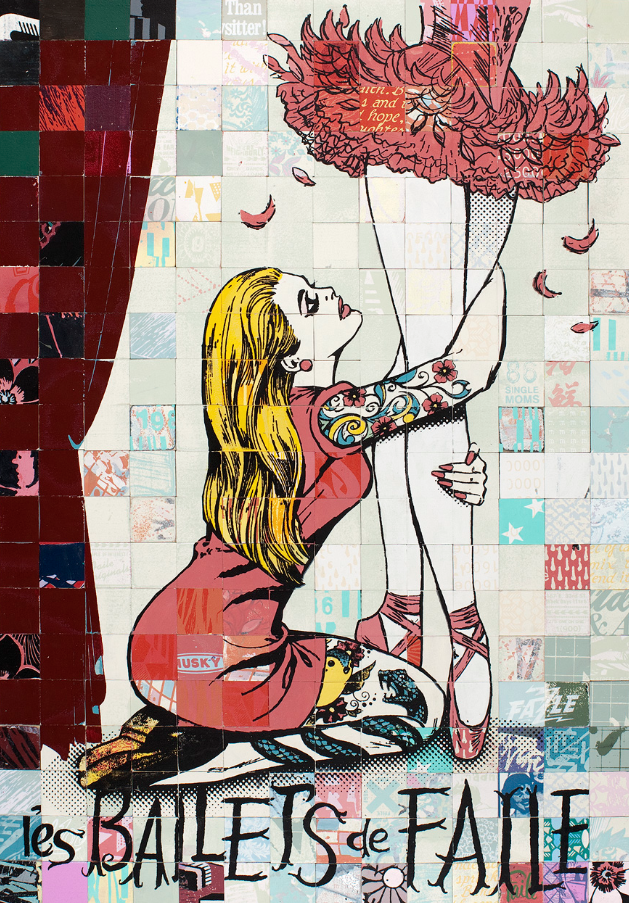 Just one result of the glorious collaboration between FAILE and NYCB
Well, it's just about time for the second annual Art Series—this time around featuring the French artist known as JR. (He keeps his identity "unknown"...how avant-garde is that?!) JR treats the world as his gallery, posting his artwork throughout the streets of different countries so that everyone—even those without the money or initiative to go to a museum—can witness art.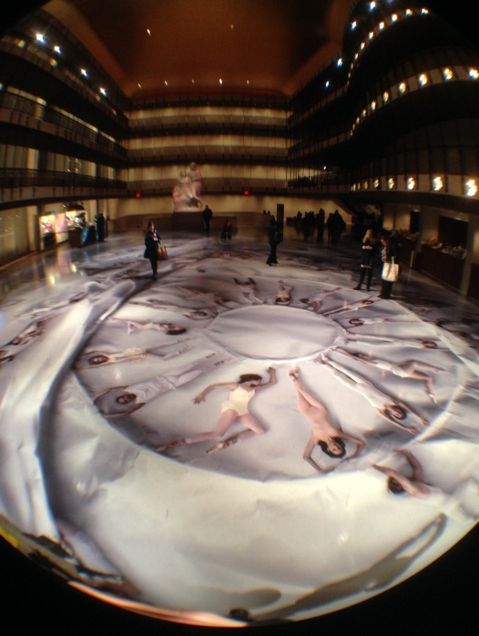 JR photographs the NYCB dancers in the shape of an eye. A little preview of the installation! (Photo by Spencer Elzay)
The installation will run in conjunction with the ballet for three performances—January 23, February 7 and February 13—at the David H. Koch Theater in Lincoln Center. All tickets are $29 (and everyone walks away with a small token of the exhibit...pretty good deal!). The gallery will also open to the public for free viewing from February 2 to February 9. Click here for more info.
In the meantime, check out this video where JR explains his experience working with NYCB:
Dance is a powerful form of expression, and Ahmad Joudeh is using its influence to promote peace.
The 27-year-old is a Palestinian refugee, whose decision to pursue his passion for ballet has made him the target of death threats from terrorist organizations. Despite the danger, Joudeh has decided to continue on his path as a dancer, using his performances as an opportunity to spread a message of peace and cultural awareness.
Keep reading...
Show less
A dance photo of Averi Hodgson (courtesy of Cortney Hodgson)
For 14-year-old Averi Hodgson, focusing on her ballet training while growing up was never easy: She's suffered from epilepsy since she was in first grade, and later, she was also diagnosed with scoliosis. Here, she tells her story of perseverance—and how her determination earned her a spot at the School of American Ballet's 2017 summer intensive.
Keep reading...
Show less
CBS
"Late Late Show" host James Corden was one of the many, many people shocked by President Trump's sudden decision to ban transgender people from the military yesterday. And he decided to voice his outrage in the way most likely to rile a President who's uncomfortable with anything "un-manly": through a big, beautiful, extra-sparkly song-and-dance routine.
Keep reading...
Show less
Jul. 25, 2017 05:04PM EST


Get Dance Spirit in your inbox