Jun. 11, 2013 01:50PM EST
From Broadway to Book Deal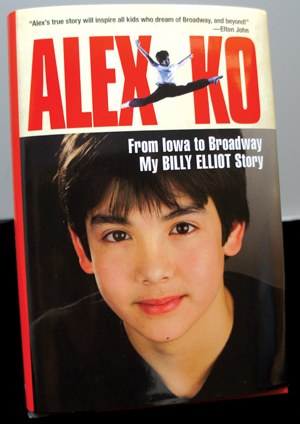 Travel to NYC? Check. Audition for Broadway show? Check. Win the starring role in said Broadway show? Check! By the time Alex Ko was 13, he'd crossed more items off his bucket list than most kids would dare to dream of. But now, at 17, he's checked off one more: publish a memoir. Alex Ko: From Iowa to Broadway, My Billy Elliot Story tells his tale of training in ballet and dancing in the Tony Award–winning Billy Elliot: The Musical. DS spoke to Alex about how he's done it all.
Dance Spirit: When did you decide to write a book? 
Alex Ko: I always liked writing in school, but my plan was to be a dancer. Then, I got injured a week into my run with Billy Elliot—I ripped the patella tendon in my knee and was out of the show for five months. When I couldn't dance, I realized writing was my backup plan. I started jotting down my experiences for myself, and then it progressed into a real story over the next couple years.
DS: Once you started performing again, how did you find the time to write? 
AK: My dance training taught me focus, and I definitely needed it to sit down and write for hours whenever I could. I would write on the subway, at home in bed and even backstage during shows.
DS: What's your favorite part of the book? 
AK: The family memories. My dad died when I was 11, and writing the chapter about his passing was difficult—it felt like I was reliving it. But in the end, writing it down was therapeutic.
DS: Who do you hope will read it? 
AK: Anyone with a dream.
DS: What's next for you? 
AK: Right now, I'm training every day with Wilhelm Burmann at Steps on Broadway in NYC. I hope to keep dancing and to go to college to study English and writing.
via @phil_wright_ on Instagram
Well, this brings class videos to a whole new level! Choreographer Phil Wright and dancer Ashley Liai have been together eight-plus years, but she was still in total shock when he proposed to her mid-dance at Millennium Dance Complex earlier this week. Why? Well, the whole thing was unbelievably perfect.
Keep reading...
Show less
(Courtesy ABC)
In the dance industry, dancers don't always have a say in what they wear on their bodies. This can get tricky if you're asked to wear something that compromises your own personal values. So what should you do if you find yourself in this sticky situation? We sat down for a Q&A with "Dancing with the Stars" alumn Ashly Costa to answer that very question. Here's what she had to say about the options dancers have surrounding questionable costumes.
Keep reading...
Show less
Jul. 20, 2017 04:39PM EST
Erin Carpenter as a Knicks City Dancer (David Safran, courtesy of Erin Carpenter)
The groundwork for Erin Carpenter's company, Nude Barre, began when she was a teenager. At 16, she earned a spot in the residency program at The Kennedy Center in partnership with Dance Theatre of Harlem. "We were required to wear nude—as in, our actual skin tone—tights and shoes," she remembers. Carpenter brought her "sun tan" tights and a pair of pink ballet shoes with her, because that was all she could find. But she wasn't allowed in class because her dancewear didn't match her skin. "I was so embarrassed," she says. "I looked unprepared. I just didn't have the right nudes." Her teacher explained that the dancers dyed their tights and pancaked their shoes.
Keep reading...
Show less


Get Dance Spirit in your inbox