From Tap-Dancing Penguin to Break-Dancing Boss
For today's installment of young break-dancing prodigies with so much talent it freaks us out a little bit: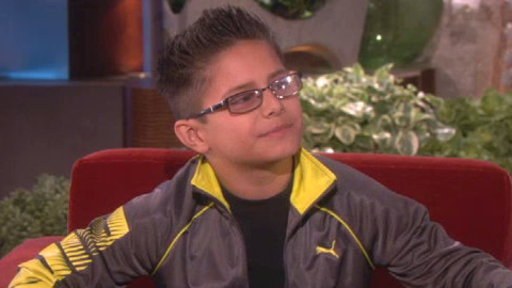 Meet Mace Maya, a 10-year-old breaker who began dancing at the age of 5. As the story goes, his dad saw him tapping up a storm while watching the movie Happy Feet and said, "Hey, want to learn how to break-dance?" (Or something like that...)
It's no surprise we have Ellen DeGeneres to thank for this discovery—he was a guest on her show this past Wednesday. During the pre-performance interview, Mace really worked the cuteness factor. Seriously, this kid is adorable. But don't let that fool you—this kid's moves are so not cute (in the best way possible). See for yourself!
Who knew tap-dancing penguins could inspire such hardcore breaking?
via @phil_wright_ on Instagram
Well, this brings class videos to a whole new level! Choreographer Phil Wright and dancer Ashley Liai have been together eight-plus years, but she was still in total shock when he proposed to her mid-dance at Millennium Dance Complex earlier this week. Why? Well, the whole thing was unbelievably perfect.
Keep reading...
Show less
Ashly Costa and Buzz Aldrin on "Dancing with the Stars" Season 10 (courtesy ABC)
In the dance industry, dancers don't always have a say in what they wear on their bodies. This can get tricky if you're asked to wear something that compromises your own personal values. So what should you do if you find yourself in this sticky situation? We sat down for a Q&A with "Dancing with the Stars" alumn Ashly Costa to answer that very question. Here's what she had to say about the options dancers have surrounding questionable costumes.
Keep reading...
Show less
Erin Carpenter as a Knicks City Dancer (David Safran, courtesy of Erin Carpenter)
The groundwork for Erin Carpenter's company, Nude Barre, began when she was a teenager. At 16, she earned a spot in the residency program at The Kennedy Center in partnership with Dance Theatre of Harlem. "We were required to wear nude—as in, our actual skin tone—tights and shoes," she remembers. Carpenter brought her "sun tan" tights and a pair of pink ballet shoes with her, because that was all she could find. But she wasn't allowed in class because her dancewear didn't match her skin. "I was so embarrassed," she says. "I looked unprepared. I just didn't have the right nudes." Her teacher explained that the dancers dyed their tights and pancaked their shoes.
Keep reading...
Show less


Get Dance Spirit in your inbox