Dance Team
Jan. 15, 2012 03:25PM EST
From the Studio to the Sidelines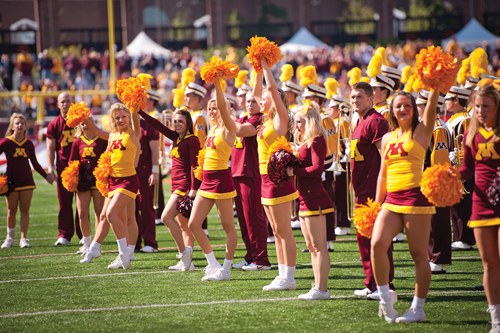 The University of Minnesota-Minneapolis Dance Team at a football game (John Prosek)
Picture this: You're a rookie on your school's dance team and about to perform at the season's first football game. As you head for the sidelines, you're met with a deafening roar from the thousands of fans who have filled the stadium. It's your job to lead the boisterous crowd for the next four quarters—and it's intimidating, to say the least.
As a member of the dance team, you're most likely expected to perform at every home football and basketball game. But unlike being on a stage, dancing on the sidelines requires you to show your school spirit and rev up a huge crowd. From learning all the routines to figuring out how to hold your poms, the first few weeks can be overwhelming—especially if you've only ever performed in a theater. Read on to learn what it takes to have a successful season.
In the Stadium
Dancing in front of thousands of loud, excited fans in a stadium is a big change from performing for a quiet audience that's often hidden by bright stage lights. "On a stage, the audience is eye level or below you, but in a stadium, you have to look up and make eye contact to draw in your crowd," says Dawn Walters, head coach of the University of Kentucky Dance Team. It's also important to keep in mind that you're not the main attraction. Onstage it's all about your performance, but on the sidelines you're there to support the players and lead the crowd.
During football games, you'll be expected to dance and cheer almost nonstop for two to three hours, so be prepared for training that will whip you into tip-top shape. "Our team runs for endurance and performs our material over and over again to prepare for the high demands of game days," explains Rachel Caughey, junior co-captain of the University of Minnesota-Minneapolis Dance Team.
Most teams only use recorded music during halftime shows. The rest of the dances are performed to the marching band's fight songs and drum cadences. Caughey says the team practices with a recording of the band on a CD—but performing live with the musicians is a totally different animal. "The band plays at whatever pace they want, and we have to respond accordingly," explains Caughey. "Sometimes they're super-slow, so we hit and hold it; other times they're super-fast."
Adapting to Your Environment
Performing in an outdoor arena, on either grass or turf fields, can be tricky. Many teams dance in high-tops or cheer shoes to get better traction. If your school has turf, expect a spongier surface or a mat laid out for the dancers. "I don't choreograph a lot of turning sequences because of the difficulty that comes with dancing on a soft surface, and I'm afraid of injuries, like twisted ankles," says Laura Nares, head coach of the Carlsbad High School Lancer Dancers. Your coach will most likely save advanced technical requirements for basketball season and Nationals. "It's better to be clean than to fall out of turns," says Nares.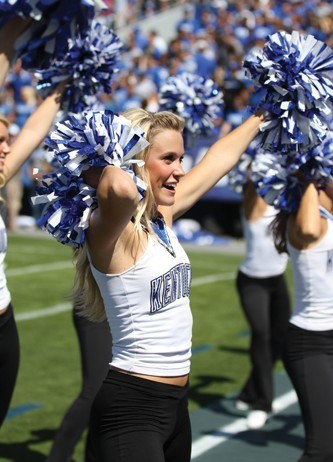 A member of the University of Kentucky Dance Team hypes up the crowd. (Michael Huang)
Poms Aren't Just for Cheerleaders
To attract the crowd's attention, most teams dance with poms, which may be challenging at first. "Pom-style dancing is about strength and body awareness," Nares says. To make your pom routines as clean as possible, dance bigger than you usually do and pay attention to the specifics. "The most difficult part of dancing with poms is knowing your arm placement at all times," Caughey says. "Even a slight turn of your wrist can make your pom face a completely different way."
Dance By the Rules
To help guide the crowd, you need to be familiar with the rules of football and basketball. "It's our job to get the crowd involved and know when to cheer, so understanding what's going on in the game, and even remembering the final score, is paramount," Caughey says.
Amber Jackson, who has been coaching the University of Minnesota-Minneapolis Dance Team for 15 years, provides her team with a football quiz to help them learn the rules of the game. "The girls need to know that when it's third down and our team is on defense, they should be extra-loud, but when it's third down and our team is on offense, they should be quiet," Jackson explains.
In basketball, where you're close to the sidelines, it's important that you stay off the court when the ball is in play. During time-outs, only run onto the court when your coach and captains tell you, and make sure you're off the court by the second buzzer. You don't want the players to be penalized for a mistake you could've easily avoided.
Keep Your Game Face On
Even when you're not dancing or cheering, you can still be seen by thousands of fans, so it's important to remain professional throughout the entire game. As a member of the dance team, you're a representative of your school on and off the field. "There are times before and after games when the girls are asked to mix and mingle with alumni and coaches, so I encourage the team to continue to be outgoing and personable beyond the sideline," Walters says.
Many college (and even some high school) sporting events are broadcast on TV. Often, producers will cut from the players to the dancers and cheerleaders during time-outs and other breaks. You need to be ready to dance or rally for the camera at all times. There's nothing worse than being caught goofing off or picking a wedgie on ESPN!
While game days are opportunities to improve your performance skills and bond with your team, always remember that you're ultimately there to support the players. Your number-one job is to entertain and raise the spirit of your crowd at all school events. Take pride in being a member of the team that represents school spirit!
Kalani Hilliker made "Dance Moms" fans sit up a little straighter when she first appeared on "Abby's Ultimate Dance Competition" back in 2013. The then–12-year-old ballerina had charisma, she had sass—and, wow, did she have technique! Abby Lee Miller, the show's infamous host, saw Kalani's star potential from the start, saving her from elimination and ultimately inviting her to perform alongside Maddie Ziegler on Season 4 of "Dance Moms." "I was never supposed to be on 'Dance Moms' beyond that one performance," says Kalani, now 16, but she ended up staying on the show for the whole season—and the following three. "It was my first time, but not my last time, causing drama. And it was also the first time I got to meet the other dancers, who have become like sisters."
Keep reading...
Show less
Boston Ballet's Misa Kuranaga and Patrick Yocum (courtesy Rachel Neville/Boston Ballet)
We're on somewhat of a dance photography kick here at DS, so we figured we'd keep it going in a very big way: an exclusive interview with Rachel Neville, the photographer responsible for all those absolutely drool-worthy dance photos on your Instagram feed. We caught up with Neville at PurePoint Financial in NYC, where her new show, "A Command Performance," is up on display (and we highly recommend you check it out).
Keep reading...
Show less
Thinkstock
Acupuncture has proven benefits for reducing pain and getting dancers back on their feet, but it's also a way to treat your overall well-being—in both mind and body. "Acupuncture works very holistically," says Cassandra Krug, licensed acupuncturist at the Acupuncture Clinic of Boulder, in Boulder, CO. "Even if you come in because of ankle pain, we're looking at your whole body. We're trying to return you to a place of homeostasis, or balance."
Peter Schmidt, a licensed acupuncturist who works with Pacific Northwest Ballet dancers, thinks that acupuncture—when combined with the work of dancer-friendly Western doctors, physical therapists, and orthopedists—results in a higher success rate for his patients. "Acupuncture can't address everything," he says. "But for things that are bothering you that don't show up on an X-ray or MRI, acupuncture could help." Is acupuncture right for you? We talked to the experts to find out what dancers should know before going under the needle.
Keep reading...
Show less
The Top 9 in a Chris Baldock routine (Adam Rose/FOX)
Before we get into this week's recap, let's all show some love for Travis Wall, who had a day yesterday. Just hours before "So You Think You Can Dance" was set to air, Wall was at Disneyland (with friend and "Modern Family" star and aspiring Shaping Sound member Jesse Tyler Ferguson, NBD), where he found himself at a bit of a standstill—literally. "Not gonna be able to make 'So You Think' tonight...because I'm stuck on Indiana Jones," Wall shared on Instagram yesterday afternoon.
But hooray! He eventually did get off the stalled ride, and was in the audience alongside Mandy Moore. We're glad you made it, Travis!
On to the show:
This week, the Top 9 performed solos and duets with their All Stars. You know the drill. As always, we'll skip the solos and get right to the good stuff. (Though the solos were, like last week, so good.) Here's how it all went down.
Keep reading...
Show less


Get Dance Spirit in your inbox