From Tutus to Wedding Dresses: Meet the Ballet-Dancer-Turned-Wedding-Dress-Designer
Wedding dress designer Janay Robison brings her passion for dance to her wedding dress line, modeled by Chloe Bennett. (Kali Poulsen, Courtesy Janay Robison)
Tulle is the common thread (or should we say fabric?) that has woven its way through the course of Janay Robison's life: She's handled the delicate netting in one way or another since the age of 7. Once a soloist on her university's ballet company, she's now an emerging designer in the wedding dress industry, and has seamlessly transitioned from tutus to big-day gowns.
Robison is currently one of Utah's leading ladies in fashion. She launched Utah Fashion Week in 2014, an event that has grown to incorporate over 50 local designers and hundreds of models, make-up artists, and hair stylists, and has had her gowns featured in several magazines. But she's found ways to pay homage to her past life as a dancer—and to use her dance knowledge in her new business. From her work ethic to her designs, Robison says ballet has given her a solid foundation from which to launch a successful wedding dress line. Check out our interview with this talented artist, and discover how she's combined her passion for dance and her love of fashion.
---
Tell us about your dance experience.

My parents enrolled my little sister (who was the girliest of girls) in ballet classes, not thinking that I (a bit of a tomboy at the time) would be interested. When I expressed interest, too, they put me in ballet classes, and I've loved it ever since. I focused on ballet, but I tried my hand at contemporary, jazz, tap, and a few other styles. I studied ballet at Brigham Young University, and performed with the school's ballet companies. I got to a point in my early twenties where I realized I needed to decide if ballet would become my life, or if I would pursue my other passions, keeping dance as a hobby. I shed some tears over the decision, but looking back, I made the right one for me. And I didn't completely give up dance: I take a couple of classes a week, when I'm not busy designing gowns and being there for my sweet husband and daughter. Ballet will always be a big part of my identity.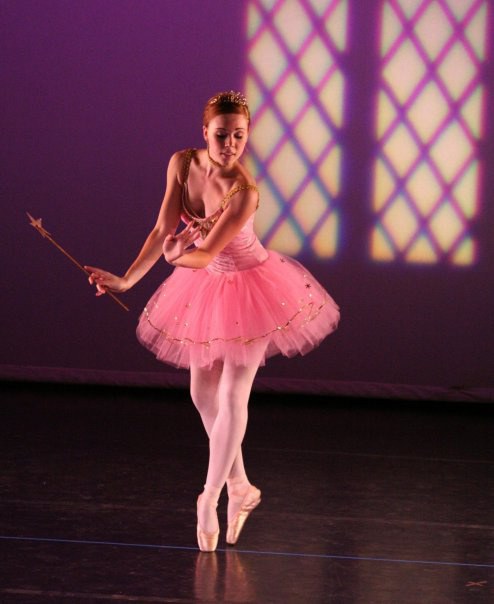 Robison performing the role of Sugar Plum Fairy for Utah Valley Civic Ballet Company in 2006. (Ron Frank, courtesy Janay Robison)
What drew you to ballet?
Ballet makes me feel free, graceful, and ethereal. There's a type of joy I only feel when I'm dancing.
Have you always been interested in fashion?
I sewed dresses for my dolls starting at age 6, if you can call that fashion. Throughout my childhood and teenage years, I loved designing and making clothing for myself. As a poor college student, I'd go to thrift stores and find clothes to cut apart or upcycle. So, I guess the answer is yes!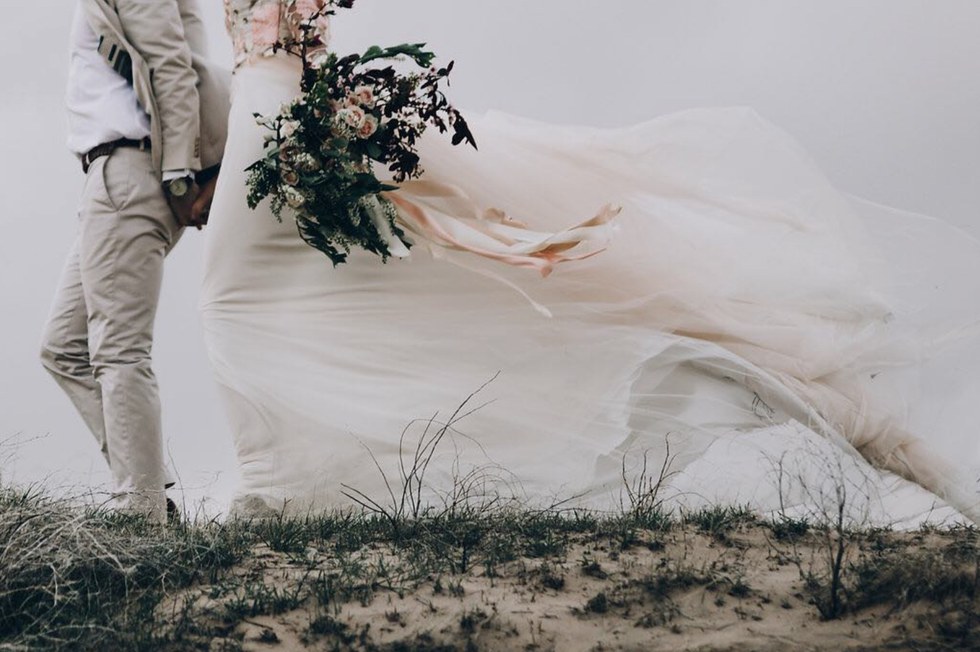 (Courtesy Robison)
How did your wedding dress line start?

I loved sketching out formal and bridal gowns as a teenager, but besides a few prom dresses, I never felt like I had a reason (or the funds) to create my designs. But I ended up working as a bridal consultant and seamstress through my college years, and I discovered a love for the bridal industry. Working with beautiful women to make something perfect for their wedding is so rewarding.
How has your dance experience influenced your designs?
I love gowns with a lot of movement— skirts that twirl and move and flow. Some of my pieces are definitely inspired by costumes I've worn through the years. Dance also gave me an appreciation for the human body that plays into my designs. I like to create dresses that are shaped by the body, rather than forcing the body to be shaped by the dress. I love using fluid and even stretchy fabrics (thank you leotards and wrapped chiffon skirts). Many of my brides are ecstatic when they put on their dresses and realize they can dance and bend and move in them; because I'm a dancer, that's a huge priority to me!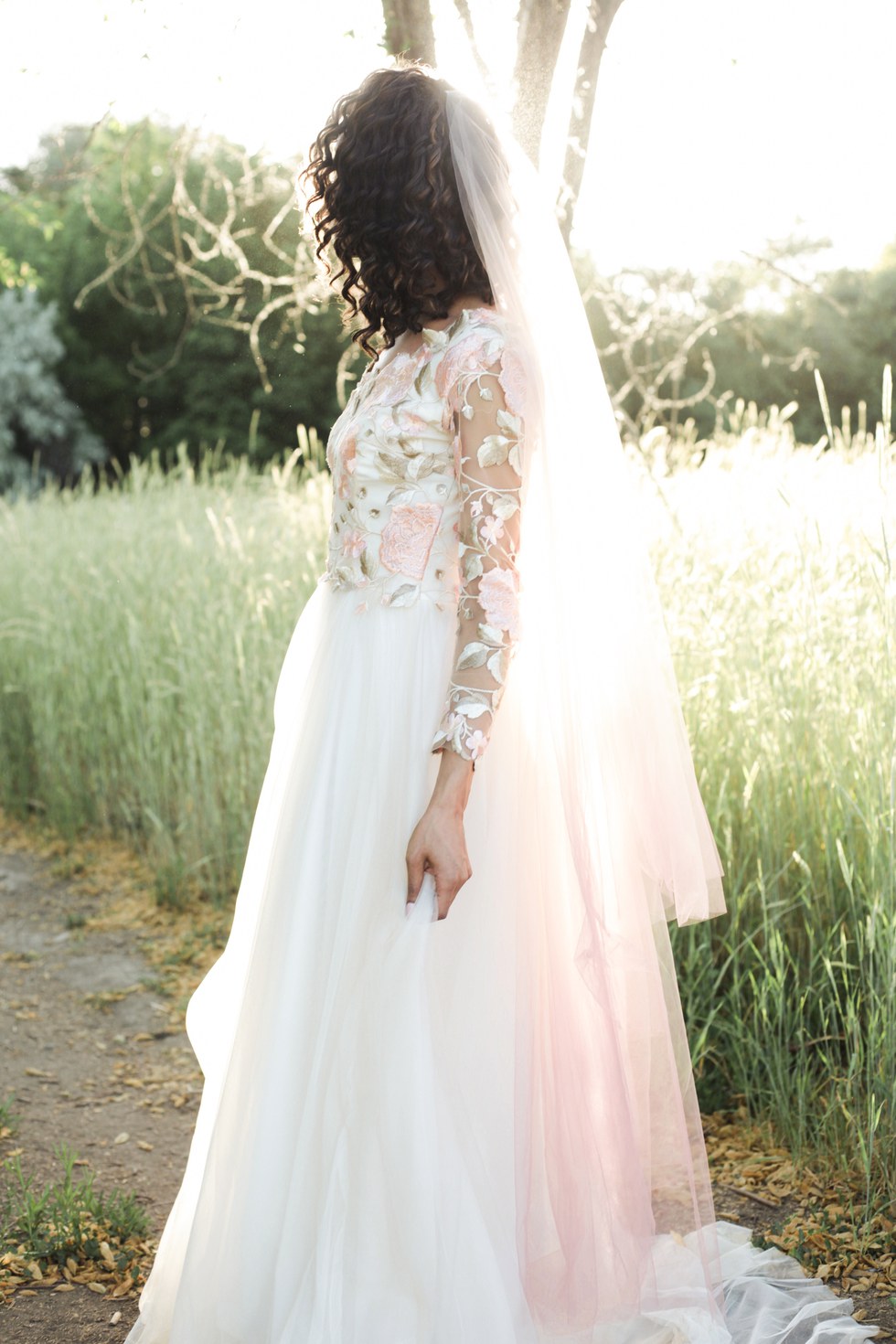 Many of Robison's wedding dresses are inspired by ballet costumes and dancewear. (Courtesy Robison)
What ballet skills have helped you as a designer?

Dance really teaches you how to get your creative juices flowing. It also teaches you to "make it work." I think dancers probably used that phrase long before "Project Runway" and Tim Gunn popularized it in the fashion world. Something's not working? Change the angle of your pelvis, or change the angle of that seam...make it work.
Has your dance training carried over to the business side of things too?

Dance definitely teaches you to work hard and not give up. I don't think I've ever met a lazy dancer, or one who throws in the towel easily. Having a business requires a lot of work and tenacity, and those are skills that dance helped me develop.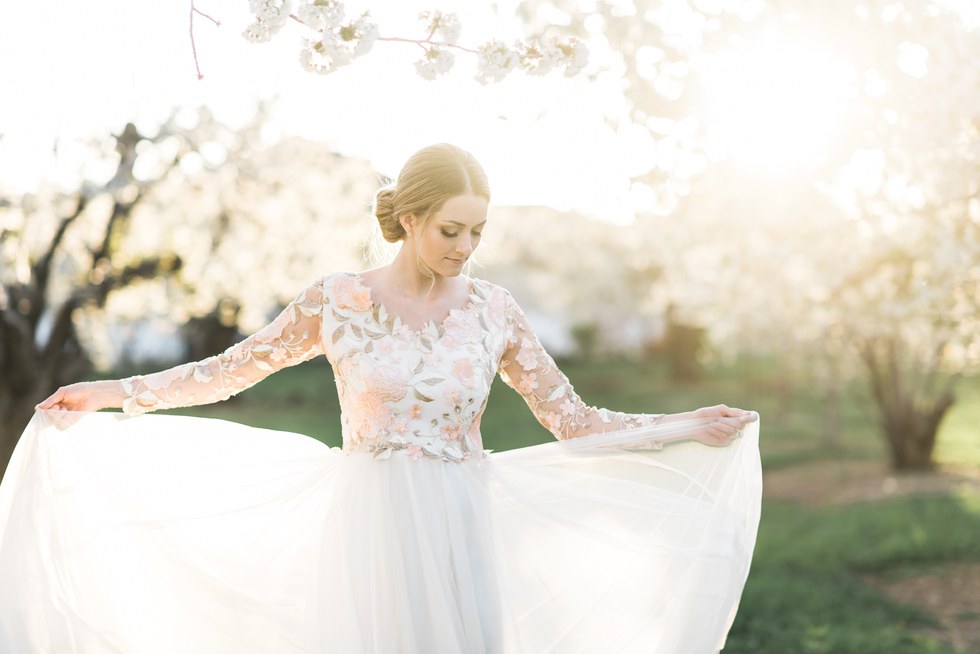 Robison's wedding dresses allow brides to dance and move on their wedding day. (Courtesy Robison)
Ballet influences can be seen on catwalks and in editorials throughout the fashion world. Why do you think designers are so into ballet?

I don't think I can pinpoint a specific reason, but I've definitely experienced it. I contributed to an editorial recently where we had ballerinas modeling wedding gowns from several designers. The photographer and designers participating were enamored of the ballerinas on pointe; everyone was in awe. There really is something magical about ballet that designers love to tap into. I think that dance is becoming more mainstream, which makes it it becomes a more easily accessible for designers and other artists.
What are the similarities and differences between the worlds of fashion and ballet?
I think there are more similarities than differences. I find that many dancers and designers have similar personalities— they're creative, ambitious, tenacious, artistic, and able to think outside the box. Both dance and fashion are powerful mediums of self-expression. There're even similar issues when it comes to bodies and body image. As far as differences go, dance is a lot harder on your feet; sewing is a lot harder on your hands!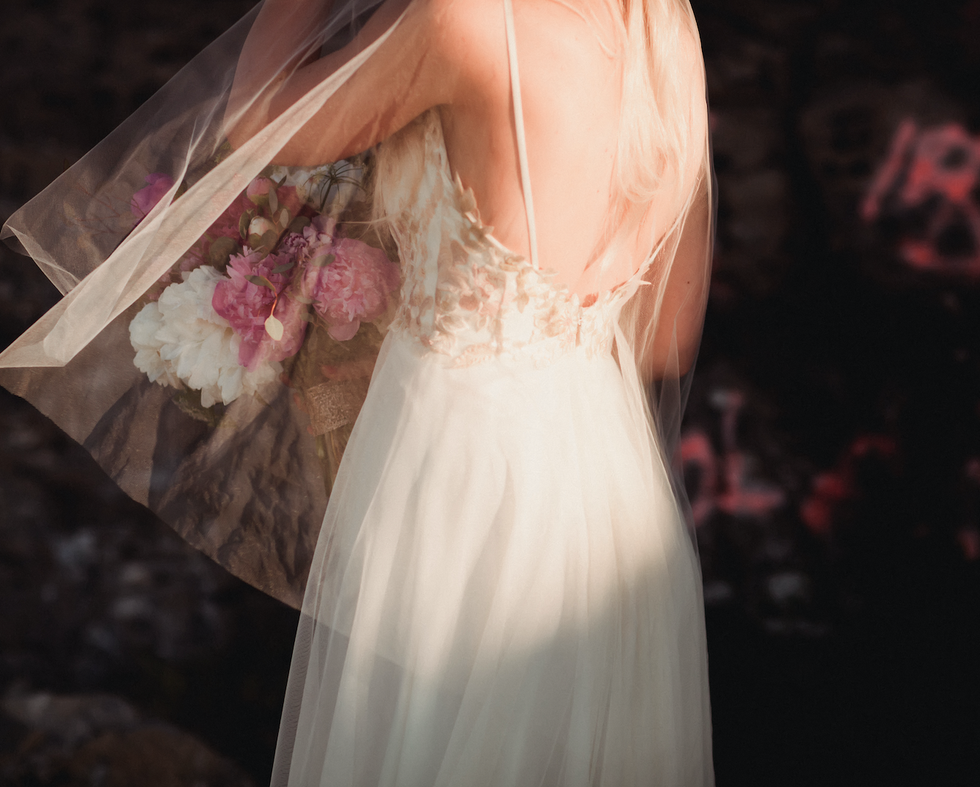 (Courtesy Robison)
Would you ever think about doing a line of tutus or dance dresses?

I'd love that! I went through phases where all I wanted to do was sketch ballet costumes and tutus. I'd watch videos of ballets and envision costumes for specific characters. So while wedding gowns seem to be my current calling, costuming a ballet would be a dream!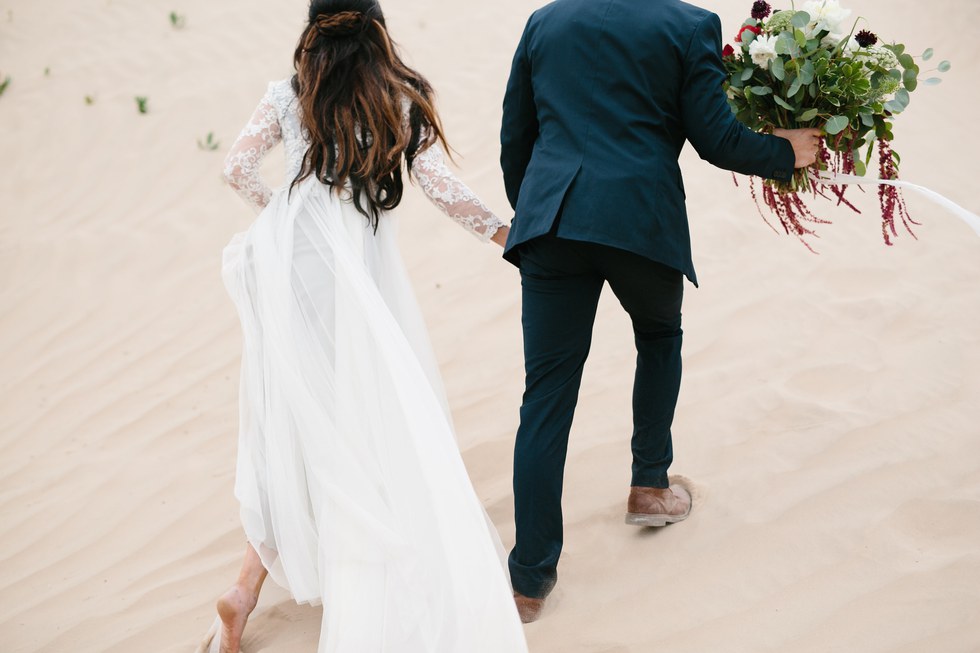 (Courtesy Robison)
(From left) ABT's Erica Lall; NYCB's India Bradley; Washington Ballet's Nardia Boodoo; NYCB's Rachel Hutsell (all photos by Rachel Neville)
Misty Copeland. Her name is synonymous with exquisite artistry and outspoken advocacy. And her visibility has made a huge impact on the ballet world. Ballet's relationship with race has always been strained at best, hostile at worst. But Copeland's persistent message and star quality have finally forced the ballet industry to start talking about racial diversity, inclusivity, and representation. "The rarity of seeing ourselves represented is sad," Copeland says. "The more we see every hue and body shape represented on the stage, the more possibilities young dancers feel they have for themselves."
Keep reading...
Show less
Our nominees (clockwise from top left): Roberto Campanella, Aurélie Dupont, Ashley Wallen, and Anthony Van Laast
Last month, we asked why there wasn't a Best Choreography category at the Oscars—and discovered that many of you agreed with us: Choreographers should definitely be acknowledged for their work on the super-dancy movies we can't get enough of.
Now, we're taking matters into our own (jazz) hands.
Keep reading...
Show less
ABT JKO School student Miuka Kadoi shoiwng off her beautiful line (photo by Kenneth Edwards)
Contemporary phenom Christina Ricucci has super-flexible hips, which means she can stretch her legs to unbelievable heights. But when she noticed herself making contorted positions in class, Ricucci realized she was approaching her extensions all wrong. "I went back to the basics in class, squaring my hips and using my turnout," Ricucci says. "I learned to create proper positions, rather than whacked-out versions of them."
Some dancers are so wonky they have a hard time supporting their high legs, while others struggle with limited flexibility. But no matter your facility, you can find a balance of stretch and strength to achieve your fullest range of extension. It's not about how high (or not) your legs can go: It's the quality of the movement, and how you get those legs up, that counts.
Keep reading...
Show less
Popular
Feb. 16, 2018 11:58AM EST
Via Jaime Guttenberg's memorialized Facebook page
Yesterday, the dance community was heartbroken to learn that Jaime Guttenberg and Cara Loughran, both 14-year-old dancers, were among the 17 people killed on Valentine's Day in the shooting at Marjory Stoneman Douglas High School in Parkland, FL.
Keep reading...
Show less
Bronze medalist Kaetlyn Osmond skating her "Black Swan" long program (screenshot via YouTube)
Once upon a time (until the 2014 Winter Olympics in Sochi concluded, to be exact), figure skaters had to compete to music without words. Before this rule change, a skater faced an automatic point deduction if the music even hinted at vocals. Understandably, there were *a lot* of Olympic programs skated to classical music, and you'd tend to hear the same music selections over and over and over.
Keep reading...
Show less


Get Dance Spirit in your inbox