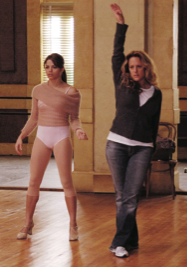 Anne Fletcher (right) works with actress Jenna Dewan on the set of "Step Up." Photo by Phillip Caruso, courtesy Buena Vista Pictures Distribution, Inc.
Of the 241 films that have grossed more than $100 million in the last decade, five have been directed by women. Anne Fletcher, director of last year's The Proposal, is one of those women.
A dancer since childhood, Fletcher followed a roundabout path to become a successful film director. She started out as a professional dancer, eventually moved into smaller, behind-the-scenes roles on various films, and with the help of her good friend Adam Shankman, ultimately scored her first directing job on Step Up (2006). DS caught up with Fletcher to learn the details of her two-decade journey and to find out how her dance skills transfer to her work as a director.
Falling for Dance
A native of Detroit, MI, Fletcher says her dance career began as a "fluke." At age 12, she was grounded and, as part of her punishment, had to watch her mom take a dance class. "When we got home, I thought I was being funny by showing her the combination that they did in class," Fletcher recalls. Impressed by Fletcher's natural ability, her mother immediately enrolled her in classes at a local studio. "From that moment on, I never thought of anything else but dance," she says.
Fletcher spent her teenage years studying jazz, tap, ballet and modern. At 18 she moved to L.A. to kick her professional career into high gear. She was soon hired by sports apparel companies like Reebok to dance in industrials around the world.
The Game-Changer
In 1990, Fletcher met Adam Shankman when they were both hired to dance at the Academy Awards. She didn't know it at the time, but she had made the friend who would change her life. "During our first dance job together, Anne and I locked on to each other and realized we shared the same mindset," the director, choreographer and "So You Think You Can Dance" judge tells DS. "We enjoyed the same quality of movement. We had a perfectly matched sense of humor, and she was my favorite dancer to watch. She was sexy and elegant and simultaneously strong and athletic. I started conceiving all my choreography with her in mind."
Soon after Shankman met Fletcher, he hired her as his assistant choreographer. She danced in everything he choreographed, including concerts, commercials and music videos, and in films such as Boogie Nights, Dudley Do-Right and The Flintstones. "In 10 years, we did more than 100 jobs together and became inextricably linked in our sensibilities and our approach to work," Shankman says. "When I got my first directing job, she was by my side the whole time."
As Shankman climbed the film industry ladder, moving from choreographer to director, Fletcher was right behind him. Along the way, she learned the ins and outs of filmmaking. "As an assistant choreographer and dancer, I had to understand how to choreograph for the camera and how to further the story with dance," Fletcher says. "I also dealt with costumes, organized rehearsals with dancers and actors, and learned how to communicate with everyone on set." Eventually she landed jobs on her own, working as the lead choreographer on Bring It On, Down With Love and The 40-Year-Old Virgin. "Being hired as a choreographer by another director is the greatest show of trust, and I don't take it lightly," she says. "I am there to fulfill that director's vision and bring it to life."
In The Director's Chair
Fletcher's work paid off when Shankman encouraged the producers of Step Up to hire her as the film's director and choreographer. "I knew she was ready, and I wanted to facilitate the opportunity for her to direct the film," Shankman says. "She did a spectacular job. I'm so proud."
Directing comes easily to Fletcher, thanks to her dance background. "Dancers are physical creatures," she says. "Movement and staging come to us very naturally. We can direct people to move and behave in ways that are real and interesting. Incorporating a camera is like having another element to choreograph into the scene." Fletcher also says the sense of rhythm and timing that she developed as a dancer has helped her understand when to cut a scene, how to pace dialogue and even when to cue actors.
Follow Her Footsteps
Although directing was never part of her original plan, Fletcher is inspired by the turn her career has taken. She suggests that young dancers interested in filmmaking take any film-industry opportunity they can find. Moving up through the film industry "takes hard work, but as a dancer, you know what hard work looks like," she says.
Not sure where to begin? Fletcher suggests working as an assistant choreographer or a production assistant. These entry-level jobs give you the chance to observe the production process while finding your strengths.
Now, though she's established herself as a hotshot director, Fletcher hasn't abandoned the dance world. Check out her latest choreography in Get Him to the Greek, which opens in June!
Marnie Fish is a freelance writer in NYC. She also works on the comedy and animation team at MTV Networks.
Win It
Sep. 05, 2017 12:10PM EST
Photos by Erin Baiano
It's time to get your pirouette on! From September 5th to September 30th, we're hosting a contest to find out who's the best turner of them all.

Put together your most impressive turning combo. Post a video online. Share your turns with us and thousands of other dancers around the world. And if our editors think you're the top turner, you'll win a fabulous prize.
Keep reading...
Show less
All of 18-year-old Kaylin Maggard's dreams—from scoring the title of National Senior Outstanding Dancer at New York City Dance Alliance Nationals to winning the 2017 Dance Spirit Cover Model Search—are coming true. And to anyone who knows the gorgeous contemporary dancer, that's no surprise.
From the moment the Dance Spirit staff met Kaylin, it was obvious her humility and talent would take her far. Not only did she go full-out during the photo shoot and class at Broadway Dance Center, but she was always cheering on, laughing with, and supporting her fellow CMS contestants Haley Hartsfield and Michelle Quiner. During the voting period, the social media world was abuzz with praise for her work ethic, positive attitude, and generosity.
Since her CMS trip to NYC, Kaylin's moved from her hometown of Columbia, MO, to the Big Apple for her freshman year at Juilliard, and is busy getting acquainted with the city. As for the future? She's taking it one opportunity at a time, but something tells us we'll be seeing this contemporary queen reach new heights every year.
Keep reading...
Show less
Instagram star Kylie Shea has built a following of nearly 170,000 with her playful workout videos, which combine traditional fitness activities, like jumping rope or running on the treadmill, with pointe shoes and sassy choreography. Shea's effortless cool-girl-next-door vibe and solid ballet technique make her vids totally irresistible.
Now Shea's using her platform to address the body image issues that tend to plague dancers. In a poignant video, she sheds her clothes and tugs at her skin. The caption explains her relationship with her body and the pressure she feels to maintain a certain aesthetic as a dancer.
Keep reading...
Show less
Physical discomfort is inevitable when you're spending tons of hours in the studio every day, but some pain shouldn't be suffered through. "Dancing through pain can make an injury worse and lead to more time away from dance," says Dr. Joel Brenner, medical director of dance medicine at Children's Hospital of The King's Daughters in Norfolk, VA. "Failing to rest and recover when you're in serious pain could even lead to the point where you're unable to dance in the future."
That may sound scary, but there's good news: If you take precautions and listen to your body, many injuries can be stopped in their tracks. The first step? Knowing what's normal—and what's not.
Keep reading...
Show less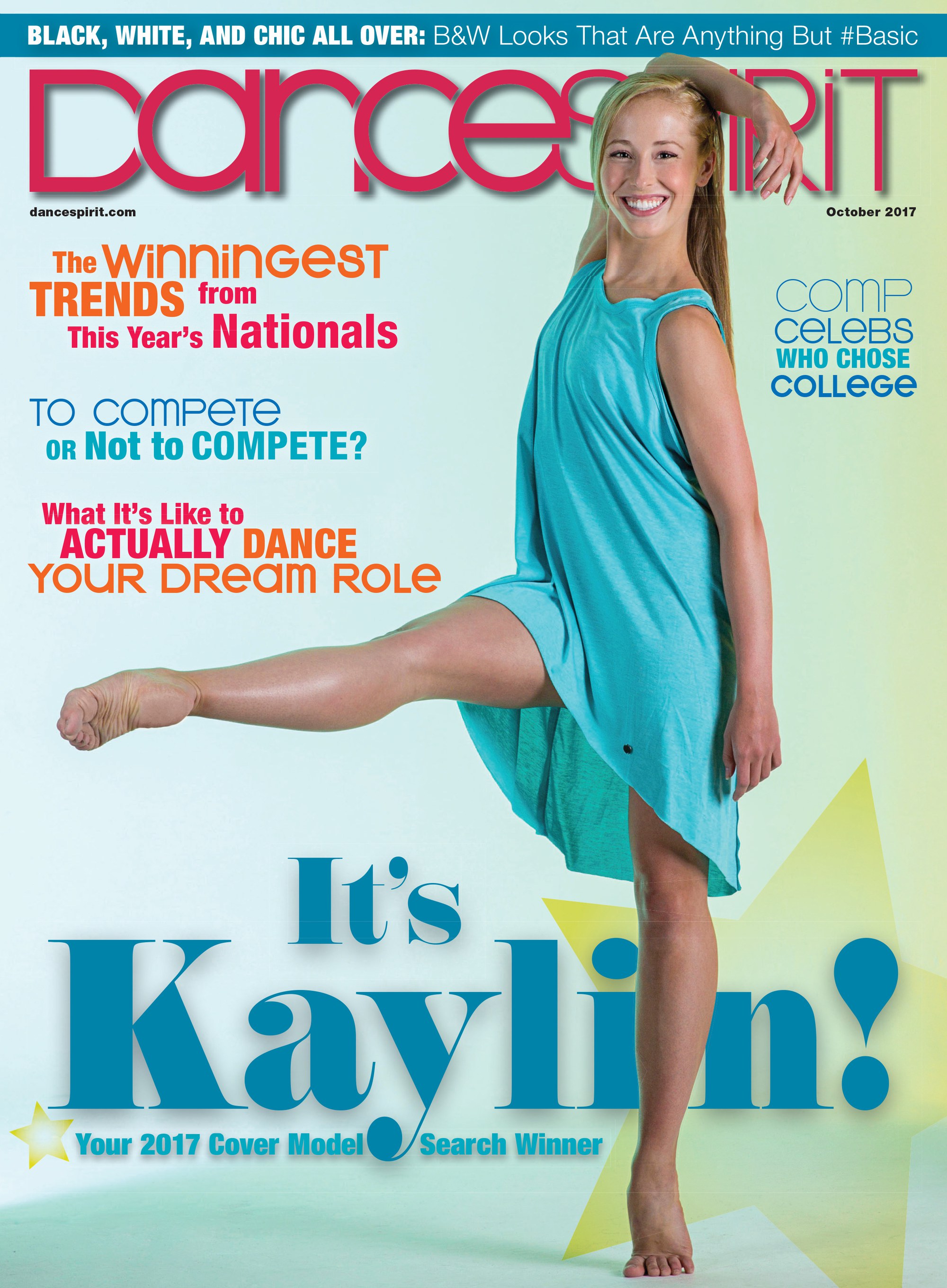 Get Dance Spirit in your inbox