Hip Hop
Jan. 10, 2013 11:24AM EST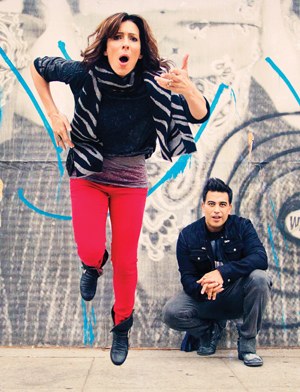 Tabitha and Napoleon D'umo may pull a goofy face from time to time—but only when appropriate! (by Jennifer Johnson)
You may have fierce hip-hop moves—but do you have the face to go with them? When it comes to hip hop, the right attitude can make or break your performance. Skilled dancers use their facial expressions to bring choreography to life, but sometimes figuring out exactly what to do with your face can be tricky. Should you glue on a goofy grin or go for a smug smirk? Can you pull off a classic "stank face"? Should you? We asked some of hip hop's hottest dancers, teachers and choreographers for their tips on how to make powerful, effective expressions part of your dancing.
"Smiling is OK! Hip hop doesn't have to be hard all the time. But whatever face you use, it needs to be confident. Weak doesn't work in hip hop." —Leslie Scott, hip-hop teacher at EDGE Performing Arts Center and Millennium Dance Complex in L.A.
"A 'stank face' is great if you're in a crew—but it often doesn't work in the commercial dance world. It can come across as mean or ugly if it's not natural. Work on achieving that kind of intensity without sticking on a stank face." —Tabitha D'umo, choreo-grapher on "So You Think You Can Dance"
"Don't think about it too much. That can make your expressions seem contrived and stiff." —Napoleon D'umo, choreographer on "SYTYCD"
"Don't look like a deer in the headlights. Another look to avoid? The one that says, "I don't want to be here!" That's one of the worst things you can do." —Bryan Tanaka, commercial dancer
"Have an intention when you dance. I'm usually really animated, but I don't think specifically about my face as much as I think about the lyrics of the song I'm dancing to." —LS
"There's a fine line between feeling it and faking it. Hip hop is about letting go and connecting your whole body to the music, face included." —TD
"Steer clear of overly sexy faces. That's not what hip hop is about. I'd rather see a teen dancer smiling because she's genuinely enjoying her performance than one who's trying to look provocative." —LS
"Remember that dance is an unspoken language. You need to tell a story with your face as well as your body. Pay attention to how other dancers use their expressions; then find what works for you." —BT
"Be authentic. I have my students stare at their faces in the mirror while I ask questions that trigger memories, like, 'How do you look when you're heartbroken?' or 'How do you look on prom night?' That way, they learn to connect their facial muscles to real emotion instead of just mimicking facial choreography." —LS
"Film yourself during rehearsal. That's the best way to really see what your face looks like while you dance. Cameras don't lie." —ND
"Your face can make or break your dancing. It's what sets the professionals apart from the rookies. I've worked with some artists who may not be the best dancers but their performance faces are amazing and fun to watch." —BT  
What's a "stank face"? Leslie Scott says: "The 'stank face' is an exaggerated frown, with the mouth turned down. So many people do nothing but that. It's not always the best way to engage an audience."
(From left) ABT's Erica Lall; NYCB's India Bradley; Washington Ballet's Nardia Boodoo; NYCB's Rachel Hutsell (all photos by Rachel Neville)
Misty Copeland. Her name is synonymous with exquisite artistry and outspoken advocacy. And her visibility has made a huge impact on the ballet world. Ballet's relationship with race has always been strained at best, hostile at worst. But Copeland's persistent message and star quality have finally forced the ballet industry to start talking about racial diversity, inclusivity, and representation. "The rarity of seeing ourselves represented is sad," Copeland says. "The more we see every hue and body shape represented on the stage, the more possibilities young dancers feel they have for themselves."
Keep reading...
Show less
Our nominees (clockwise from top left): Roberto Campanella, Aurélie Dupont, Ashley Wallen, and Anthony Van Laast
Last month, we asked why there wasn't a Best Choreography category at the Oscars—and discovered that many of you agreed with us: Choreographers should definitely be acknowledged for their work on the super-dancy movies we can't get enough of.
Now, we're taking matters into our own (jazz) hands.
Keep reading...
Show less
ABT JKO School student Miuka Kadoi shoiwng off her beautiful line (photo by Kenneth Edwards)
Contemporary phenom Christina Ricucci has super-flexible hips, which means she can stretch her legs to unbelievable heights. But when she noticed herself making contorted positions in class, Ricucci realized she was approaching her extensions all wrong. "I went back to the basics in class, squaring my hips and using my turnout," Ricucci says. "I learned to create proper positions, rather than whacked-out versions of them."
Some dancers are so wonky they have a hard time supporting their high legs, while others struggle with limited flexibility. But no matter your facility, you can find a balance of stretch and strength to achieve your fullest range of extension. It's not about how high (or not) your legs can go: It's the quality of the movement, and how you get those legs up, that counts.
Keep reading...
Show less
Popular
Feb. 16, 2018 11:58AM EST
Via Jaime Guttenberg's memorialized Facebook page
Yesterday, the dance community was heartbroken to learn that Jaime Guttenberg and Cara Loughran, both 14-year-old dancers, were among the 17 people killed on Valentine's Day in the shooting at Marjory Stoneman Douglas High School in Parkland, FL.
Keep reading...
Show less
Bronze medalist Kaetlyn Osmond skating her "Black Swan" long program (screenshot via YouTube)
Once upon a time (until the 2014 Winter Olympics in Sochi concluded, to be exact), figure skaters had to compete to music without words. Before this rule change, a skater faced an automatic point deduction if the music even hinted at vocals. Understandably, there were *a lot* of Olympic programs skated to classical music, and you'd tend to hear the same music selections over and over and over.
Keep reading...
Show less


Get Dance Spirit in your inbox