How To
Mar. 28, 2017 02:21PM EST
Genius #Hacks to Help Your Pointe Shoes Last Longer
Courtesy Pittsburgh Ballet Theatre
Every ballet dancer has a pointe shoe prep process that's akin to a sacred ritual. And while some modifications are meant to make feet look prettier, the most critical tricks help those precious shoes last as long as possible—because at $60 to $100 a pop, they have to. We rounded up some of the best hacks to keep your shoes from dying prematurely.
---
Keep 'Em Dry
Moisture is the worst enemy of pointe shoes, and your sweaty feet start to break down those boots from the moment you put them on. Richmond Ballet artistic associate and school director Judy Jacob says taking the time to make sure your shoes dry out is the most effective and inexpensive way to make them last.
To get your shoes completely dry, try to rotate between pairs. "Students probably won't have five pairs of shoes, like professionals do," Jacob acknowledges, "but try to keep two pairs going at any given time." She recommends storing your shoes in a mesh bag, which promotes air circulation. If you only have one pair, using a blow dryer on them at the end of the day can help. Jacob has students who put cedar wood blocks in their shoes at the end of the day, too, because cedar draws out moisture. (The pleasant cedar smell is a nice bonus.)
Unless you're required to, don't pancake your shoes—the water on the pancake sponge will make your box and shank break down more quickly. And if you have to color your shoes for a role, use dye sparingly, to avoid overwetting.
Mix 'Em Up
Another cheap way to save your shoes, Jacob says, is to rotate them from one foot to the other after each wearing. That won't work for every dancer—if one of your feet is significantly larger than the other, for example, it's a no-go. But if you can swing it, rotating shoes between feet will keep you from wearing the same pressure points over and over, extending the life of the pair. Jacob recommends marking each shoe with a number or symbol, so you can easily keep track of your rotations.
Glue 'Em Good
For many years, dancers used wood shellac to harden the boxes and shanks of their shoes. And while some dancers still swear by that old standby, Jet glue has become a newer favorite. Originally created for building model airplanes, Jet glue is fast-drying and leaves shoes harder than shellac does.
But proceed with caution: Once you apply Jet glue, there's no way to remove it, and it can dramatically alter the shape of your shoe and the way it breaks in. Pittsburgh Ballet Theatre corps member Marisa Grywalski, who's a big fan of Jet glue, is careful to use it only on the insides of her Freeds (castle maker)—if applied to the outside satin, it can create a slippery situation. "I put it inside the shoe at the bottom of the tip, and then around the top like I'm making a little cup in the box," she says. "Then I glue on either side of the shank, until just below the place I like my shoe to break." Grywalski reapplies glue when her shoes start to soften, which can sometimes get her through one more rehearsal or show.
Sew 'Em Up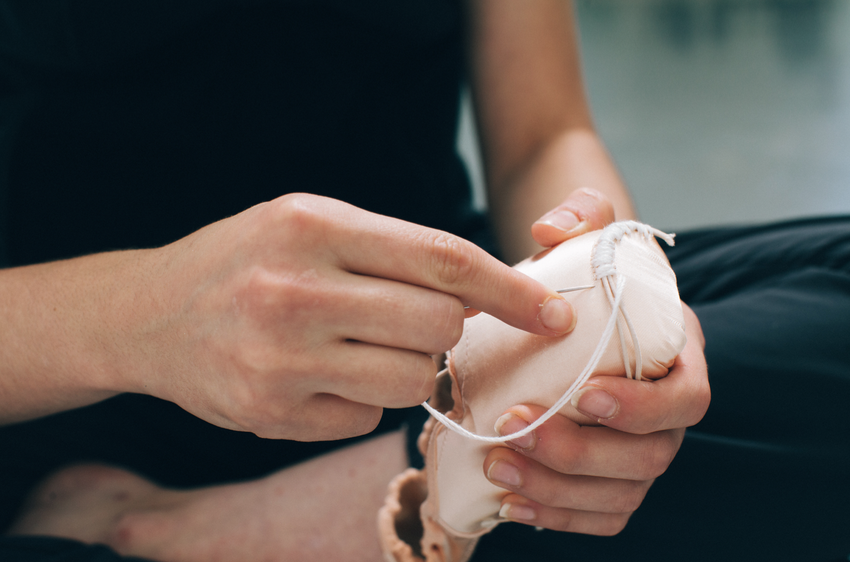 Marisa Grywalski shows her darning method.
Photo courtesy Pittsburgh Ballet Theatre

Always wearing through your box? Give darning a try. Grywalski has come to rely on darning to make her shoes last, because it keeps her from breaking down the platform and box around her big toe too quickly. (Check out her darning skills in the pic above.)
Darning is tricky at first, and it requires a bit of a time commitment, but it gets easier—and quicker—with practice. When Grywalski first started darning, it took her two hours to do both shoes; these days, she can complete a pair in 30 minutes. You can darn your shoes two ways: either by simply whip-stitching around the platform with thick thread, or by stitching your leftover drawstring cord to the crown of the platform. Grywalski likes the drawstring method, because she finds it softens less over time.
It'll take a while to figure out exactly where to position your darning stitches, so be patient. "It's just trial and error," Grywalski says. "If you don't like it at first, it might be because the darning is in a weird spot."
A version of this story appeared in the December 2016 issue of Dance Spirit.

(From left) Mean Girls dancers Riza Takahashi, Ben Cook, Kamille Upshaw, Jonalyn Saxer, DeMarius R. Copes, and Stephanie Lynn Bissonnette (photos by Erin Baiano)
Get in, losers. We're going to Broadway.
OK, not losers, actually—more like the bajillion die-hard fans of Tina Fey's 2004 cult hit Mean Girls, who've been wearing pink every Wednesday since a musical adaptation of the film was first teased back in 2013.
Now their world is like a cake filled with rainbows and smiles, because Mean Girls the musical, which had a trial run in Washington, DC, last fall, is set to open at Broadway's August Wilson Theatre April 8. And in a very grool twist, it turns out the show—with direction and choreography by Casey Nicholaw and a book by Fey herself—is delightfully dancey.
Keep reading...
Show less
(From left) Val Chmerkovskiy, Peta Murgatroyd, and Maksim Chmerkovskiy (Jerry Metellus, courtesy Nicola Phillips)
Keep reading...
Show less
Quiz
Dec. 11, 2017 04:24PM EST
Alicia Vikander in Tomb Raider (Warner Brothers)
Keep reading...
Show less
Screenshot form YouTube
What do you get when a hoard of dancers collaborate to the catchy tune of "Love Somebody," by the band Frenship? The most epic dance party ever, of course! Said dance party was produced by the talented Michael Riccio, who's performed in feature films, including "Confessions of a Teenage Drama Queen" and "Shrek Forever After."
Keep reading...
Show less
University of Minnesota Dance Team (courtesy University of Minnesota)
They say there's no "I" in "team"—and nowhere is that truer than the world of college dance teams, where precision reigns, uniformity is key, and a single misstep from any given "I" can cost a group a championship trophy. So it's unsurprising that securing a spot on one of the best dance teams in the country is no easy feat.
Members of these highly athletic teams rehearse for hours every week—on top of academic classes and commitments—and perform at football and basketball games, annual concerts, and nationally televised competitions (hi, ESPN). And "no I" rule notwithstanding, each of these top teams is made up of highly trained, highly technical, highly hard-core individuals, who come together to create a ready-for-victory pack.
These six teams aren't one-off success stories—they're consistently strong, and earn the top spots at major competitions like UDA and NDA nearly every year. Up for the challenge? Here's what to know before you go to auditions.
Keep reading...
Show less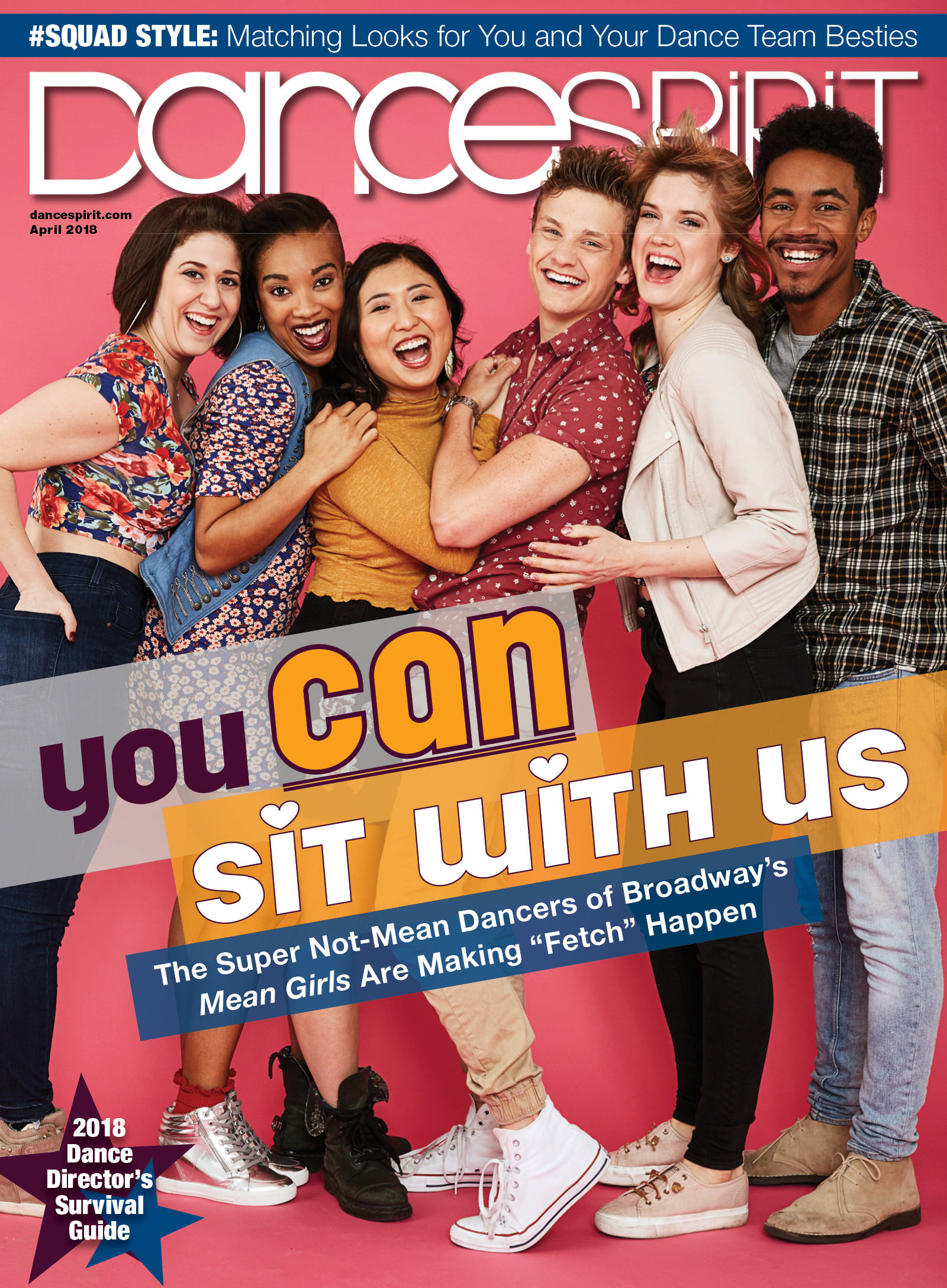 Get Dance Spirit in your inbox