Choreography
Feb. 11, 2013 09:30AM EST
Get Out of Your Choreography Rut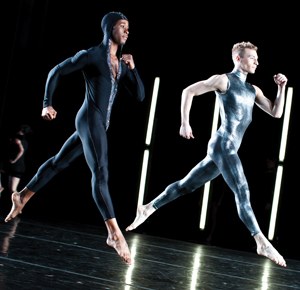 KEIGWIN + COMPANY members in Larry Keigwin's Megalopolis (Matthew Murphy)
Marinda Davis is one busy choreographer. She travels nearly every weekend to set competition pieces at studios around the world, and also choreographs regularly for her own company, marInspired; the storytellers, in NYC. That kind of packed schedule sounds like a choreographer's dream, right?
But since artists like Davis are called upon to create so frequently, they sometimes finds themselves clean out of new ideas. "There's a lot of pressure on choreographers to continually top themselves," Davis says—and that can lead to a sort of creative roadblock. New choreographers have it especially rough: Your first pieces need to establish your "signature style," but how do you create a distinctive look without being repetitive? And what if your ideas dry up? DS talked to experienced choreographers about how to avoid getting stuck in a choreography rut.
Tell a Story
Sometimes all you need to jolt you out of a creative slump is a good story. Justin Giles, commercial choreographer and director of SoulEscape, discovered that creating a different narrative for each of his pieces helped him come up with distinctive vocabularies for all of them. "If you allow a story to dictate what you're creating," Giles says, "the steps will come out differently every time." Not sure where to find good stories? Look to your music. "When I'm stuck, I find music that triggers emotion within me," Giles says. "I pay attention to the overall meaning of the song and the lyrics."
Davis finds that telling a story from her life experience can jump-start creativity. It can be tough and even scary to put your inner life onstage, but there are few things more powerful. "The vulnerability of laying my journey out on the table wasn't easy, but it was my story," Davis says. "And I knew nothing would be more original than that."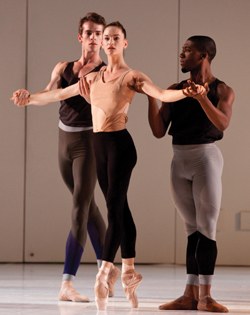 (L to R) Russell Janzen, Megan LeCrone and Da'Von Doane in Emery LeCrone's With Thoughtful Lightness (Matthew Murphy)
Retrace Your Steps
When you're feeling strained, it's OK to come back to things that have worked for you before—as long as you're still breaking new ground in some way. Larry Keigwin, artistic director of KEIGWIN + COMPANY, believes repetition isn't necessarily bad. "My dancers joke that every dance of mine has a 'battle' section or a 'chaos' section," he says. "I repeat compositional ideas, but the vocabulary is always different because I work collaboratively with the dancers, and they generate a lot of phrases."
Freelance ballet choreographer Emery LeCrone knows that "repurposing" or "reorganizing" is just part of the process. "When you're first developing your voice, you may be inclined toward certain types of movement—gestural arms, floorwork, spiraling turns," she says. And that's fine, as long as they're just occasional motifs.
If you're drawing a blank, it's also acceptable to expand on something you began to unpack in a previous work. "Often I'll discover a new idea in one piece but won't have the time to fully explore it, so later I might create a new work stemming from that accidental discovery," LeCrone says. "I feel each piece I make is an evolution of the piece before."
Broaden Your Horizons
When you're really coming up empty, it can be helpful to look outside the studio for inspiration. LeCrone recharges by going to galleries or museums; Keigwin likes to stroll in a park or pace the city streets.
Unable to get back to NYC last fall because of Hurricane Sandy, Davis ended up rerouting to L.A. and spending three days with her family, which was an unexpected creativity boon. "Just being with the people I love spawned buckets of concepts and ideas," she says. "After sitting on the beach and getting my first deep breath in months, my mind instantly cleared, and I was filled with inspiration."
Jul. 22, 2017 04:55PM EST
via YouTube
It's no secret that ballet in pop culture has sparked its fair share of controversy. Which is why this video from Refinery29, featuring ABT's Isabella Boylston, is not only a super-fun watch, but a breath of fresh air.
Keep reading...
Show less
Jul. 21, 2017 12:26PM EST
via @phil_wright_ on Instagram
Well, this brings class videos to a whole new level! Choreographer Phil Wright and dancer Ashley Liai have been together eight-plus years, but she was still in total shock when he proposed to her mid-dance at Millennium Dance Complex earlier this week. Why? Well, the whole thing was unbelievably perfect.
Keep reading...
Show less
Jul. 21, 2017 11:03AM EST
(Courtesy ABC)
In the dance industry, dancers don't always have a say in what they wear on their bodies. This can get tricky if you're asked to wear something that compromises your own personal values. So what should you do if you find yourself in this sticky situation? We sat down for a Q&A with "Dancing with the Stars" alumn Ashly Costa to answer that very question. Here's what she had to say about the options dancers have surrounding questionable costumes.
Keep reading...
Show less


Get Dance Spirit in your inbox