Get Ready to Fall for Dance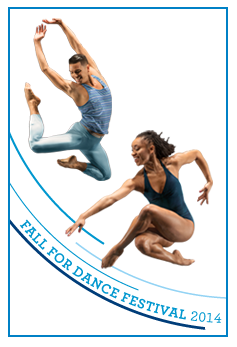 How'd it get to be August? Curse you, Summer, and your incessant need to fly by! Don't get us wrong: We know it ain't over yet (despite the recent influx of back-to-school commercials). Nevertheless, August always seems to bring a sense of nostalgia—anticipation of the end, reflection on memories made...
But today, on this second day of August, we're nipping the sentimental melancholia in the bud, because we're seriously excited for Fall. Fall for Dance, that is.
Here's a quick overview for FFD newbs: Fall for Dance is an annual NYC festival that brings together renowned dance companies from across the globe. It's basically a goodie bag of dance: Each program is so varied—ballet, modern, tap, hip hop, you name it—that there's truly something for everyone. Plus, with tickets at only $15, it's kind of the perfect opportunity to get a sense of which styles and companies you love, and which aren't so much your faves.
The festival kicks off with two free (yes, free!) performances at The Public Theater's Delacorte Theater in Central Park, September 13 and 14 at 8 pm. Then, tickets for the remainder of the festival, which will take place at New York City Center from October 8–18, will go on sale the following Monday, September 14, at 11 am. Check out the program lineup below, featuring 27 (!) different companies and artists.
Delacorte Theater Performances
Bill T. Jones/Arnie Zane Dance Company: D-Man in the Waters (Part 1) by Bill T. Jones
Hubbard Street Dance Chicago: Gnawa by Nacho Duato
Lil Buck: Bend in the Road (world premiere)
*Additional Company TBA
Program 1 (October 8 and 9 at 8 pm)
Black Grace: Minoi and Pati Pati by Neil leremia
San Francisco Ballet: Variations for Two Couples by Hans van Manen
Russell Maliphant/Sadler's Wells London: Two x Two by Russell Maliphant
Mark Morris Dance Group and Music Ensemble: Words (festival commission) by Mark Morris
Program 2 (October 10 and 11 at 8 pm)
Lucinda Childs Dance Company: Concerto by Lucinda Childs
Semperoper Ballett Dresden: Neue Suite by William Forsythe
Sara Mearns & Company: Stairway to Paradise by Joshua Bergasse
Alvin Ailey American Dance Theater: Minus 16 by Ohad Naharin
Program 3 (October 14 and 15 at 8 pm)
Trisha Brown Dance Company: Son of Gone Fishin' by Trisha Brown
Company Sébastien Ramirez & Honji Wang: AP15 by Sébastien Ramirez and Honji Wang
Vuyani Dance Theatre: Umnikelo by Luyanda Sidiya
*Additional Company TBA
Program 4 (October 16 and 17 at 8 pm)
Brian Brooks Moving Company with Juilliard Dance: Torrent by Brian Brooks
The Australian Ballet: Ostinato (world premiere) by Tim Harbour
BJM - Les Ballets Jazz de Montréal: Closer by Benjamin Millepied
Rennie Harris Puremovement: Students of the Asphalt Jungle by Dr. Rennie Harris
Program 5 (October 18 at 8 pm)
Wayne McGregor|Random Dance: FAR by Wayne McGregor in collaboration with the dancers
Pontus Lidberg Dance: New Lidberg (festival commission) by Pontus Lidberg
Aakash Odedra Company: Nritta by Aakash Odedra
The Sarasota Ballet: Les Patineurs by Sir Frederick Ashton
(via YouTube)
Remember that fabulous old-school clip of dancers tapping in pointe shoes that Tabitha and Napoleon D'umo brought to our attention back in March? As we mentioned then, toe-tap dancing was actually super popular back in the 1920s and 30s—which means there are more videos where that one came from. And because #ToeTapTuesday has a nice ring to it, we thought we'd take this opportunity to introduce you to Dick and Edith Barstow, a toe-tapping brother and sister duo from that era who are nothing short of incredible:
Keep reading...
Show less
Adam Rose/FOX
Guess who's back? Back again? The Academy's back! Tell a friend.
After one day at The Academy, the All Stars have successfully taken the Top 100 down to 62. But their work is just getting started: Now they need to keep narrowing the field to a Top 10, ultimately deciding who each will partner with during the live shows.
Keep reading...
Show less
Sara Mearns and Chase Finlay in Pontus Lidberg's "The Shimmering Asphalt" (via @saramearns on Instagram)
We've said it before and we'll say it again: New York City Ballet principal Sara Mearns is some SERIOUS #goals. Her strength and power onstage borders on superhuman. But what's extra magical about Mearns is that she really puts in the fitness and cross-training work outside of the rehearsal studio. And she's overcome her fair share of injuries. Which is why she was the perfect source for Vogue's latest ballet fitness story.
Keep reading...
Show less


Get Dance Spirit in your inbox