Get to Know D-Real from MTV's "World of Jenks"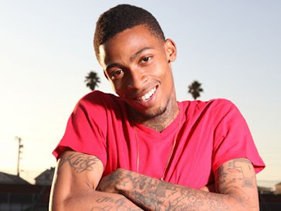 D-Real (Photo ©2013 Viacom International Inc.)
On the second season of the documentary TV show "World of Jenks," premiering tonight on MTV, filmmaker Andrew Jenks shadows three inspirational young people for 10 episodes. We're most intrigued by 21-year-old street dancer D-Real. From one of the most violent cities in America—Oakland, CA—D-Real has used dance to overcome many tragedies, including the deaths of two of his brothers. Here, Dance Spirit talks with D-Real about his experience on the show.
Dance Spirit: Tell us about when Jenks first contacted you about the show.
D-Real: It was one of those phone calls you wait for. As a struggling artist, I've always hoped someone would see my story. When I got the call, I just started dancing, gliding around the room while I was on the phone. My family was shocked when I told them about being on "World of Jenks." They'll finally get to see I'm helping out my community and doing a lot of good.
DS: What was the first day of filming like?
DR: I wasn't nervous, but I was overwhelmed. Where I come from, when you see cameras on the street, it's always because they're doing a newscast. So I was surprised at all the things that go into taping a show—things you don't see on TV. I remember thinking, "This is amazing, but I wish my partner, my brother, were here." He's the reason I know I should be dancing.
DS: What was it like to work with Jenks?
DR: He's a really smart, cool dude. The wisdom he gave me was just what I needed. He's from a different world than I am, so when we exchanged ideas, it made me see things from a new perspective.
DS: What message do you want to get across to viewers?
DR: I want people to know that there's no obstacle you can't overcome. Dancing is one of the hardest fields to be in, but now that I'm on the show, I feel like I've made it. I've been homeless, and I've lost brothers and cousins. But what I'm doing now is becoming a better man for my kid, my fiancée and myself.
Tune in tonight at 11 pm EST for the season premiere of "World of Jenks."
Erin Carpenter as a Knicks City Dancer (David Safran, courtesy of Erin Carpenter)
The groundwork for Erin Carpenter's company, Nude Barre, began when she was a teenager. At 16, she earned a spot in the residency program at The Kennedy Center in partnership with Dance Theatre of Harlem. "We were required to wear nude—as in, our actual skin tone—tights and shoes," she remembers. Carpenter brought her "sun tan" tights and a pair of pink ballet shoes with her, because that was all she could find. But she wasn't allowed in class because her dancewear didn't match her skin. "I was so embarrassed," she says. "I looked unprepared. I just didn't have the right nudes." Her teacher explained that the dancers dyed their tights and pancaked their shoes.
Keep reading...
Show less
Via @whitneybugs on Instagram
There are dancers and then there are DANCERS! Whitney Jensen, soloist at Norwegian National Ballet, is the latter. The former Boston Ballet principal can do it all. From contemporary to the classics this prima has the technical talent most bunheads dream about. Need proof? Look no further.
Keep reading...
Show less
Jul. 19, 2017 04:53PM EST
Via YouTube
Luis Fonsi and Daddy Yankee's dance inducing hit, "Despacito," is so catchy it should probably come with a disclaimer that warns people of an uncontrollable itch to tap your feet or bob your head. Some might even feel inclined to go all out and break it down. Niana Guerrero is a prime example of "Despacito's" uncanny ability to unleash the red dressed emoji dancer within. 💃🏽 💃🏽
Keep reading...
Show less
Jul. 19, 2017 04:25PM EST
(courtesy NBC)
Guys, we all knew this was coming—"World of Dance" was eventually going to eliminate someone. But man, is it brutal to watch these talented dancers give their all, only to be sent home. It's the name of the game, though, and after last night's episode, only two dancers per division remain. (At least Misty Copeland guest-judging was a silver lining!) Here's what went down last night:
Keep reading...
Show less


Get Dance Spirit in your inbox