Sep. 01, 2009 11:44AM EST
Model: Daphne Fernberger
Consultant: Hilary Cartwright
Bio: Following her career as a soloist with The Royal Ballet, England, Hilary Cartwright became a director, teacher, coach and stager. She's been teaching Yoga for Dancers for the past 20 years, after opening White Cloud Studio in NYC. Daphne Fernberger is a Level 7 student at American Ballet Theatre's Jacqueline Kennedy Onassis School. For more information about Daphne, go to www.hilarycartwright.com
Dancers of all genres (and women in general) yearn for long, lean legs, and even more so, injury-free bodies. One important element to achieving both of these things is stretching—correctly, that is. With the help of Hilary Cartwright, DS brings you three exercises that will stretch every angle of your hamstrings, resulting in beautifully toned, strong legs.
BEFORE FIRST STRETCH
Before stretching, warm up the body with aerobic exercise (like light jogging) for five to 10 minutes. Then allow 10 seconds for each stretch on a continuous exhale, recover and relax. Repeat all five to six times on both legs.
Hamstring stretch #1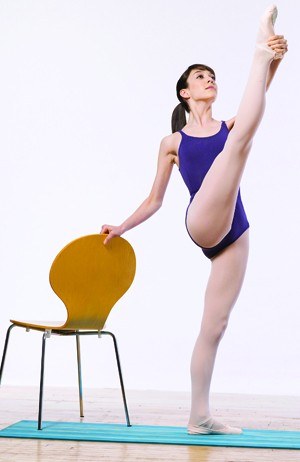 Begin in first position with right hand on the barre. Bring right leg into passé at the front of the knee, then extend into front attitude while the left leg pliés. Grab the foot from underneath the heel with the left hand and extend the right leg, while simultaneously straightening the left leg. Continue to grow while leaning back slightly toward the barre.
Tips:
1. Relax neck.
2. Keep eyes focused above toes.
3. Engage abs.
Hamstring Stretch #2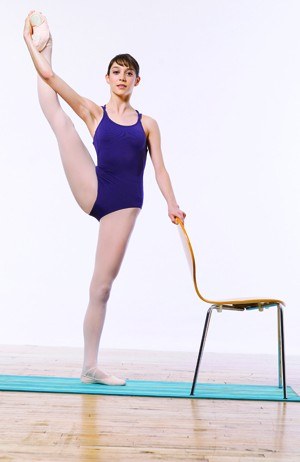 Start in first position with the left hand on the barre. Bring the right leg into retire at the front of the knee, then extend into front attitude while the left leg pliés. Using the right hand, grab the foot from underneath the heel and slowly straighten the right leg, while keeping the left bent. Continue to slowly open the right leg to second.
Tips:
1. Keep right hip back.
2. Keep back straight.
Hamstring Stretch #3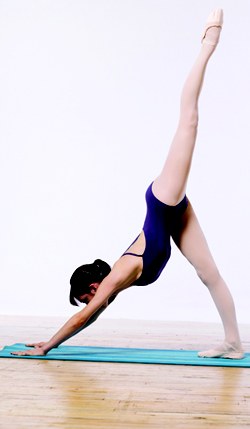 Start on all fours. Push the heels back and straighten the legs and arms (like downward dog position) with feet slightly turned out. Keep focus between hands and push shoulders and ribs toward the pelvis. Bend right leg, then straighten it toward the back wall in a scooping motion. Slowly raise it into penchée position, keeping the hips parallel to the floor. Lift up and back over the standing leg to feel stretch.
Tips:
1. Push back from arms.
2. Drop active hip.
3. Keep focus between hands.
Go to dancespirit.com/ to see Daphne demonstrate these stretches. Just click on "Videos."
Photography by Matt Karas. Hair and makeup by Angela Huff for Mark Edward, Inc.
Leah Morrison in Trisha Brown's If You Couldn't See Me, in which the soloist never faces the audience (photo by Julia Cervantes, courtesy Trisha Brown Dance Company)
Postmodern pioneer Trisha Brown redefined how dance is seen and felt. A founding member of Judson Dance Theater, Brown frequently collaborated with other experimental artists like Yvonne Rainer, Merce Cunningham, Twyla Tharp, and Steve Paxton.
She embraced pedestrian movement, pairing everyday gesture with rhythm and fluidity. "It's liquid," says Wendy Perron, who danced with Brown in the '60s and '70s. "Like a river with many tributaries, water coming out of a faucet, or being on a raft and seeing the water move away in different directions." Brown also pushed beyond stages with choreography in fields, museums—even on the sides of buildings.
Keep reading...
Show less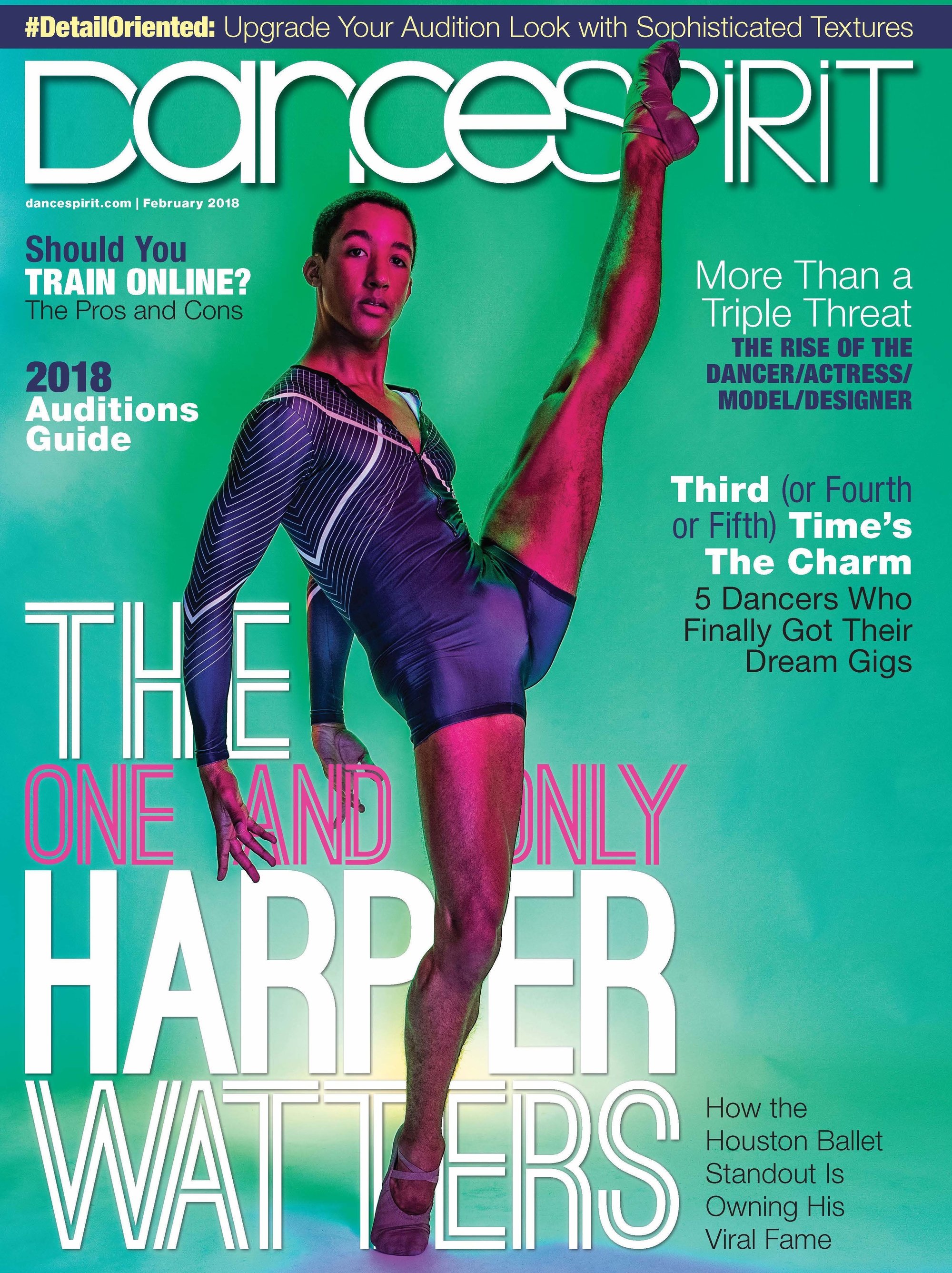 Get Dance Spirit in your inbox