Why Everyone's Obsessed with Jade Chynoweth
Will "WilldaBeast" Adams calls Jade Chynoweth "the Olympian of dance"—and it's not hard to see why. She's definitely got the talent, with a chameleonlike ability to go from hard and athletic to heartfelt and lyrical. She's put in the work, training for countless hours with the world's best teachers and choreographers. And in addition to major competition titles, she's earned jobs that are the dance equivalent of gold medals, performing at MTV's Video Music Awards and in commercials for Nike, Microsoft and Toyota. She's the dance world's very own all-around champion.
---
With over 400,000 followers on Instagram, a slew of devoted YouTube fans and a love for dance that's matched only by her fierce ability, 18-year-old Chynoweth is on the path to superstardom. Just ask "So You Think You Can Dance" alum Gev Manoukian, who's mentored her since she was 9 years old. "When she would perform her solo at competition, people would run into the theater to watch her," remembers Manoukian, who choreographed many of her hip-hop solos. "It's pretty rare to find someone who can do contemporary so well and then get on her head and whip out crazy break-dancing tricks."
The Protégé
Chynoweth grew up in quiet Park City, UT, where she began training at the age of 2 in her aunt's small basement studio. (Her mom was her jazz teacher.) Later, she studied at Dance Tech Studios, where she took classes in tap, ballet, jazz, hip hop and pointe. "I would do dance competitions every weekend and take class every day after school until 9 pm," Chynoweth says.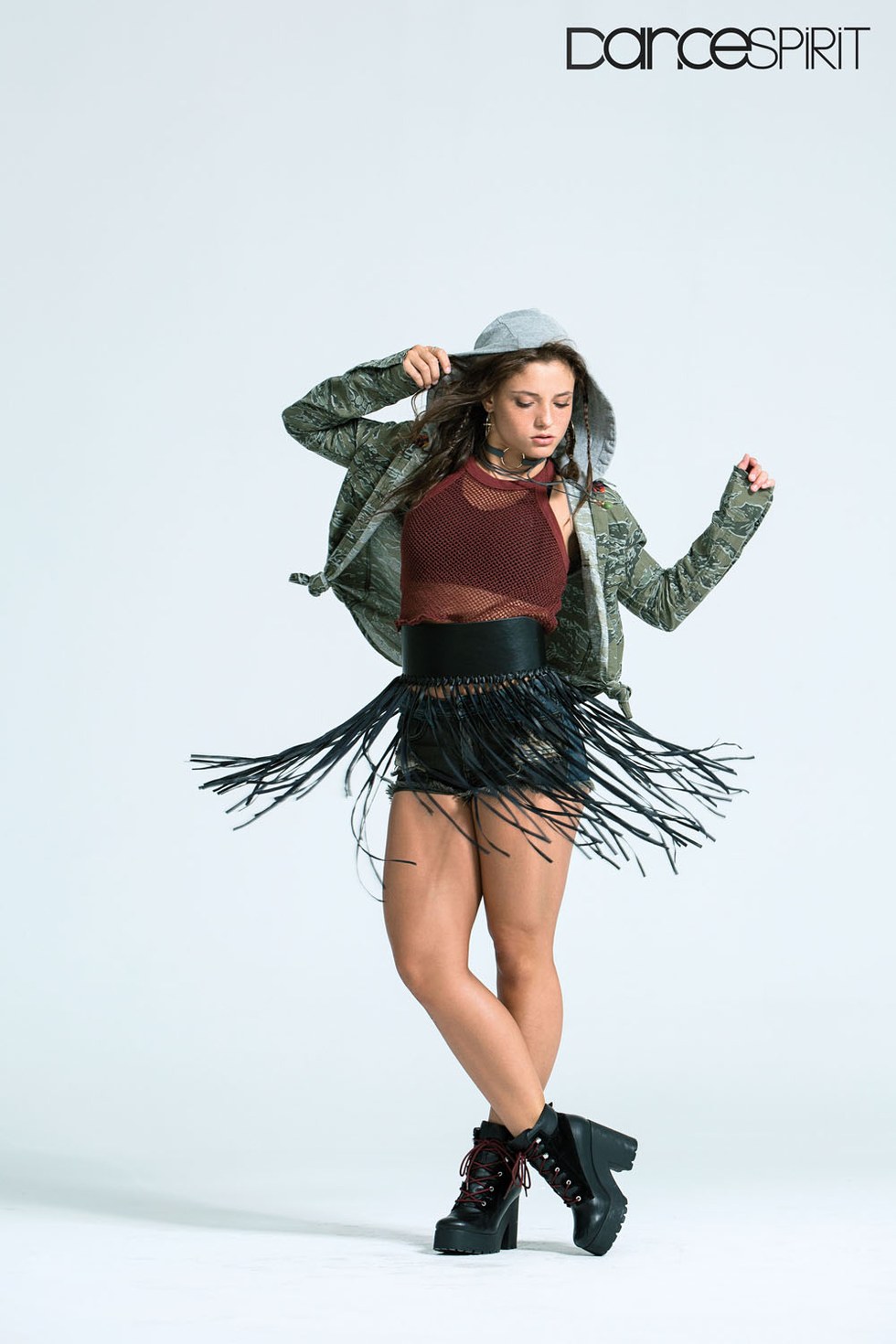 (photo by Joe Toreno)
By 2011, Chynoweth was traveling to L.A. regularly to audition for dance gigs. She also scored a coveted spot as one of The PULSE on Tour's 2010/2011 Elite Protégés, touring with top choreographers like Dave Scott, Mia Michaels, Cris Judd, Laurieann Gibson and Brian Friedman. It was Friedman who had the biggest effect on Chynoweth, influencing her stylistic choices, helping her master choreography more quickly and "always pushing me to be better than I was in the last class," she says.
Her work with The PULSE spilled over into her professional life when she teamed up with a bunch of other talented young PULSE alums to form a crew called The Protégés. Their goal? To make it onto MTV's "America's Best Dance Crew." Though they didn't earn a spot on the main show, the moment was a turning point for Chynoweth. "I got a taste of the industry," she says, "and loved it." Moving forward, she was committed to a commercial career.
The Professional
Today Chynoweth is an industry standout—not only dancing professionally, but also acting. She's scored roles in feature films like 300: Rise of an Empire and Batman v. Superman: Dawn of Justice, and a part in the TV show "The Last Ship." Acting is a natural fit for Chynoweth, who's always had one foot in "fairy-tale land." "Since I was a little girl, I've found it interesting to pretend to be something I'm not," she says. Chynoweth sees both dancing and acting as vehicles for storytelling—which explains her off-the-chain stage presence as a dancer. "There's a large acting component to my dancing," she says. "When I hear music, I want to connect to the voice and become the artist. I try to tell the story as if I'm the one saying the lyrics, but through my body."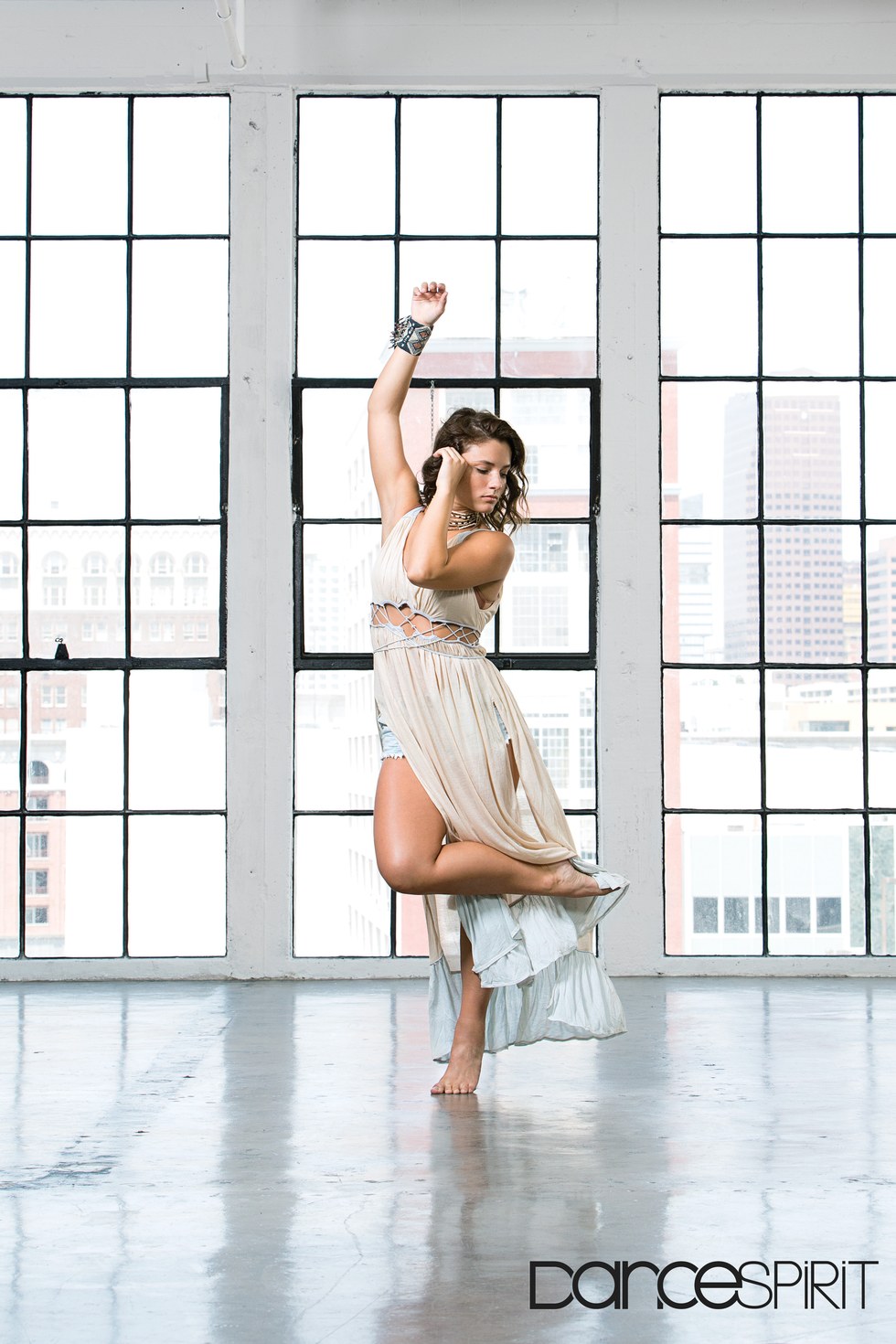 (Photo by Joe Toreno)
Choreographers can't get enough of Chynoweth, as is evidenced by her star turns in dozens of viral YouTube videos. Pick a top choreographer—WilldaBeast, Tricia Miranda, Janelle Ginestra, Brian Friedman, Yanis Marshall—and odds are you'll find Chynoweth front and center in one of their most popular class vids. In Scott David Winn's comedic videos (choreographed by Josh Killacky), she gets to show off both her dance and her acting skills, playing everything from a Disney princess to Twilight's Renesmee to Hillary Clinton.
Every professional choice Chynoweth makes further develops her unmistakable style, which she calls "a balance between hard-hitting, energized movement and slow, sensual movement." Having such a big dance toolbox helps her keep her audience guessing. "When you're having a conversation with someone, there might be points where you raise your voice or whisper—you don't yell the whole time," she says. "I believe you need all of those elements to keep people interested and wanting to watch. To me, dance is a conversation." And the dance world is hanging on her every word.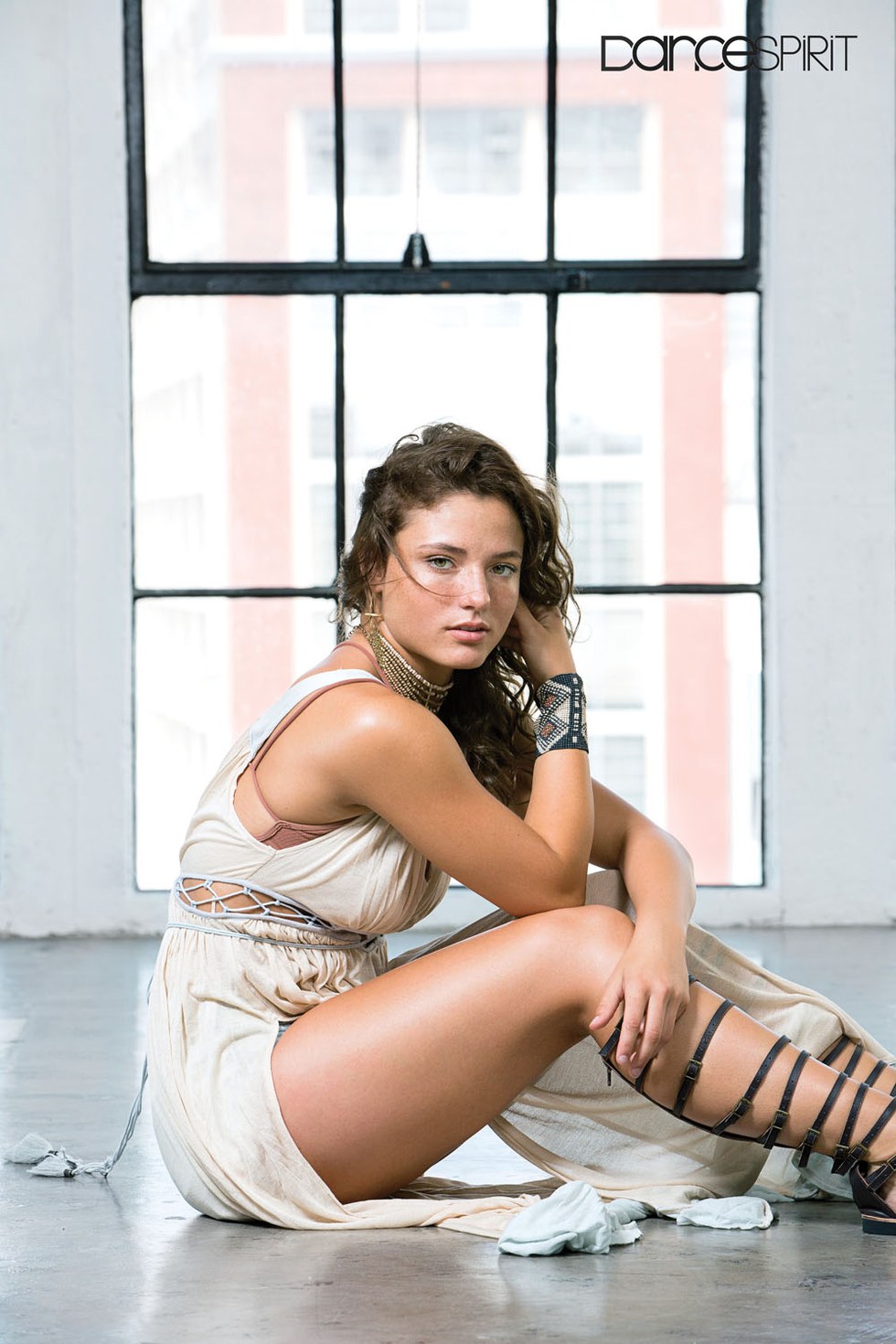 (photo by Joe Toreno)
Eight Things You Didn't Know About Jade
Chynoweth recently launched a blog, It's a Bug's Life—a shout-out to her nickname, JaDeBug.
Right now, her fave dance jams are "Gangsta," by Kehlani, and "anything by Rihanna."
Chynoweth completed her high school courses online, graduating a year early.
She calls herself an "adrenaline junkie," having tried everything from high-level ropes courses to slip-n-sliding down an Olympic ski ramp. "That's why I love flips and tricks—I have to take things to extreme levels!"
Her favorite places to take class in L.A. are Millennium Dance Complex, EDGE and Movement Lifestyle.
Talk about #SquadGoals: Chynoweth gets by with a little help from good friends Logan Hassel, Josh Killacky, Janelle Ginestra, Iman Karram, WilldaBeast Adams and Allie Giroux.
Chynoweth's latest project is the MTV series "Going Off," helmed by choreographer Tricia Miranda.
Chynoweth's words to live by come from one Mia Michaels. "When I was 12 years old, Mia said something that always stuck with me," Chynoweth remembers. "She said we are all born legends, because no two people are the same. I can bring something that no one else can. We're already accomplishing so much just by being who we are."
Tricky Business
Chynoweth has got more than a few tricks up her sleeve, with a repertoire that includes b-boy standards like suicides and head hollowbacks. How did she learn all those impressive maneuvers? In addition to being inspired by her two super-athletic brothers, she credits her mentor, Gev Manoukian, with helping her perfect her power moves. The two first met in 2008, when he visited Chynoweth's studio to teach a master class right after finishing his run on "So You Think You Can Dance." Impressed, Manoukian asked Chynoweth's mom if he could coach the young dancer, and an awesome match was born: Not only did he start choreographing Chynoweth's competition solos, but he also invited her to shadow him and his b-boy crew.
Thanks to Chynoweth's tumbling skills, the two were able to hit the ground running. "Since I'd studied acro and could do back handsprings and tucks, it was easier to work on tricks at a higher level, like windmills and headspins," Chynoweth remembers.
"The first thing I asked him to teach me was the backwards worm—I'd seen tWitch do it on 'SYTYCD,' and I was dying to learn!"
Manoukian was impressed not only with Chynoweth's ability to master skills quickly, but also her willingness to try just about anything. "Jade's always full-out—she totally commits," he says. "She doesn't have any fear. She just dives in."
(From left) Mean Girls dancers Riza Takahashi, Ben Cook, Kamille Upshaw, Jonalyn Saxer, DeMarius R. Copes, and Stephanie Lynn Bissonnette (photos by Erin Baiano)
Get in, losers. We're going to Broadway.
OK, not losers, actually—more like the bajillion die-hard fans of Tina Fey's 2004 cult hit Mean Girls, who've been wearing pink every Wednesday since a musical adaptation of the film was first teased back in 2013.
Now their world is like a cake filled with rainbows and smiles, because Mean Girls the musical, which had a trial run in Washington, DC, last fall, is set to open at Broadway's August Wilson Theatre April 8. And in a very grool twist, it turns out the show—with direction and choreography by Casey Nicholaw and a book by Fey herself—is delightfully dancey.
Keep reading...
Show less
(From left) Val Chmerkovskiy, Peta Murgatroyd, and Maksim Chmerkovskiy (Jerry Metellus, courtesy Nicola Phillips)
Keep reading...
Show less
Quiz
Dec. 11, 2017 04:24PM EST
Alicia Vikander in Tomb Raider (Warner Brothers)
Keep reading...
Show less
Screenshot form YouTube
What do you get when a hoard of dancers collaborate to the catchy tune of "Love Somebody," by the band Frenship? The most epic dance party ever, of course! Said dance party was produced by the talented Michael Riccio, who's performed in feature films, including "Confessions of a Teenage Drama Queen" and "Shrek Forever After."
Keep reading...
Show less
University of Minnesota Dance Team (courtesy University of Minnesota)
They say there's no "I" in "team"—and nowhere is that truer than the world of college dance teams, where precision reigns, uniformity is key, and a single misstep from any given "I" can cost a group a championship trophy. So it's unsurprising that securing a spot on one of the best dance teams in the country is no easy feat.
Members of these highly athletic teams rehearse for hours every week—on top of academic classes and commitments—and perform at football and basketball games, annual concerts, and nationally televised competitions (hi, ESPN). And "no I" rule notwithstanding, each of these top teams is made up of highly trained, highly technical, highly hard-core individuals, who come together to create a ready-for-victory pack.
These six teams aren't one-off success stories—they're consistently strong, and earn the top spots at major competitions like UDA and NDA nearly every year. Up for the challenge? Here's what to know before you go to auditions.
Keep reading...
Show less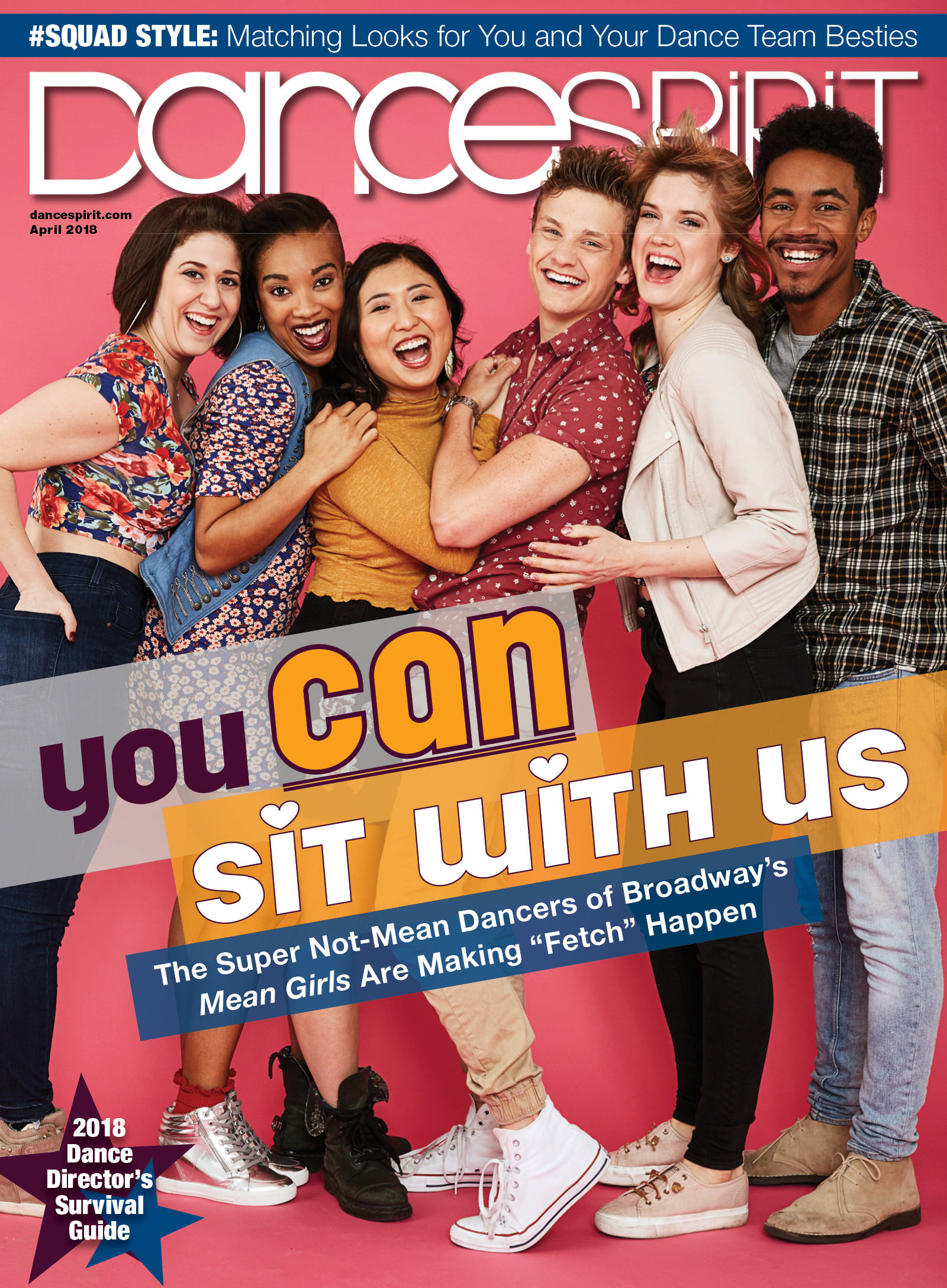 Get Dance Spirit in your inbox